Wild One Theme 1st Birthday
If your little wild thing is turning one, a Wild One Birthday Party like this one might just be the perfect way to celebrate!
This Wild One Theme 1st Birthday, styled by AZ Sleepy Teepee, features awesome outdoor decorations, including a fun teepee tent with a seating area. The family held a catered brunch and petting zoo for a special little boy turning one and it couldn't have turned out any more amazing! This outdoor Wild One Party had it all! Green and black balloon garlands, Where the Wild Things Are decorations, and a long wooden table where guests ate lunch were just some of the awesome details included in this event. Palm leaves, wooden accents, and themed desserts were just the icing on the cake! If you're looking to plan a Wild One Birthday Theme outdoors, this party is for you, so start pinning away!
Wild One Birthday Party Ideas
Teepee Tent with bean bag chairs for lounging, a mini ball pit, carpets, table, and more!
Where the Wild Things Are character decorations
Awesome green and black balloon garland with palm leaves
Long wooden table with pillow seating for guests to eat a catered brunch
Beautiful themed tablescape with a burlap table runner, palm leaves, flower and plant centerpieces, and lanterns
Place settings included palm leave napkins and a palm leaf with utensils wrapped with a 'Wild One' tag
Wild One burlap and fabric high chair banner
Where the Wild Things Are Party Backdrop
Dessert Table with awesome Where the Wild Things Area cake pops and a white smash cake with gold one cake topper
Crown Yourself sign with gold crowns for guests to wear
Black and gold birthday crown for the birthday boy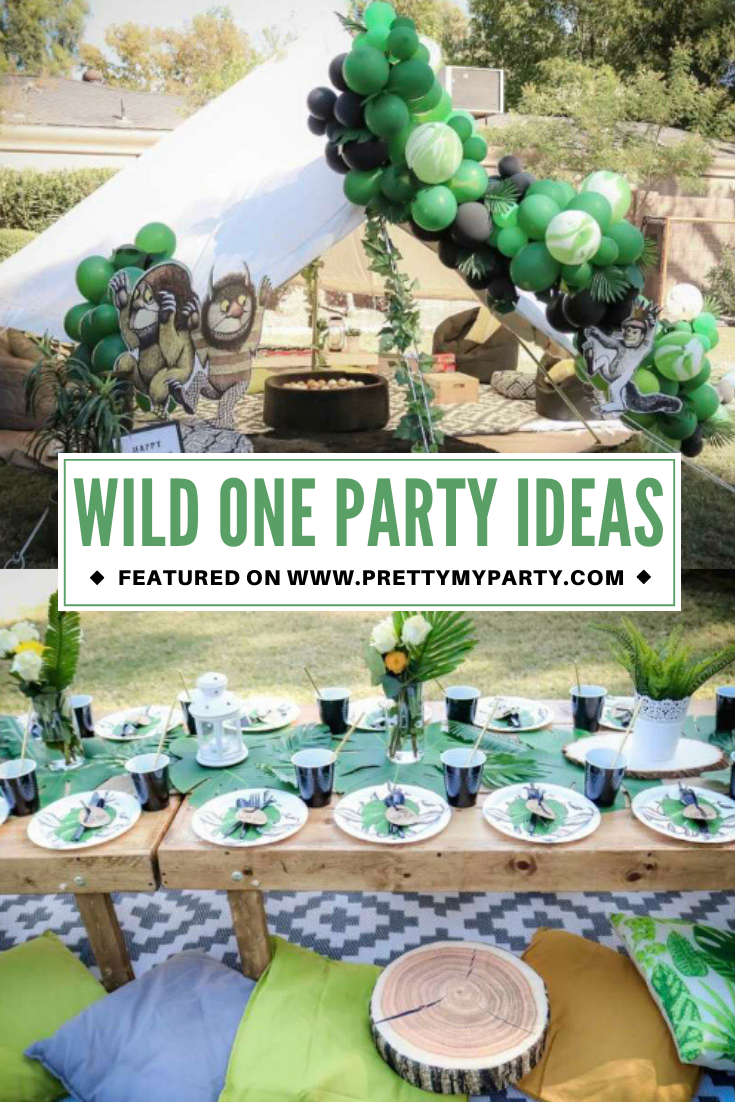 Wow! We're sure everyone had a WILD time at this 1st birthday party! We love how this Wild One theme was set outdoors with a teepee tent and pillow seating. We also love the Where the Wild Things Are decorations, balloon garland and cake pops!
What's your favorite details in this Wild One 1st Birthday Party? Let us know in the comments below!
For more 1st birthday party ideas, follow us on Instagram @prettymyparty and Pinterest and join us in our private Facebook group.
Shopping list: Wild One Party Supplies and Decorations
Party Vendors
Party Styling, Tents and Tables: AZ Sleepy Teepee / Instagram