This Lemon Themed Baby Shower is as cute as can be, filled with lots of sunshine and rustic elements.
We just love this sweet Lemon Themed Baby Shower! All of the honey bees will be happy to come out and explore all of the sweet treats and amazing lemon themed ideas all over the venue. We don't even know where to start with this fun shower theme, planned by Unforgettable Events SoCal.
The unique lemon themed decorations were a hit and provided a mix of rustic elegance, along with whimsical beauty. The hanging mason jars filled with greenery and yellow flowers were a gorgeous addition to the decor around the event. And we can't get over how simple, yet classic the guest table centerpieces are with greenery and lemons. Lemons were used as a main decor item around the event, by filling vases, slicing them up for different areas, or simply placing them around the venue to add a bright pop of yellow where needed. So easy and a great DIY theme for a baby shower.
The dessert area was perfect, with desserts sitting on wooden crates. Gorgeous cakes, lemon themed cookies and sweet cupcakes were a few of the sweet treats that guests were able to enjoy. Along with a lemon candy bowl, there were little pockets of sunshine found all over the baby shower for guests to enjoy!
Another favorite was the chalkboard signs that helped direct guests where different items were. The drink station was called out by a fun chalkboard sign, with fresh lemonade or lemon-infused water available for everyone to quench their thirst. Another chalkboard sign led guests to a fun activity that they were asked to do, which was fill out advice cards for the mom-to-be. What a fun keepsake for the family to have for years to come.
Finally, one of our favorite items were the Lemon Themed Baby Shower favors- individual DIY hand sanitizers were available for everyone to take with them. Attached were lemon-scented antibacterial hand sanitizers that guests could easily make from home when needed. What a fun and unique gift for everyone to enjoy and stay safe with!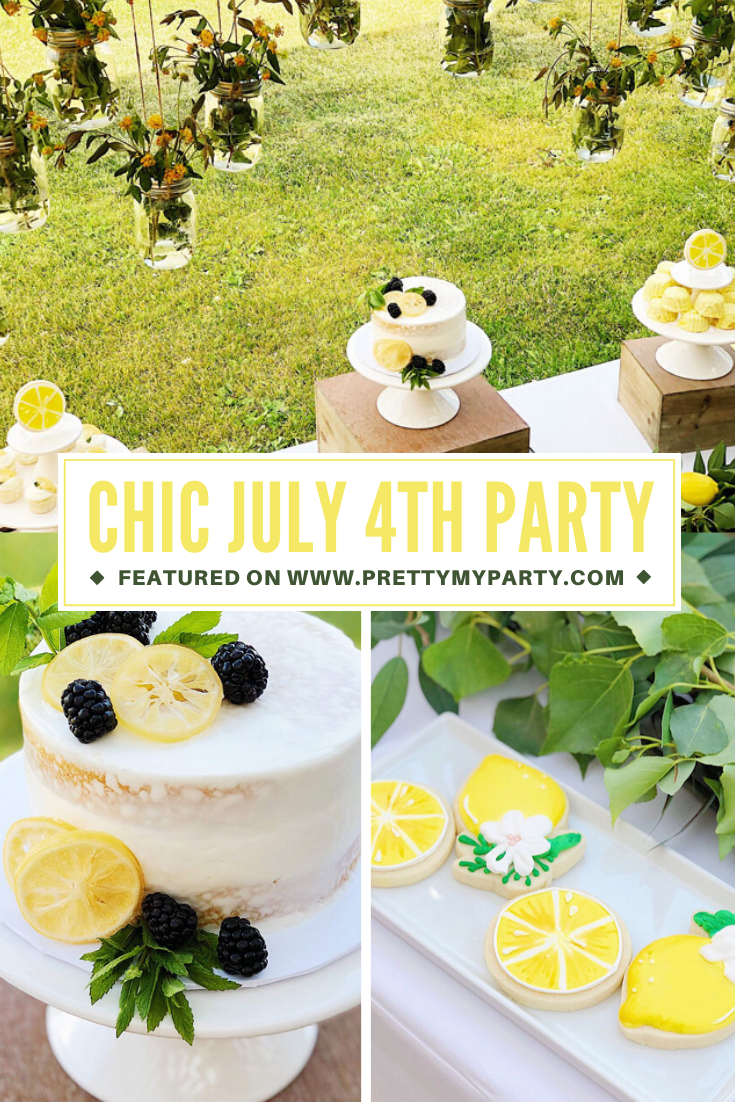 Lemon Themed Baby Shower Ideas
Lemon Themed Baby Shower with rustic undertones through wooden accents and chalkboard signs
Chalkboard signs used for the drink station and guest activity
Yellow and green were used as the main color palette for the sunshine baby shower theme that felt like a fresh summer day
Drink station included lemon-infused water and fresh squeezed lemonade
Lemon party ideas included using actual lemons in various ways throughout the event
Lemon themed baby shower invites were created for the special event
Lemons were placed as centerpieces, along with greenery on guest tables
Lemons were used to fill up vases and placed throughout the venue to use as baby shower decorations
Desserts were placed on wooden crates for the lemon themed dessert table and included cakes, cupcakes, lemon cookies and more
Lemon themed baby shower cake was simple, yet elegant, with naked frosting technique and lemons and berries used for garnish and cake topper
Candy dishes were placed around the event with lemon candies available
Mason jars hung from various areas of the Lemon Themed Baby Shower and were filled with greenery and yellow flowers
Lemon theme guest favors were available with DIY hand sanitizer kits available for all guests to take home
Fun baby shower activities were available for guests, including a station for guests to give the mom-to-be advice to help with the new baby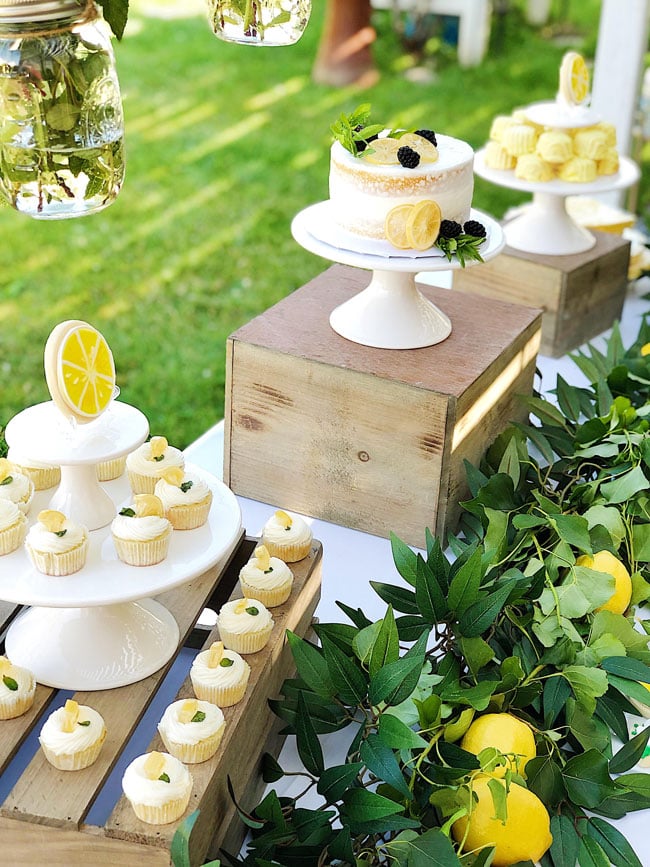 Baby showers are so special for the mom-to-be. It's a fun time to prepare for the little one that will soon arrive, and everyone is always so excited to spend time together to imagine what this little life is going to be like! There were so many gorgeous parts of this Lemon Themed Baby Shower, we don't know where to start. One of our favorite details are the simple, yet beautiful cakes that were prepared, along with the cupcakes that flanked the dessert area. The gorgeous baby shower cake was simple, yet elegant with lemons and berries serving as the cake topper. So pretty!
We also loved all of the decor throughout the event, which gave a rustic, yet whimsical feel for the day. It was the perfect way to welcome a new baby into the family, with beautiful chalkboard signs and baby shower activities. We also love the unique lemon themed guest favors, which were individual lemon-scented antibacterial hand sanitizers. What a great gift in these bizarre times. This little baby is going to be one loved little bundle of joy that we're sure will be as sweet as a honey bee!
Shopping list: Lemon Themed Baby Shower Decorations
See more baby shower ideas here:
What are your favorite details from this Lemon Themed Baby Shower? Let us know in the comments below!
For more baby shower ideas, follow us on Instagram @prettymyparty and Pinterest and join us in our private Facebook group.
Party Vendors