Girly Space Themed Birthday Party
This adorable Girly Space Themed Birthday Party is the perfect way to blast off into a new year for any girl!
How much fun is this Girly Space Themed Birthday Party?! This birthday girl's mom, Malake Nappi, is a blogger and designer of events and interiors and she absolutely took this theme to infinity and beyond! Her daughter is a sucker for all things outer space, so it wasn't too difficult to figure out what the perfect theme would be for this 3rd birthday celebration.
Who says outer space themes can only be for boys? This girl's theme is unexpected, but absolutely gorgeous! The iridescent color scheme was spot on, with blues, purples and pinks. The celebration was held at home and the color palette worked great with the interior space. The invite list was GIRLS ONLY, and it included fun NASA helmets and pink astronaut jackets that were at all of the place settings for the girls to enjoy. How fun!
2 Sweet LLC provided an adorable cake and cake pops for the birthday girl, while The Little Cookie Co NJ made custom outer space themed cookies for the big day. Everything looked delicious and even included a special bar cart and sign for all of the moms to enjoy, as well. Who said only the little girls got to have all of the fun?!
The kids table was absolutely everything outer space and even included "petite seats" for the little girls, provided by Petite Seats. The girls were able to enjoy a fun space themed playlist while having fun at the celebration and even got to enjoy seeing space images flash across the TV screens at the event. What a unique way to add in some fun decor!
One of the highlights of the Girly Space Themed Birthday Party was the rocket ship photo booth. All of the kids couldn't wait to take their turn climbing up and flashing their big smiles to celebrate the birthday girl. Just imagine how amazing that rocket ship must have looked to a room full of little girls!
Next to the rocket ship was a beautiful balloon installation, which had an emphasis on a countdown of a rocket taking off. Even better, a large "3" balloon was used to celebrate the birthday girl's 3rd birthday in the countdown, with blue and purple balloons surrounding it.
An outer space tent with additional balloons was found in another room in the home, which all of the guests at the birthday party couldn't wait to play in. How could it not be an absolute success?!
Emily Kathryn Paper provided fun graphics and vinyls that were used to decorate the space around the birthday event. Custom tattoos were also purchased off of Etsy that the birthday party guests enjoyed getting, as well. Finally, amazing buckets full of art supplies, including outer space coloring books, were provided to all of the guests as a party favor. What a fun way to celebrate the birthday girl that didn't include a bag full of candy!
Overall, this was one fun event that definitely blew all of the girls straight to the moon! What a fun and special day, all for the girls!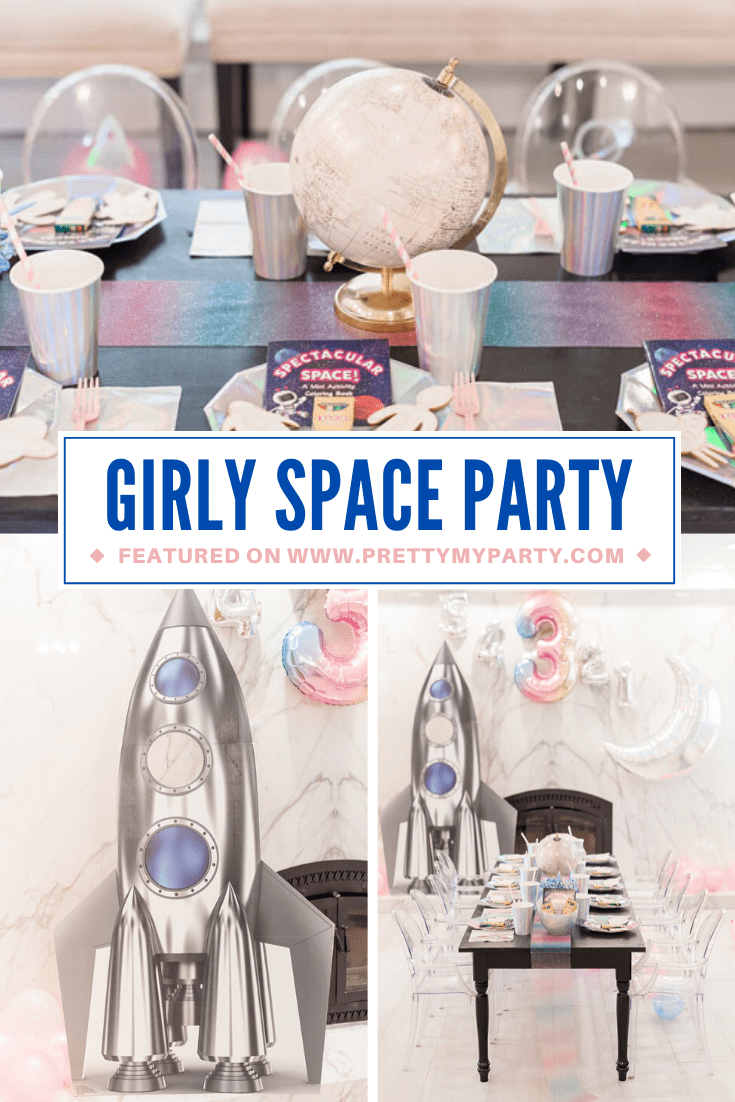 Girly Space Themed Birthday Party Ideas
A future astronaut T-shirt was the perfect birthday outfit for the space party
Solar system and galaxy scenes were displayed on the TVs in the home, for maximum galaxy themed decor
Amazing space birthday party desserts were provided, included custom cookies, cake pops and rock candy
The birthday cake included the birthday girl's favorite colors and cute graphics
A large balloon installation was used to countdown the rocket's blast off, with "3" being highlighted for the birthday girl's age
Globes were used as centerpieces on the gorgeous kids table
Party printables and signage were created for perfect party decorations
Party food was kid friendly with pizzas, but adult friendly with salads and a cocktail cart
The kids were able to blast off in a rocket used as a prop for a photo booth
Miniature tables and chairs were the perfect size for the Outer Space Themed Birthday Party
Amazing tableware was used on the kids table, including iridescent plates and cups
Out of this world party favors were provided, including art supplies and an outer space coloring book
Games and activities were provided, including a cute outer space tent for the kids to play in
The dessert table included a light-up star and moon to add to the fantasy element of the day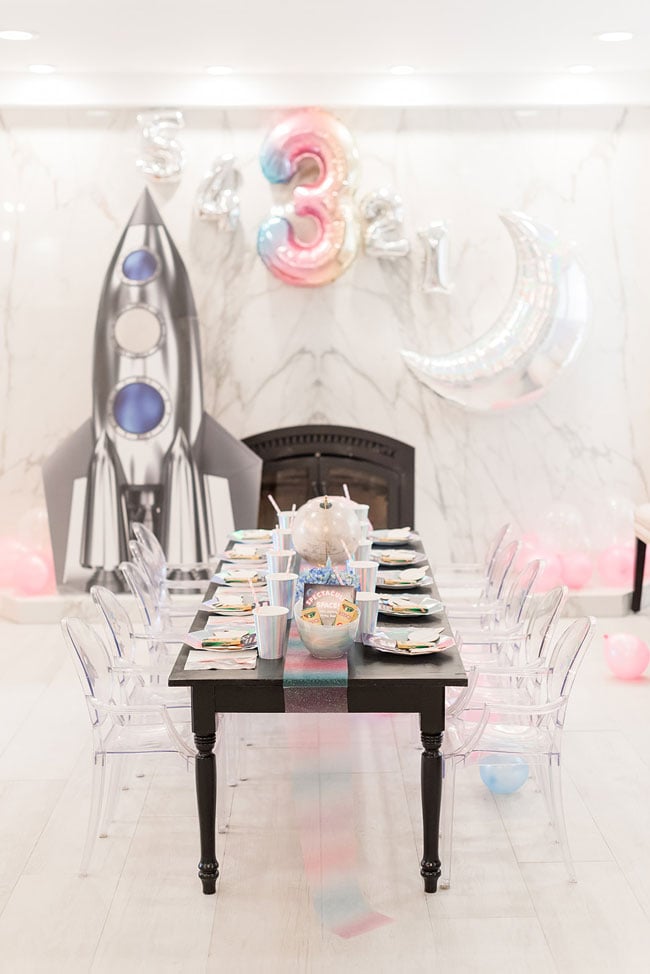 We absolutely love this fun Girly Space Themed Birthday Party. Everywhere you look there is something to love, but the special rocket is probably our favorite detail. How could it not be, it looks so realistic! To any little girl, it must have looked larger than life and would have been so much fun to play around and have their pictures taken in.
The color scheme is also so much fun and shows how easy it can be to make any theme into a girly adventure that anybody would love. The guest table was out of this world, as well, with globes being used as centerpieces. What a perfect addition! And, fun kid-sized chairs and tables didn't hurt, either. It was a perfect birthday celebration with all of the perfect details!
Shopping list: Girly Space Themed Birthday Party Decorations
See more girl birthday party ideas here:
What are your favorite details from this Girly Space Themed Birthday Party ? Let us know in the comments below!
For more birthday party ideas, follow us on Instagram @prettymyparty and Pinterest and join us in our private Facebook group.
Party Vendors