Spiderman 3rd Birthday Party
Swing into action with everybody's favorite web-slinging superhero in this Marvel-ous Spiderman Birthday Party!
This Spiderman 3rd birthday party designed by The Big Little Party of Alexandria, Virginia, sure packs a punch! From the awesome nighttime cityscape birthday cake to the red, black, and blue Spidey-themed balloons, this Spiderman party is perfect for your little web-head and his superhero friends!
Red, black, and blue are the ultimate colors of choice for any Spiderman theme party, and this birthday bash doesn't disappoint. The sweets and candy table features a red, blue, and black balloon garland backdrop with a life-size balloon version of our favorite web-slinging Marvel superhero himself! This balloon Spidey is perfect for photo ops where the kids can stage their very own crime fighting adventure with Spiderman!
The delicious birthday cake has two tiers with the bottom tier having a red, black, and yellow spider web design. The top tier has a New York city nighttime skyline design which is the perfect setting for Spidey's nighttime crime-busting jaunts. Cityscape decorations also adorned the tables to complement the cake's design.
This Spiderman party is definitely a massive hit for kids who want to have a Marvel superhero party. Our favorite elements are the life-size Spiderman balloon, the super cool superhero costume changing station, and of course, the amazing customized party favor boxes with the birthday boy's name!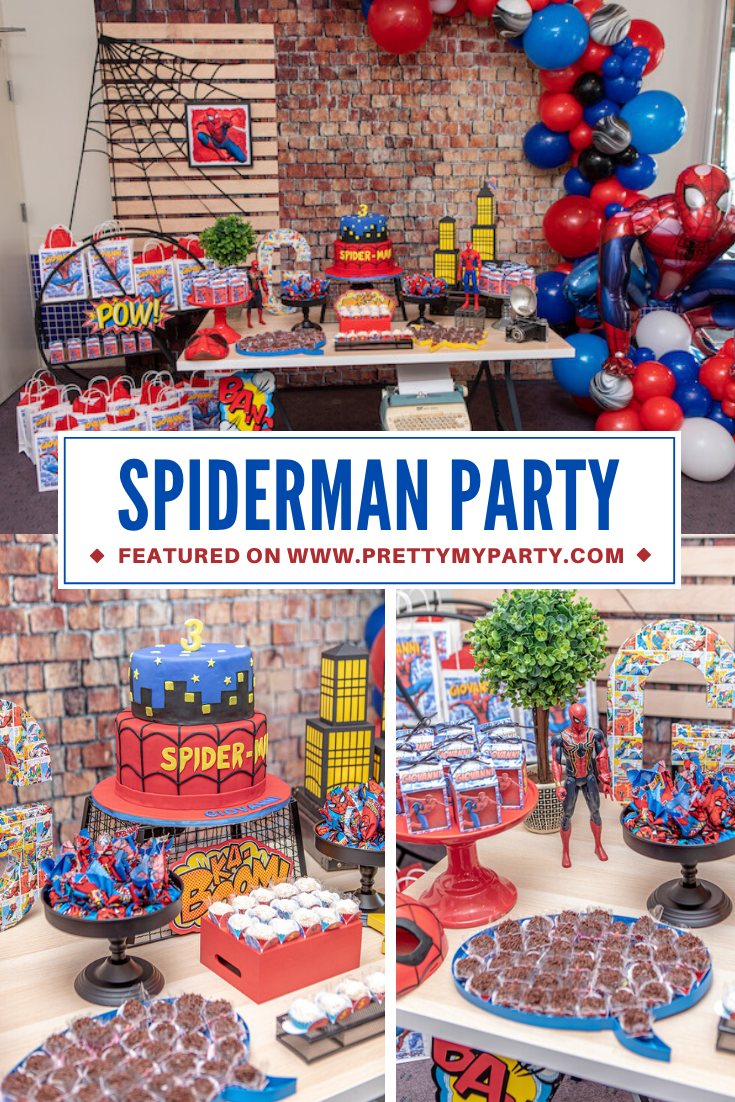 Spiderman Party Ideas
Two tier nighttime cityscape and spiderweb birthday cake

A large balloon Spiderman so your little one and his guests can have photos taken with their favorite crime-fighting superhero

3D cityscape decorations for the dessert table and table centerpieces

Red, blue, and black balloon garland

Delicious Spidey-themed cupcakes, cookies, brownies, and other snacks and desserts

Brightly colored comic book expressions and speech bubbles

Custom Spiderman comic book cover party favors and goodie bags

Large 3D spider web decorations

Vintage camera centerpieces and typewriters to celebrate Spidey's day job as a newspaper photographer

An awesome Spiderman costume changing station for quick photo ops

Spidey-themed plates and other tableware

Spiderman masks for all the little guests
Now that you've got some awesome DIY decorations and food ideas about how to throw a Spiderman birthday party that will amaze your little boy, it's time to let us know your thoughts! Which of the Spiderman party theme ideas above did you like most? Do you have your own web decoration ideas or ideas for invitations or party games and other fun activities to share? Leave your comments down below!
From The Big Little Party: "This memorable 3rd birthday party was action-packed! A super special family contacted recently to do a spectacular Spiderman party for their Peter Parker-obsessed little man. I had a week to design and execute all the amazing details. I loved the party favor boxes and bags and the brownies wrapped in Spiderman fabric! The family chose their favorite restaurant to host the party. Kazan has amazing food and great service. The desserts and the beautiful cake were made by Cakes Vanessa Placido."
For more fun birthday party ideas for boys, follow us on Instagram @prettymyparty and Pinterest and join us in our private Facebook group.
Shopping list: Spiderman Party Supplies and Decorations
Party Vendors
Planner/Design: The Big Little Party
Venue: Kazan Restaurant
Cakes & Desserts: Cakes Vanessa Placido
Photography: Gustavo Dieckmann Photography
Balloons: Charnie Marcelo Logan