This Spiderman Birthday Party was full of fun and adventure!
When the little boy in your life is a huge fan of Spiderman, a Spiderman Birthday Party is the perfect theme! If you're looking for Spiderman Party Ideas, get some inspiration from this fun party with cool party supplies, decorations, desserts, an awesome Spiderman birthday cake, and tons more!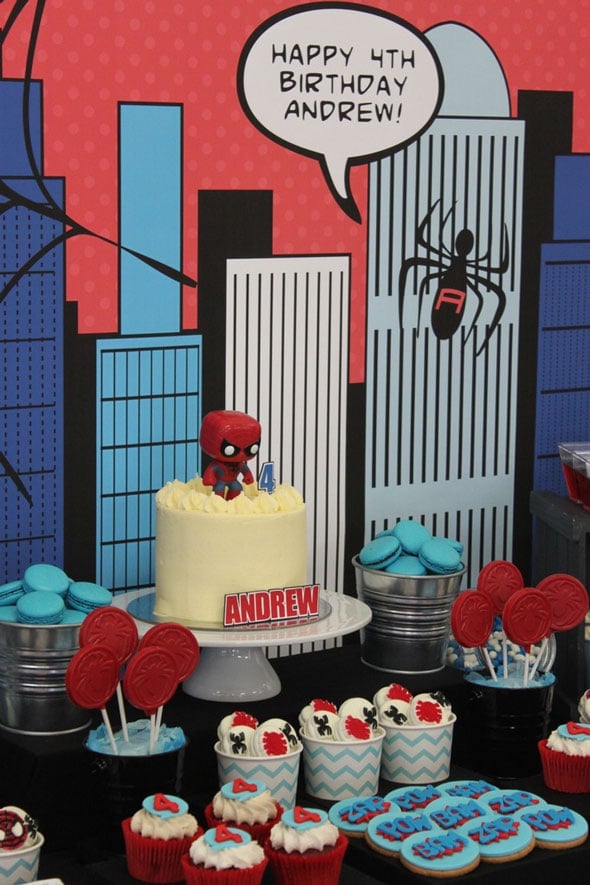 Games were at-hand, such as creating your own mask and having the ultimate egg race!
There was also a special appearance from Spiderman himself! The kids went absolutely nuts! What an amazing set-up for the birthday party. The tables were decorated perfectly for the big event!
The Anders Ruff spiderman-inspired background was the perfect complement to this fun Spiderman Birthday Party! The awesome spider cutouts by the ever-so-clever Memories Are Sweet were amazing too!
A party isn't complete without a fun cake! This amazing Spiderman cake from Isabels Confetti turned out perfect. The spider cutouts and cake toppers from Memories Are Sweet were the perfect accessories for an amazing creation!
The cake wasn't the only thing to give everyone a sugar high! The amazing cookies, cupcakes and other desserts were tasty, as well!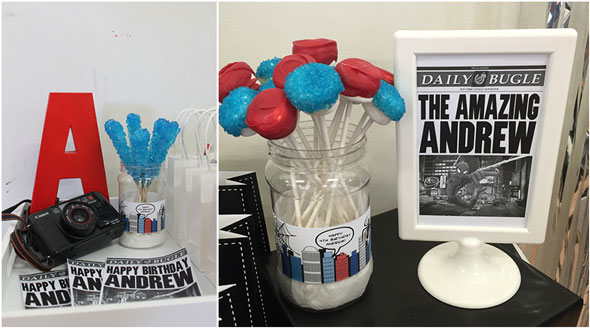 The birthday boy had his own newspapers out for the event, too! Such a lucky little guy!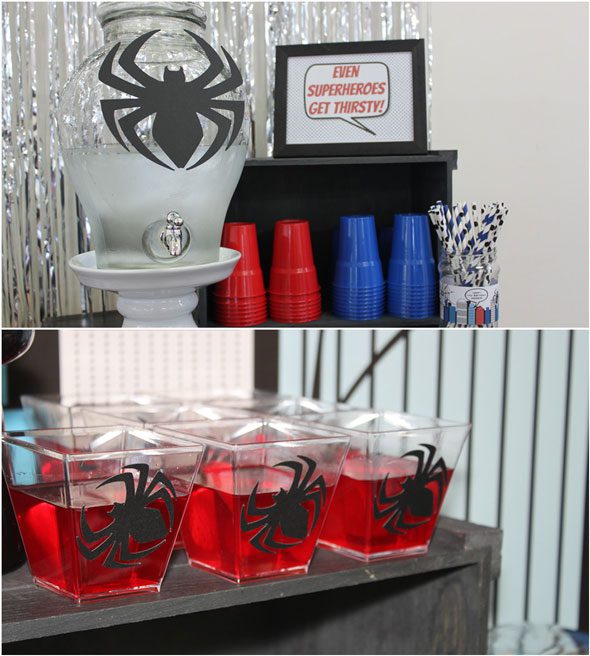 Even the drinks were absolutely amazing! With the "Even Superheroes Get Thirsty" theme for the drink table, everyone was excited about grabbing some punch and water!
How great are all of these party printables for this super cool Spiderman Themed Birthday Party? It made all of the little guests feel like they were right in all of the action in the big city!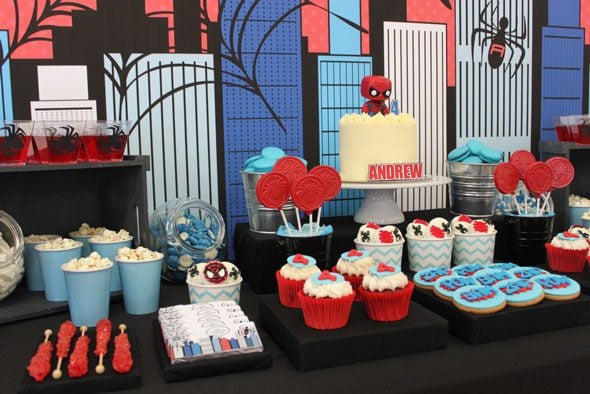 Everything fell into place so perfectly! The birthday boy's face lit up with excitement when he entered his Spiderman birthday party. His excitement was the best part of the day!
What's your favorite details in this Spiderman Birthday Party? Let us know in the comments below!
For more fun birthday party ideas for boys, follow us on Instagram @prettymyparty and Pinterest and join us in our private Facebook group.
SHOPPING LIST: SPIDERMAN PARTY SUPPLIES AND DECORATIONS
Party Vendors
Party Styling, Photography, Cupcake and Cookie Toppers: Isabels Confetti
Dessert Table Printables: Anders Ruff
Photo Booth Printables: Paper Haven Ink
Spider Cutouts and Cake Toppers: Memories Are Sweet