Disney's Cars Themed Birthday Party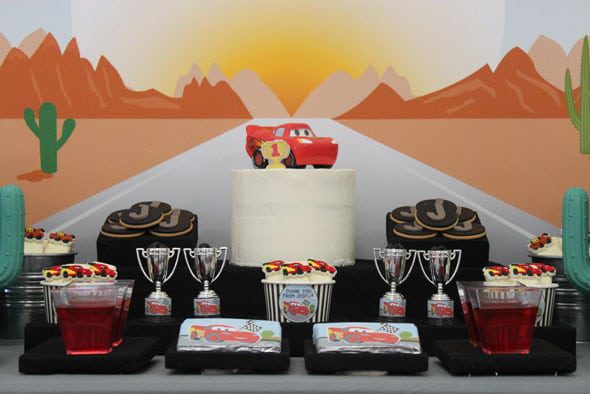 Imagine how delighted this little guy was to have a Disney's Cars Themed Birthday Party for his first birthday! What a spectacular birthday celebration that will be remembered for years to come!
The table settings at this little guy's car party were absolutely adorable and everyone had a special place to sit, thanks to all of the great decorations that surrounded the tables! How could you walk in and not be completely delighted by the wonderful details everywhere!
The Disney's Cars Themed Birthday Party had not only one delicious cake, but TWO! The chocolate drip cake was provided by New York Patisseries, while the yummy buttercream cake was made by Isabels Confetti.
Desserts were everywhere for the guests to enjoy and they were almost too gorgeous to eat! We just love those great cookies with the birthday boy's initial, as well as the presentation of the dessert table. It was the epitome of a cars themed party!
The presentation was astounding and couldn't have been done any better! We love the look of the little tires that are holding candy, along with the "cactus plants" that adorned the table, as well! Just perfect!
Everyone got lost in the fun of playing tons of games and kids were smiling ear-to-ear all afternoon! The great signage that was around the party was a huge hit that fell right in line with the theme! How about the birthday boy's special place setting? What a lucky guy!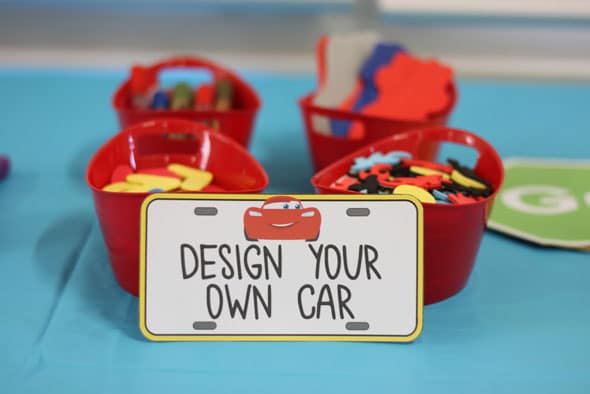 Children got to design their own car, participate in egg racing and loads more! We just love this design your own car idea because you can combine a game and a gift, all in one!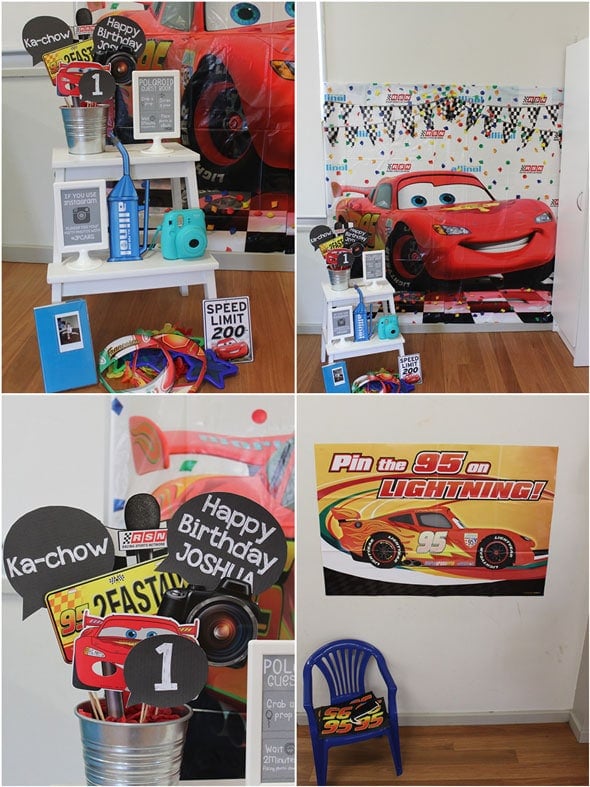 The biggest hit of the day? It had to be the Polaroid camera that everyone had so much fun with in the photo booth area! With lots of great photo booth props to choose from, everyone had a great time and captured lots of memories.
No detail was left undone and there was not only one great table with a backdrop, but there were two! The backdrops were provided by Pretty and Print and couldn't have been more adorable. They totally made the party into a success with the great theme!
Details for any party are important, but this party was on point! From the drink table, to the "trophies" and candy bars, nothing was forgotten.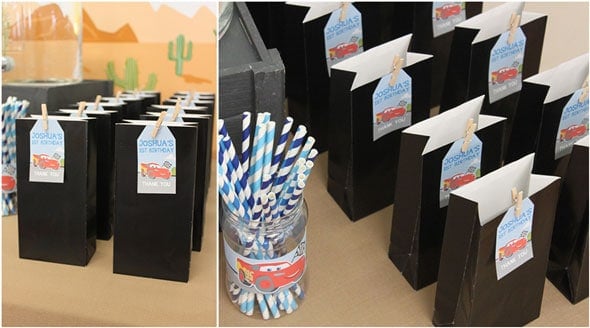 Of course, perfect gift bags were presented to all of the guests at the end of the party and everyone was sent home with great memories. What a wonderful birthday party for any cars-loving little guy!
Vendors & Credits
Styling and Photography – Isabels Confetti // Buttercream Cake, Cupcake Toppers and Cookies – Isabels Confetti // Drip Cake – New York Patisseries // Backdrop – Pretty and Print
Check out these other fun boy birthday themes on Pretty My Party here: