This Lego party for girls features the most adorable pastel Lego party supplies, decorations and desserts!
With giant building blocks, adorable themed desserts and even a waterslide fit for a theme park, Dreamery Events created this little girl's very own fun Girl Themed Lego Party! Luckily, Oriental Trading has this pretty collection of pastel building blocks. Naturally, it was the ideal color scheme to inspire this celebration perfect for any darling little girl who loves using their imagination and creating things. Move over boys – girls love building things too!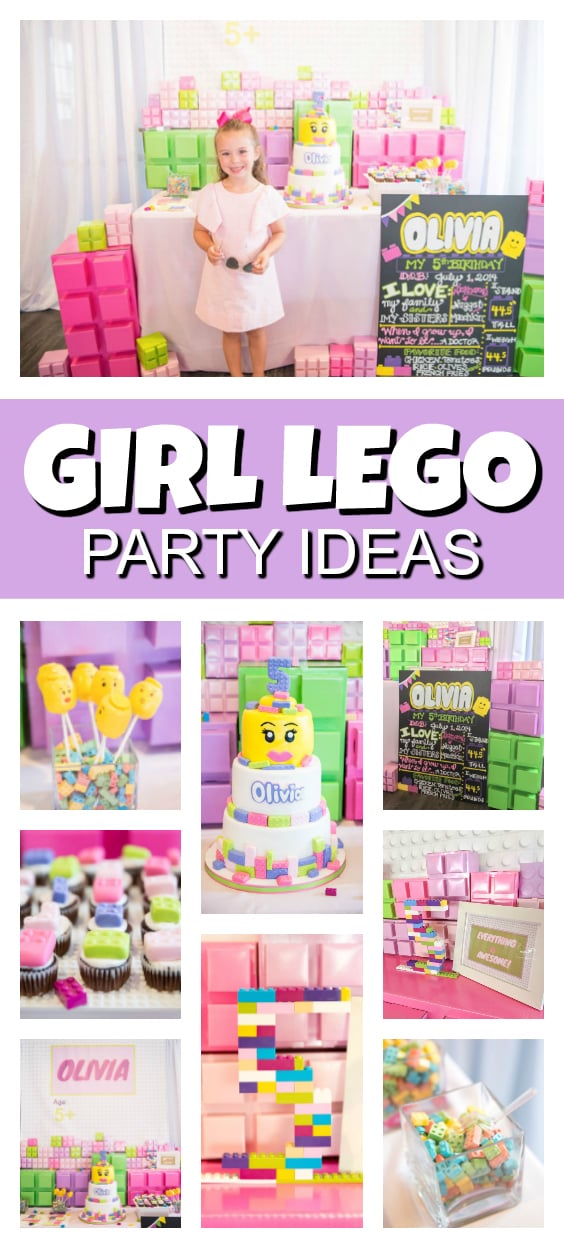 Girl Themed Lego Party Ideas
Personalized Lego Dessert Table Backdrop
Pastel Colored Lego Party Decorations
Amazing 3-Tiered Girls Lego Birthday Cake
Cool Yellow Lego Cake Pops
Pretty Pastel Lego Cupcake Toppers
Lego Themed 5th Birthday Chalkboard Sign
Number 5 Lego party decoration
Mini Lego Candies
Lego Creation Station
Lego Coloring Activity For Kids
Lego Sugar Cookies
Lego Table Centerpieces With Pretty Flowers
Leo Party Printables and Signs
Lego Party Supplies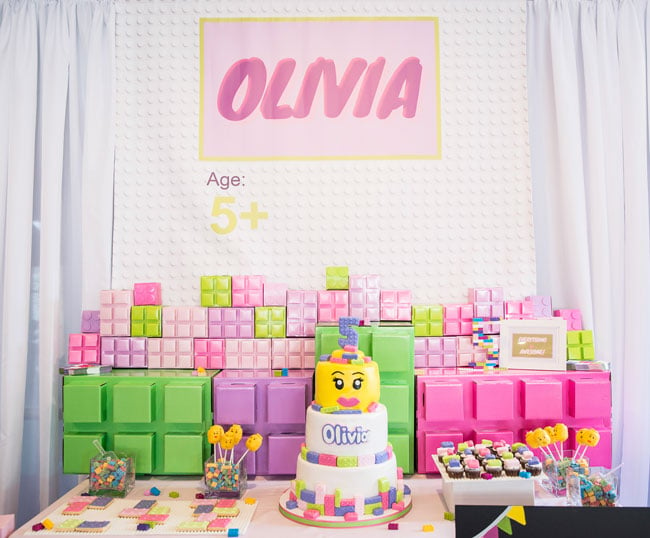 It's time to get to all the FUN and cute details from this little lady's LEGOLand 5th birthday! All of the decorations that were found around the event were super cute! We just love this amazing dessert table with all of the LEGO decorations and treats that were waiting to be enjoyed!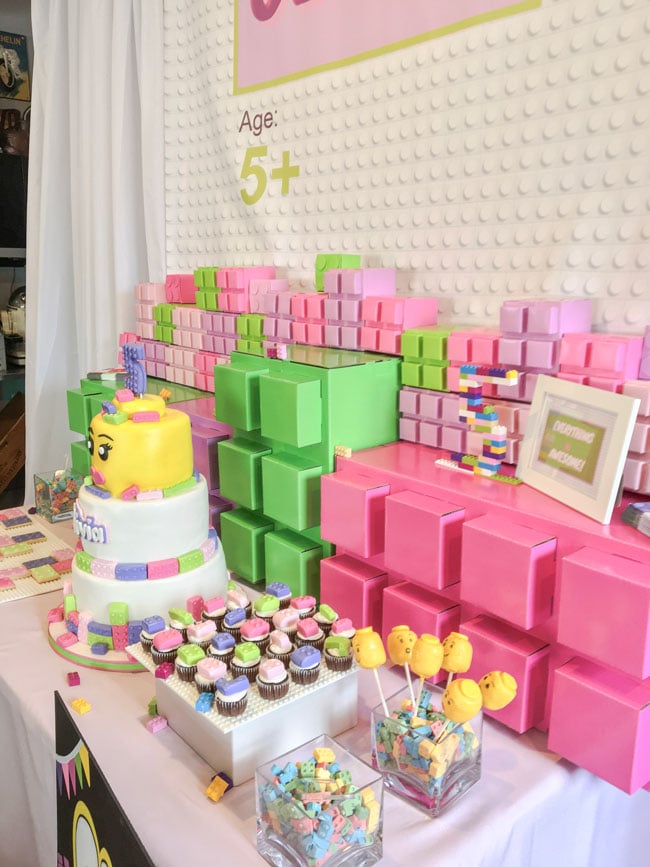 Since the bold colors, and size and scope of the LEGO blocks were statement pieces on their own, the rest of the dessert table was kept clean, white and simple. This was the perfect way to allow each detail to shine on its own! WOW! What an amazing Lego birthday party for girls!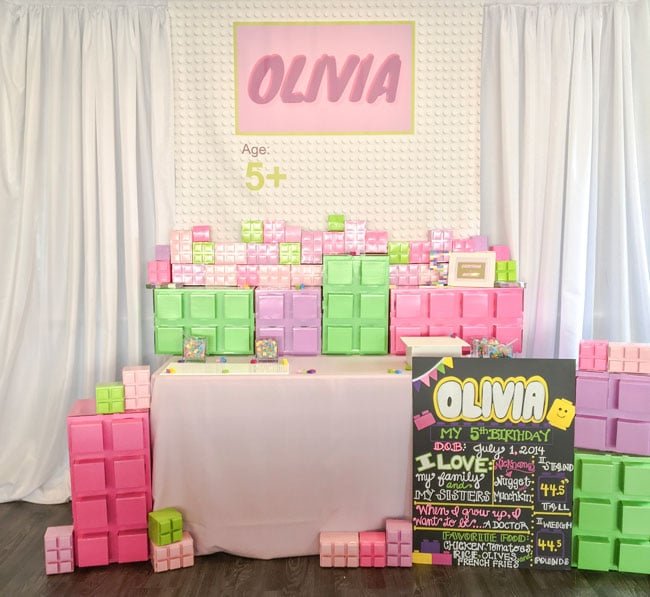 This is certainly one of the most colorful events we've been lucky enough to share! Where LEGO birthdays often show off their signature primary colors, Dreamery Events was all about doing something a bit more unique for this Girl Themed Lego Party.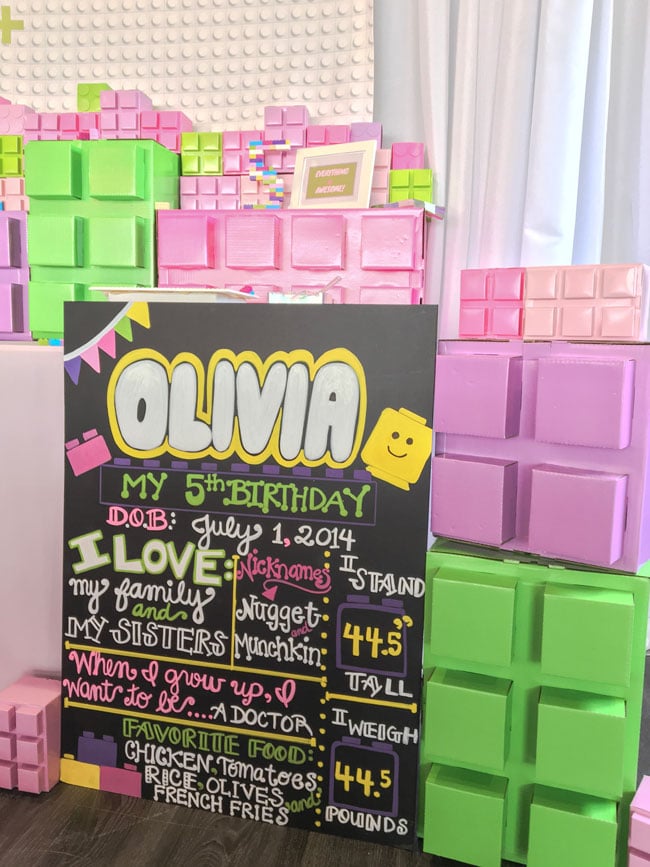 This Lego Friends Themed Birthday Party even had a great party sign celebrating the birthday girl front and center! Who says these birthday signs are only for babies? We love seeing the awesome printable that was a centerpiece of the dessert table and a great decor piece to add to the event!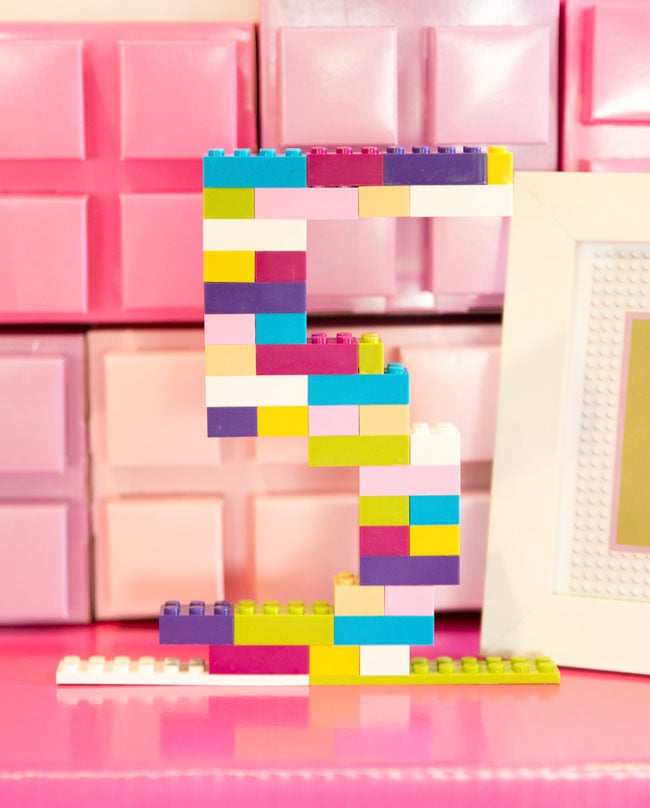 How cute is this great "5" that was created from LEGO's?! It fit in perfectly with all of the Girly Lego Party decorations and was the perfect addition to showcase the little birthday girl's age!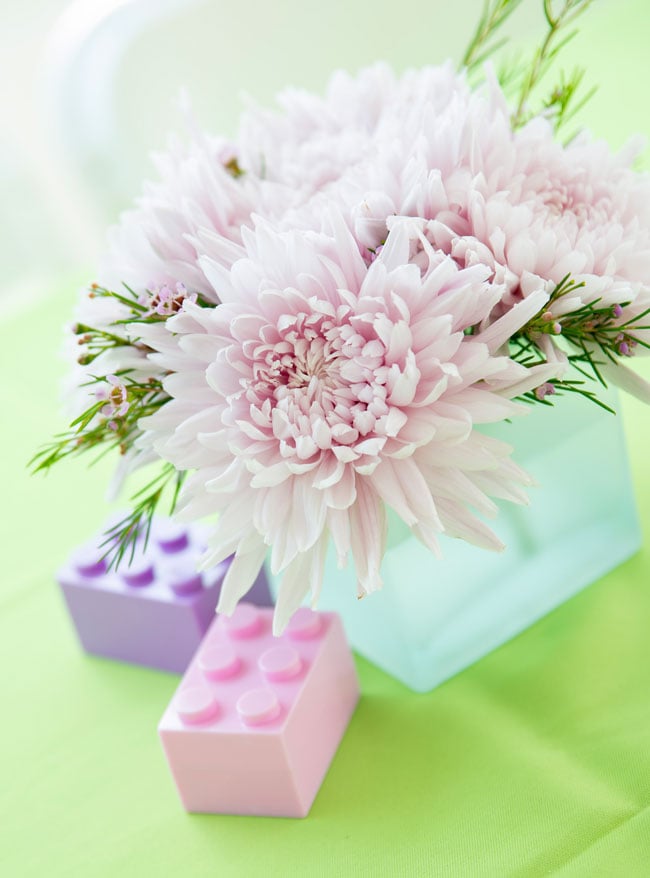 These lovely centerpieces are what LEGOs would be in floral form, don't you think? They were gorgeous items to add to the decor of the event and get that Girl Themed Lego Party vibe included.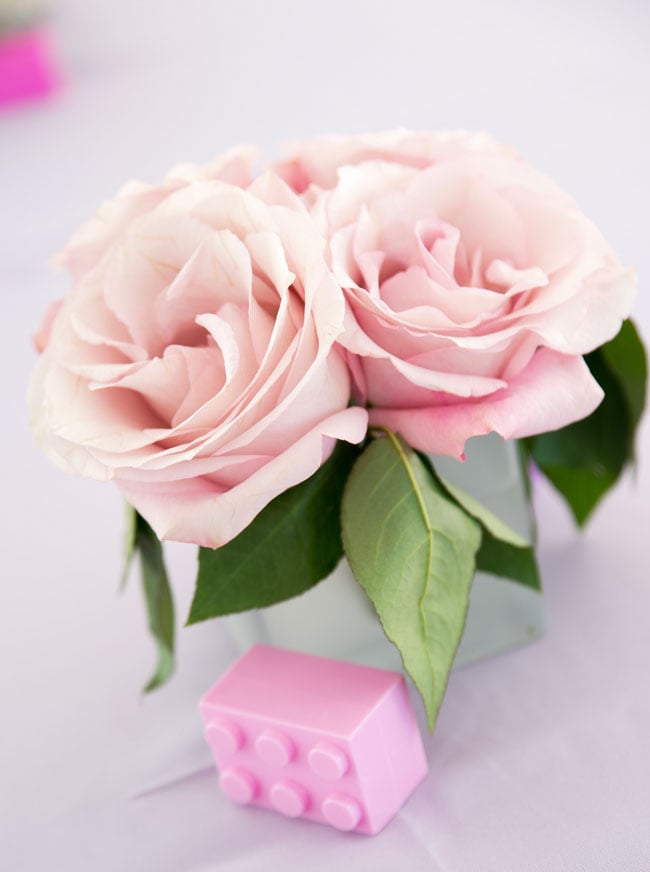 These pink roses were such a highlight of the guest tables. So beautiful and we love how the different LEGO blocks were used as an additional decor piece around the centerpiece. We love all of these amazing girly Lego Party Ideas!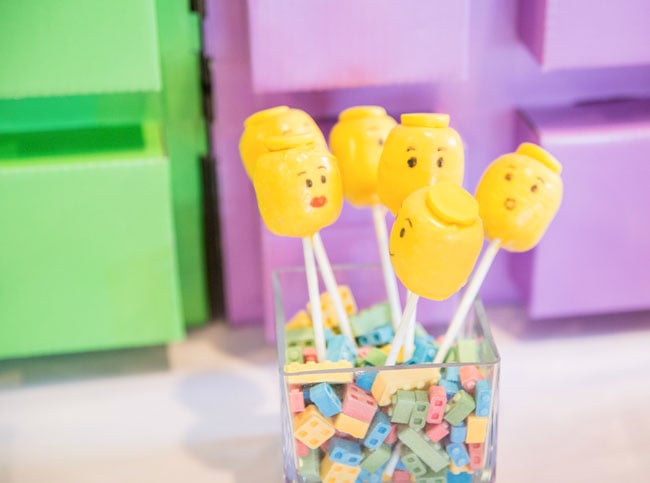 LEGO block sugar cookies, candies, mini cupcakes and LEGO doll cake pops were the highlights of the dessert table. Spoonful of Heaven did an amazing job with all of these cute creations and all of the sweet food was a huge hit at the Girl Themed Lego Party!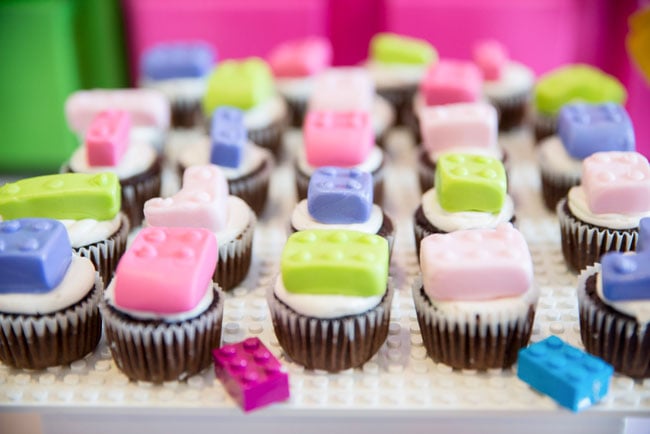 Just look at these awesome cupcakes with some fun "LEGO" cupcake toppers added! What great work, and of course, the colors were right on point with the rest of the Girl Lego Birthday Party.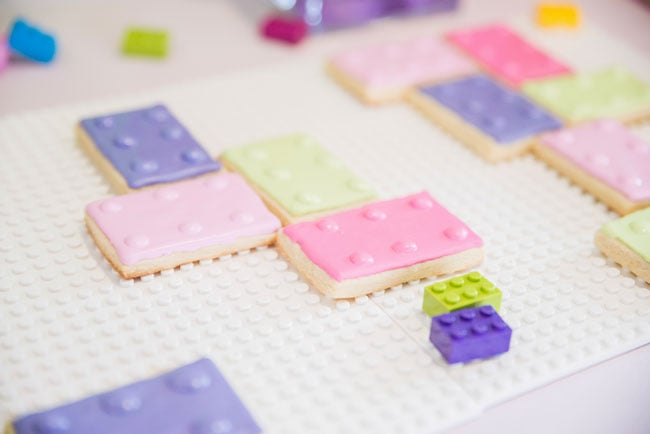 We just love the presentation of the LEGO cookies that were created. How fun to have them set up on LEGO bases, with actual LEGOS surrounding the desserts. What a unique idea that everyone absolutely loved!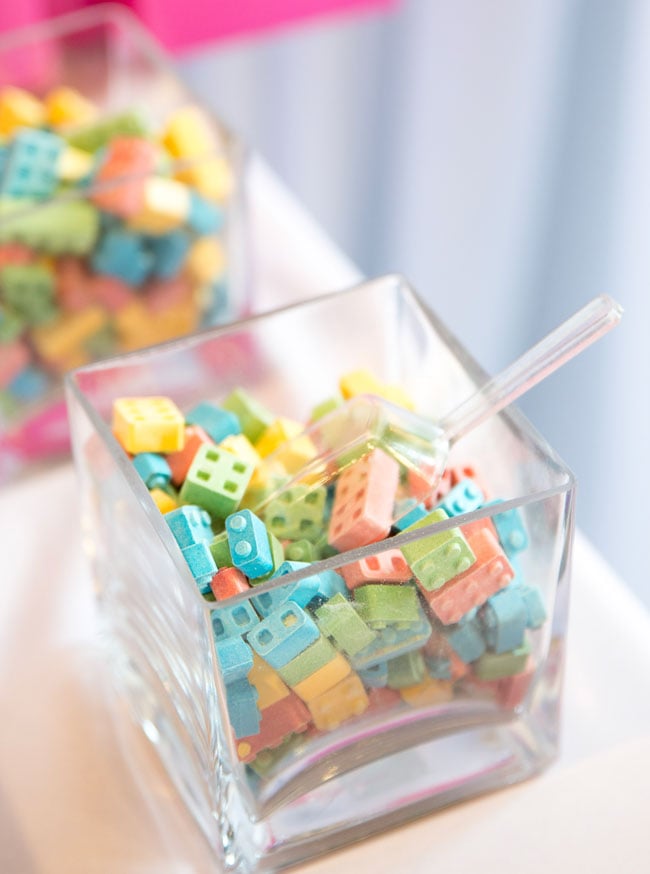 Who wouldn't want to dig into these LEGO candy bricks to add to their plate?! The kids were so excited to pick these up and were amazed that it was actually candy and not real LEGO bricks!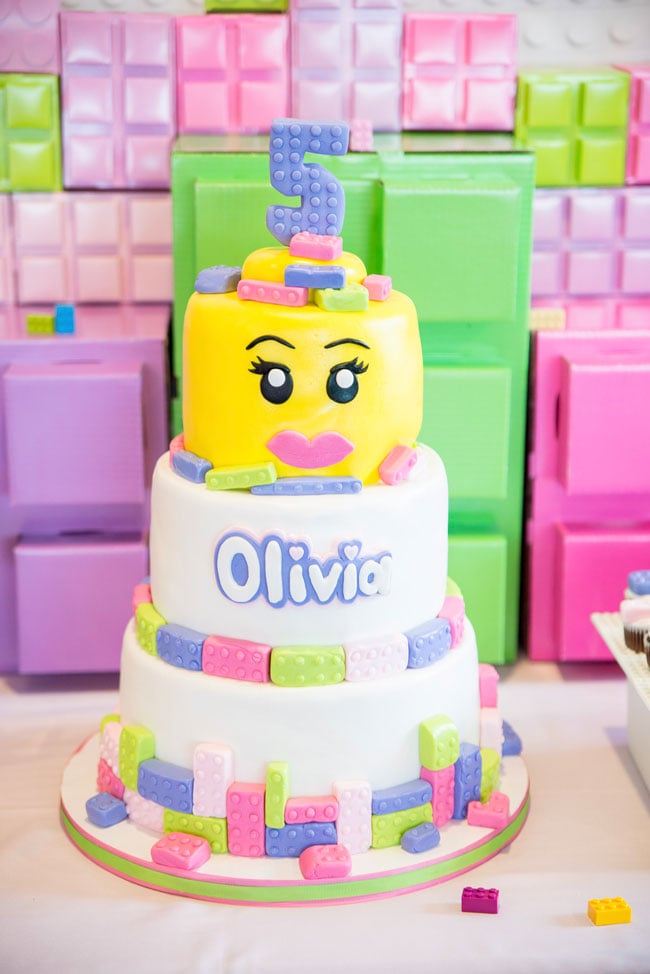 Can we please talk about how stinkin' cute this LEGO birthday cake is?! It was a showstopping creation that Spoonful of Heaven did such a great job with. We don't think any of these themed desserts could have ended up any better.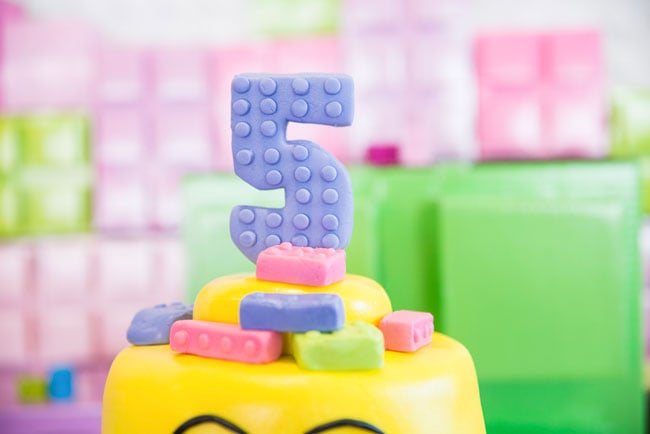 We just love the LEGO themed cake topper that was created for the birthday cake. It was the perfect addition with great colors to show off at the Girl Themed Lego Party. The birthday girl was sure to love it!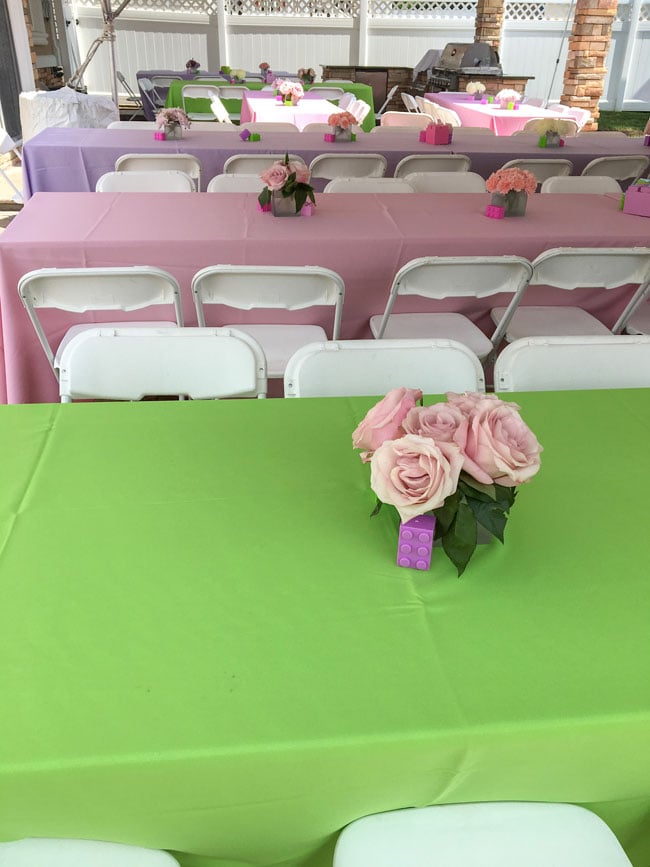 Tables were decorated with pretty linens from Bergen Linens. They matched perfectly with the color scheme of the Girl Lego Party. All of the tables were also adorned with monochromatic square floral arrangements, which were absolutely gorgeous!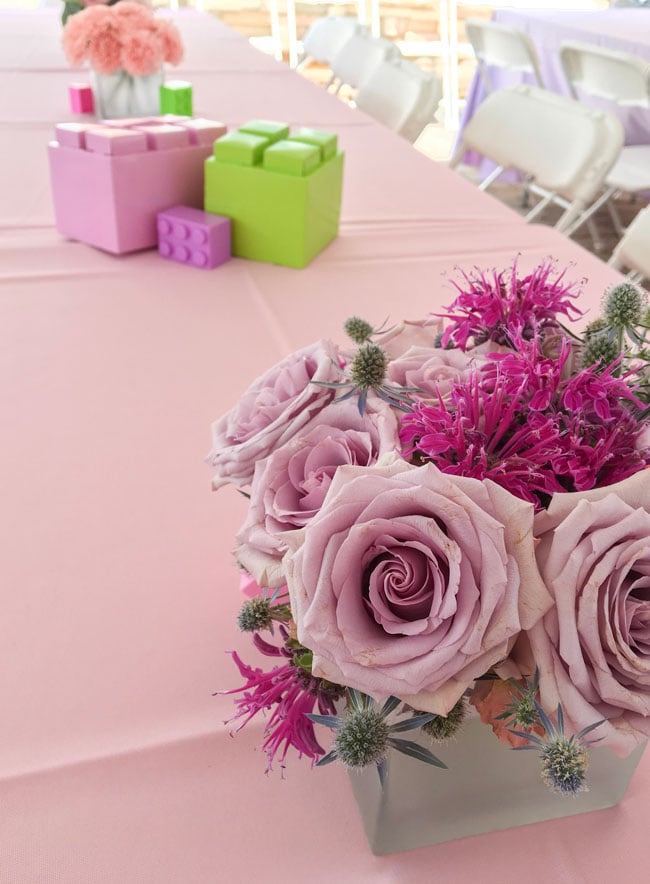 Tent and seating rentals were provided by Hodges Party Rentals and everyone loved the feel of a summer Girl Lego Birthday Party outside in the fresh air.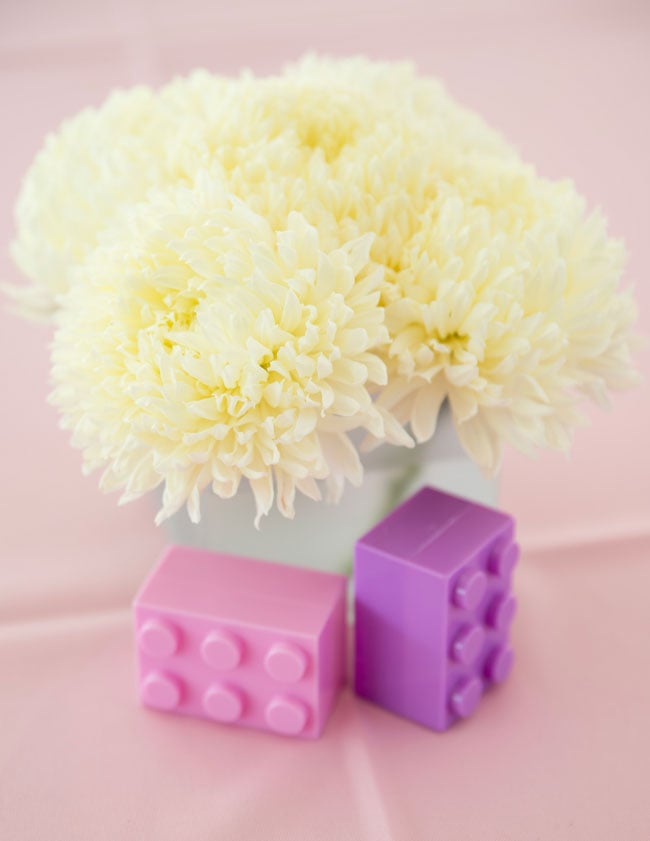 Bright and colorful centerpieces were placed strategically around the guest tables, with fun LEGO bricks surrounding the vases. These Lego Party Ideas were perfect to add the girly theme to the celebration, while including all of the fun LEGO's that the birthday girl craved.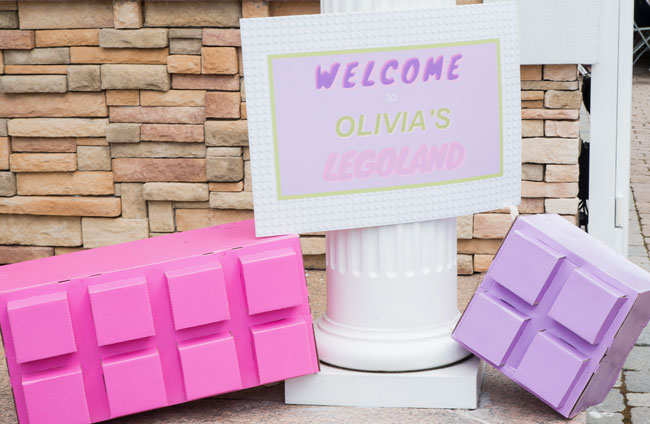 There was no shortage of LEGO building blocks! Starting with these fun jumbo ones welcoming all of the guests at the door of the birthday girl's backyard bash. Everyone knew they were in for quite a fun day when they entered the party! We love the great printable, too!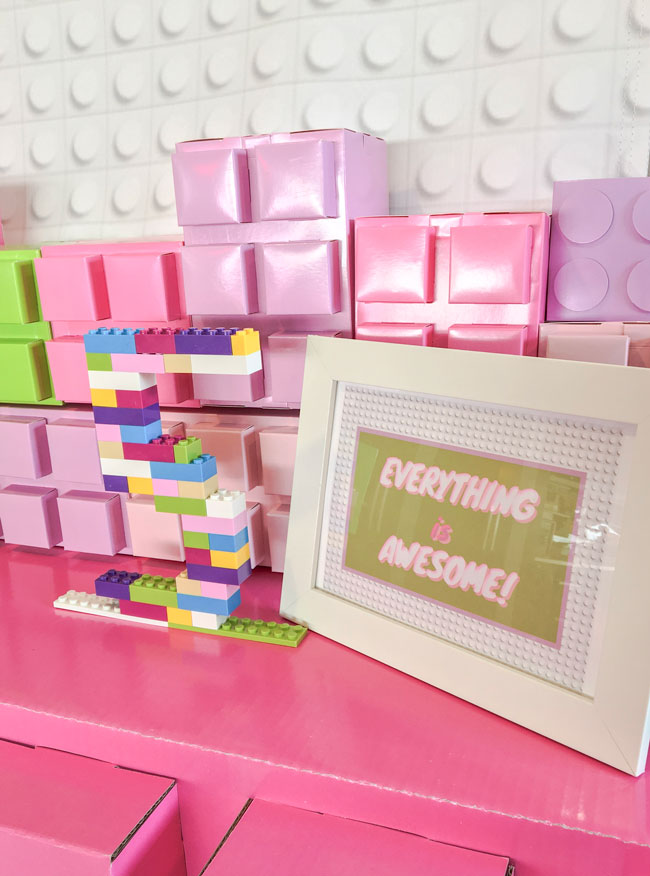 The grand building "construction" of the dessert table was completely unmatched. What a great addition to a Girl Themed Lego Party!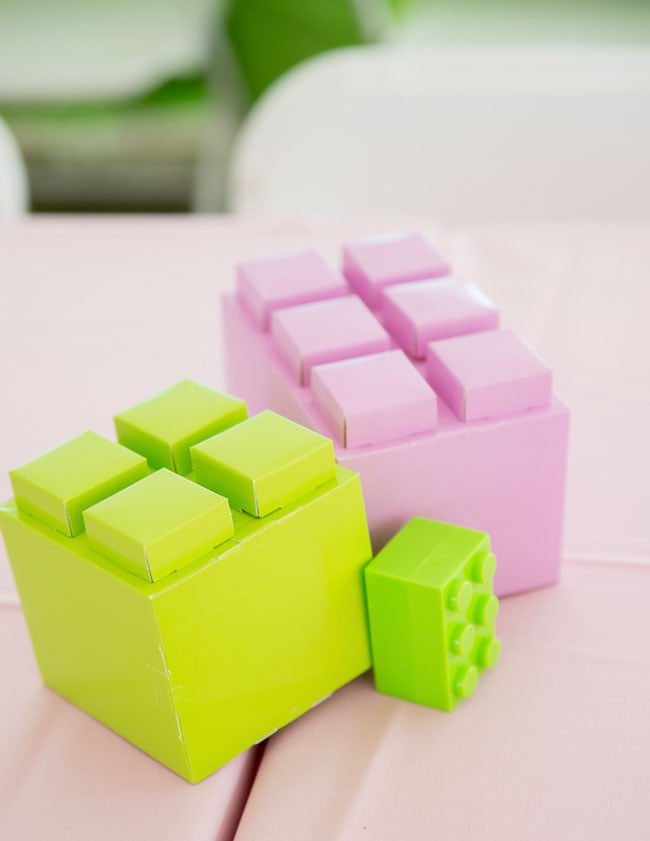 Large LEGO blocks were even found on every guest table, as well. There was definitely no shortage of LEGOS at the Girl Lego Party theme.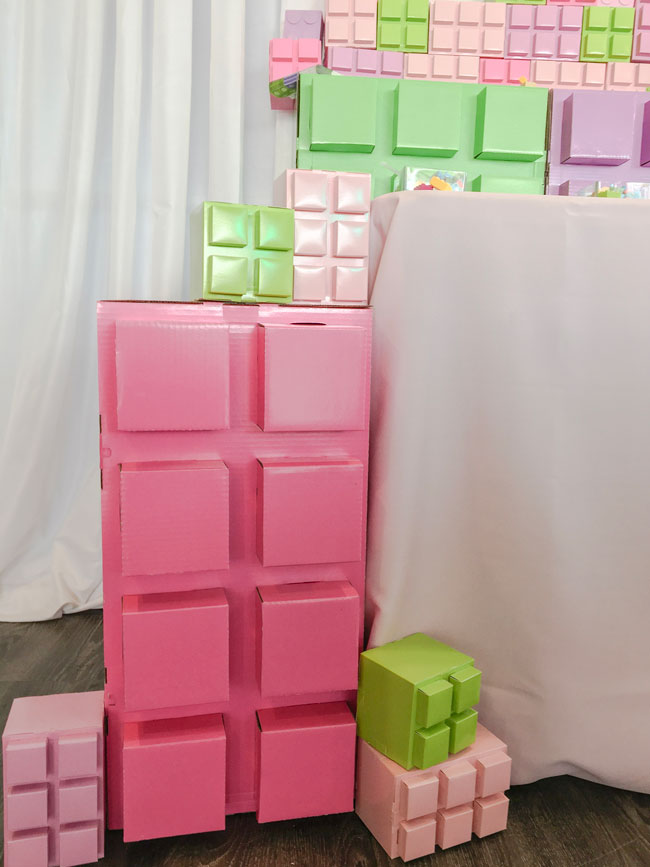 How cute are these mega LEGO blocks that were assembled and put together around the dessert table?! Who knew they even had such large blocks to create, but it was the perfect addition of this birthday girl's LEGO party!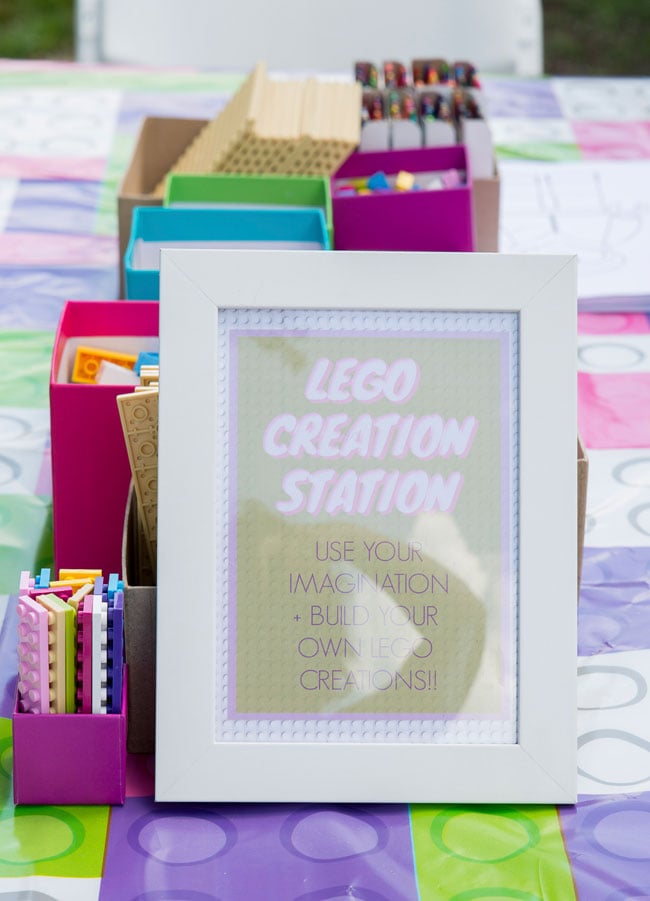 When all of the Girl Themed Lego Party guests weren't having tons of fun cooling off on the waterslide or digging into the yummy LEGO desserts, they were coloring LEGO designs and building their very own creative masterpieces!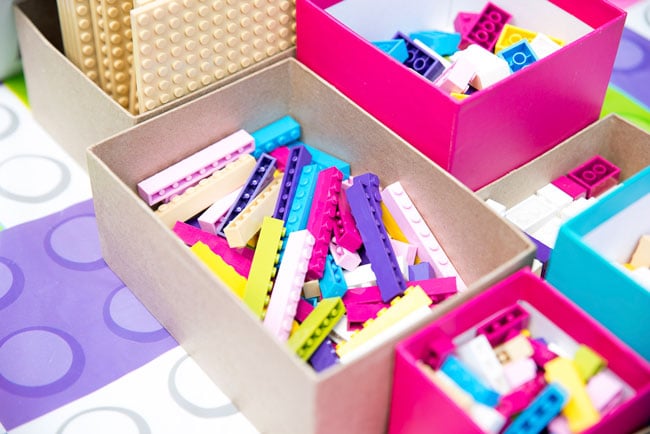 A LEGO Creation Station was available for all of the girls to use their imaginations and create their perfect LEGO creations! What a great activity for all of the guests to enjoy. They also made great party favors that everyone was able to take home when they were done making their perfect LEGO.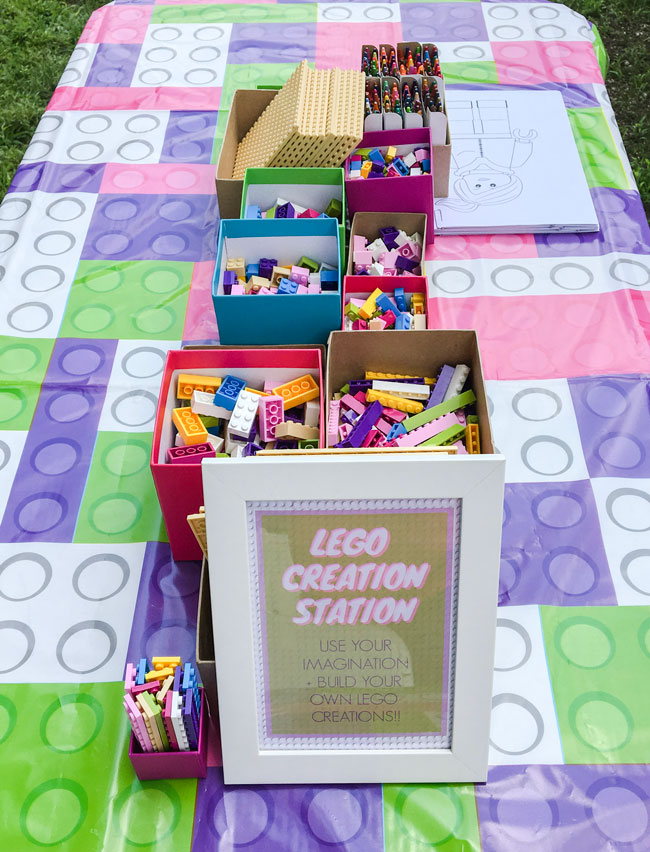 The creation station had a great printable set up to explain to all of the guests what they got to do with all of the fun boxes of LEGO blocks. Everyone was ready to dig in and have some fun!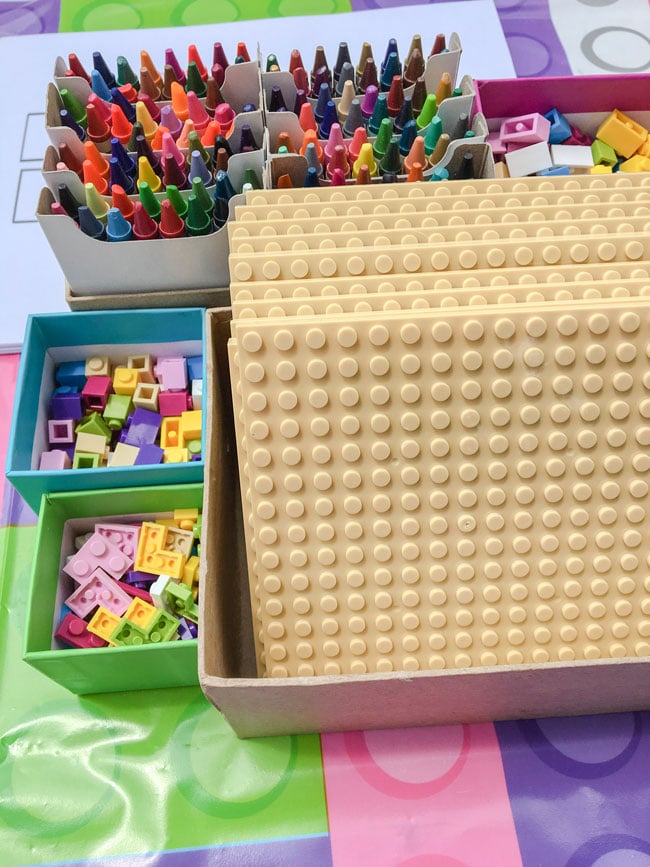 Everything was provided to make sure that all of the guests were able to create their own perfect masterpiece. We just love this idea for a LEGO themed birthday party and all of the guests loved the activity, as well.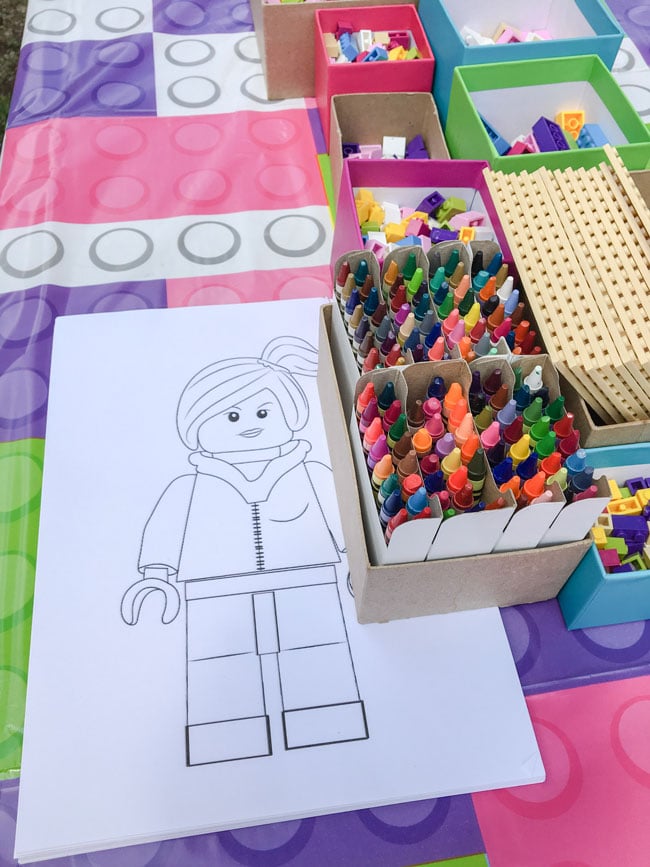 There were also fresh crayons available for guests to color their perfect LEGO superhero in with. Who doesn't love creating the perfect picture to take home and enjoy?!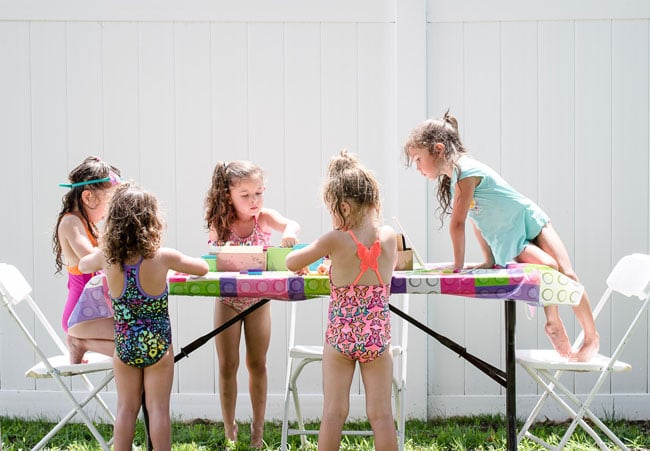 Everyone dug right into the activity station with the LEGOs and crayons. It was a hit!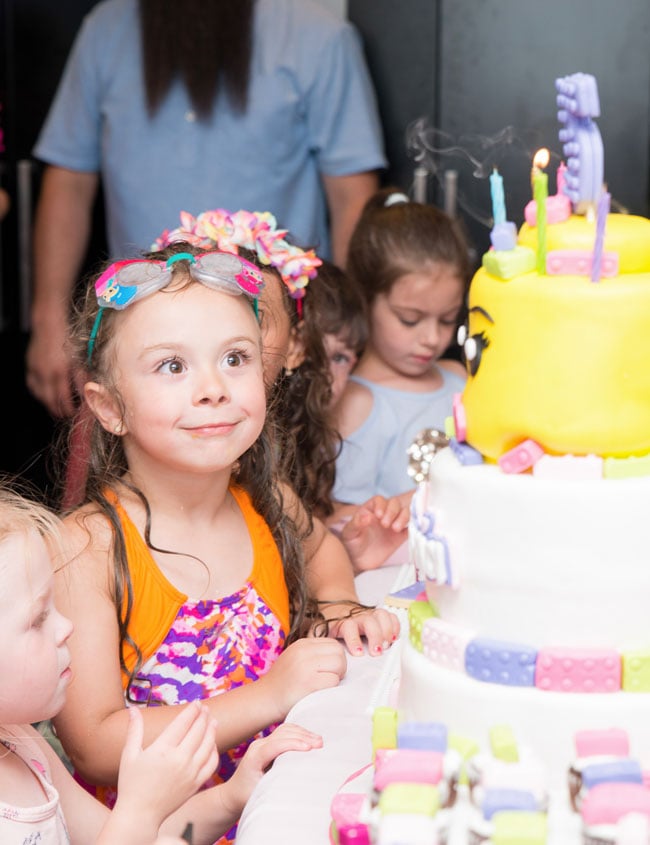 But the best part … The local ice cream truck stopped by to put a smile on everyone's face! Who doesn't love the local ice cream truck making a pit stop at your birthday party for all your friends and family?! It was certainly a crowd pleaser, just like the birthday cake was for this lucky 5-year-old.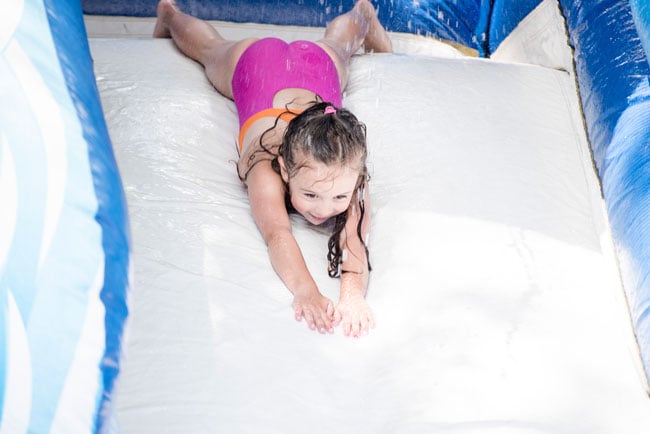 Outdoor summer parties are always a bit more relaxed, but the birthday girl and her lively friends were too excited to get creative and play!! Especially on the fun waterslide that was provided by Let's Jump LLC!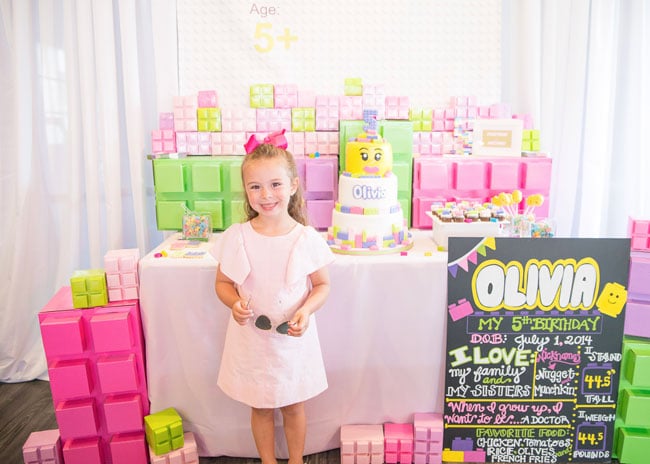 This Lego Friends Themed Birthday Party was a bright, fun and creative celebration! It just goes to show you that Everything is Awesome!
What's your favorite details in this Girl Themed Lego Party? Let us know in the comments below.
For more party ideas, follow us on Instagram @prettymyparty and Pinterest and join us in our private Facebook group.
Party Vendors
Vendors : Styling, Flowers + Planning : Dreamery Events
Photography: Maklian Photography
Cake + Other Small Desserts: Spoonful of Heaven
Inflatable Water Slide: Let's Jump LLC
Catering: Valenca Restaurant
Table Linens: Bergen Linens
Tent & Seating Rentals: Hodges Party Rentals
All Building Block Pieces: Oriental Trading