Very Hungry Caterpillar Themed Party
What a sweet Very Hungry Caterpillar Themed Party for a one-year-old super fan. Nothing could be better!
First birthdays are extra special and this fun Hungry Caterpillar Party makes sure this little guy was able to enjoy his birthday to the fullest! Just look at it, it's all sorts of cute, thanks to the amazing designs by Fay of Creative Motion Events!
How cute is that caterpillar balloon backdrop that was placed on amazing greenery?! Balloons by Farida did an amazing job creating this Very Hungry Caterpillar! The entire dessert table was just incredible. Just look at that cake! Wobbles Bakery created the perfect cake with a cute caterpillar as the cake topper. We love the entire table display, with greenery used as a table runner, which is perfect for this birthday theme!
The Savory Soiree made some delicious cookies that everyone enjoyed, while Mrs. Macarons created an incredible artisan macaroon tower with bright colors that was such a fun addition. The rustic look was added to the table decor by using wooden plates for the cookie displays, along with fun plants to add a bright spot to the table. And we all know caterpillars love to eat plants!
Speaking of plants, there were fun and bright colored centerpieces that everyone was able to enjoy, as well! The Very Hungry Caterpillar book was found around the event for little kids to enjoy and lots of fun and bright printables were created for the party too. Fun leaves for the caterpillars to "munch on" were spread around the tables, along with toys mixed in at this sweet event.
Every birthday is worth celebrating, but first birthdays are extra special! It's a time to celebrate the friends and family who came together that year to support and help the little one grow. While this little guy won't remember his big day, the support group will! Being a parent isn't easy and it takes a lot of work with love, grace, patience and a strong tribe around you.
"One Sunday morning the warm sun came up and pop! Out of the egg came a tiny and very hungry caterpillar."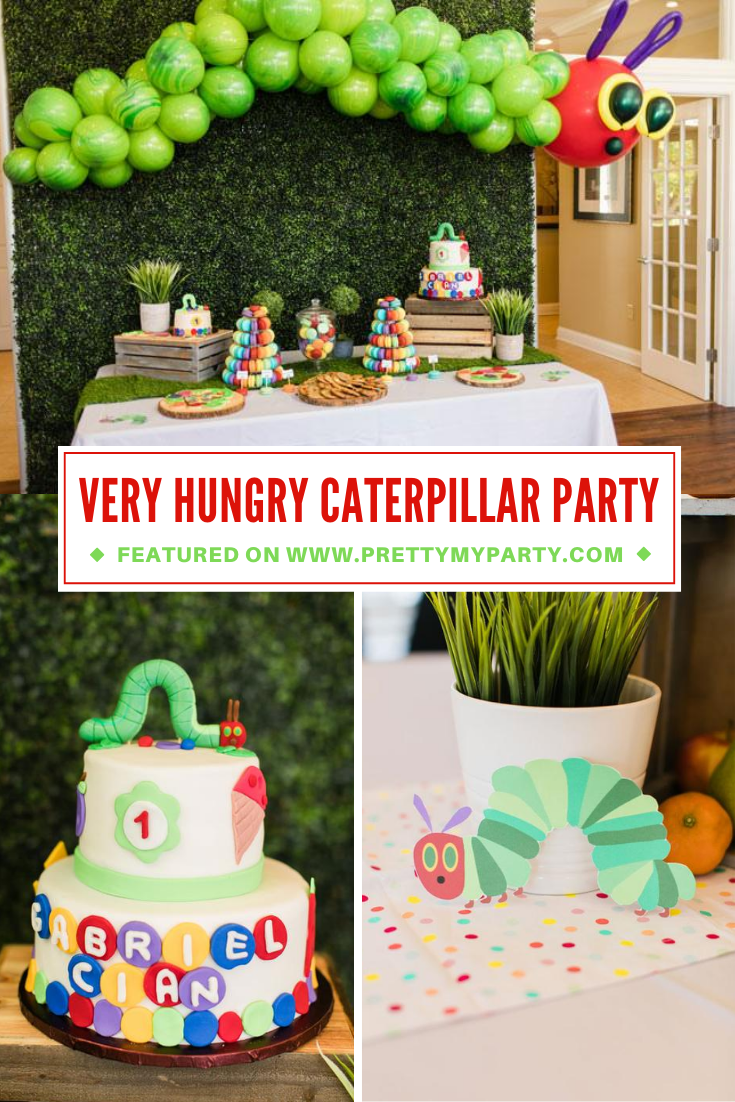 Very Hungry Caterpillar Party Ideas
Bright colors were the fun added element to this caterpillar birthday party
The Very Hungry Caterpillar cake was amazing, especially with the caterpillar, himself, making his entrance as the cake topper
The dessert table of this Very Hungry Caterpillar 1st birthday party was incredible, with bright colored desserts being a major hit
This Very Hungry Caterpillar dessert table included an incredible rainbow macaroon tower, along with incredible caterpillar and butterfly cookies
The back splash for the dessert table was the incredible hungry caterpillar party balloon installation that was found on top of the station
Centerpieces on all of the guest tables were adorable, with the very hungry caterpillar book found, along with great plants, fruit and party printables
A rustic theme was also incorporated, with the wooden plates being used for cookie holders and centerpiece holders
The perfect signage was found all around the Very Hungry Caterpillar birthday party, including a great sign found front and center on the gift table
An adorable idea was incorporated as a fun party activity, which asked all of the guest to write a special message to the birthday boy in his very own book
Delicious menu items were found in all of the great Very Hungry Caterpillar food ideas
Sweet party favors were created for all of the guests to take home to remember this special 1st birthday celebration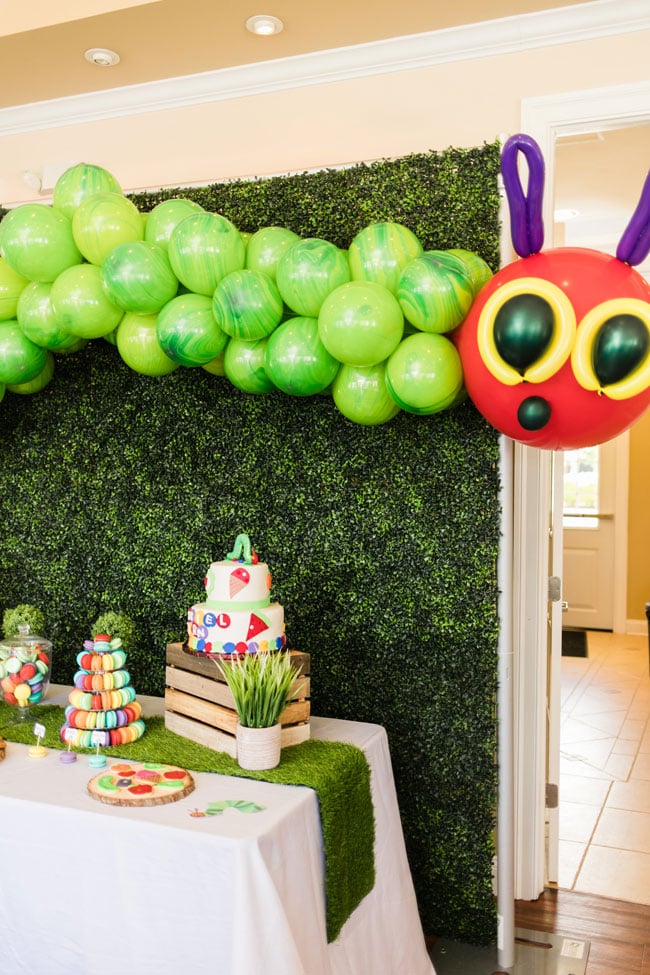 Wow! What an amazing Very Hungry Caterpillar 1st birthday celebration! We just love the bright colors that complement the greenery and rustic features that were incorporated. The greenery that was used for the backdrop, as well as the table runner were the perfect addition to this party! And the cake and desserts? They were amazing and so colorful!
Our favorite details of this fun celebration has to be the amazing dessert table that had the show-stopping caterpillar balloon installation included! All of the table's centerpieces included a fun greenery design, with a printable DIY caterpillar set alongside it. There were even amazing signage on the gift table! What great ideas for a fun 1st birthday theme!
What are your favorite details from this Very Hungry Caterpillar Themed Party? Let us know in the comments below!
For more 1st birthday party ideas, follow us on Instagram @prettymyparty and Pinterest and join us in our private Facebook group.
Party Vendors
Cake: Wobbles Bakery
Stationery: Stephanie of Stephanie G Calligraphy
Photography: Katy Murray of Katy Murray Photography
Artisan Macarons: Mrs. Macarons
Balloons: Balloons by Farida
Cookies: The Savory Soiree