This One in a Melon Party features charming colors, amazing decorations and tons of party ideas that will make you giddy with delight!
Who doesn't love watermelons? This super yummy fruit with bright, beautiful colors has inspired many to choose it as a theme for their party. And this melon party certainly doesn't disappoint. From the moment the adorable birthday celebrant, Blake, was born, her mom knew without a doubt that she would have a melon party theme to celebrate Blake's first birthday. Mom has always loved watermelon decor and has craved this delicious fruit throughout her pregnancy.
The dessert table with the red, green and pink balloons was truly eye-catching. Tip: Be sure to use balloons in different sizes to make them look like fruits. The dainty two-tiered, pastel cake with the watermelon topper from Cakes by Ron perfectly complemented the pink and mint green sugar cookies baked and designed with love by Brittany Treadwell. The pink pretzels with those tiny watermelon slices looked oh so pretty. The cupcakes would make a really neat project for those who love to DIY.
One of the highlights of this party was the drink table for all grownups. In keeping with the melon theme, there's a simple yet cute watermelon banner on the table. If you want to replicate this, just put some bottles, a bowl of fresh fruits and a vase with flowers on display, then you're all set!
Just look at how gorgeous the photo backdrop is! The watermelon stand is such a fun addition to the party decorations. The first birthday high chair was beautifully decorated. All in all, it was a lovely party that everyone enjoyed being a part of.
If you're looking for some inspiration for a One in a Melon birthday party, you're sure to get plenty of ideas here. Check out these photos from Arianna J. Photography that has captured how absolutely FUN this party is.
One in a Melon Party Ideas
Balloons in different watermelon colors and sizes for the dessert table backdrop
Pink tulle skirt with ONE balloon on the dessert table

Adorable birthday cake with all the fun and fresh colors of a watermelon

Easy snacks for kids like cupcakes and pretzels with pretty toppings

Drinks and cocktail table for grownups with a watermelon banner

A DIY watermelon stand for photoshoots

First birthday high chair banner

A white dainty smash cake with a pink One in a Melon banner

Melon fruits and melon slice decorations

Outdoor area where kids can play

A watermelon guestbook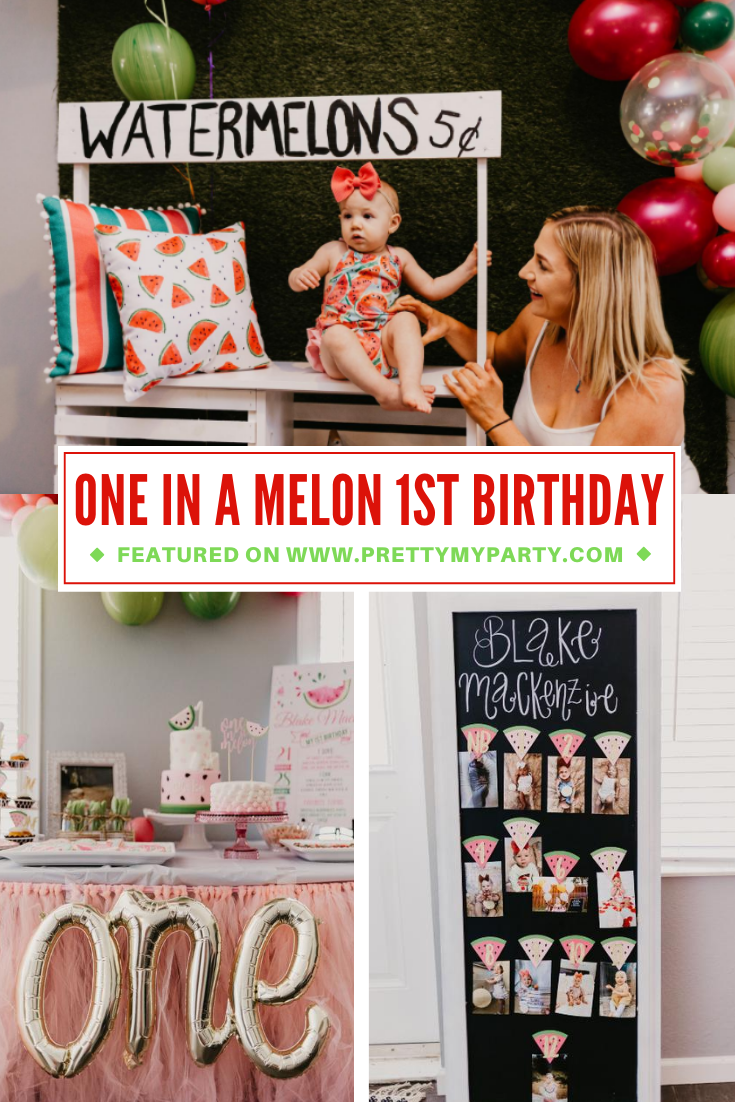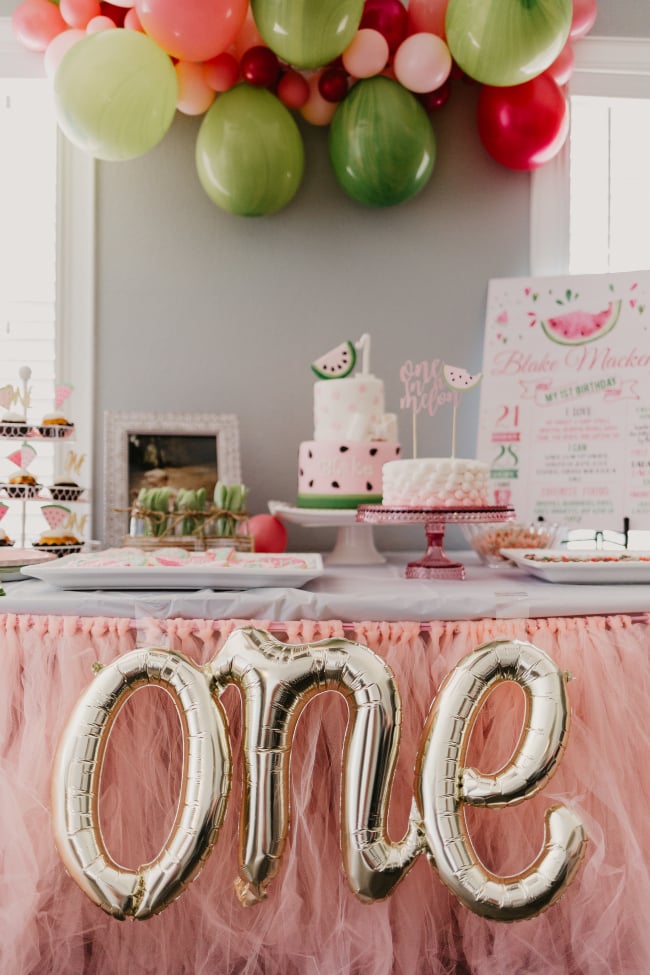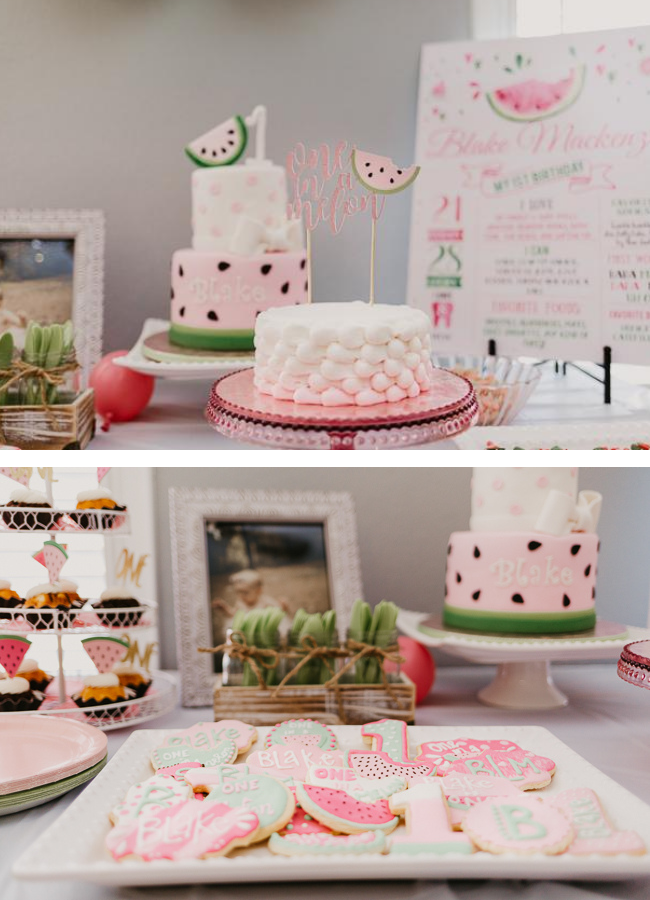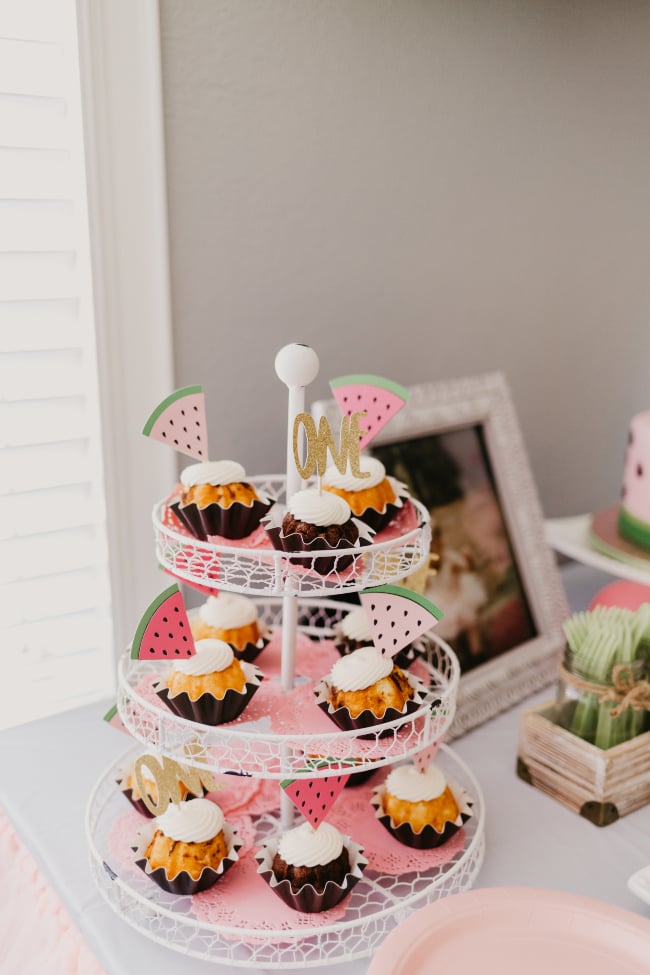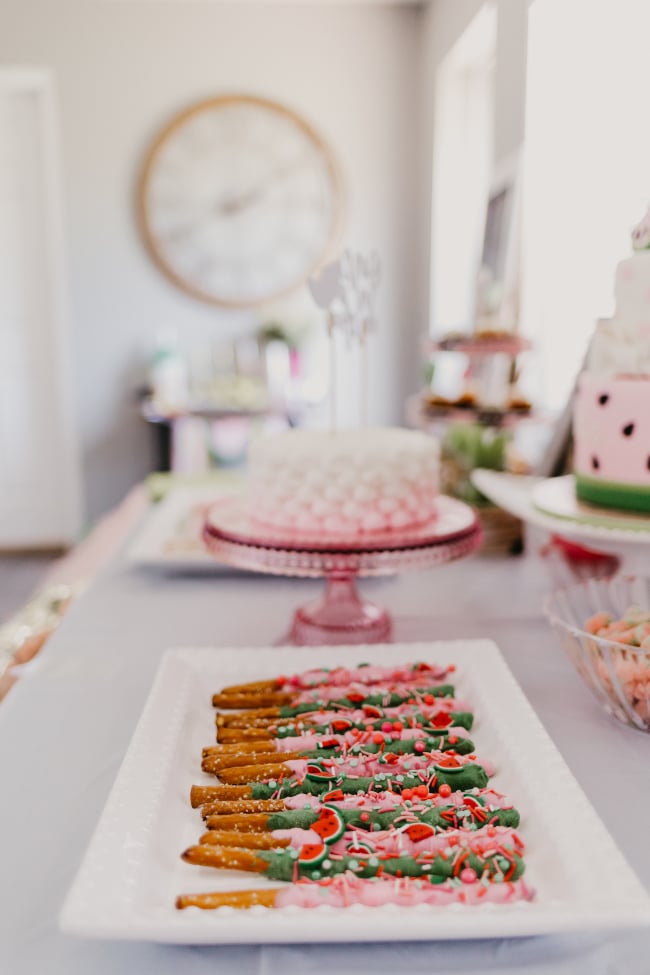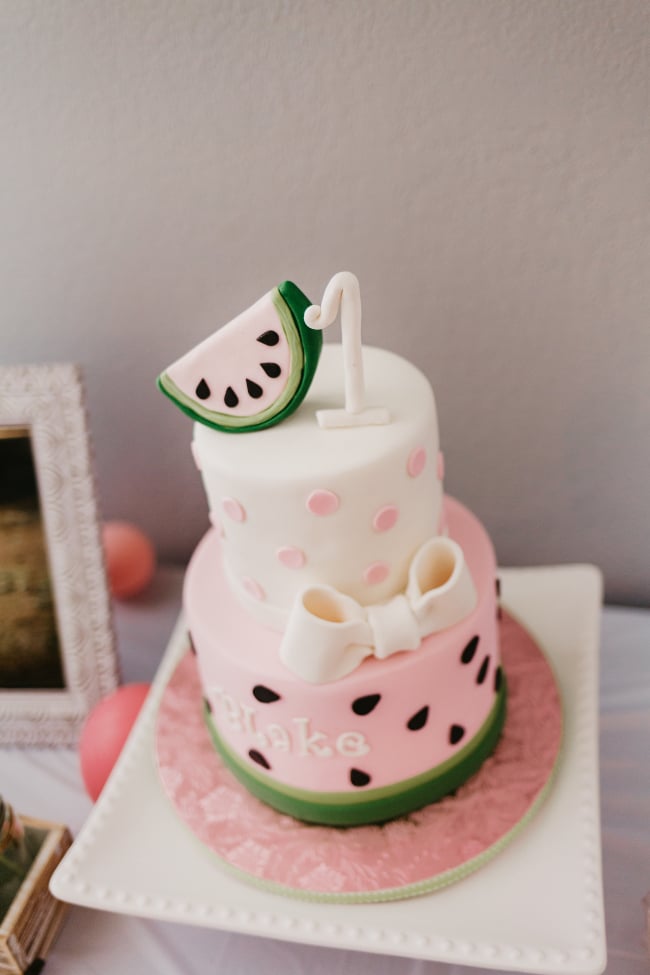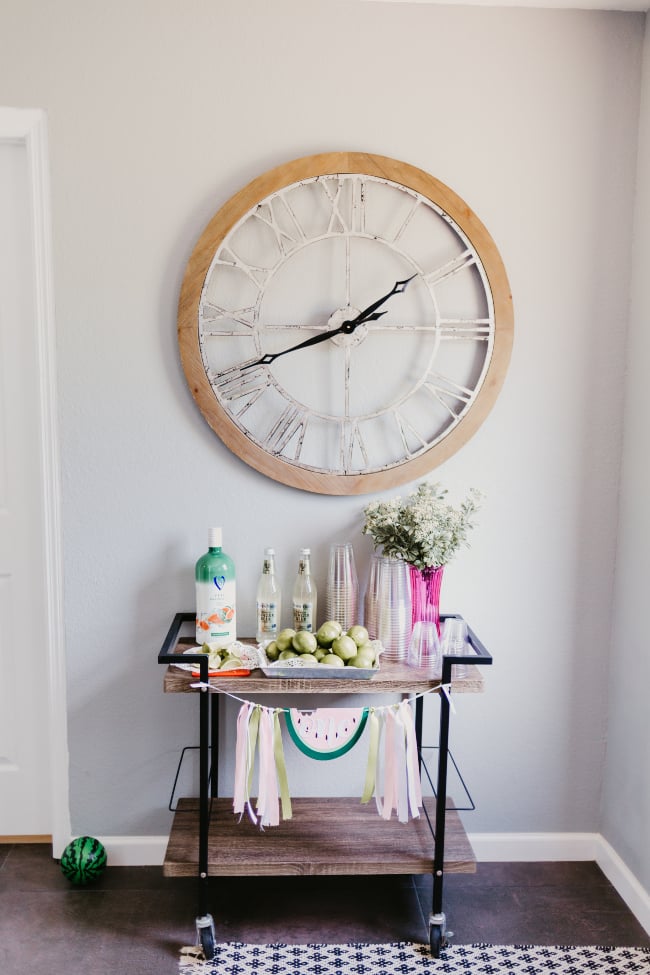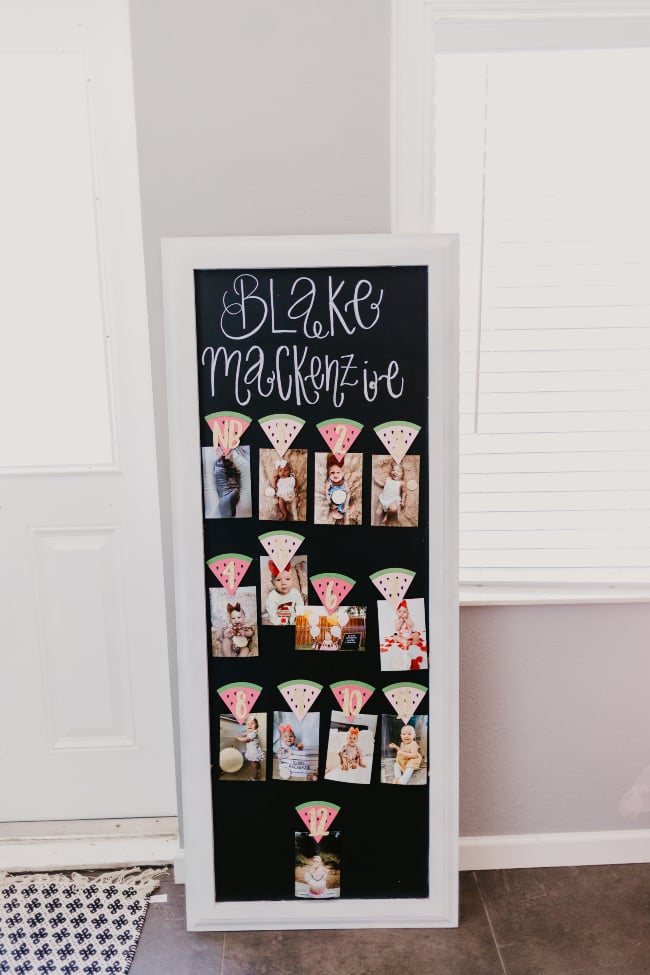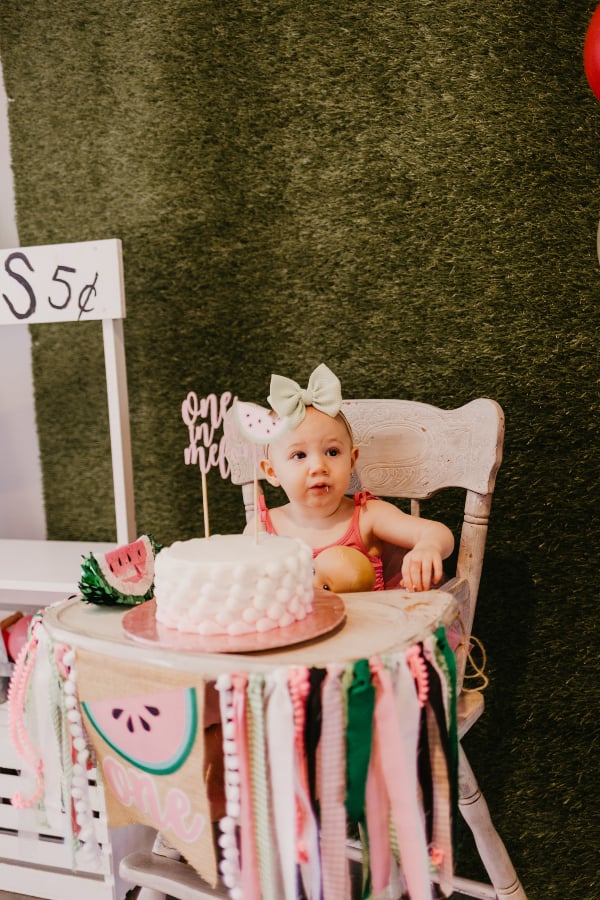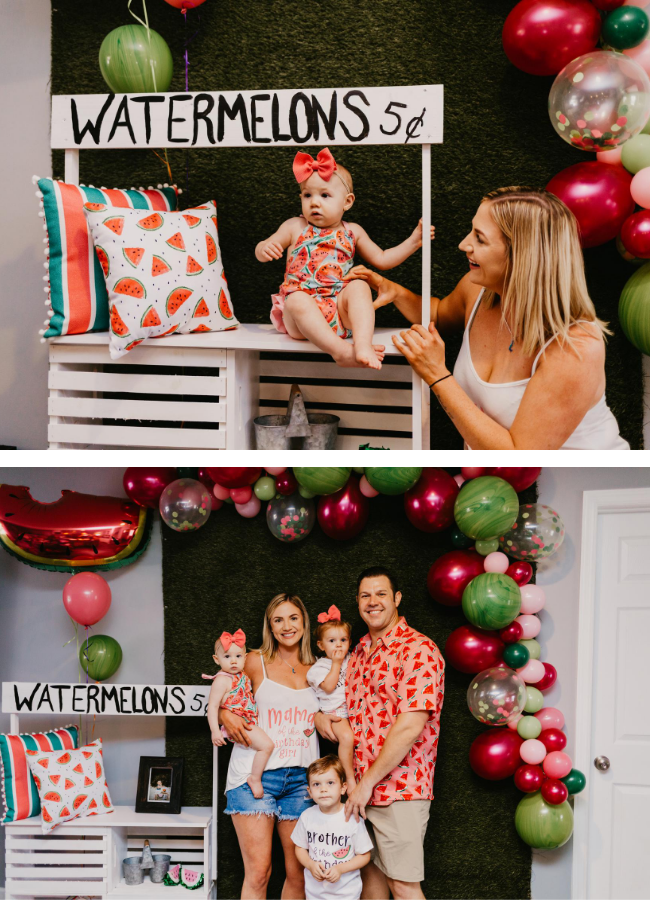 From Mama:
"From the moment Blake was born, I had already started planning her first birthday party. I always loved watermelon decor (especially during summer) and craved it all throughout my pregnancy … I loved reliving this party again and again through the photos by our amazing photographer and friend Arianna J Photography. "
And what a One in Melon Party it turned out to be! This watermelon party has all the right elements for an awesome melon birthday party – from the beautiful table set up with the delicious melon-themed party food and dainty desserts that look too good to eat, to the gorgeous backdrop and party decorations that wowed all the guests.
For more fun birthday party ideas for kids, follow us on Instagram @prettymyparty and Pinterest and join us in our private Facebook group.
Party Vendors
Cookies and Shirts: Brittany Treadwell
Cake: Cakes by Ron
Grass Backdrop: Walmart