Kids Backyard Art Party Idea
This backyard art party features tons of fun and creative party ideas for the little artist in your life!
This super fun Kids Backyard Art Party Idea features life-size easels, cupcake decorating, adorable personalized cookies, and 3 awesome cakes! Everyone had a blast at this interactive art birthday party for 2 sisters thanks to party planner mom Brynn who had the most creative ideas for this art party!
Backyard Art Party Ideas
Pretty watercolor art party invitations
Life-size easels made out of old refrigerator boxes
"Creation Station" with paint pens, markers and bubbles
Plastic tablecloths made to look like paint pouring into paint cans
Cookie place cards on DIY art easels
Cupcake decorating with sprinkles in white paint palettes
Colorful flower centerpieces
Artist aprons for each child
Amazing paint can birthday cake
Incredible Curious George paint canvas birthday cake
"Creative Juices" drink station
Mini paint can candy favors with watercolor thank you tag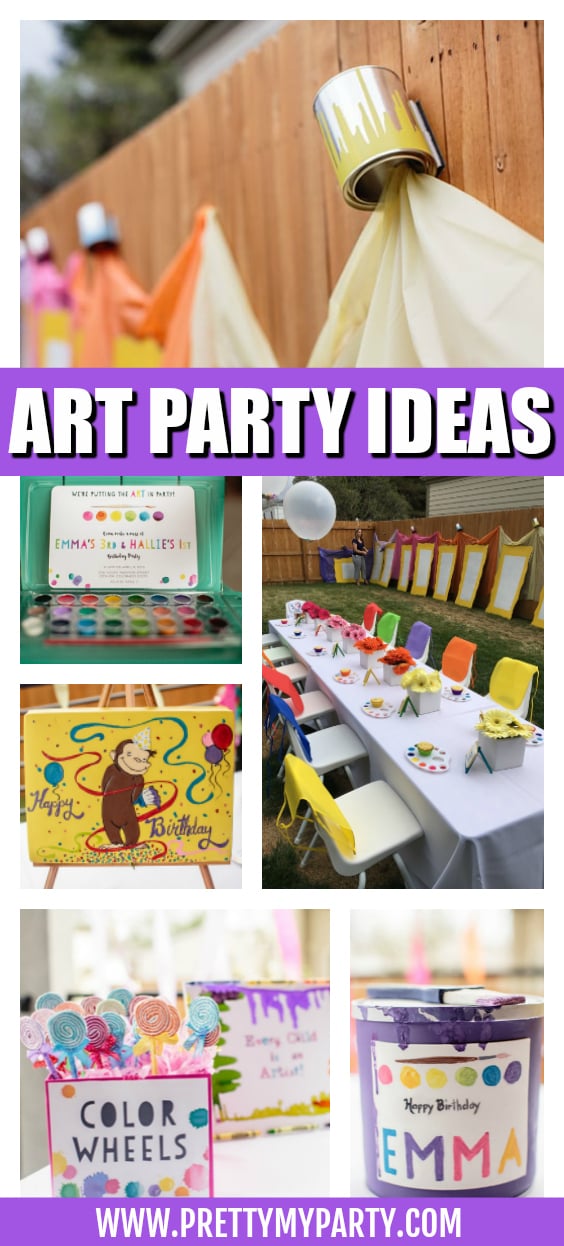 From Brynn: When I set out to plan my daughters 3rd birthday, I knew I wanted something that would be fun for all of the kids. I asked Emma what she would want and she quickly said an "art party." I set off to create a beautiful and fun joint birthday party for my two girls. Being an event planner for a living allows me to create beautiful events for other people, but this was the first time I could be my own client! I knew I wanted something fun and interactive for the kids.
I came up with the idea to cut and paint old refrigerator boxes into life-size easels for the kids. The creation station featured paint pens, markers, artists wipes, (wet wipes) and bubbles. I put all natural food coloring in bubbles and when the kids blew the bubbles onto the canvas they popped and created art. Each child had a canvas with their name on it and had a blast creating works of art.
To create a dramatic backdrop, and protect our fence, I ordered plastic tablecloths that I hung so they looked to be pouring out of paint cans. I designed the stickers for the paint cans to match the balloons, streamers and tablecloths. After creating masterpieces of their own, the kids found their cookie place cards and went to work decorating their own cupcakes. One long table featured brightly colored flowers, aprons and cupcakes for each kid. I made the easels that held the cookies out of colored popsicle sticks!
Cake is probably my favorite part of any celebration and I definitely passed that love on to my girls. Emma's cake was a painting of curious George, which happens to be her favorite book, accompanied by a paint can made of cake. Her sister's 1 year smash cake was a painter's palette. YES … the yellow Curious George "picture," paint can and palette are all 100% cake!!!
The moment Emma walked into the backyard and started pointing out every little detail I knew this would be a party both of us would never forget! What an amazing Kids Backyard Art Party Idea for any little one's birthday!
ART PARTY SUPPLIES AND DECORATIONS:
What's your favorite party ideas in this Kids Backyard Art Party Idea? Let us know in the comments below!
For more party ideas for girls, follow us on Instagram @prettymyparty and Pinterest and join us in our private Facebook group.
Party Vendors
Party Styling: First Look Events
Photography: Jason + Gina Photographers
Rentals: Event Rents
Flowers: Statice Floral
Invitation: New Leaf Creative
Cakes: Intricate Icings
Dresses: KG Laser and design
This party feature contains affiliate links. Please read our full disclosure policy.
More Art Party Supplies: