Candyland Birthday Party Parade
A fun Candyland Birthday Party Parade will take the blues out of social distancing this year!
We know how hard celebrating a birthday during COVID can be, especially for the kids, but this Candyland Birthday Party Parade helps. All they want to do is hang with their friends, play games and enjoy time together. But this year, this family decided to do a 2-part celebration to hopefully bring a little light and love to their birthday girl.
Events by Pins & Petals helped plan a fun and elaborate Candyland themed-car parade, which was open to all friends and family to participate in. The birthday girl loved seeing all of her friends, even if it was from a distance. After that, an intimate family-only party was enjoyed in the backyard, which was absolutely stunning!
Both the car parade and the backyard party were fun with bright colors and balloons from Bijoux Balloons found everywhere, keeping with the Candyland Theme. The party had giant gummy bears, a candy cart fully stocked with all of the candy you can imagine thanks to Little Legged Affairs, and an over-the-top balloon arch to finish off the Candyland themed backdrop.
No detail was missed for this sweet girl's birthday party!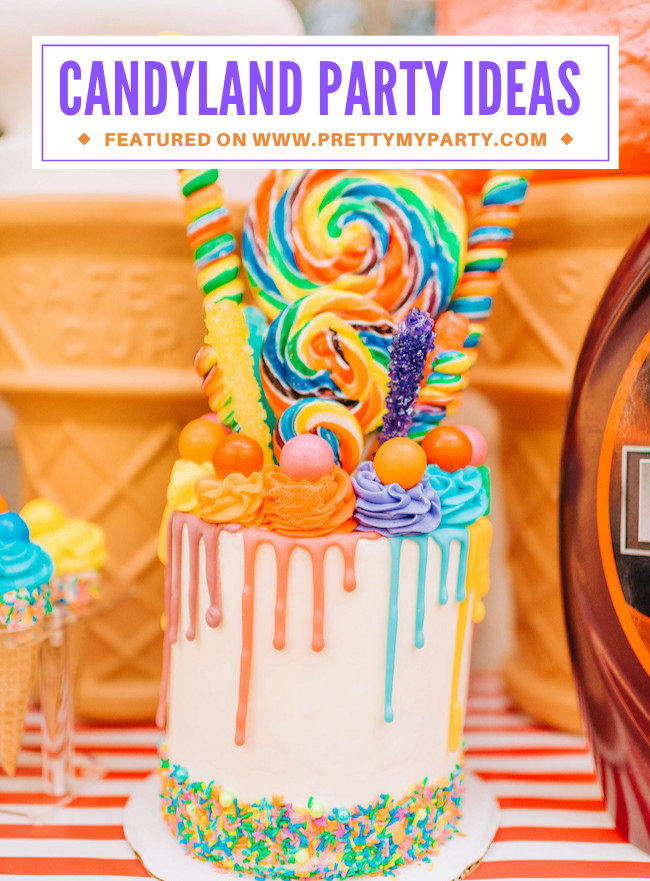 Candyland Birthday Party Parade Ideas
Candyland Birthday Party Ideas were a part of this celebration, including the amazing candy bar
A candy station was set up with every candy container imaginable, decorated with bright and colorful balloons and signage
The drive-by birthday party was a great way for everyone to help the birthday girl celebrate from a distance
Birthday party parade signs were made by all of the drive-by guests to wish the little girl a happy birthday
The quarantine birthday party idea included a birthday party parade, along with an intimate family backyard celebration
The candyland themed cake was full of color, along with lollipops and candy serving as the cake topper
The birthday girl wore an incredibly colorful birthday outfit, with lollipops on her dress and a fun hair bow
Candyland birthday party decorations included sings and printables pointing guests in the right direction
Fun gummy bear centerpieces were displayed on the guest tables for everyone to enjoy
An amazing candyland backdrop was created for fun backyard pictures at the birthday celebration
An amazing dessert table was found with candyland themed desserts, including cookies, cupcakes in cones, candy dishes and much more
Bright and colorful birthday plates were found on the guest tables, with customized straws and napkins
The candyland party food menu included fun food, such as a cake made entirely out of fruit, along with gorgeous charcuterie board platters
Fun candyland party games and activities were available for everyone to enjoy
The candy themed birthday party also included a drink station, with some adult beverages to partake in, along with kid-friendly drinks
Candyland birthday party favor bags were given out to all of the drive-by guests, along with the family who attended the backyard celebration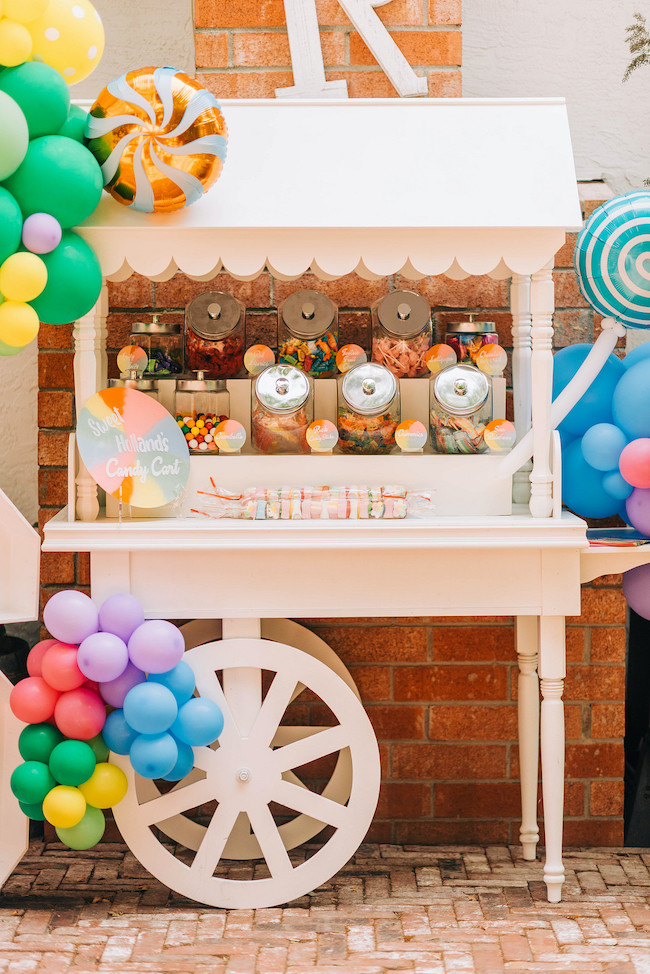 This birthday celebration kicked it up a notch, with an amazing party for this little lady. Even her outfit was themed perfectly for the Candyland themed event. We love how everyone was able to help celebrate the birthday girl, whether it be through the drive-thru celebration or the smaller backyard celebration with family. Everyone really stepped up with their decorations for their vehicles. What little girl wouldn't love to see a parade roll by her house with fun birthday signs, all for her?!
Our favorite detail, however, is the incredible candy cart that was filled with any kind of candy your heart could imagine. We just love the bright and bold colors that are found everywhere. It truly felt like a candy heaven! And that candyland themed cake? It couldn't be any better with fun lollipops making up the cake topper. It truly felt like everyone was walking into a sweet paradise with an incredible backdrop that the family used for pictures. This birthday celebration had it all!
What are your favorite details from this Candyland Birthday Party Parade? Let us know in the comments below!
For more birthday party ideas, follow us on Instagram @prettymyparty and Pinterest and join us in our private Facebook group.
See more birthday party ideas here:
Party Vendors