Dreamy Under the Sea DIY Party
This serene and dreamy Under the Sea DIY Party is giving us some serious chill vibes!
How gorgeous is this Under the Sea DIY Party from STORI Events? The minimalist styling and blue, gray and white color palette gives this celebration a nice, calming vibe that we would definitely love to bask in! What makes this party even better is the DIY elements. There's nothing better than getting creative and DIYing the perfect elements of a party. If you're looking for ideas for a simple, but charming ocean-themed party, this lovely Under the Sea Themed Party has some great ideas for you.
The pandemic might have stopped us from throwing large, extravagant parties, but it surely made us appreciate simple, intimate celebrations more. This perfectly styled Under the Sea Birthday Party features lovely decorations and desserts that look as good in person as they would in the background of your Zoom virtual party.
We absolutely love the calming colors of the party decor. Lots of white with splashes of different shades of ocean blue thrown in certainly makes for a super tranquil and inviting atmosphere. The floor to ceiling balloon installation really adds to the decor. We also like the simple monochromatic wallpaper that features lots of fish swimming around. It definitely gives a magical under the sea vibe.
Of course, we can't forget the beautiful, abstract birthday cake with sea waves frosting by Baking by Siana and the adorable little sugar cookies in the shapes of turtles and whales by Downtown Dough T.O. They both definitely did an excellent job with the sweet treats!
Another great element of this Under the Sea theme is the use of tall white plinths to feature the cake and the quirky sea coral "flower" arrangement from Rosehill Blooms. It really makes these elements pop out and completes the whole ocean vibe look.
Eager to see some beautiful pictures and creative ideas for a dreamy and relaxing Under the Sea Party?! Check out all of the picture-perfect ideas below.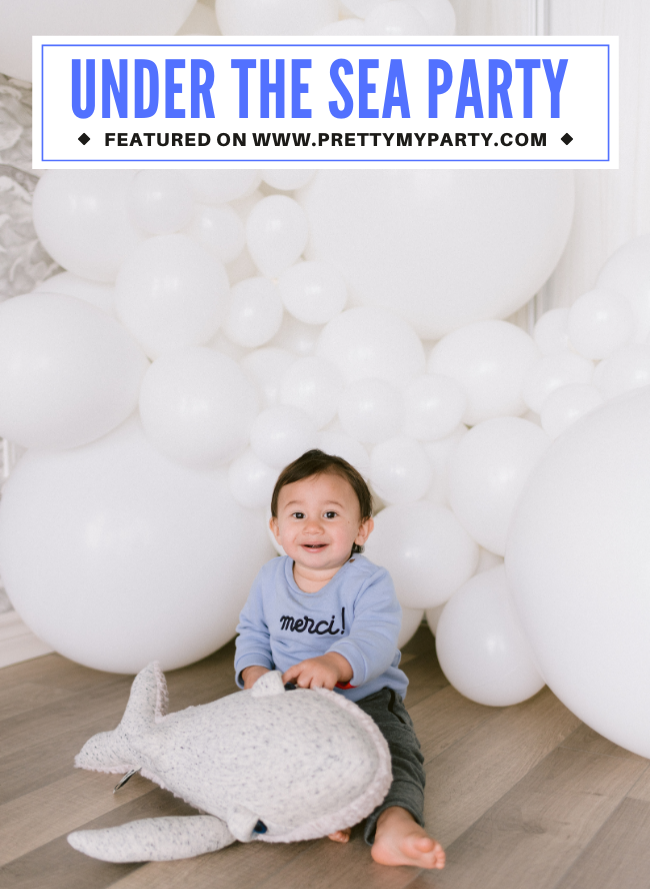 Under the Sea Party Ideas
Calming white, blue and gray color scheme

Adorable turtle and whale sugar cookies frosted in pretty shades of blue icing

Floor to ceiling balloon installation made of white balloons in various sizes and a circular Happy Birthday sign

Soft and elegant abstract birthday cake reminiscent of waves on the beach

Minimalist wooden easel stand with a simple circular "Happy Birthday" sign

Tall white plinths to showcase the birthday cake, desserts, and decorations

A beautiful under the sea coral "flower" arrangement as the perfect decor piece

Simple under the sea monochrome wallpaper backdrop

An adorable little whale plush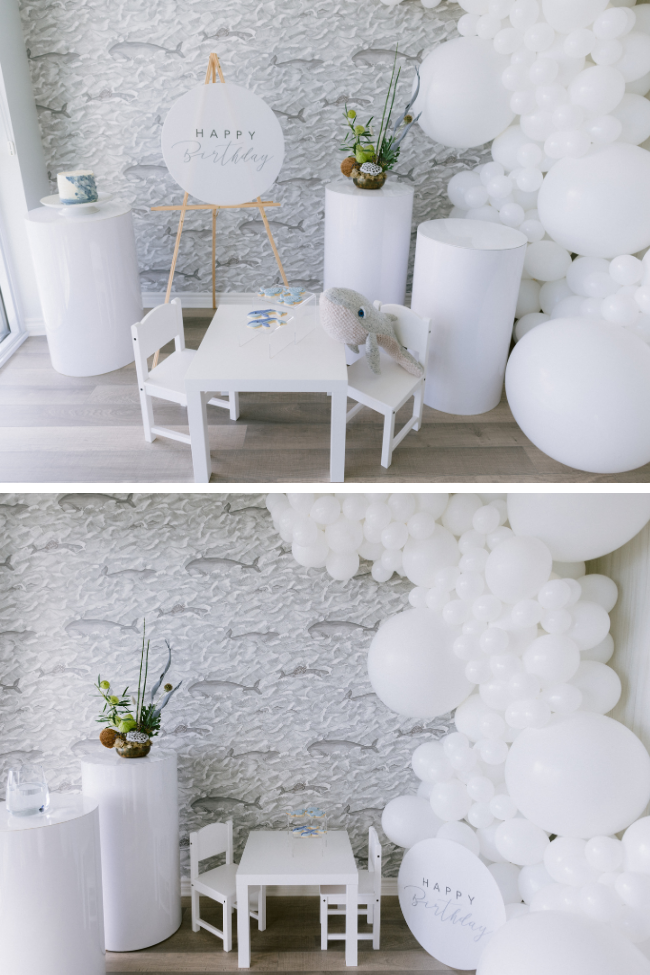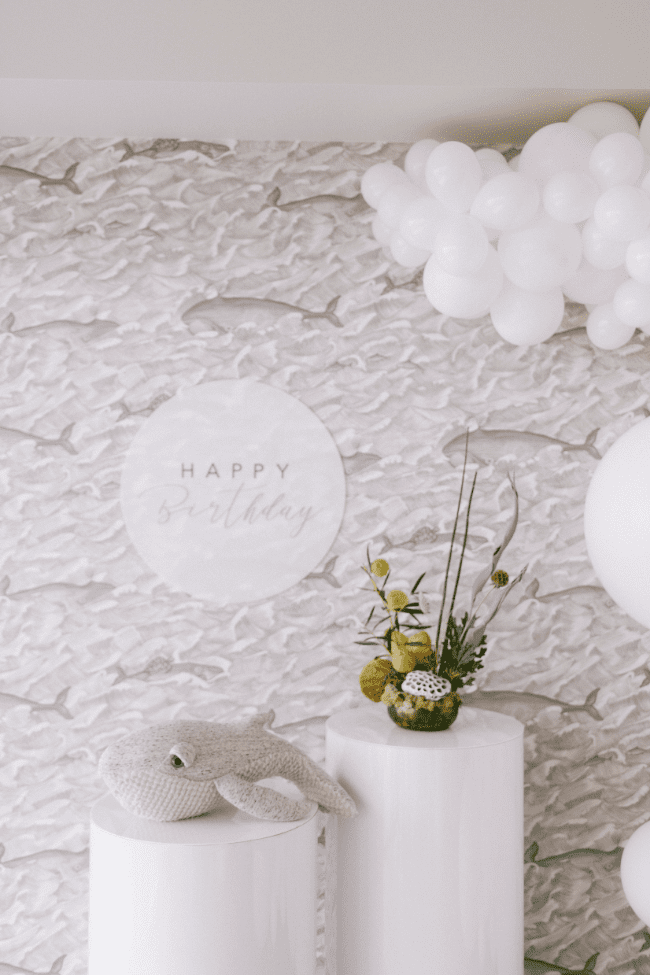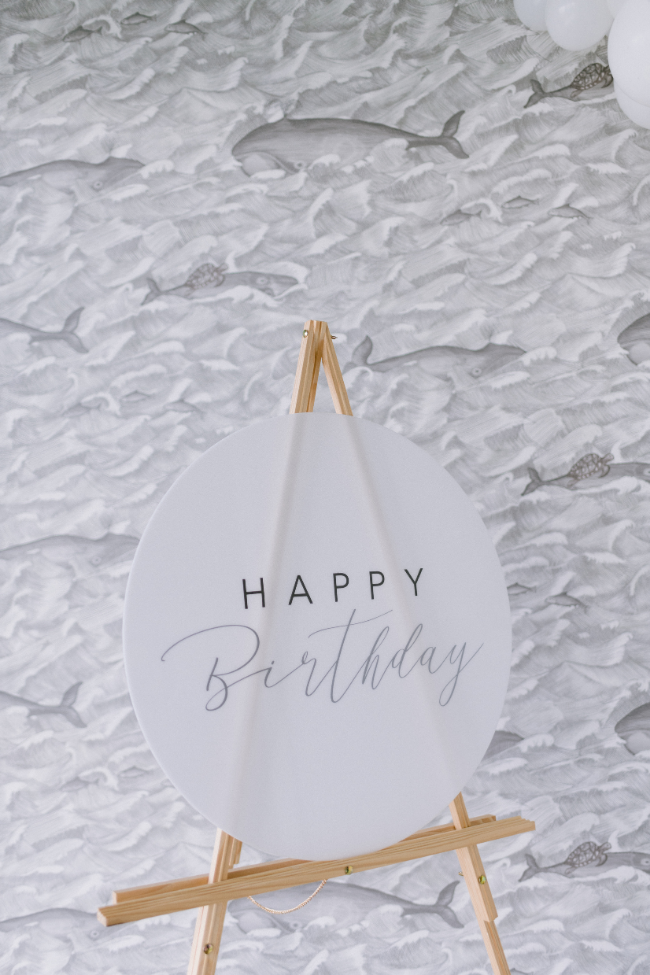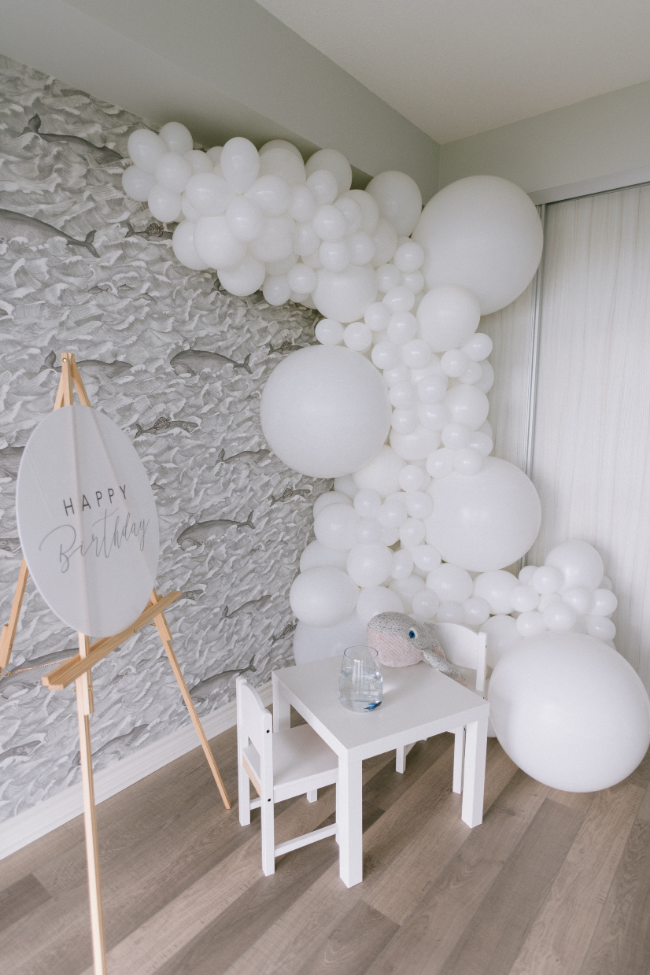 There you go! What a lovely little party. What is your favorite part of this dreamy Under the Sea DIY Party? Our favorites include the pretty cake with abstract waves and the adorable whale and turtle sugar cookies.
Are you planning to DIY any of the elements in a fun ocean-themed party? Leave your thoughts in the comments down below! We'd love to hear your ideas for your very own under the sea DIY party!
For more holiday party ideas follow us on Instagram @prettymyparty and Pinterest. Join us in our private Facebook group.
Party Vendors
Creative Directors & Planners: STORI Events / Instagram
Photographer: Robin Sassi
Plinths: Confetti Event Rentals
Cookies: downtowndoughto
Cake: Baking By Siana
Plush Whale: Smallable
Balloon Installation: Belloon
Flowers: Rosehill Blooms