This Wild One Safari Birthday is a fun way to celebrate a first birthday milestone with a kid-friendly theme.
How cute is this Wild One Safari Birthday?! The first is always the best, even if it's more for the parents and adults than it is for the little birthday boy.
That being said, why not go wild with this fun, but chic and modern Wild One Safari Soiree?!
This Wild One Safari Birthday has a clean, simple design with bold Safari decor, which was designed by Happi Smilez Creation.
The pop of color and greenery was perfectly blended with the white props.
From the balloons to the amazing birthday cake made by Lux Cakery, no detail was left out. Even the party favors were incredibly designed!
A fun, traditional theme like this shows that even the youngest ones can have a fun, wild time in this tropical safari jungle!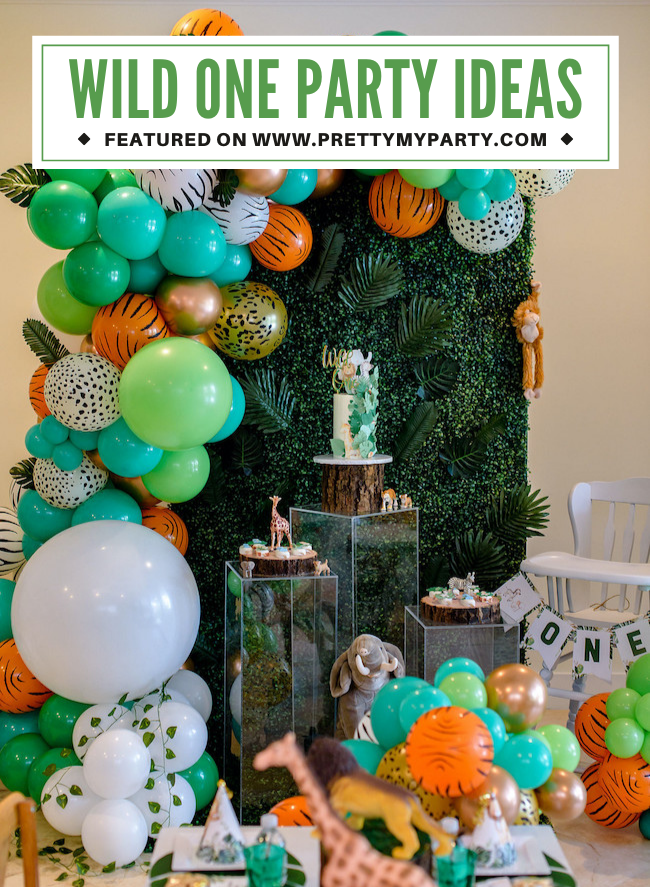 Wild One Safari Birthday Ideas
This jungle safari theme had an amazing greenery dessert table backdrop with an animal print balloon arch over the backdrop
The wild one birthday cake was gorgeous, with an intricate "Wild One" cut-out used for the cake topper
Rustic touches were found all around the event, with a wood cake holder used to display the cake, along with wooden chargers used for desserts

Wild one balloon installations were found on each side of the dessert table, with a special balloon display by the birthday boy's high chair

A fun wild one high chair banner with a jungle theme was created for the birthday boy
Safari animal decor was found all around the birthday party, including plastic jungle animals found on the table decor and centerpieces

Wild one safari birthday place settings were created, with wild one safari birthday hats for all guests and special jungle plates available on leaf fronds

Cute animal cookie party favors were provided for all of the guests, with a specialty printable created

Delicious desserts were made with safari decor used to decorate the desserts

Party favor bags with greenery and a printable were made for each birthday guest to take home their sweet stuffed jungle animal in

Great printables and signage was made with the safari theme

This jungle safari birthday theme had lots of fun games and activities for all of the birthday guests to enjoy together

Water bottle drinks were provided on all of the place settings, with custom labels

A delicious menu was created with food prepared for all age groups

The cute little birthday boy wore an adorable green and white pinstripe overall outfit for his birthday celebration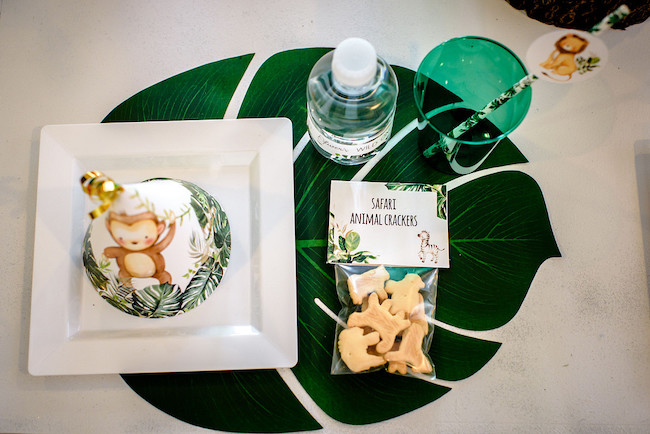 Palm leaf place settings are the perfect touch for this Wild One Safari Party!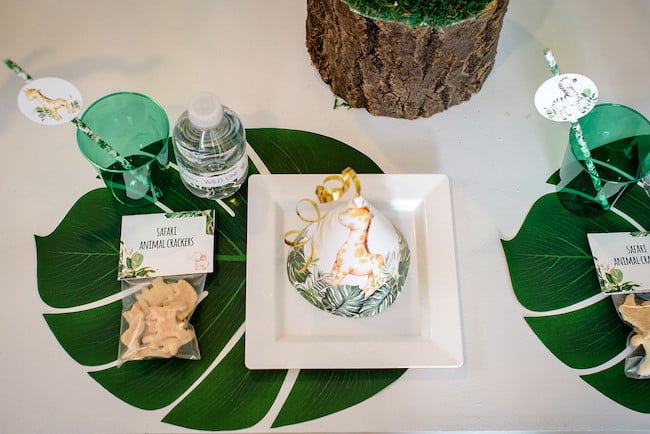 Each guest was treated to safari animal cookies and a fun party hat!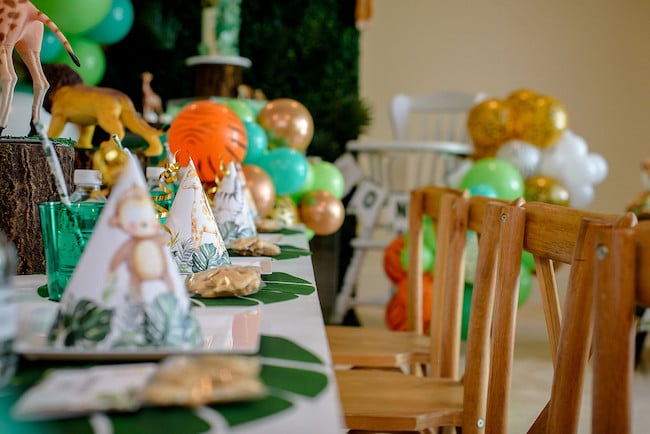 This Wild One party theme is perfect for a first birthday and the colors of the party are fun and lively.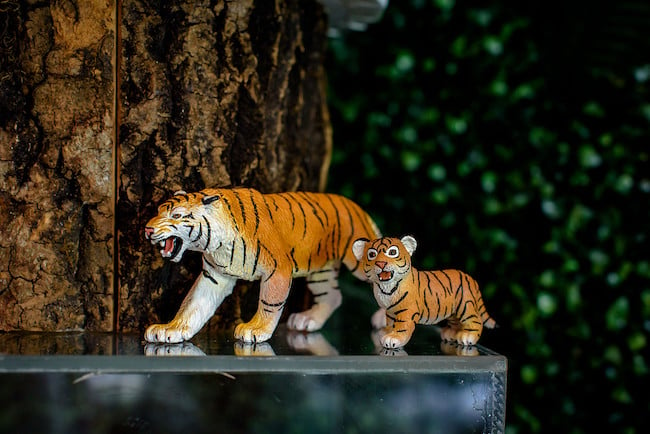 The party decor also features tigers, giraffes, monkies, zebras, elephants, and lions.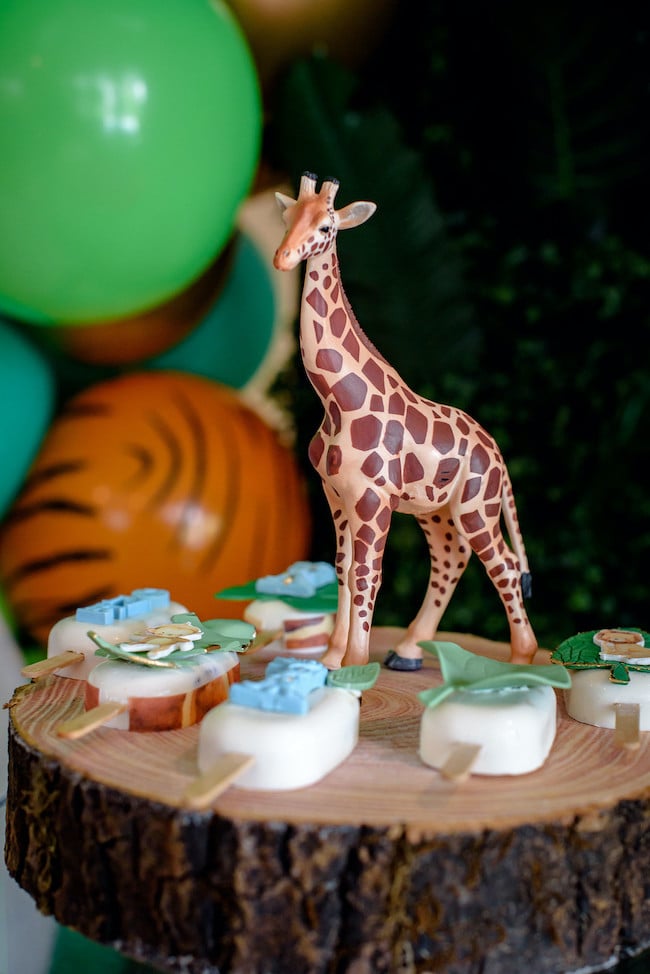 The amazing desserts include cake pops featuring safari animals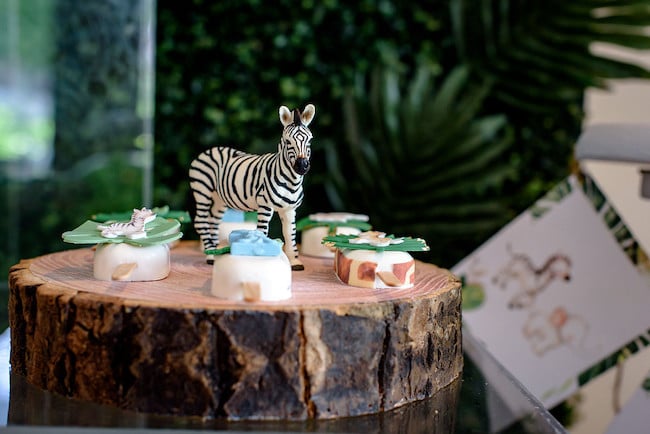 We love how the desserts are displayed on top of large wooden platters – perfect for this safari theme.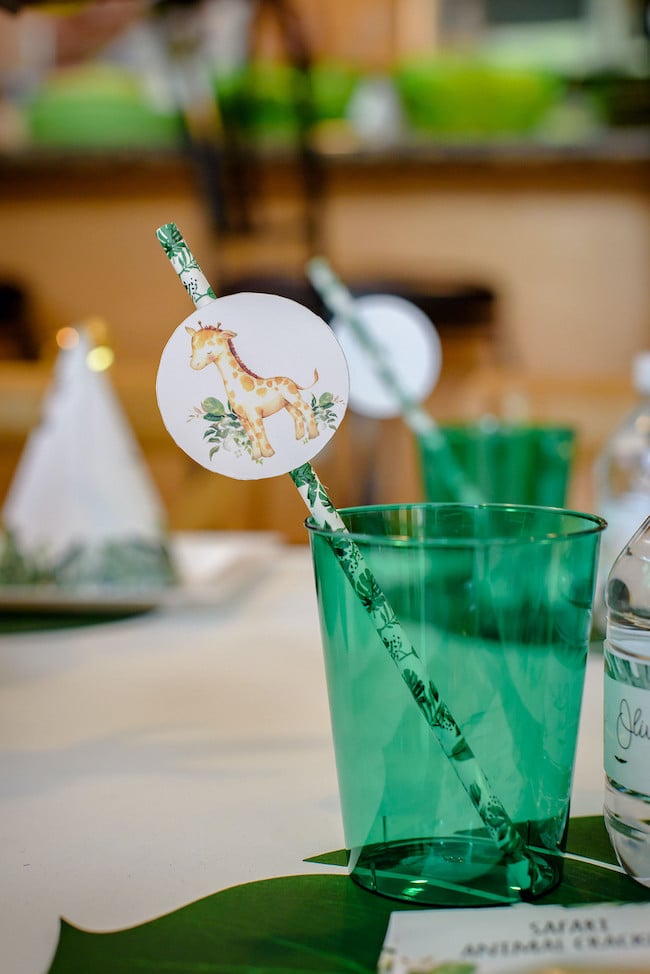 Green cups with palm leaf straws were at each place setting.
The straws also feature a cute safari animal on each cup.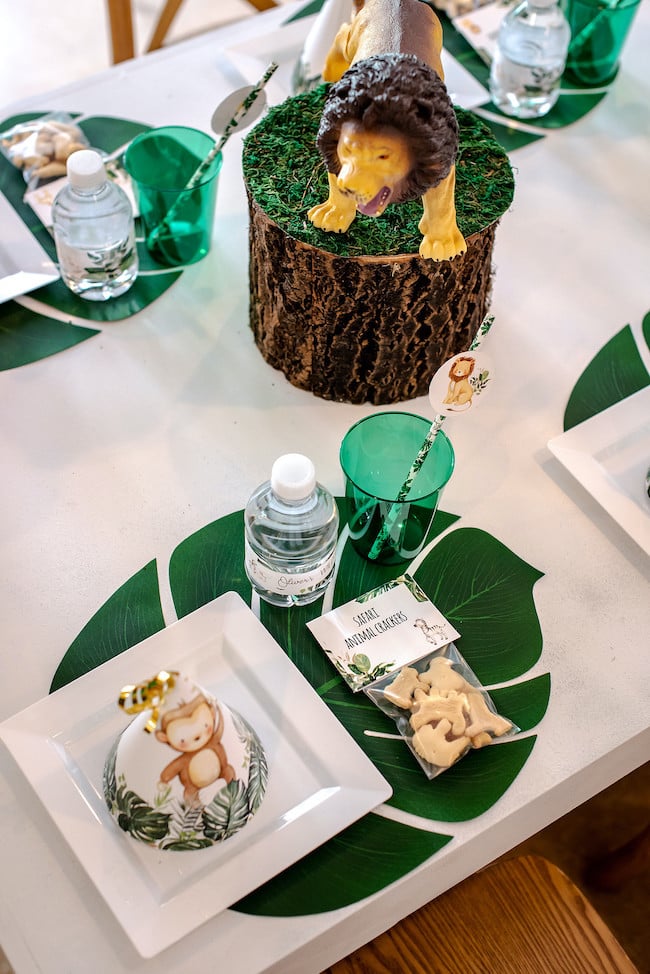 The table centerpieces feature safari animals on top of wooden stumps with green moss.
We love the simple yet create styling of the party tables.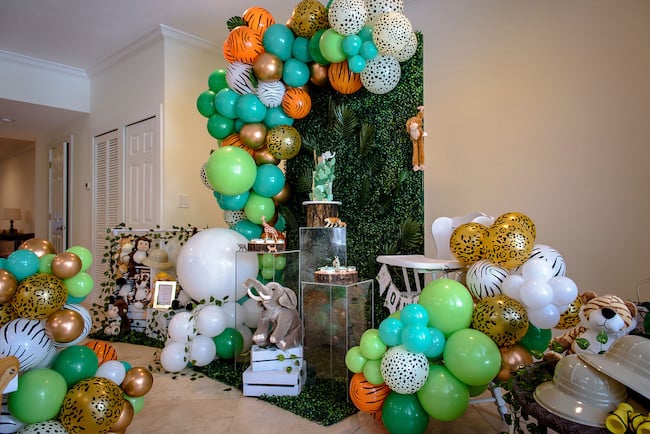 Anyone who walks into this party is immediately greeted by a fun cake display with an eye-catching balloon garland and matching balloon decorations.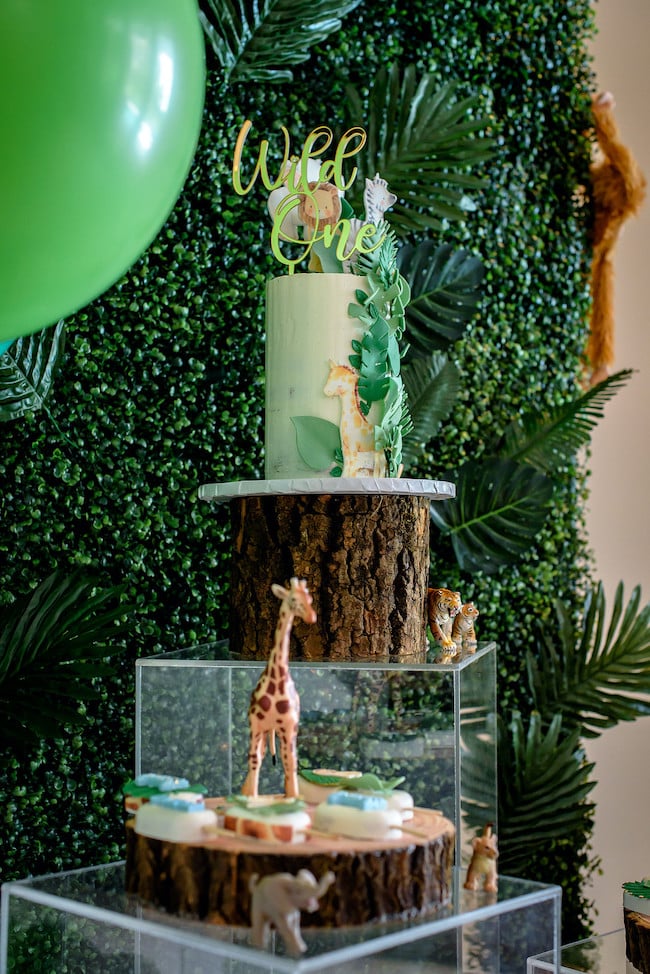 The light green Wild One birthday cake features green leaves and some cute dafari animals.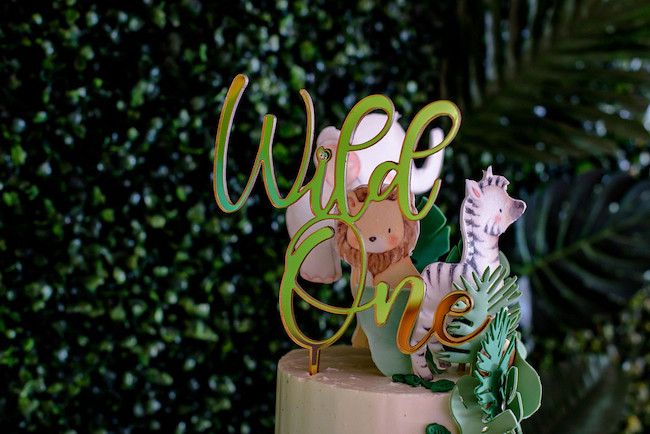 The cake is topped with a gold Wild One cake topper.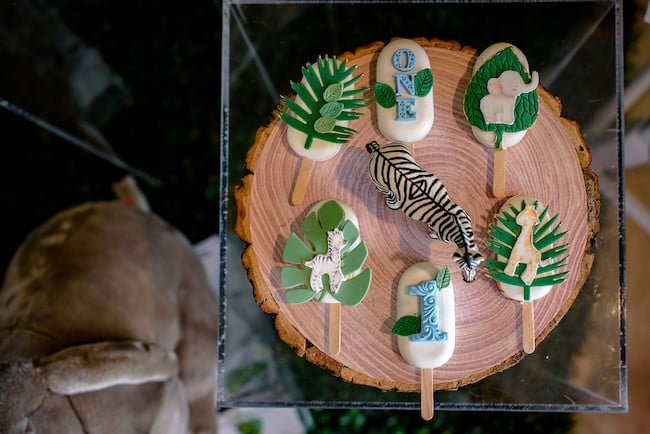 The cake popsicles look too good to eat! What a great addition to the dessert menu!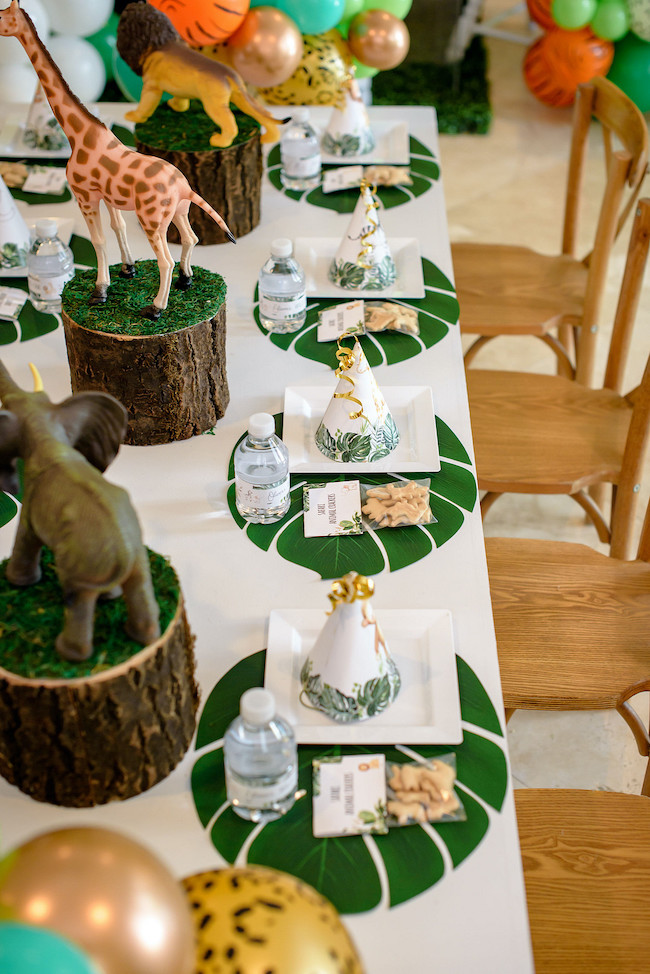 The tablescape is well planned out and matched the safari animal theme perfectly!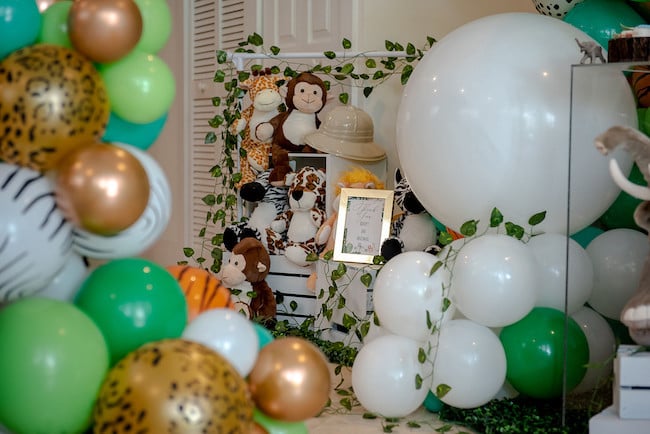 Stuffed safari animals were on hand for the children at this vibrant and colorful 1st birthday party!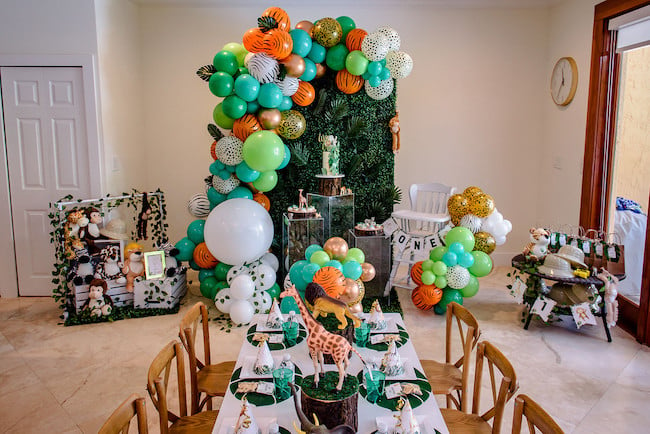 We know all the guests had a "wild time" at this birthday celebration for a special little boy!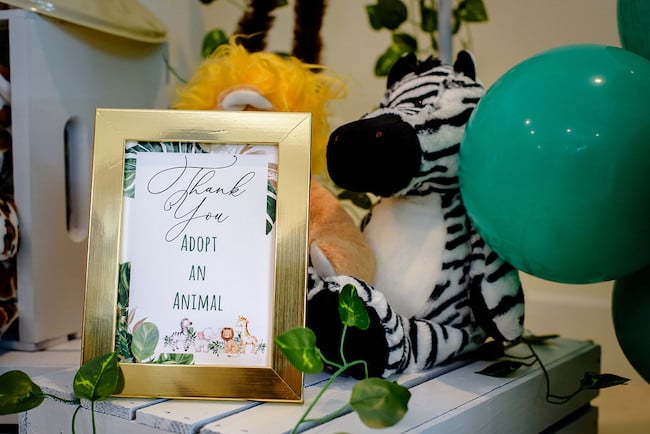 The Adopt An Animal station was a big hit among the party guests! What a perfect party favor for the little ones to remember this special day!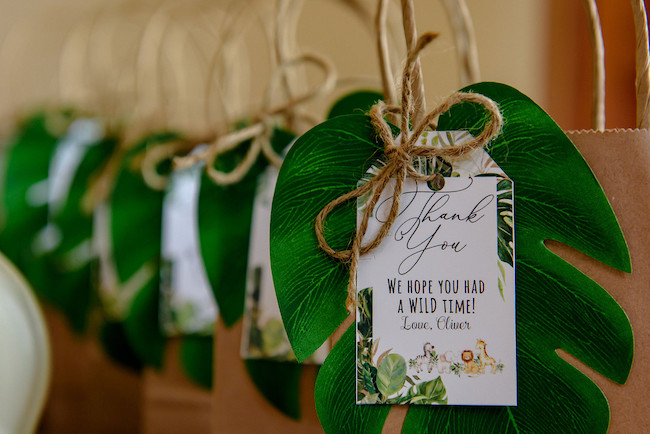 Adorable thank you tags were hung on each brown party favor bag for guests to take home.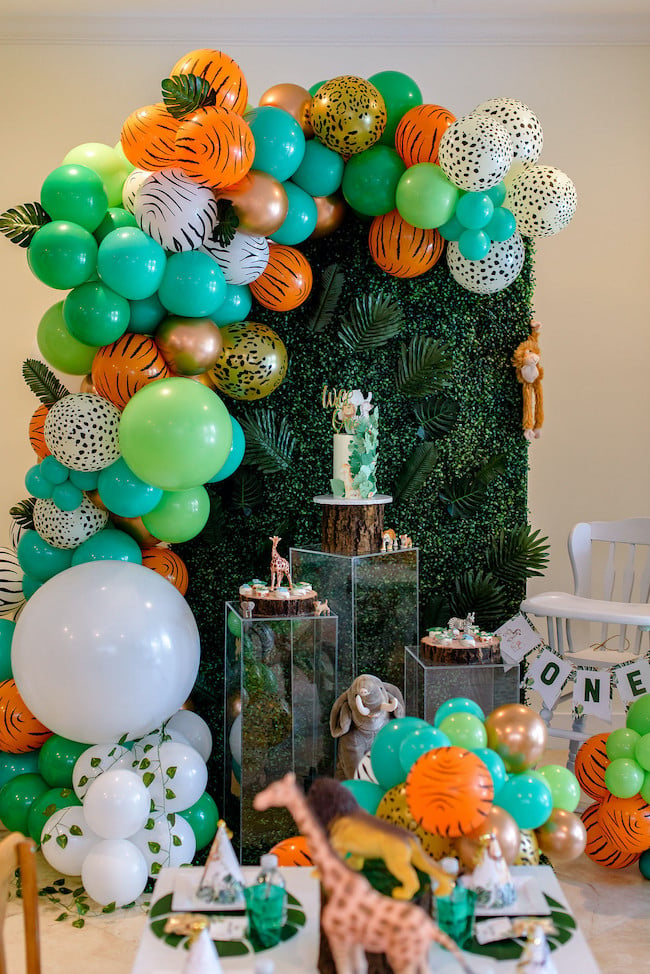 We love this backdrop! It's so eye-catching and perfect for this Wild One Birthday Party!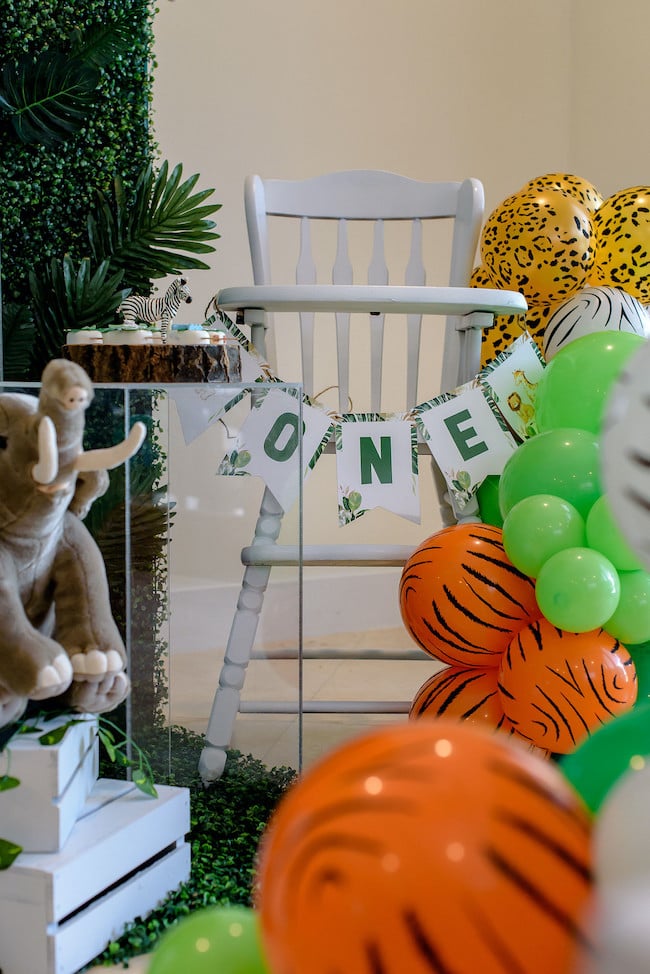 The birthday boy's white highchair was decorated with an adorable safari animal banner which matched the other party printables around the party.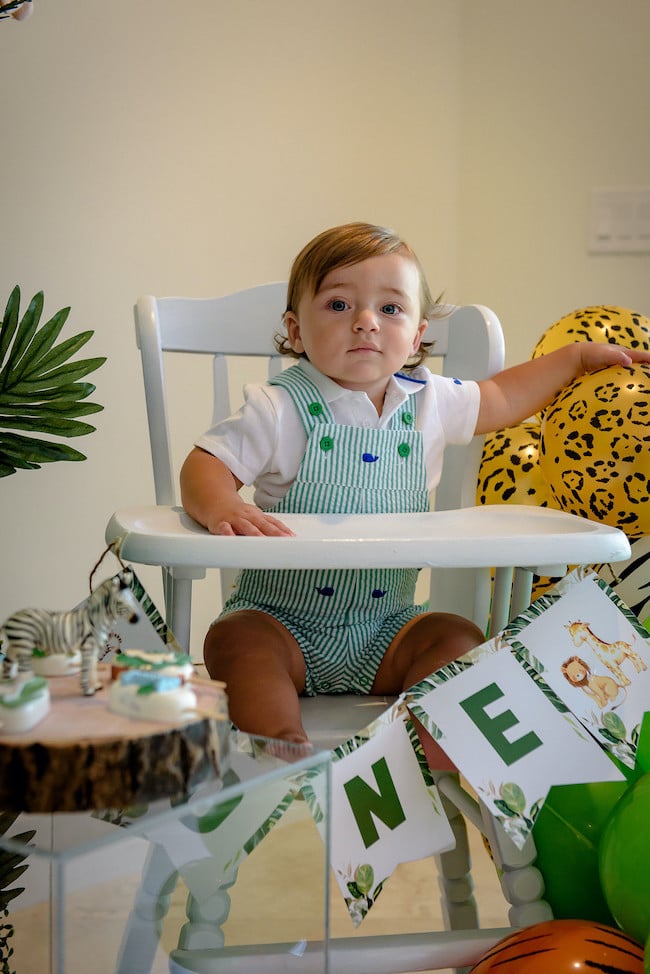 What a sweet Wild One Safari Birthday for a sweet little wild one! Everything was perfectly curated, from one side of the event to the other.
We love everything about this first birthday celebration, especially all of the greenery and the matching outfit the cute little birthday boy was wearing. So precious!
The favorite detail from this party, though, was the amazing balloon installation that was created around the dessert station.
It felt like you were walking into a jungle safari with the greenery used on the backdrop, along with the fun animal print balloons that were used.
And how cute are the place settings on the guest table?
With the fun wild animal centerpieces and the jungle theme plates and party hats, everyone knew they were in for a wild good time!
What are your favorite details from this Wild One Safari Birthday?
Let us know in the comments below!
For more birthday party ideas, follow us on Instagram @prettymyparty and Pinterest and join us in our private Facebook group.
See more birthday party themes here:
Party Vendors
Photographer: Michaela Lemoine Photography