YouTube Themed 13th Birthday Party
Everyone will definitely feel like a YouTube sensation with this black and red YouTube themed birthday party!
This YouTube Themed 13th Birthday Party from Mimi Weaver of Nevaeh – Leh Events, of Bronx, N.Y., definitely has all the elements of the perfect quaranTEEN birthday party! With so many of us being stuck in our homes and watching YouTube or other streaming platforms all day, this YouTube Themed Party is definitely a very fitting idea for any tween or teen.
The large marquee numbers showcasing the birthday boy's age is definitely a showstopper. Your eyes will be immediately drawn to it!
We also adore the creative use of a custom-made YouTube screen as the backdrop. It's a great way to make the birthday boy a star of his own YouTube channel. Plus, incorporating his likes such as sports and gaming really makes this party personalized. The YouTube play button birthday cake is also a great added element to the event. The film and TV-themed cake toppers are cute and the idea of having the cake wear headphones is brilliant!!!
If you're looking for an awesome quaranTEEN party ideas, here are some of the most creative ideas from this YouTube Themed 13th Birthday Party.
YouTube Themed 13th Birthday Party Ideas:
Giant marquee numbers showcasing the birthday boy's age – the big 13!

Awesome recreation of a YouTube screen with the birthday boy's photo

Cool black balloon garland around the YouTube screen frame

Custom YouTube "thumbnails" showcasing the birthday boy's favorite things

Super cool YouTube play button cake with adorable YouTube themed cake toppers like the headphones, the YouTube like button, a film reel, and a cute little TV

Sugar cookies featuring YouTube icons and buttons such as the like button, share button, and bell icon

Red and black decorations to keep with the YouTube colors and theme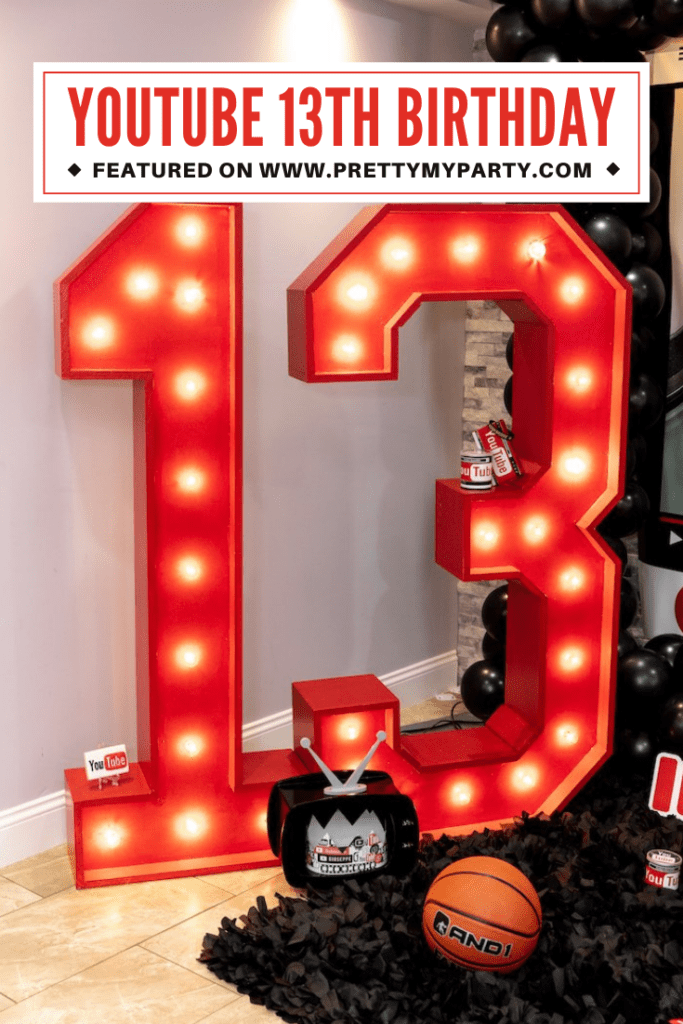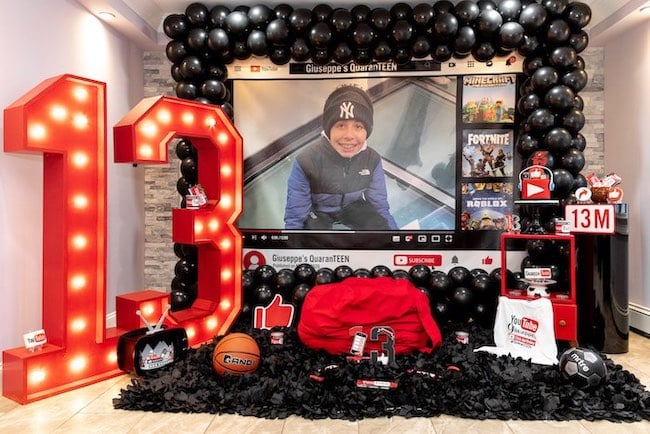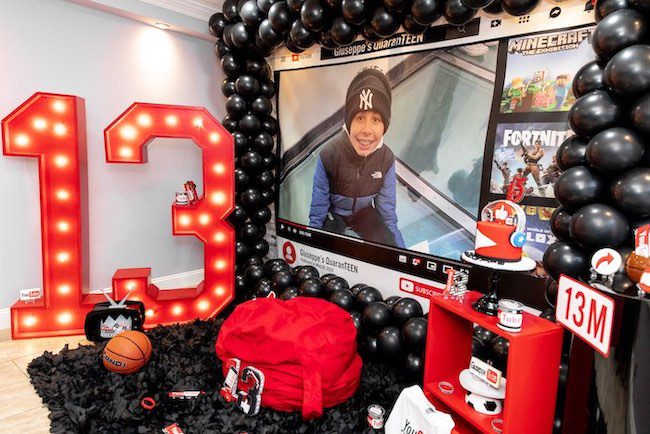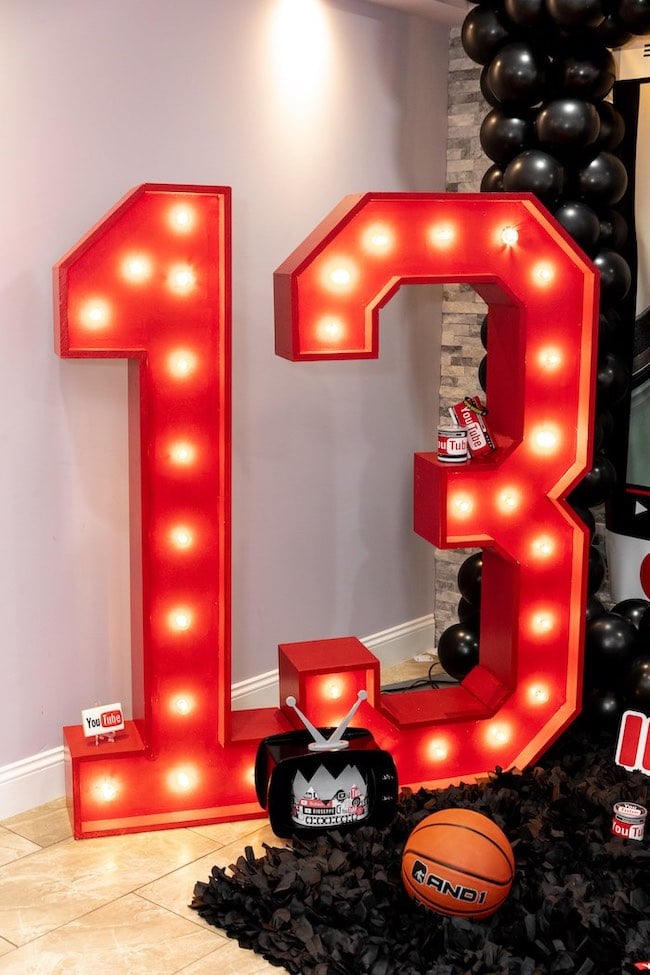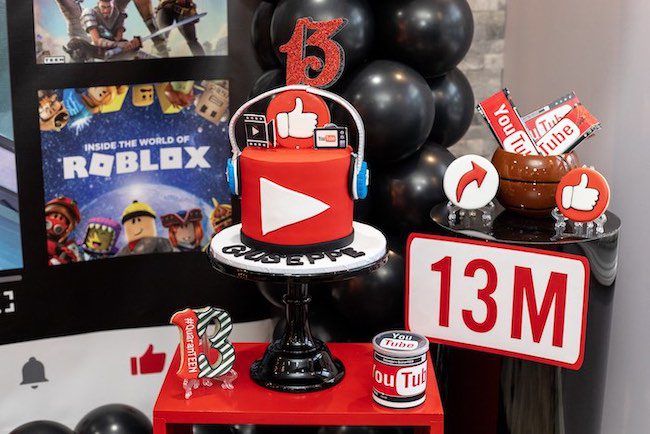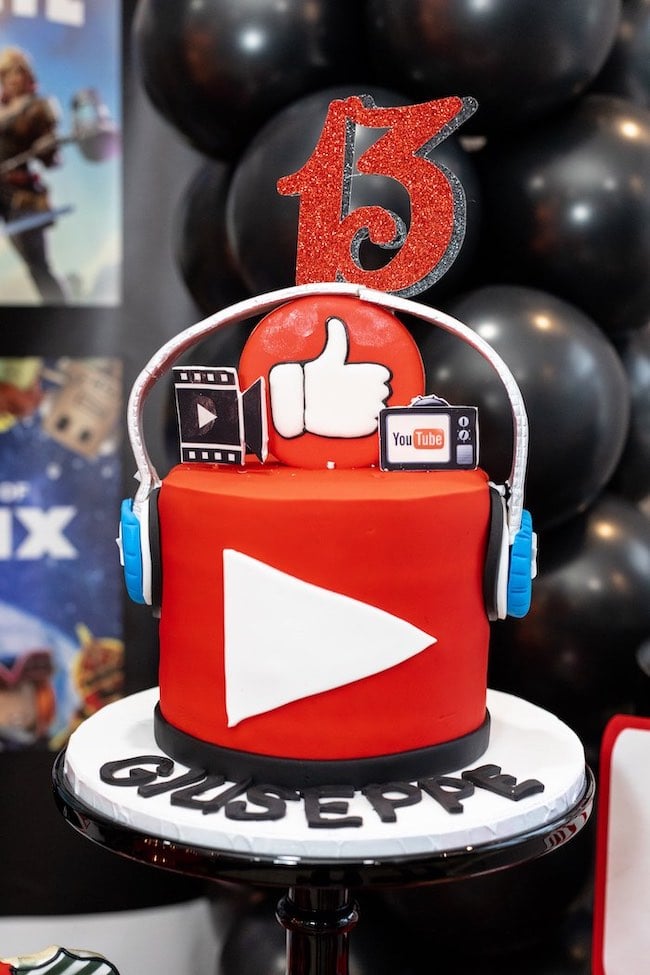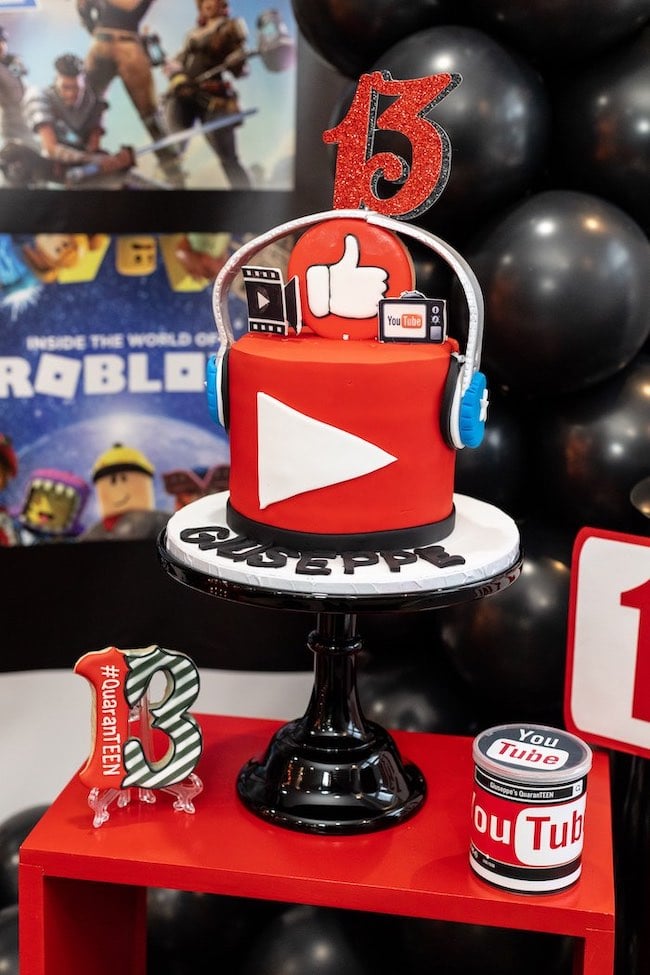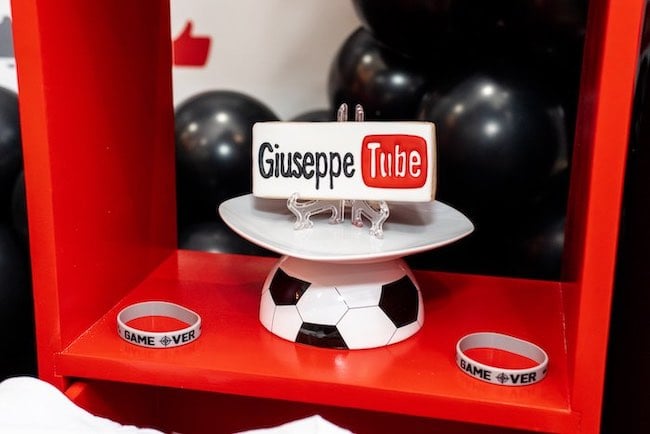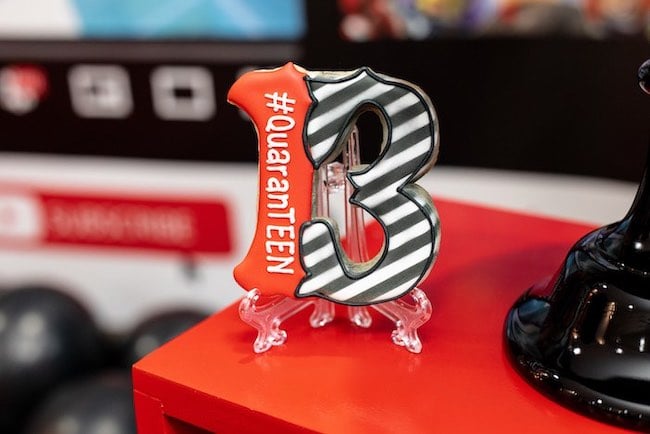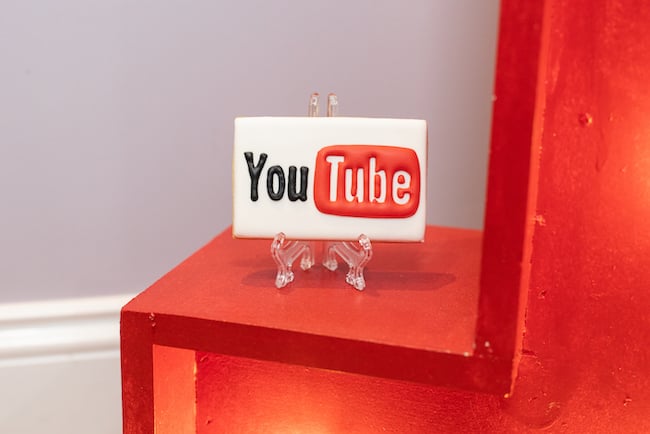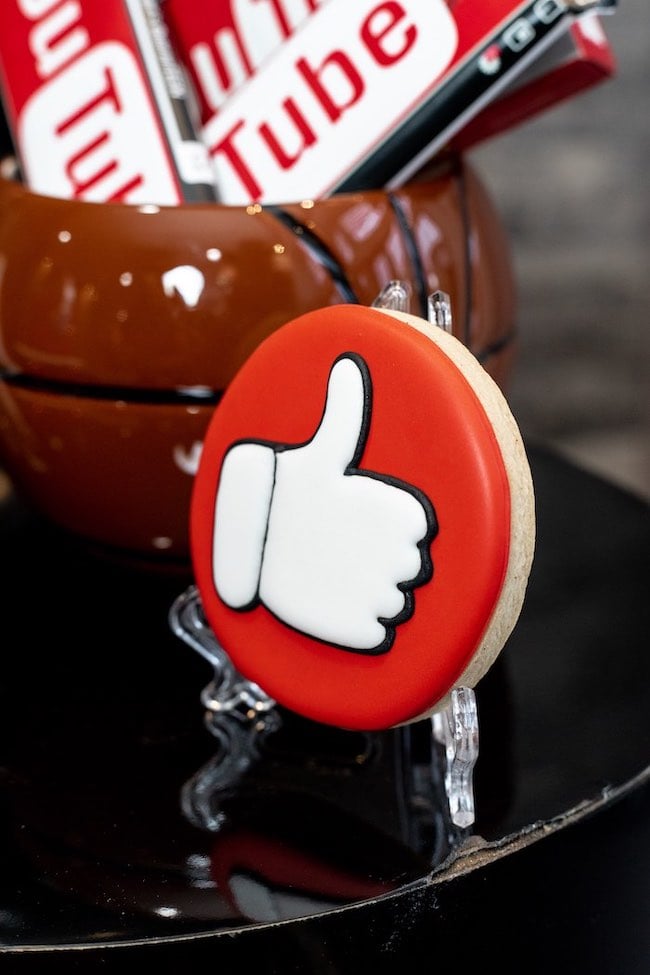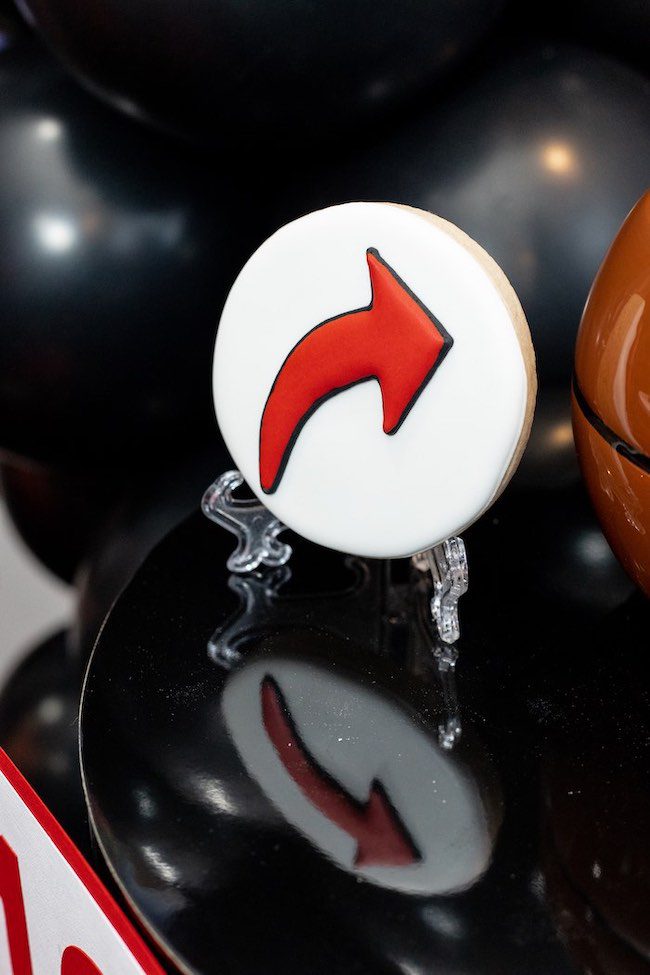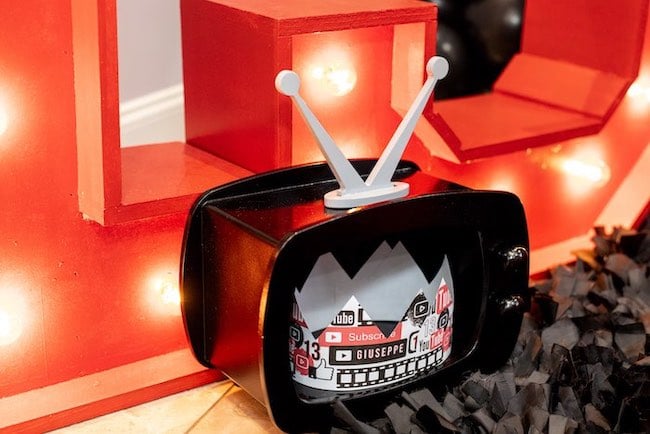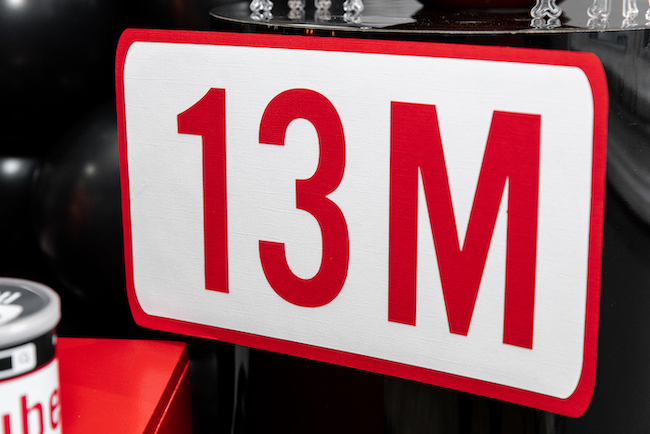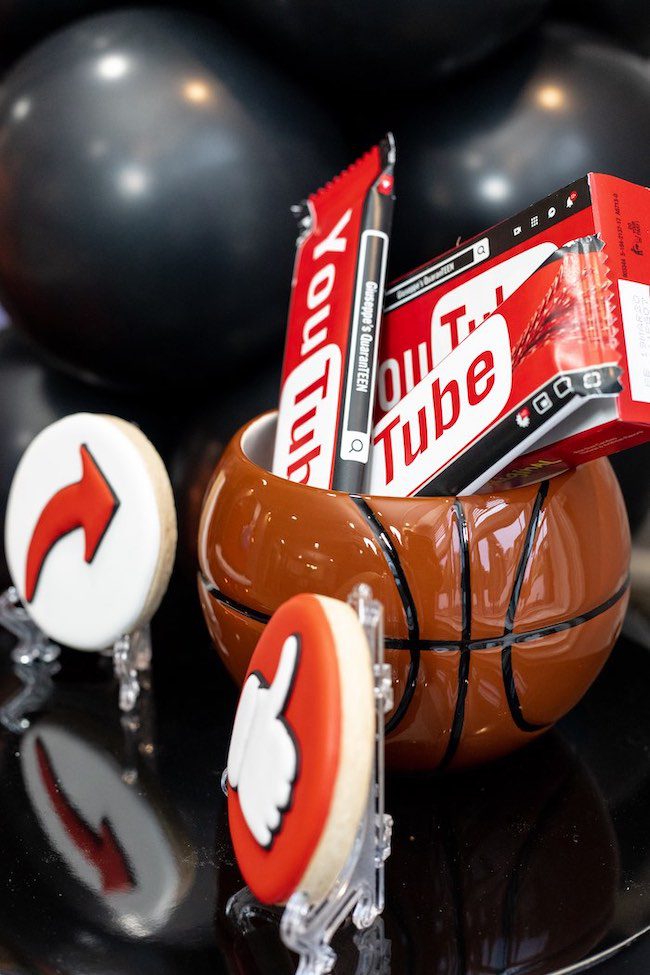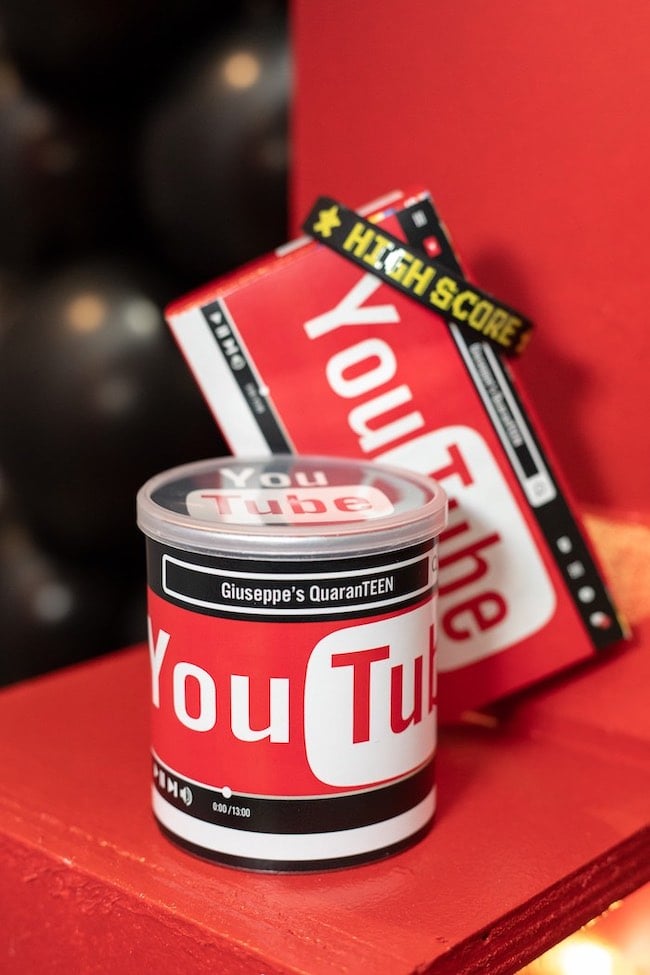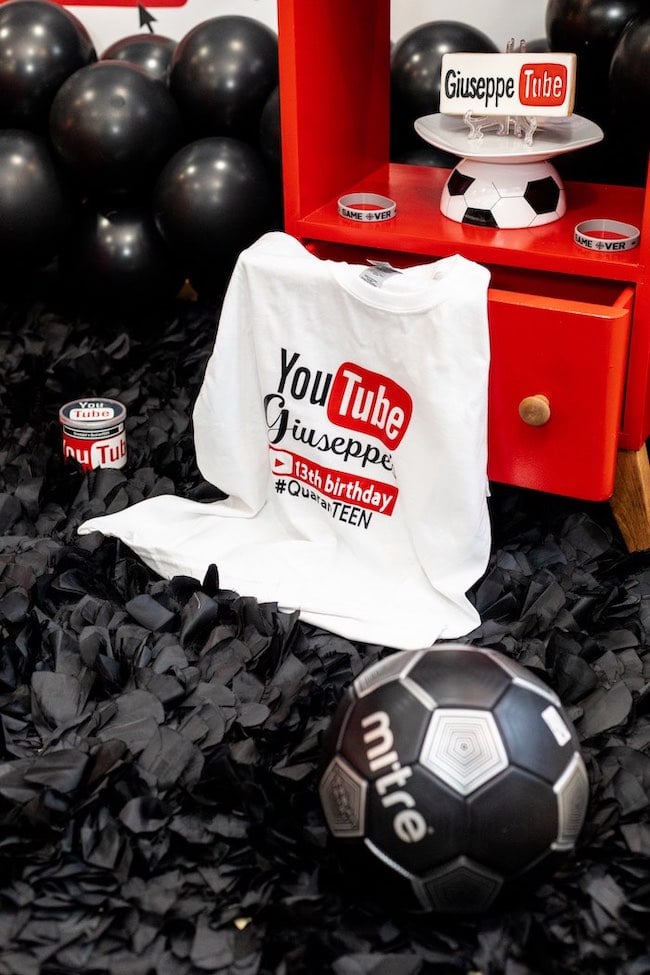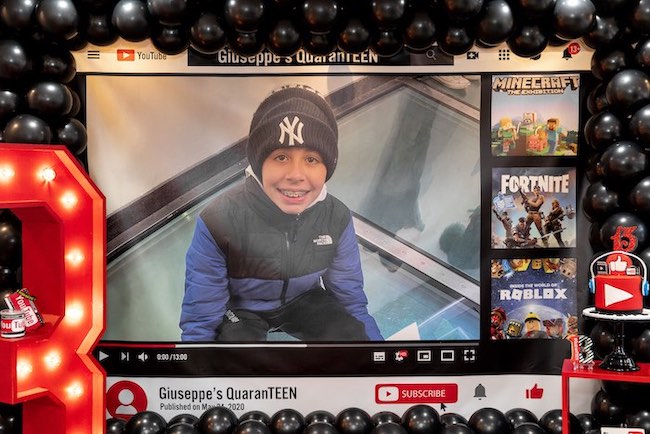 About the party …
Mimi Weaver: "I came up with this birthday party concept after speaking with the client and gathering information on her son's favorite things. I decided during such a rough time for us all (especially for children with birthdays who can't celebrate with family and friends) we should create a YouTube inspired party at home for this milestone birthday!
Once the set up was complete, the parents and family were in awe and loved the concept of a balloon garland designed to look like a TV screen. It was complete with the YouTube channel logo and a custom backdrop of the birthday boy in a teen's bedroom surrounded by all his favorite things. Items like a soccer ball, basketball, beanbag, Skittles, Twizzlers, and potato chips added personalization to the setup. This event turned out exactly how I envisioned it and I couldn't be happier."
Which of these YouTube birthday party ideas did you like most? Our favorites are the large marquee numbers indicating the birthday boy's age and the custom-made balloon garland YouTube screen!
Share your thoughts about this party and your own unique YouTube party ideas in the comments below!
For more awesome party ideas, follow us on Instagram @prettymyparty and Pinterest and join us in our private Facebook group.
YouTube Party Supplies and Decorations
See more party ideas here:
Vendors
Cake: Chic Sugars
Cookies: RJ Sweet Creations