Minecraft Sleepover Teepee Party
Turn your gamer birthday into a fun sleepover with this Minecraft Themed Birthday Celebration!
This epic Minecraft Sleepover Teepee Party from Tiny TeepeeZzz of Phoenix, Arizona, is the perfect way to spend the night gaming with your best friends! Elevate your Minecraft party up a few levels with some Minecraft themed teepees! The kids will have a blast playing Minecraft all night before they all report back to their teepees and dream about zombies, spiders, creepers, and skeletons!
Each teepee party includes tents, tent fabric, mattresses, linens, pillows, garland, tray tables, balloon axes, Minecraft lights, lanterns, and all decor! A gamer sleepover party just went to a whole new level! Add in a cool Minecraft birthday cake, cupcakes, cookies, candy, and pizza, and this party will be the talk of the whole school for years to come!
Minecraft Sleepover Teepee Party Ideas
Fun Teepee Tents with lights and name signs
Minecraft themed pillows like Creeper, Alex, Steve, Pig, TNT
Cool balloon axes
Lightbox sign spelling out Minecraft
Themed party garland and green, black and white fabric garland
Party trays for each child with lanterns
Keep Calm and Game On party sign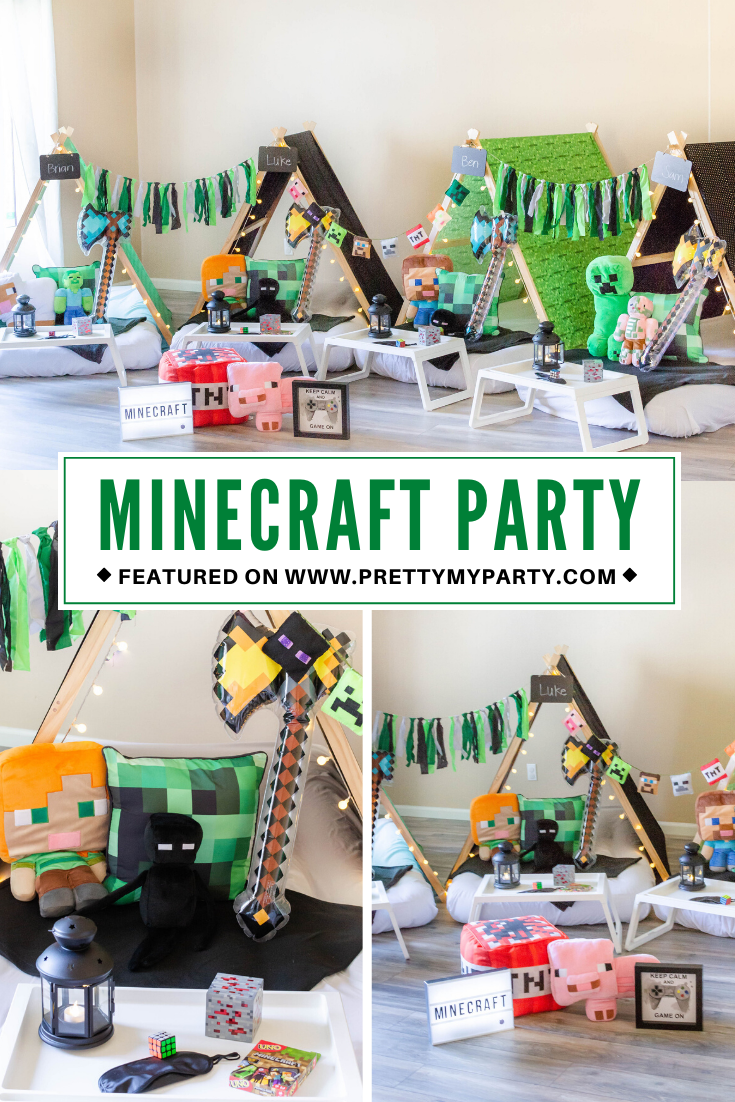 Any Minecraft fan would have a blast with this fun teepee sleepover idea! I mean what's better than a gamer night with your best friends?!?!
Shopping list: Minecraft Party Supplies
What's your favorite details in this Minecraft Sleepover Teepee Party? Let us know in the comments below!
Is there a party theme you want to see on Pretty My Party? Let us know!
For more party ideas for boys, follow us on Instagram @prettymyparty and Pinterest and join us in our private Facebook group.
Party Vendors
Delivery, Styling and Setup: Tiny TeepeeZzz