Ice Cream Party Styled Photo Shoot
This gorgeous Ice Cream Party Styled Photo Shoot will satisfy anyone's sweet tooth!
How sweet is this Ice Cream Party Styled Photo Shoot full of pastel fun. What an adorable concept for a child's birthday celebration, complete with kids chairs and appropriately-sized tables. We just love it!
Anyone walking into this birthday celebration will immediately do a double take with the incredible balloon installation that was used as a main decor item. Elevate Decor did an amazing job with the design and styling, along with the pastel balloon backdrop that was created. Sweet Gifts also made an adorable "Stay Cool" sign to use on the backdrop, which was the perfect addition for an Ice Cream Party Styled Photo Shoot.
And that guest table?! Wow! The sweet kids' chairs and table, along with the fun ice cream cart were provided by Just Kids Party and every detail was perfection. We just love it when the styling of an event fits the size of the little people that will be enjoying it. It adds an extra layer of cuteness to the entire celebration!
The guest table was also full of amazing decor, thanks to Meri Meri, with the perfect tableware for the styled shoot. Gorgeous rainbow plates and chargers with muted pastels were used, along with fun cups, straws and table decor. The color scheme of this event was perfect and truly felt like an ice cream wonderland.
But the cake?! Amazing! Rume Bakes created the perfect cake for this fun birthday celebration. We just love the swirly style that was used for the frosting, along with the great cake toppers. We love when cake toppers are easy to use, yet add in the perfect element of the theme. Over all, this fun styled photoshoot provided the perfect inspiration for a small get-together, or the first step in creating a great larger birthday event down the road.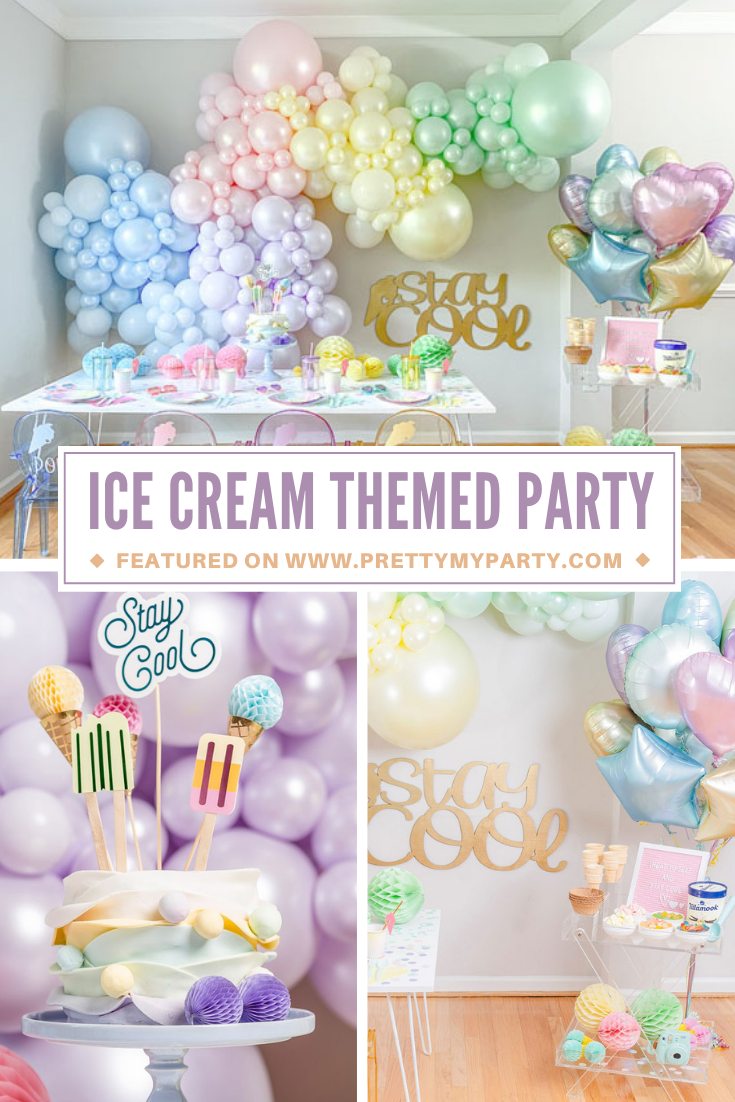 Ice Cream Party Styled Photo Shoot
Ideas
Ice cream party decorations included a pastel rainbow color scheme throughout the entire event
An ice cream themed birthday party wouldn't be complete without an ice cream station for everyone to enjoy
A fun ice cream bar was set up with ice cream and toppings to personalize anyone's sweet tooth
Kid-sized chairs were used, which were personalized with the guests names and also incorporated the pastel color scheme
An incredible pastel balloon installation was used for the backdrop, along with a fun "Stay Cool" sign that popped in gold
The ice cream party dessert table doubled as the guest table, with an incredible ice cream styled cake front and center
The ice cream themed cake included fun, yet easy, cake toppers, which were easily placed in the cake
Ice cream party supplies were found on the guest table, including fun straws, ice creamparty plates and individual pastel cups that the guests were able to take home
This styled photo shoot included the perfect ice cream social theme with crepe paper decor used as centerpieces
Different printables were used around the event that were cut out for cake topper words and signs to fit in with the theme
While this with a fun photo shoot idea, we can easily see delicious food and drinks being served from a kid-friendly menu, as well
Games and activities would be a great addition to this sweet ice cream birthday party
Ice cream party favors were different items that could be easily placed in guest bags for the children, including sun glasses, cups and other fun things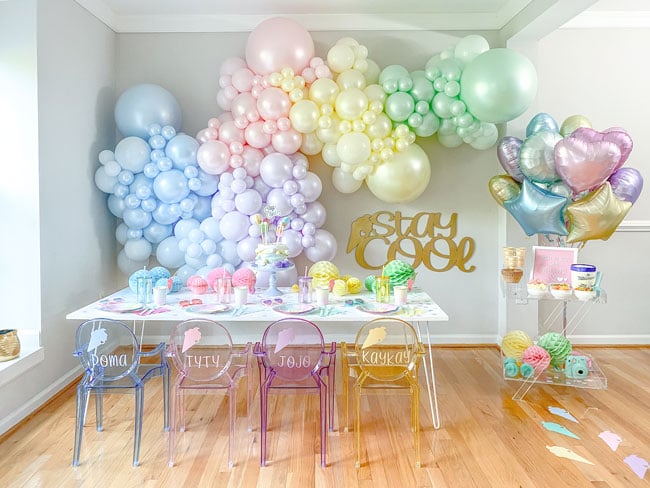 This sweet styled photo shoot definitely was everything a child would love walking into and more! Everything looks too good to be true and it almost feels like you're walking into a fairy tale when you see the pastel color palette and sweet kids chairs and furniture.
Everything for the event was amazing! Our favorite detail from the Ice Cream Party Styled Photo Shoot, however, has to be that incredible balloon installation that was created for the backdrop. It's so gorgeous we almost don't want it to ever be taken down! We can only imagine the birthday child walking in and being completely in love and mesmerized by all of the different balloon colors and sizes that were created. We also love the special ice cream cart that was available for the guests to create their own magical ice cream dessert with. It's a great way to personalize an event with all of the birthday child's favorite toppings, while having a fun ice cream celebration for everyone to enjoy.
What are your favorite details from this Ice Cream Party Styled Photo Shoot? Let us know in the comments below!
For more amazing party ideas, follow us on Instagram @prettymyparty and Pinterest and join us in our private Facebook group.
Party Vendors