A Diamond In The Sky Baby Shower
A Diamond In The Sky Baby Shower is the perfect way to celebrate a mom-to-be who is welcoming a baby girl!
This A Diamond In The Sky Baby Shower was put together by an entire wedding community, who came together to throw this photographer a spectacular event toward the end of her pregnancy! When one of their own has a baby girl, they go all out and rally around her!
Events by Jade partnered with a group of great vendors to create this amazing baby shower at The Nest at Ruth Farms. Everything felt so elegant and modern, with the amazing velvet couches and chairs from Coral Lane Rentals set up for everyone to relax and socialize. Fun star-themed plates were used on all of the guest tables, which had gorgeous floral centerpieces from Root and Bloom. And the natural light in the venue? It was perfect for this sweet brunch-themed baby shower.
We also just love the invitations, which were made by Brown Fox Creative. What a creative and fun invitation suite, which highlighted the main color palette of the event, which was pink.
While this mom-to-be didn't have a traditional cake for her event, she did have a brunch-themed table with various pastries that were lined up to mimic a cake shape. There was even a sweet cake topper on the top of the pastry holder, with the baby girl's name. And just because there was no cake didn't mean there weren't other delicious sweets! Gold Ribbon Confections created amazing star cookies, which were a great addition for A Diamond In The Sky Baby Shower theme. And Dyan Kethley Photography was there to capture all of the magical moments of this whimsical themed baby shower.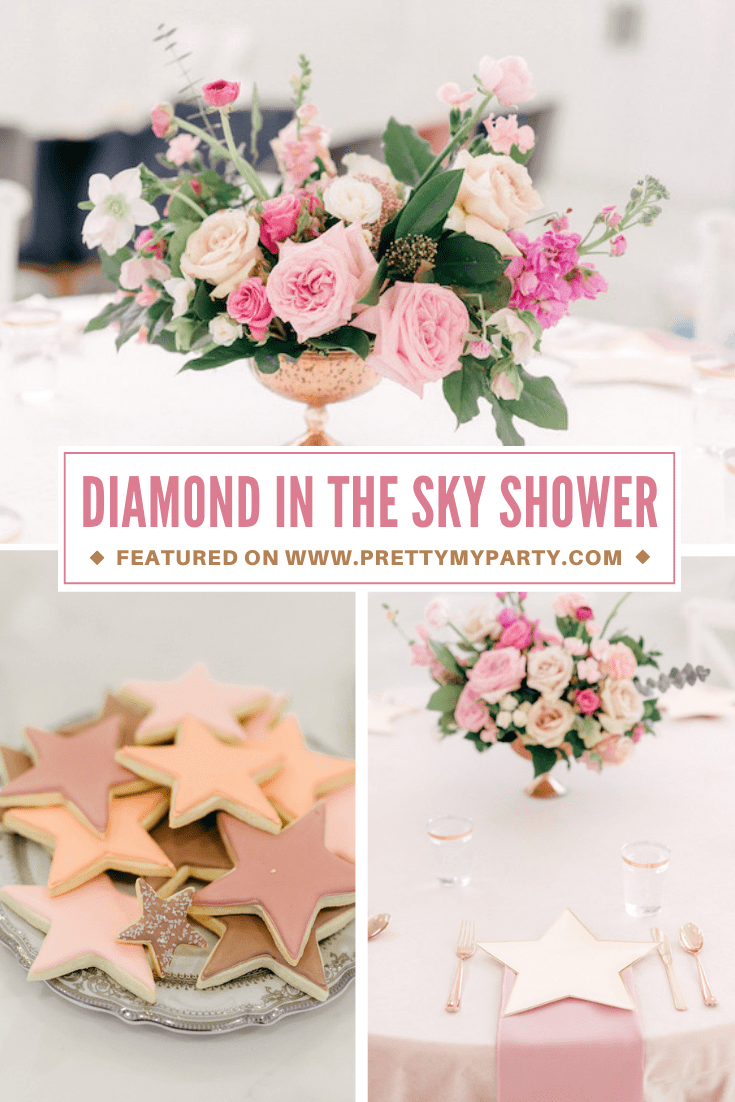 A Diamond In The Sky Baby Shower
Ideas
A Diamond In The Sky Baby Shower sitting area was a highlight of this event, with pink and deep blue couches and chairs set up for guests
While there wasn't a traditional cake, there was a brunch pastry "cake" with a sweet cake topper attached announcing baby girl's name
The dessert table focused more on delicious brunch food with sweet star cookies available for everyone to indulge in
A fun tea party area was also set up for guests to grab an individual cup of tea after enjoying their brunch items
In addition to the star cookies, special star plates were set up on the guest tables for everyone to use
A gorgeous invitation suite was created, along with matching printables for games, activities and welcome signs
This girls baby shower theme included a breakfast brunch menu with fruit, pastries and yogurt items
The baby girl pink florals with greenery were a perfect addition to all of the guest tables, which were used as centerpieces
Additional star cookies were created as party favors that guests were able to take home with them
The gorgeous chandelier that was found at the venue was an amazing addition to the baby shower decor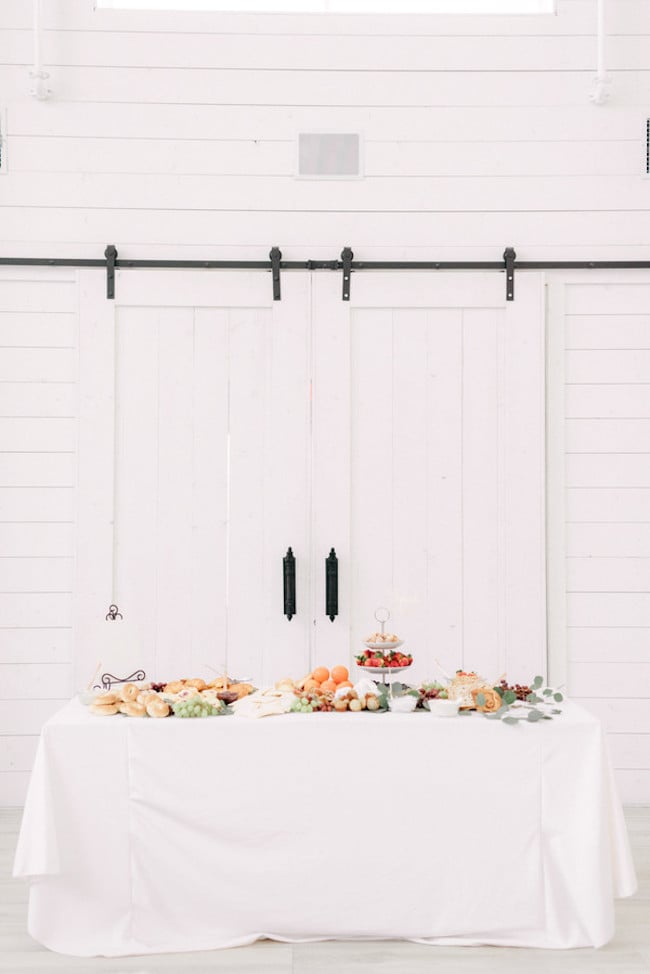 Everyone just loved helping with this special A Diamond In The Sky Baby Shower for one of their beloved vendors. Baby girl baby showers are so much fun to plan and this one had the elegance and luxury to make everyone feel right at home and comfortable. We love the pink color scheme, with the contrasting deep blue couches and chairs that were found in the sitting area.
Our favorite detail, however, are the gorgeous decorations and printables that were found around the baby shower. We love the sweet tea set area that was set up for all of the ladies to grab a cup of tea after the delicious brunch. Who wouldn't love spending the day with sweet friends when you have a gorgeous baby shower held for you like this one?! That's one lucky mom-to-be.
What are your favorite details from this A Diamond In The Sky Baby Shower? Let us know in the comments below!
For more baby shower ideas, follow us on Instagram @prettymyparty and Pinterest and join us in our private Facebook group.
See more baby shower themes here:
Party Vendors
Floral Designer: Root and Bloom