Travel Themed Baby Shower Celebration
Precious cargo in this fun Travel Themed Baby Shower Celebration!
This gorgeous Travel Themed Baby Shower Celebration was a beautiful way to bring people together to celebrate this baby girl who is well on her way! Idalia Photography has been a newborn photographer for many years and recently, she finally got to celebrate her own little baby! How fun!
Many of her fellow creative entrepreneur friends were a part of this celebration. Bogath Weddings and Events was the main event planner for the baby shower, which was held at Sirena Ristorante. The pink and teal color scheme was the perfect way to welcome this little baby girl. We love the way this color scheme pops on the all white decor and the dessert table, with many rentals coming from Dovetail Vintage Rentals.
Gorgeous travel-themed invitations were created by Jennifer Dietlein, which highlighted maps and travel-related items. Matching printables were also created for place cards and games and activities, with gorgeous calligraphy added by The Shaded Maple. And how about the simple, yet modern florals that were provided by Forked River Florist? All of the pink roses were a perfect addition!
The dessert table, though! Oh my! We are absolutely in love with the stunning cake, made by Pastry Paige. Three cakes adorned the dessert table, all with a fun travel theme and cake topper welcoming Baby Olivia. In addition, perfectly curated cookies, cake pops, candy and more were available for everyone to dig into. The colors are so amazing!
Natural light floods the baby shower, which shows off all of the different decorations perfectly! And we love the place settings at the kids table. Specialized sippy cups, coloring pages and crayons were available for all of the kids to enjoy! There were even specialty place settings that provided fun activities for the kids, as well. What a great addition to any event where kids will be present!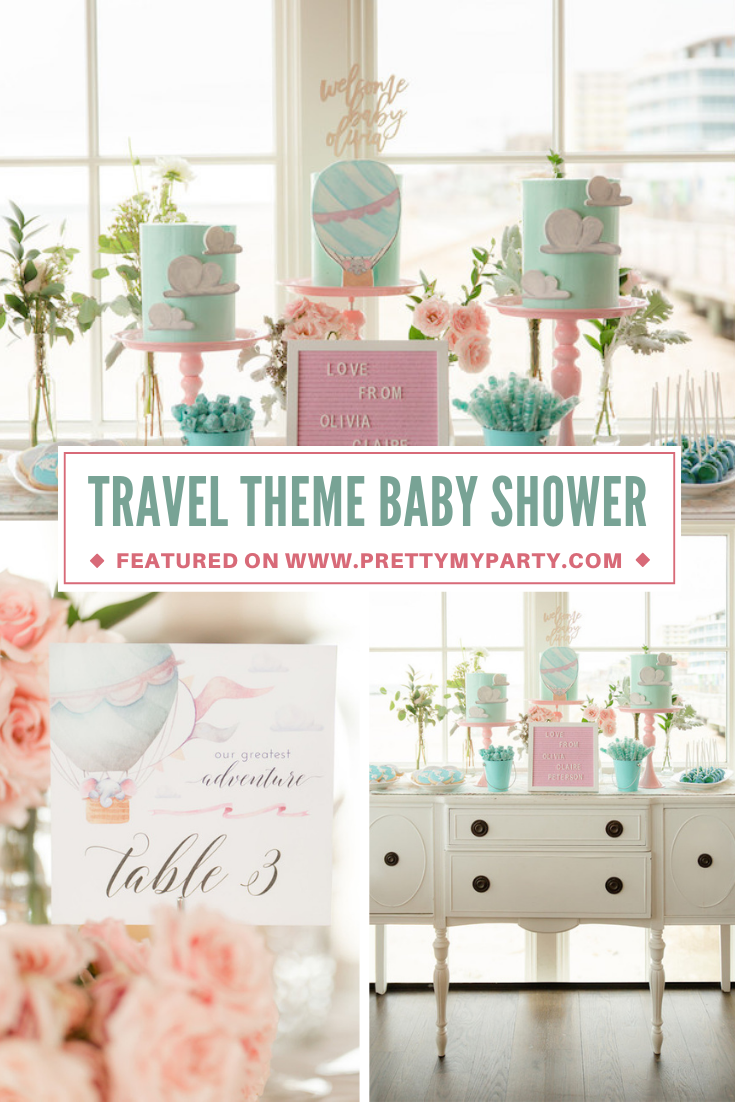 Travel Themed Baby Shower
Ideas
Travel themed baby shower decor included a large white table used for the desserts, which was a gorgeous for the color scheme
The baby girl travel shower theme was held at a restaurant with a wonderful reception room for the event
The pink and teal color scheme was bright and vivid, perfect for a travel themed girl baby shower
A travel themed kids table was made available for everyone to stay occupied and happy during the baby shower
Gorgeous printables were created, from a perfect travel themed baby shower invitation to game and activity sheets
The fun world traveler baby shower theme included an amazing dessert table, with a sweet pink sign announcing baby girl's name
The dessert table also included not one, but three amazing travel themed baby shower cakes
A sweet cake topper was placed on the middle cake, which also had a hot air balloon design included
Delicious desserts including travel-themed cookies, candy and cake pops were available on the dessert table
The sweet girl baby shower had pink roses and baby's breath on the guest tables for centerpieces, along with on the dessert table
Matching printables were created for menus for the travel themed baby shower food
This mom-to-be wore an amazing maternity dress for her baby shower outfit
Personalized cookie bags were available with three different designs for guests to take home
What an incredible Travel Themed Baby Shower Celebration! Everything looks so bright and clean, with white the fundamental background color, making sure the pink and teal colors popped perfectly. So sweet for a baby girl!
All of the details were incredible, but we particularly love the dessert table. The pink sign at the front of the dessert table was a simple, yet effective way to welcome Baby Olivia. And with the amazing travel-themed cakes, along with the additional desserts that fit into the teal and pink color scheme, it was really quite stunning! We also really love the kid-themed table. It's a great way to ensure everyone you love can attend your event, while keeping the kids occupied for the parents to enjoy themselves. This baby shower didn't forget a thing and we're not surprised, since the photographer mom knew all the best people in the biz to help her plan it!
What are your favorite details from this Travel Themed Baby Shower Celebration? Let us know in the comments below!
For more baby shower ideas, follow us on Instagram @prettymyparty and Pinterest and join us in our private Facebook group.
Party Vendors
Invitation Designer: Jennifer Dietlein
Cake Designer: Pastry Paige
Calligrapher: The Shaded Maple