Modern Woodsy Themed Baby Shower
A Modern Woodsy Themed Baby Shower is the perfect gender neutral celebration for anyone!
What a stunning Modern Woodsy Themed Baby Shower for this gender neutral celebration! The mom-to-be has been striving to keep the gender a surprise, so it was important to have a neutral theme that would keep the baby's sex a secret. This unique shower, held at the gorgeous Three Alliance Center ballroom, did just that!
The mom-to-be loves neutrals, earth tones and wood, so it was easy to decide that the Modern Woodsy Themed Baby Shower would be a perfect fit. Subtle metallics added a modern and elegant flair to a beautiful shower filled with friends and family from near and far. One of the most gorgeous pieces of the celebration was the floral design, which was created by Botany Bay Florist. The centerpieces on all of the guest tables simply takes our breath away, not to mention the perfect linens and coverings provided by Divine Celebrations!
Delicious food was prepared by Southern Culture Foods, which complemented the modern and woodsy theme perfectly. We just love the great dessert table that brings the outdoors in, with fun wooden chargers used as display pieces for the desserts. It's a classic, yet forest feel that included a simple, but gorgeous backdrop.
We also really love the traditional book table that was set up for guests to contribute to. What a lovely idea for everyone to bring a book for the new baby! And the fun succulents that were given out as party favors were a great idea, with the sign sharing that everyone should take a baby succulent to watch it grow. Awe!
This Modern Woodsy Themed Baby Shower was a stunner of a celebration, with the perfect decor for a gender neutral celebration.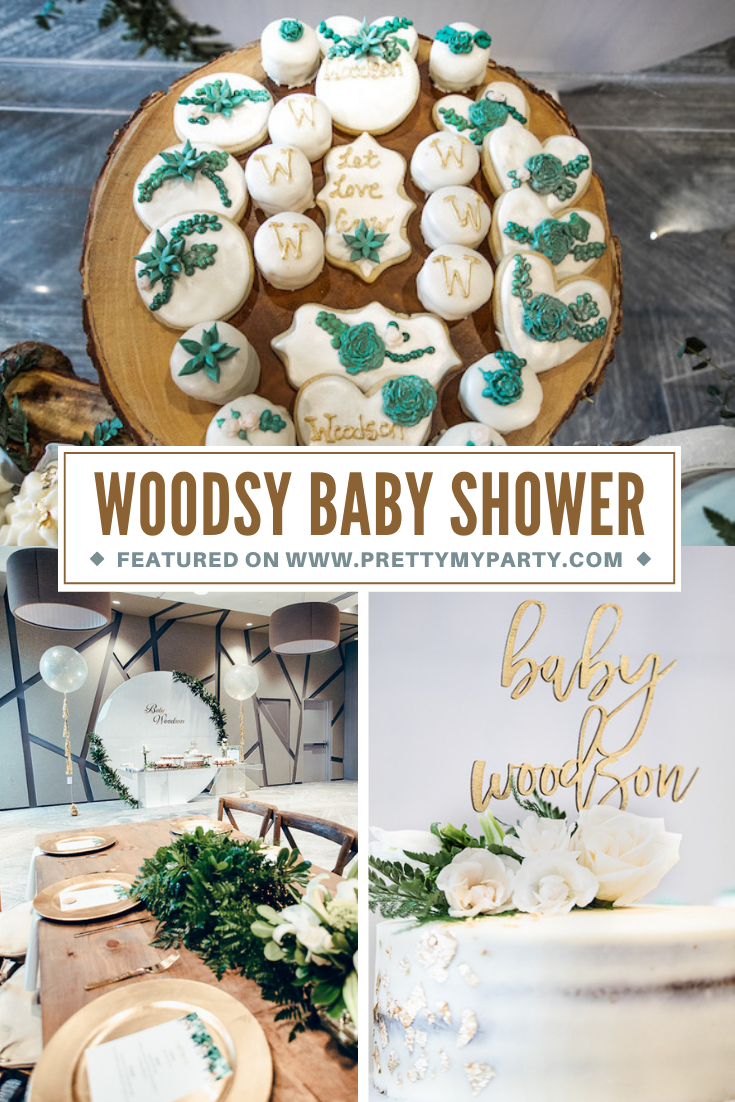 Modern Woodsy Themed Baby Shower
Ideas
This woodsy themed baby shower included a gorgeous dessert table with rustic decor and incredible desserts, flanked by two large white balloons
Perfectly created cupcakes and cookies were made and displayed on wooden chargers at various levels on the dessert table
The woodsy themed baby shower cake was a simple naked creation with exquisite florals and crystals added on for effect
The cake topper showcased the family's last name, emphasizing baby
The nature themed baby shower included gender neutral decorations with elegant whites, greys and greenery used as the main color palette
Gorgeous printables and signs were created, including the woodsy themed baby shower invitations and menus found at each place setting
Beautiful signs welcomed guests to the shower, as well as ushered them around the event for different activities
A fun party favor sign invited all guests to take a "baby" succulent, which they could then watch grow like the soon-to-be born baby
Signage was also available at the drink station, which advertised the signature drinks available for guests
Guest tables showcased amazing floral centerpieces with green sprays creating a woodsy feel
The woodland baby shower included amazing food options for guests, which was displayed in a buffet style set-up
Fun games and activities were provided for the guests, with matching printable games handed out for everyone to participate with
A gorgeous white outfit was worn by the mom-to-be, with gold accents to match the color scheme of the baby shower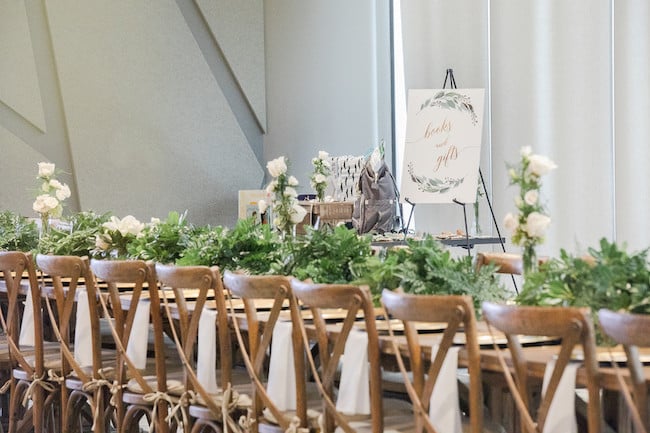 Gender neutral baby shower celebrations are so much fun to design. This Modern Woodsy Themed Baby Shower is no exception! We just love the gorgeous color scheme, with whites, greys and wooden enhancements. The greenery that is added around the event in addition to the florals really make the entire theme pop. It's breathtaking!
One of our favorite details of this sweet baby shower is definitely the incredible dessert table that was created. The backdrop is so simple, with the last name of the new baby displayed, with minimal greenery surrounding it. But the actual desserts, which were displayed on wooden chargers, look amazing! Each one is a true work of art and the beautiful cake adds to the rustic vibe. What an incredible event that was truly styled for the mom-to-be in mind. We love it!
What are your favorite details from this Modern Woodsy Themed Baby Shower? Let us know in the comments below!
For more baby shower ideas, follow us on Instagram @prettymyparty and Pinterest and join us in our private Facebook group.
See more baby shower ideas here:
Party Vendors