But First … Brunch is the perfect way to get a small group together and socially distance!
Life is always busy, so that's why it's important to say But First … Brunch! Radleigh + Sage Event Company was asked for ideas on how to host and style a brunch that would be elegant and charming. And they could hardly contain themselves with all of the fun inspiration they immediately thought of! Together, they created a vision that suited the family's personalities and love for hosting.
The gorgeous invitations were created by The Bridal Press, with Simply By Diane adding beautiful calligraphy to different features around the event, such as signs and place settings. Sweet Salvage Rentals provided different equipment rentals for the event, including rustic and classic pieces to give it a backyard and countryside feel.
Of course, a brunch theme wouldn't work without a spectacular mimosa bar! Fresh fruit was available by the mimosa bar for everyone to add into their drink. And the floral pieces that were found on the guest tables, as well as on the dessert table were breathtaking! They provided the perfect outdoorsy natural garden feel for a fun summer brunch.
Grace and Honey Cakes designed all of the amazing desserts that were found at the But First … Brunch event. The cupcakes, cookies and other desserts all looked like individual works of art. They included intricate designs and gorgeous coloring that flowed perfectly with the grey and silver color palette of the celebration.
Given the state of the world these days with the current pandemic, hosting a brunch is a perfect micro event to host! It can be held in an intimate setting, while having peace of mind and comfort knowing everyone can enjoy a spectacular soiree with ease.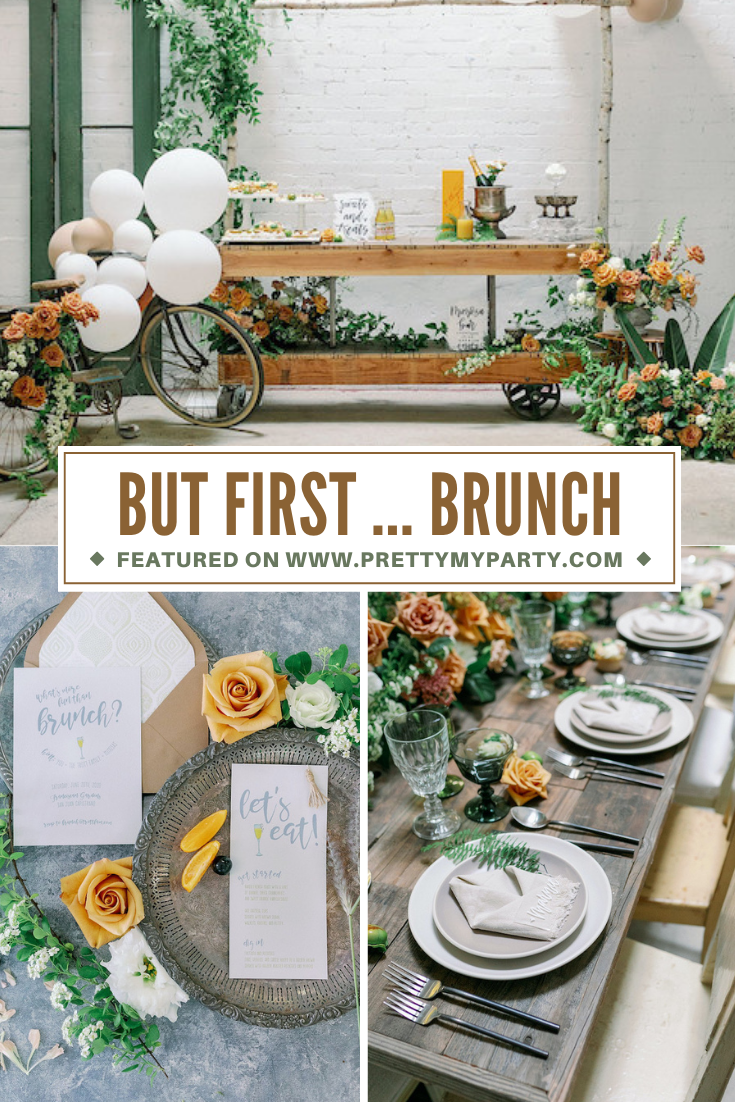 Elegant Brunch
Ideas
A fun brunch-themed invitation was created that highlighted the mimosa bar and calligraphy
Delightful breakfast brunch party foods were available for the guests to enjoy
Rustic guest tables included lots of floral items and greenery serving as centerpieces, along with gorgeous personalized napkins
A fun mimosa bar was set up for everyone to enjoy, with champagne and fresh fruit a part of the drink station
Gorgeous signage and printables were set up around the event, with custom calligraphy notes on different signage
Fun brunch celebration with rustic dessert table including beautifully decorated cookies and cupcakes
Hand-designed brunch menu with personalized calligraphy, highlighting the Sunday buffet items
Gorgeous balloons set up on the dessert table to complement the rustic decor, with a fun birch tree backdrop set up
Fun straws were available to enjoy the apple juice, with cute flags to help celebrate the brunch party theme
Sweet party favors were set up for everyone to take home with them after the brunch celebration
Games and activities were set up for the kiddos to enjoy themselves during the fun brunch get together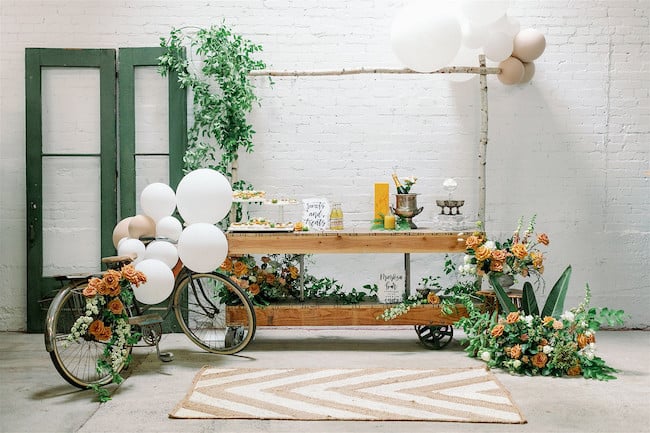 But First … Brunch is such a fun and unique theme. And it's the perfect party to have with close friends right now when smaller gatherings are preferred. We love everything about this amazing theme and the decor is simply breathtaking! With the gorgeous florals, along with the additional greenery and white balloons, it looks so rustic and clean.
Our favorite part of the event has to be the unbelievable guest tables. They were all draped in greenery and flowers, but the personalization on each place setting looks fantastic! All of the napkins doubled as the place settings, which were specially created with calligraphy. Fern leaves and individual cupcakes were also placed on each setting, which gave everything such a rustic vibe with wooden accents.
What are your favorite details from this brunch themed get-together? Let us know in the comments below!
For more brunch party ideas, follow us on Instagram @prettymyparty and Pinterest and join us in our private Facebook group.
See more party ideas here:
Party Vendors
Design and Decor: Cherished Rentals