Indoor Garden Party Bridal Shower
An Indoor Garden Party Bridal Shower is the perfect way to bring the outdoors in for any wedding celebration!
This Indoor Garden Party Bridal Shower is extra special, since it was held for a bride-to-be, who also happens to be a nurse in New York City. During the intense days on the front lines due to COVID-19, it was the perfect way for her to celebrate with friends and family who were able to make it. The bridal shower was also much needed, since the bride-to-be had to cancel her scheduled bachelorette party because of the the pandemic's travel restrictions.
With the wedding tentatively scheduled for the end of May, it was becoming more and more likely it would need to be rescheduled because of the coronavirus. The bride-to-be has also been separated from her fiancé since she is a frontline worker, exposed to the virus everyday at work.
Conservatory at the Madison Hotel was the perfect location to hold this beautiful bridal shower! It was a total garden party affair, with a fun flower bar provided by Laurelwood Designs for all of the guests to create their own garden masterpiece to take home as a party favor. What a fun activity for everyone!
The dessert table was also beautifully designed, with help from friends and family. We just love the pink and gold macarons, along with the different cakes made by Caked Up Cafe. Everything about the event was absolutely breathtaking. It felt like the entire shower was held in a greenhouse, with all of the windows bringing in the gorgeous natural light from all directions.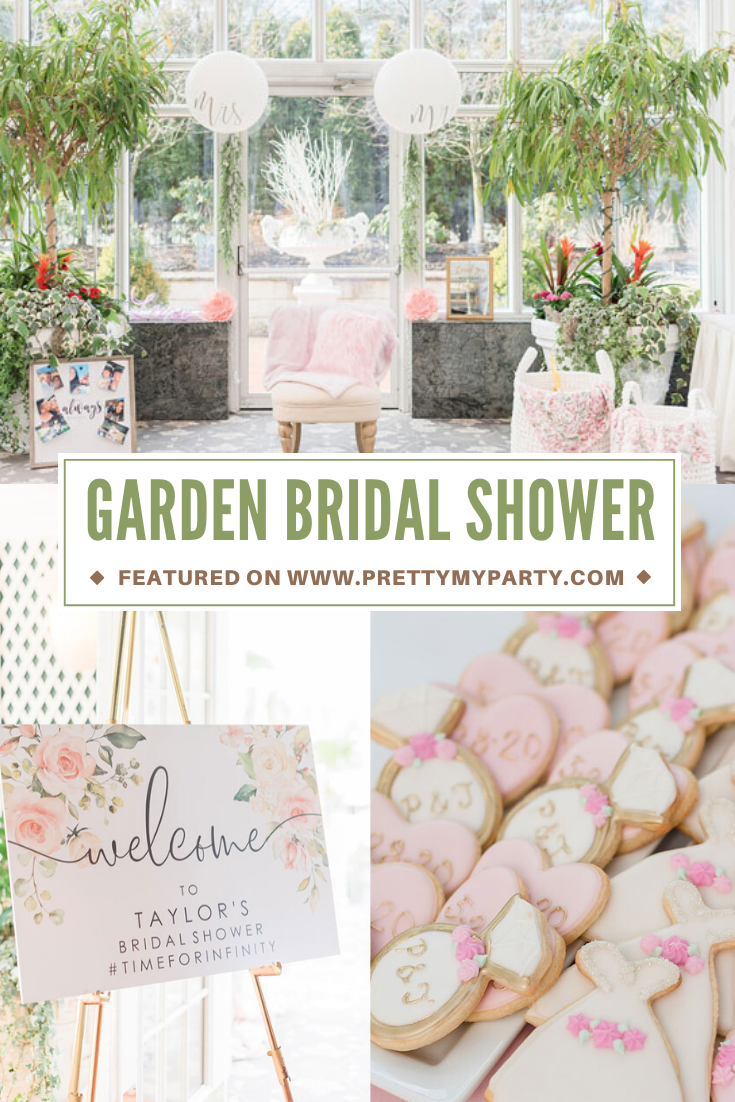 Indoor Garden Party Bridal Shower Ideas
Romantic and whimsical event venue with natural light and a true indoor garden feel with windows to serve as an incredible backdrop
Chic and elegant dessert table with candles, along with pink, white and gold decorations
Incredible desserts, including cake pops, macarons, custom cookies and chocolate covered strawberries
Multiple bridal shower cakes, with the main cake including a bride-to-be cake topper, along with a custom cake with couple's initials
Garden bridal shower invitations with floral inspiration and rose coloring
Multiple picture tables with pictures in frames of the happy couple for everyone to enjoy
Bride wore a gorgeous white dress with a cute bride-to-be sash
Garden shower ideas included many signs and printables with a welcome sign and calligraphy font used often for elegance
Bridal shower theme included incredible food and salads for everyone to enjoy at the luncheon
Fun games were included, such as Bride To Be Bingo, Guess Who Said It, and a unique idea to have people make song requests for the upcoming wedding
Incredible flower bar, also used as the party favors for guests to take home with them
Many different types of flowers were included at the flower bar for guests to create their own bouquet
The flower bar included rose pastel vases and tags thanking everyone for coming
A chic mimosa bar for guests to enjoy
Floating candles were used as centerpieces on the guest tables, with whimsical table decor including napkins and customized party favors at the place setting
Fun balloons with "Mr." and "Mrs." labels on them in the front of the event
Bridal showers are such a fun part of the wedding season for a bride-to-be. This was extra special, since it was for a bride who has been away from loved ones for awhile because of her job as a nurse. Everything was stunning and the indoor garden party theme was fresh and fun for this event. Things couldn't have been more beautiful, from the gorgeous guest tables, the incredible chandelier and the amazing printables and signage that were used throughout the event.
The best part, though? The fun flower bar that was set up for guests to create their own garden creation in a beautiful vase. What a unique gift idea to give out to guests as a party favor. With all of the gorgeous flowers that were available for guests to choose from, it was impossible to not make the perfect bouquet. What a fun event that this bride-to-be absolutely loved!
Shopping list: Garden Party Bridal Shower Decorations
See more bridal shower ideas here:
What are your favorite details from this Indoor Garden Party Bridal Shower? Let us know in the comments below!
For more bridal shower ideas, follow us on Instagram @prettymyparty and Pinterest and join us in our private Facebook group.
Party Vendors
Hair: Bloom Studio
Dress: BCBG
Shoes: Gucci
Cookies: Sweet Treats by Alexis