Gorgeous Blush Pink Bridal Shower
This Gorgeous Blush Pink Bridal Shower is the epitome of style and elegance for any bride-to-be.
How fun is this Gorgeous Blush Pink Bridal Shower for a sweet first grade teacher?! The light in the conservatory of The Madison Hotel is so dreamy and was a highlight of the event. What an amazing venue!
Keri Calabrese photographed the event, as well as helped to style things. While the conservatory is absolutely stunning, we love that the bride hired Painted Lady Events for small floral centerpieces and decor around the event to tie the entire look together. There was also an antique bicycle that was used as a prop, with flowers around the bike to highlight the blush and pink colors. And what an amazing idea to have all of the bridal party wear blush dresses, while the bride wore a white dress from Revolve. It made all of the pictures look so chic and cohesive!
The dessert table was a huge hit. How could it not be with amazing custom cookies from Sugared Hearts Bakery, with additional desserts provided by Chocolatey Dreams. We love the great cake topper that highlighted the "bride-to-be" bridal shower theme. So fun!
We also can't get over that amazing custom leather jacket that was created by Bash Calligraphy. It was a highlight of the Gorgeous Blush Pink Bridal Shower and was a great gift for the bride-to-be. She also used a custom clutch from Island to East Side, which was a fun addition highlighting her soon-to-be Mrs. status!
Finally, everyone was able to take home amazing Whispering Angel Rose wine favors, which were a huge hit. What a beautiful event to celebrate such a special occasion.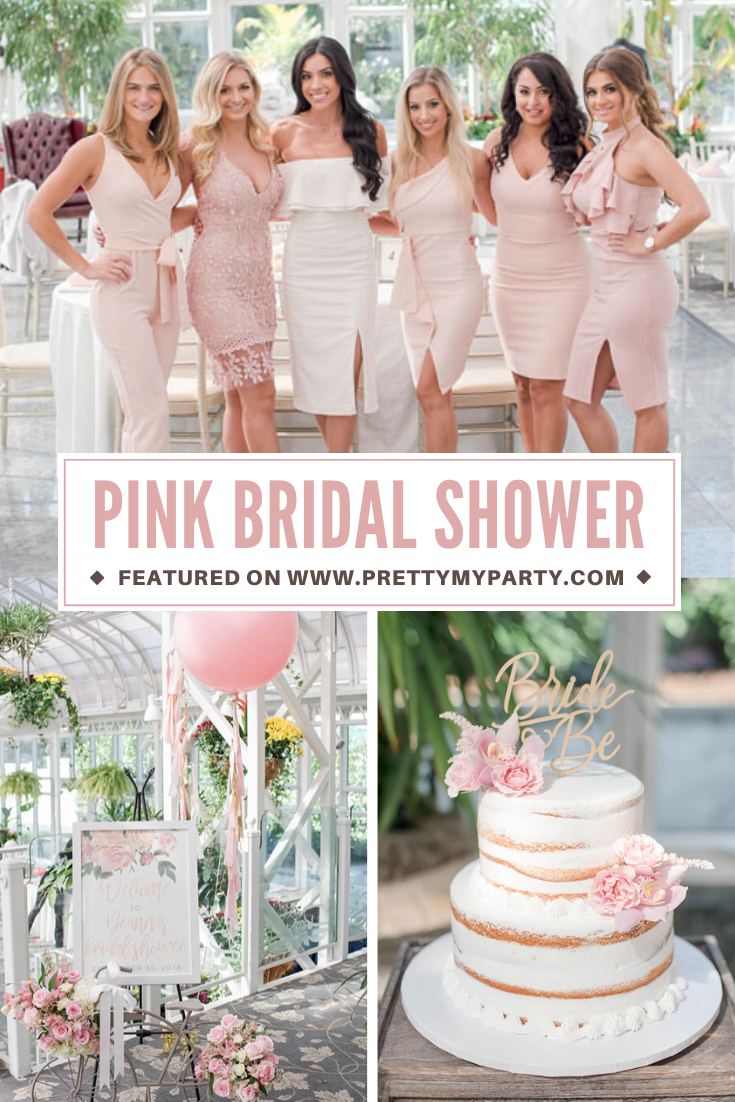 Gorgeous Blush Pink Bridal Shower
Ideas
Incredible venue with an indoor greenhouse feel, to bring the outside in
Gorgeous pink bridal shower flowers, with roses, white filler flowers and greenery
Amazing wedding shower dress coordination with blush, while the bride-to-be wore white
Delicious pink themed bridal shower dessert table
Desserts include custom cookies, cake pops, pretzels, Oreos, Rice Krispies and candy bowls – all with a pink theme
Sweet, yet simple cake with gold bride-to-be cake topper and florals
Pretty pink bridal shower theme invitations with blush and pink theme and calligraphy included
Fun party favors of rose wine bottles for the guests to take home, with a personalized tag attached
Incredible food for guests to enjoy for the wedding shower brunch
Floral centerpieces included on the tables, with guest numbers for table placement
Champagne and mimosas available for guests to celebrate the bride-to-be during the gorgeous blush pink bridal shower
Gorgeous welcome sign and decorations with a floral theme included along with calligraphy font to tie in with invitations
Fun games introduced by bridesmaids, along with interactive games for all of the guests to participate in
Incredible custom leather jacket specifically made for the bride, which was displayed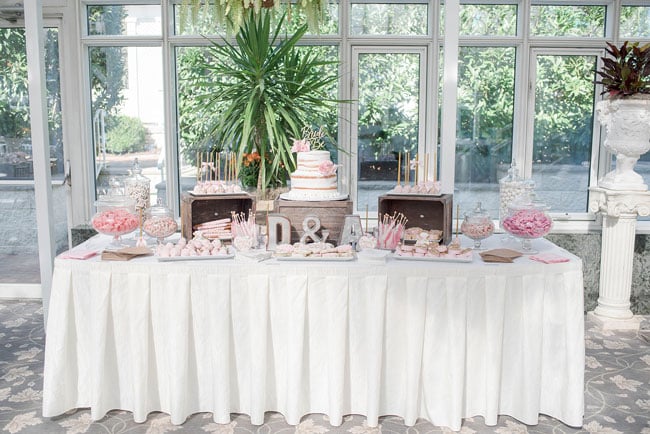 We just love this Pretty Pink Bridal Shower. It is such a fresh and fun theme with gorgeous decorations throughout the venue. Everything is chic and elegant, along with custom details that guests loved.
A favorite detail of the event was the fun leather jacket that was displayed for everyone to see. This bride-to-be is ready to hit the road and do it in style! We also love the gorgeous dessert table, along with the fun wine favors that everyone received. What great customization, with no detail forgotten. What a perfect way to celebrate such a special milestone in this bride's life!
Shopping list: Gorgeous Blush Pink Bridal Shower Decorations
See more bridal shower ideas here:
What are your favorite details from this Gorgeous Blush Pink Bridal Shower? Let us know in the comments below!
For more bridal shower ideas, follow us on Instagram @prettymyparty and Pinterest and join us in our private Facebook group.
Party Vendors