Magical Harry Potter Bridal Shower
When the bride loves all things Harry Potter, a Magical Harry Potter Bridal Shower is a must!
A Magical Harry Potter Bridal Shower was in the cards for this sweet bride-to-be and she couldn't have been more excited! This bride loves all things Harry Potter, so it was a pretty easy decision that the planning for an amazing bridal shower would include this fun theme. The details and amount of planning that went into making this shower elegant, yet still a Harry Potter wizard fest, were incredible!
The Village Inn was the perfect venue for this bridal shower! Everything was styled with an elegant, yet whimsical twist, ensuring the Harry Potter theme was seen in every possible area. Guests were invited to sit at the shower based on the "sorting hat" decision, which was a favorite. Nikki Miller Photography did an incredible job capturing all of the candid moments and creative details of this event.
We also love all of the DIY items that were created, including the awesome signage and decor. It is every Harry Potter fan's dream! From the fantasy of a Harry Potter event to the actual creation of it, everything was on-point and made for one very happy bride-to-be. It was the perfect way to go from Muggle to Mrs.!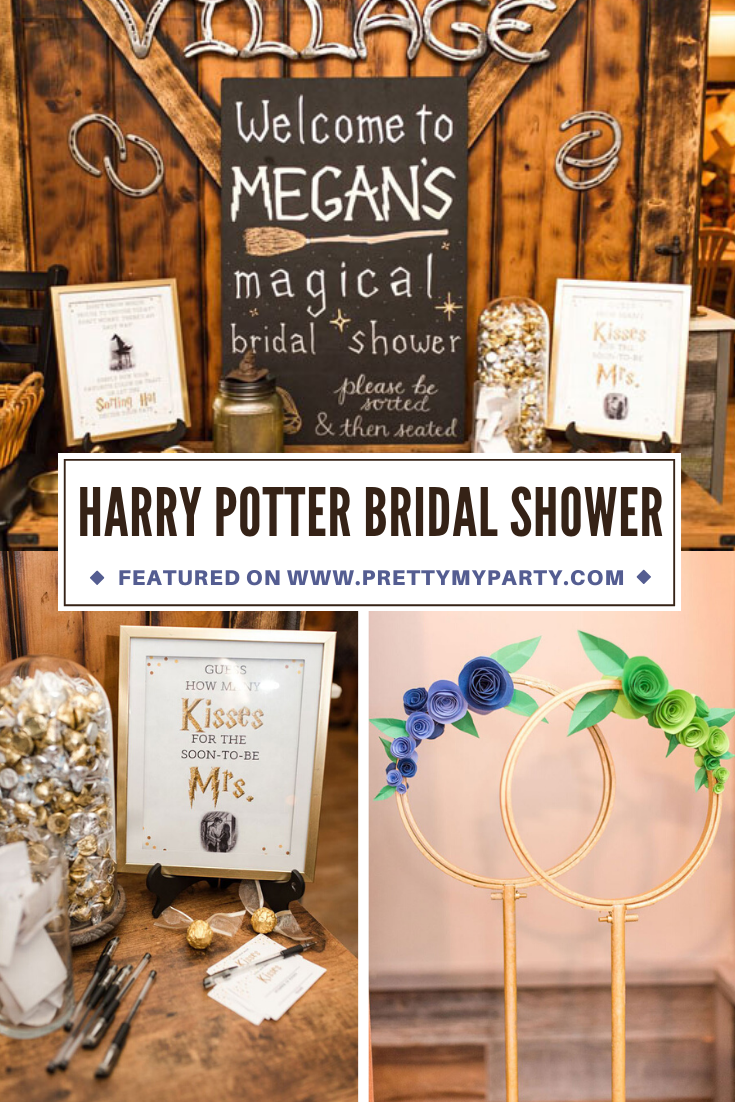 Magical Harry Potter Bridal Shower
Ideas
Incredible welcome sign at the front of the bridal shower welcoming the guests
Perfectly curated signs for all of the fun bridal stations and activities the guests could participate in
Simple, yet gorgeous cake for a fun Harry Potter Bridal Shower theme
Golden snitches were used as decor around the event
Quidditch Games centerpieces were used on all of the guest tables
Instead of a guest book, all of the guests were asked to write their favorite memory with the bride-to-be
Creative food names were used for the luncheon area, such as "Professor Sprout's Salad Bar" and "Hogwarts Garden Veggies"
A fun sorting hat game was used to show guests where they would be sitting at the bridal shower
Cute and creative wizard decorations were used around the bridal shower
Harry Potter Themed Bridal Shower Ideas included a fun donut wall that guests got to enjoy
Creative games were set up, with the different guest tables getting "House Points" depending on who won
A fun Mimosa Bar was set up for everyone to create their own special potion
A gift table was prepared and was the perfect place for everyone to share their well-wishes with the bride-to-be
Individually wrapped chocolate covered pretzels were available for all of the guests to take home, with special favor tags attached
Fun picture station props were available for all of the guests to get silly with and create fun memories for the bride-to-be
A recipe box was included for everyone to share their favorite recipes with the happy couple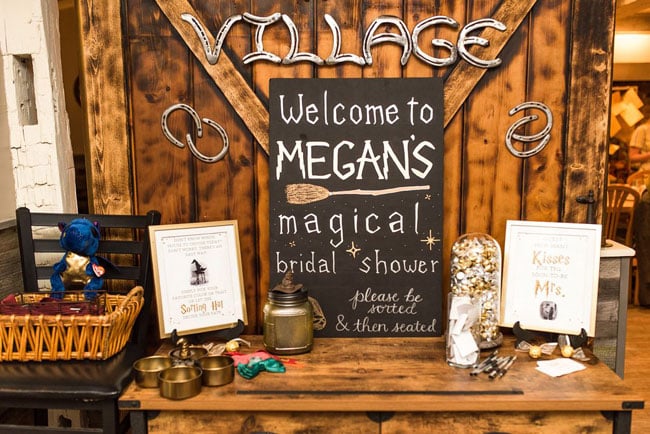 A Magical Harry Potter Bridal Shower is such a fun way to get the girls together to celebrate a friend's upcoming wedding. We love that this super fan created her own little Harry Potter paradise with the ones she loves and prepares to bring in the next chapter of her life. Our favorite details of this event include the fun Harry Potter themed centerpieces that revolved around the popular Quidditch game in the beloved series. We also love the sorting hat that directed guests to where they would be seated during the event.
What a fun and unique bridal shower theme that everyone enjoyed! It was the perfect way to celebrate such a special day for this bride-to-be and all of her loved ones. And it looks like everyone had a blast!
Shopping list: Magical Harry Potter Bridal Shower Decorations
See more bridal shower ideas here:
What are your favorite details from this Magical Harry Potter Bridal Shower? Let us know in the comments below!
For more bridal shower ideas, follow us on Instagram @prettymyparty and Pinterest and join us in our private Facebook group.
Party Vendors
Event Venue: The Village Inn
Photographer: Nikki Miller Photography