Tutti Frutti Birthday Party
A colorful Tutti Frutti Birthday Party will make every smile for weeks to come!
This Tutti Frutti Birthday Party is so colorful and fun! What a great birthday theme with great children's fruit-filled celebration in mind. With a bright and colorful palette and magnificent decor and desserts, anybody would enjoy walking into this Tutti Frutti wonderland!
Every color under the sun was used for this sweet Tutti Frutti birthday theme. From marigold, orange, coral, red and magenta, to darker colors like blue, sky, teal, green, purple and lilac, it was a refreshing and uplifting color scheme. We just love the bright and vivid table decorations, as well as the gorgeous balloon installation that was used as a backdrop for the dessert table. Everything looks so fun and welcoming!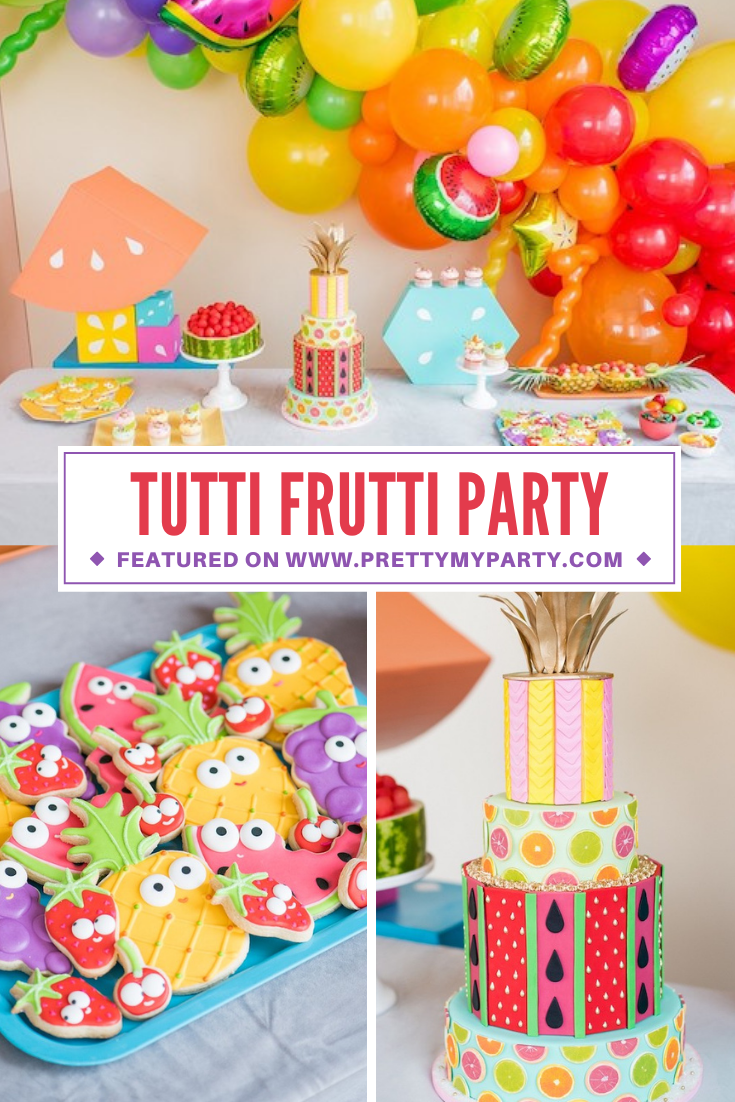 Tutti Frutti Birthday Party
Ideas
Bright colors were the theme of the tutti frutti birthday party supplies
The balloon installation included every color of the rainbow, along with different fruit balloons interspersed
Tutti frutti party invitations included fun fonts and cute fruit pictures
The multi-tiered Tutti Frutti Birthday Party cake was the ultimate in tropical fun and was a great centerpiece of the dessert table
The golden-hued pineapple fronts that served as the cake topper were the perfect addition to the Tutti Frutti Birthday Party theme
Other delicious desserts included different cupcakes that favored various fruits, along with gorgeous fruit-themed cookies
Party favors included individually wrapped cookies, with fruit-themed candy included in the bags, as well
Fun drinks with adorable drink sticks were available for all of the guests to enjoy
In addition to the drinks, sweet individual fruit-themed jars were created for each place setting
A delicious menu of food items was available, with summer fruit and light options available to coincide with the theme
The colorful guest tables were adorable with tutti frutti birthday printables that were geometric and set up as centerpieces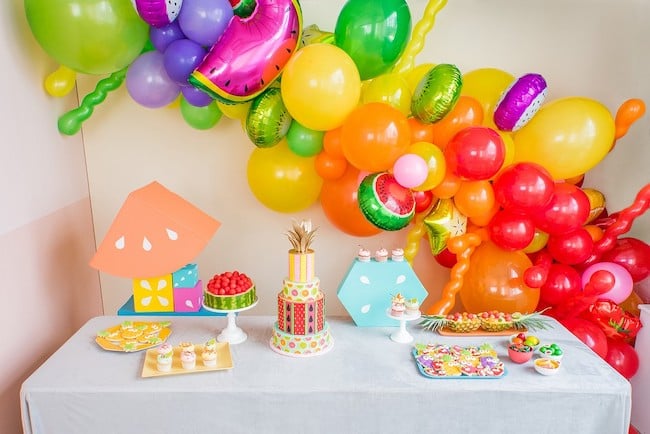 There isn't anything at this fun and vivid birthday celebration that we don't love! Any child is going to walk into this birthday celebration completely ecstatic when they see all of the fun decorations and dessert options. It is enough to bring a smile to anyone's face!
Our favorite details definitely include the amazing dessert table, particularly the eye-popping cake! What a show-stopper! We just love how different pieces of fruit inspired each of the layers and that amazing pineapple cake topper brought the whole creation together. It's incredible! On top of that, the sweet cookies and cupcakes that were made looked like yummy bites of heaven that everyone couldn't wait to enjoy.
What are your favorite details from this Tutti Frutti Birthday Party? Let us know in the comments below!
For more birthday party ideas, follow us on Instagram @prettymyparty and Pinterest and join us in our private Facebook group.
See more parties here:
Party Vendors