Vintage Disney Birthday Party
This Vintage Disney Birthday Party is full of pure magic!
This pastel Vintage Disney Birthday Party is everything little girls dream of and much, much more!!! A dream is a wish your heart makes. For this little girl, the dream of visiting Disneyland and fulfilling her princess wishes came to a halt during a worldwide pandemic. When life throws you a curveball, and Disneyland is not in the cards for your sweet baby girl's fourth birthday, you bring the magic of Disney to her. From the sparkle to the whimsy, the perfect vintage Disney soiree covered every original detail inspired by Disney. This cool and creative mama Rozalyn, of Poptarts and Peonies, knew right off the bat that she wanted Nora to have a vintage Disney birthday celebration, with perfectly pastel details, lots of pretty DIY's, and of course, MAGIC! And Nora's fourth Vintage Disney Birthday Party was nothing short of magical for this four-year-old princess with a love of Mickey.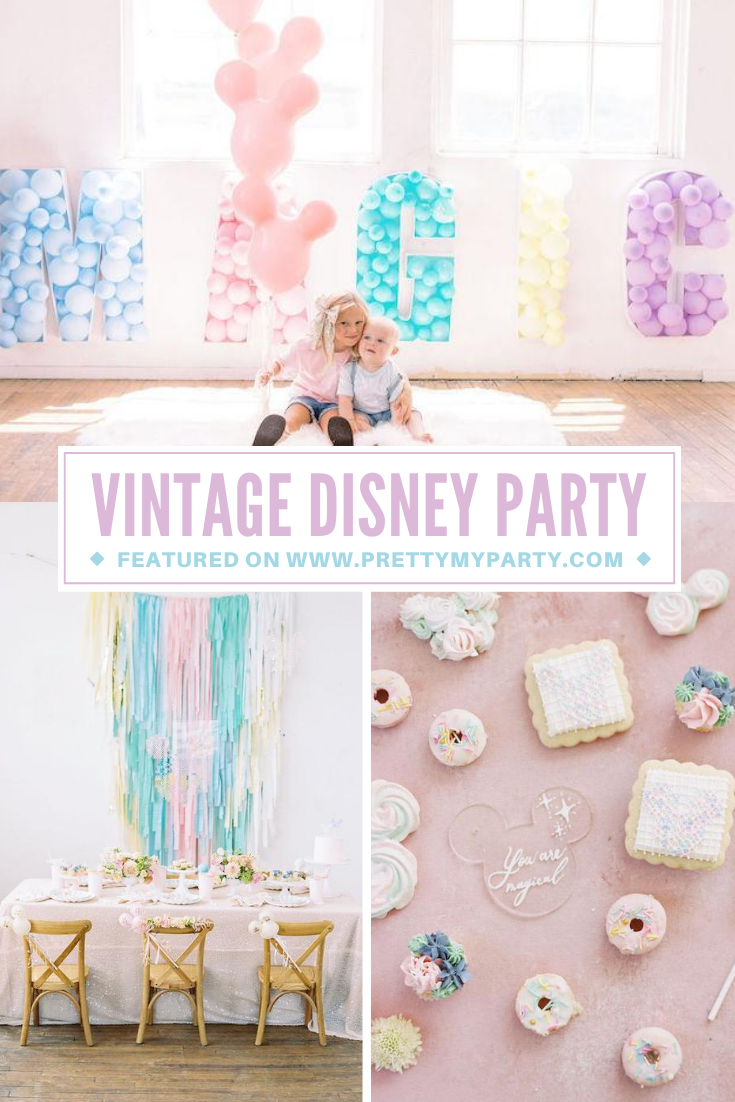 Roz brought Meghan of Parker Grace Events on board to help continue to design and plan Nora's Vintage Disney Birthday Party. Inspired by a vintage Disney cross-stitch the team came across, no detail was left unthought of. Inspiration was pulled from the classic Disney mouse ears, with custom kids and adult names alike stitched on the back. A true Disneyland staple next to the churro when visiting the parks. The team wanted to push the classic Disney boundaries and create something unique and inspiring, yet overflowing with feminine and elegant details.
Fortunately for the team, Roz is a DIY queen, an amazing DIY and craft blogger that helps mamas and families create magic in their own homes with supplies they already have. Roz took on the task of making the tiniest details to complete the overall look. She cross-stitched Mickey ears on the acrylic that hung above the most gorgeous tablescape. She handmade a truly one-of-a-kind luxe Mickey pinata for the girls to play with the pastel ribbon, yarn, and fabric. But it wasn't candy the girls were surprised with … it was every girls' dream, GLITTER!
Per the vintage Disney theme, custom Mickey stitching details were found throughout the party. Chicory Stitches made custom personalized jean jackets for the girls, featuring their names in stitched cursive on the back. Kiss You Kate made custom Mickey wands, all stitched and made by hand. Rozalyn even hand-painted the champagne bottles, with cross-stitch Mickeys for the adults to participate in the fun. It's all in the details, with Parker Grace Events.
Our littlest guests were treated to wear their favorite princess ball gown by Tutu de Monde, doll up their hair with custom fabric bows by The Day Dream Republic and check out their beautiful selves in a Mickey-shaped floral edged mirror, complete with calligraphy by Roz. We can't forget the custom Mickey necklaces with their name by Bacon Bit Co. that lead each little princess to their seat at the table.
When the little princesses sat down for their party snacks, it was hard to choose from an assortment of Mickey-shaped cookies, lollipops, custom cupcakes, and mini donuts from B R Sweets. Each cup included a straw complete with a mini donut and a handmade glitter pennant flag with their name by Shirlee's Shoppe. There was no shortage of glitter and sparkle as the birthday princess blew out her Mickey-shaped sparkler candles.
The table draped in pink sequin fabric from Party Crush Studio, the cutest little kid-sized cross-back chairs fromStandard Party Rentals, tabletop wear from Ellie and Piper Co, and an amazing backdrop of tissue and color from Glam Fete highlighted the cross-stitched Mickey acrylic signs hanging overhead. Girly and festive florals by The Flower Theory added the perfect pop of color to the dining table and the bar cart.
The adults enjoyed a taste of the Mickey cross-stitched champagne with Roz and Meghan while the champagne overflowed around the Mickey cotton candy in the pink champagne flutes from Sugar and Cloth and custom bar cart decor. A custom charcuterie board by Danville Cheese featured cheeses and fruits of course shaped like Mickey.
The day was nothing short of magical, following the handmade pennant flag full of glitter invitation each guest received from Shirlee's Shoppe. Styled on a Suzy Pierce Art with some of the Mickey wands and mini-donuts, makes for a gorgeous introduction to the event.
Filled with joy in front of her MAGIC lettered balloon display (template by The Creative Heart Studio). Nora will forever remember the day she stepped into a Vintage Disney Soiree, fit for a four-year-old princess as captured by Ashley Baumgartner.
What a fabulous Vintage Disney Birthday Party fit for a princess and her friends! What's your favorite details in this Disney inspired party? Let us know in the comments below!
For more kid's party ideas, follow us on Instagram @prettymyparty and Pinterest and join us in our private Facebook group.
Party Vendors
Event Planning and Design: Parker Grace Events
Host/DIY/Calligraphy: Poptarts and Peonies
Photographer: Ashley Baumgartner
Venue and Textiles: Party Crush Studio
Floral Design: The Flower Theory
Tassel and Fringe: Glam Fete
Invitation and Place Cards: Shirlee's Shoppe
Custom Necklace Gifts: Bacon Bit Co.
Custom Jean Jackets: Chicory Stitches
Tabletop Party Goods: Ellie and Piper Co
Custom Mickey Wands: Kiss You Kate
Charcuterie Board: Danville Cheese
Dessert Bar: B R Sweets
Pink Coupe Glasses: Sugar and Cloth
Rentals: Standard Party Rentals
Princess Accessories: The Day Dream Republic
Princess Dresses: Tutu and Monde & Alice and Ames
Roz's Attire: June and Grey
Balloon Mosaic Templates: The Creative Heart Studio
Mickey Balloons: Party Surprise