Beautiful Garden Party Baby Shower
This Beautiful Garden Party Baby Shower is a special way to celebrate a special lady and the baby-to-be!
Celebrating a special mom-to-be with this Beautiful Garden Party Baby Shower was all the host had in mind and she killed it! The owner of Bridal Bliss wanted to do something super special for her friend and past nanny who is in the middle of her third trimester. Because the mom-to-be is the kind of person that lights up the room when she walks in, it was an extra special party that Bridal Bliss couldn't wait to plan.
The designer wanted to go all out and throw a chic garden party brunch in the backyard of her new home. Tons of green, black, white and gold were used as the color palette to celebrate the mom-to-be. We just love the custom green chiavari chairs that were used at all of the guest tables. It really brightened up the garden party and was an impressive sight to walk into. Not to mention the gorgeous floral designs from Seventh Stem that served as centerpieces and decor items around the baby shower. With modern sleek white lacquer tables from Vintage Meets Modern, along with polka dot flatware from Party Place and perfect centerpieces, everyone enjoyed the outdoor vibe on a perfect summer day.
Guest enjoyed a fun cocktail station that served the must-have mocktails, as well. Public Provisions also provided a super unique vodka infused station, as well, which only added to the excitement of this unique baby shower! Delicious appetizers were also available to munch on, thanks to Art of Catering. And what a delicious brunch buffet that was set up for everyone to enjoy!
After an over-the-top perfect brunch, guests oooh's and ahhh'd over the darling baby gifts, as well as enjoyed a delicious Art Deco themed cake by Dream Cakes. Everyone cocktailed the morning away! And of course, the cutest place card/pregnancy fact sheets were made by Crave Design for everyone to have fun with! Of course, the kiddos were set up with their own craft tables to keep them occupied during all of the fun!
This former nanny is going to be an amazing mother to this special little boy. And we always love darling baby bump pictures! Clearly, this mom-to-be and her loved ones like to have fun! What a wonderfully elegant day to remember!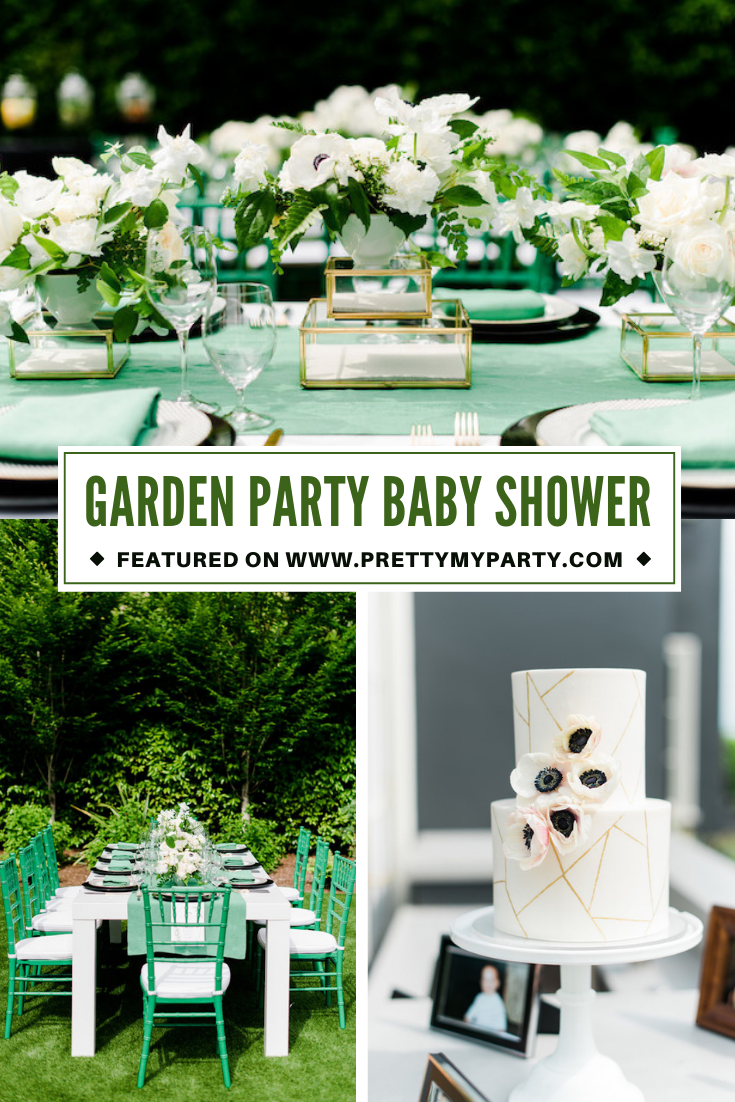 Beautiful Garden Party Baby Shower
Ideas
This garden party baby shower had the perfect outdoor color scheme, with green, black, white and gold
A garden party drink station with a menu sign was included, where specially infused vodka was available for signature cocktails and mocktails
This outdoor baby shower included gorgeous guest tables, with personalized menus at each place setting and amazing floral centerpieces
A delicious brunch bar was set up with many different food options for guests
A beautiful dessert table featured the art decor themed cake, which was too gorgeous for a cake topper
Gorgeous printables were found throughout the event, starting with the wonderful baby shower garden themed invitations
Printables were also created for the games and activities that everyone participated in
This enchanted garden baby shower included other delicious desserts, such as cookies and cupcakes
Mom-to-be wore the perfect baby shower outfit for an outdoor shower event
A cocktail area with couches and bar tables was set up for guests to socialize at during the event
Garden themed baby shower decorations included sweet baby pictures of the happy couple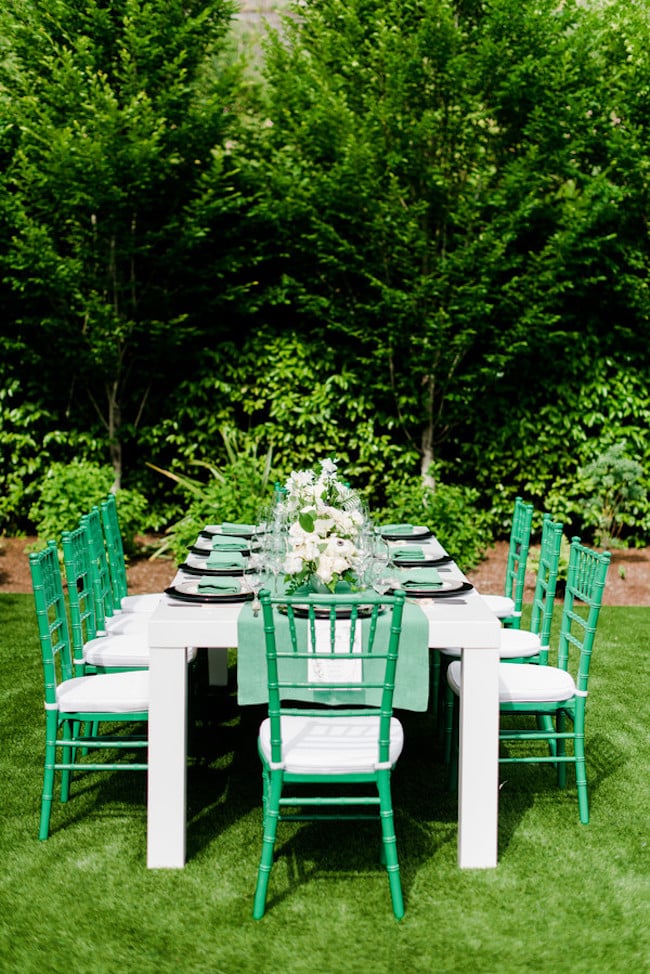 Wow! This Beautiful Garden Party Baby Shower is the perfect combination of fun, elegance and luxury. Everything is stunningly beautiful and we love the natural light that floods this event, thanks to it being held in a gorgeous backyard. There are so many amazing parts of this special baby shower celebration that we wish we could recreate it exactly and enjoy it ourselves!
It's hard to pick just one favorite detail of this fun celebration. Our top favorites include the amazing drink station that was set up for everyone to enjoy. It's not often we see a vodka infused station at an event and we love the unique addition. We also really love the special kids area that was set up for guests to enjoy. What a wonderful way to include families and make sure that everyone you love is able to participate. But the flowers? The guest tables? Absolute perfection!
What are your favorite details from this Beautiful Garden Party Baby Shower? Let us know in the comments below!
For more baby shower ideas, follow us on Instagram @prettymyparty and Pinterest and join us in our private Facebook group.
Party Vendors
Floral Designer: Seventh Stern