Thirty Flirty and Thriving Birthday
What a fun Thirty, Flirty and Thriving Birthday to celebrate that special milestone with loved ones.
This Thirty, Flirty and Thriving Birthday was a gorgeous styled shoot created by Full Blum Events. They were inspired to create this specific shoot because this demographic is something they spend a great deal of time serving. Specifically women in their 20's and 30's. So they wanted to create a shoot that would speak specifically to them and we think they did an amazing job!
We love that this elegant and modern event was still able to be light-hearted and playful, particularly with a fun photo booth where friends and loved ones can get together and be silly. The styled shoot was held at Tribe Detroit, where natural light was abundant with the fresh white walls and tables. It looked very whimsical and classic!
Petite Prints Calligraphy created a gorgeous invitation suite, along with matching menus and place settings. The elegance of the colors, along with the beautiful script font created the perfect look for this special event. And all of the guest tables were amazing! Floral centerpieces were the highlight of this 30th birthday party, along with beautiful place settings and personalized champagne bottles for each guest.
The color scheme was perfect for a woman's Thirty, Flirty and Thriving Birthday Celebration. White, ivory, coral, pink, lilac and silver was the bright and joyous color scheme that was displayed and we are here for it! It is a breath of fresh air. And what about the awesome unicorn pinata?! How much fun is that little addition to a roaring 30th birthday celebration?!
Amellia's Cakery created a gorgeous cake that included lilacs, pinks and whites into the final design. Simple floral additions were added as a cake topper, which look beautiful. Gourmet Platters also created different dishes and appetizers, including a gorgeous veggie tray and chocolate covered strawberries. And don't forget the delicious pink champagne that was found at the drink station for all to enjoy!
Thirty, Flirty and Thriving Birthday
Ideas
A bright color scheme with pinks, purples and whites was perfect for this fun 30th birthday theme
Personalized pink champagne bottles were found at each place setting, along with personalized place cards
A terrific invitation suite was put together, with matching printables and signs found around the event
A mimosa bar was available for the ladies to enjoy, along with signature drinks at the 30th birthday drink station
The 30th birthday cake was simple, yet elegant, with florals and a "Thirty" sign used as the printables
The dessert table included not only the cake, but other food items to enjoy from a luncheon menu
Guest tables included amazing floral centerpieces, with gorgeous floral chargers used with purple table runners and napkins
A fun photo booth was set up for all of the guest to enjoy, with other fun games and activities available for everyone to partake in
This milestone birthday included a unicorn pinata that all of the ladies were able to enjoy opening up
Party favors included the mini champagne bottles, along with candy wrapped in a specialty bag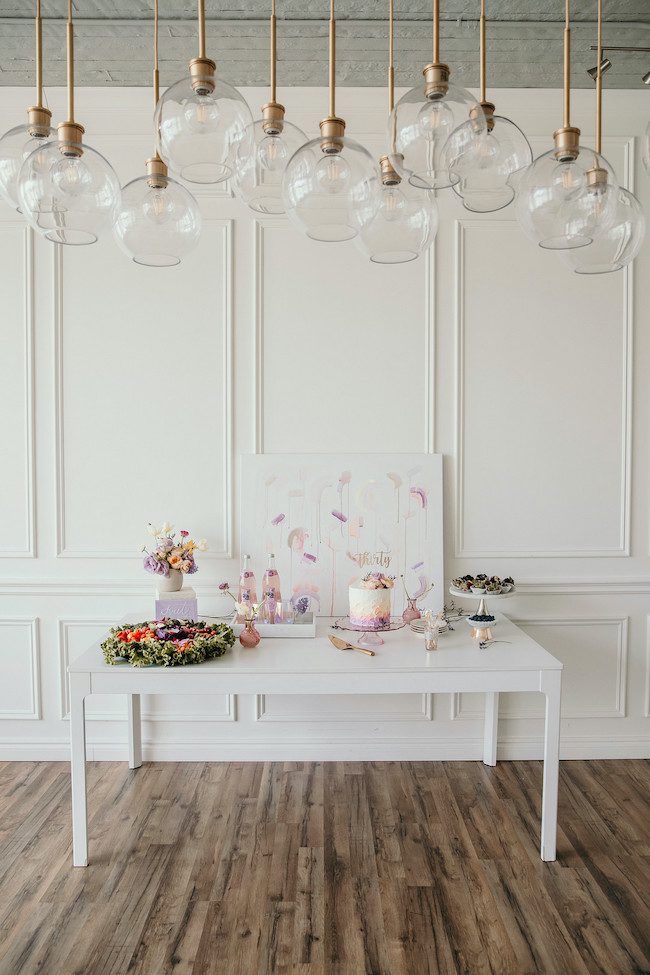 A Thirty, Flirty and Thriving Birthday Celebration is such a fun way to celebrate a special milestone with friends and loved ones. This one, in particular, is absolutely gorgeous! We love all of the feminine colors and the gorgeous florals that are highlighted around the venue. Everything was styled perfectly!
There are many favorite details at this 30th birthday party, but the first on our list are the incredible guest tables. Each place setting is immaculately prepared, with everyone having personalized place cards and their own individual mini bottle of champagne. We also love the hint of wildflowers that are found around the guest tables, as well! But, who could deny the beautiful cake?! It's the perfect simple, yet spectacular cake that friends will love digging into together. What a fun styled shoot!
What are your favorite details from this Thirty, Flirty and Thriving Birthday Celebration? Let us know in the comments below!
For more 30th birthday party ideas, follow us on Instagram @prettymyparty and Pinterest and join us in our private Facebook group.
Party Vendors