27 Disney Moana Birthday Party Ideas
Are you looking for some fun and creative Moana birthday inspiration? If so, these 27 Disney Moana Birthday Party Ideas will have you planning the most amazing party in no time! From awesome cakes and desserts to crafty decorations and more, this list will give you tons of ideas for your little Polynesian princess and her birthday celebration of a lifetime!
Shop these Moana Party Supplies:

See also:
27 Disney Moana Birthday Party Ideas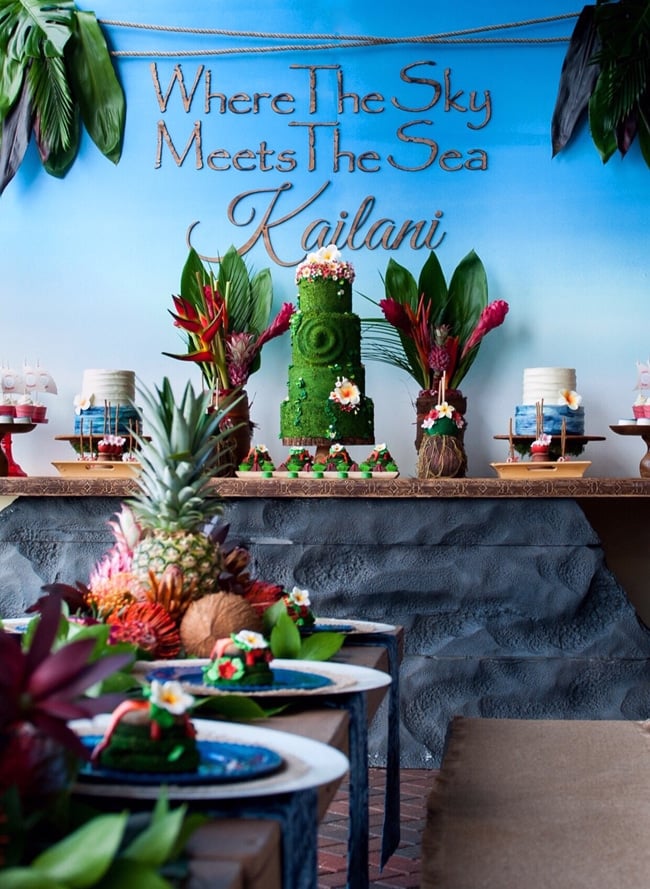 This AH-MAZING Moana Birthday Party pulls out all of the stops. This is one party you don't want to miss if you're planning a Moana birthday!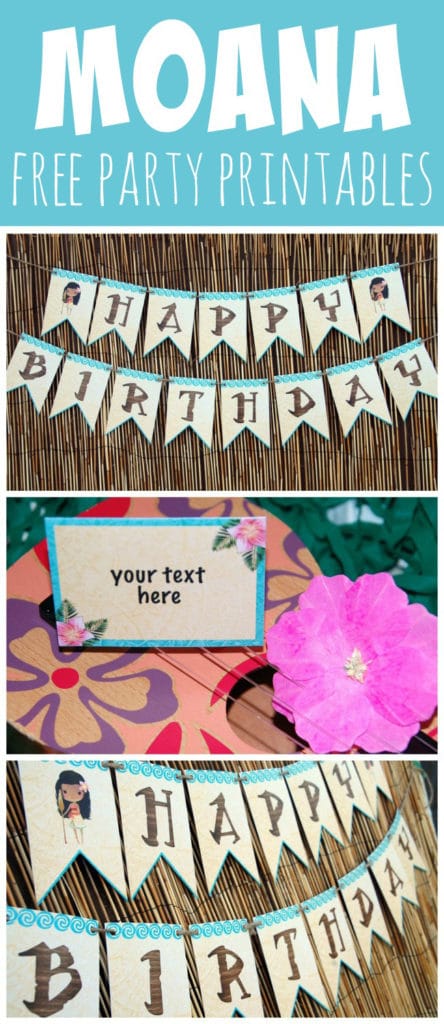 Start planning your Moana party and grab these Free Moana Party Printables from Painting Paris Pink! Included in the set are a happy birthday banner and food labels.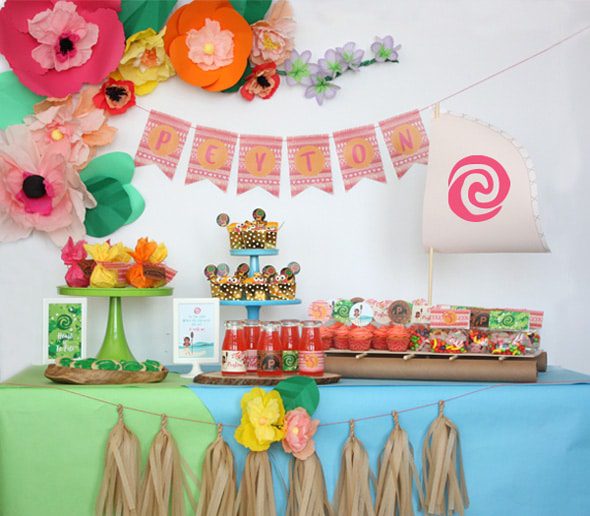 This Fabulous Moana Themed Birthday Party features fabulous printables, decor and more!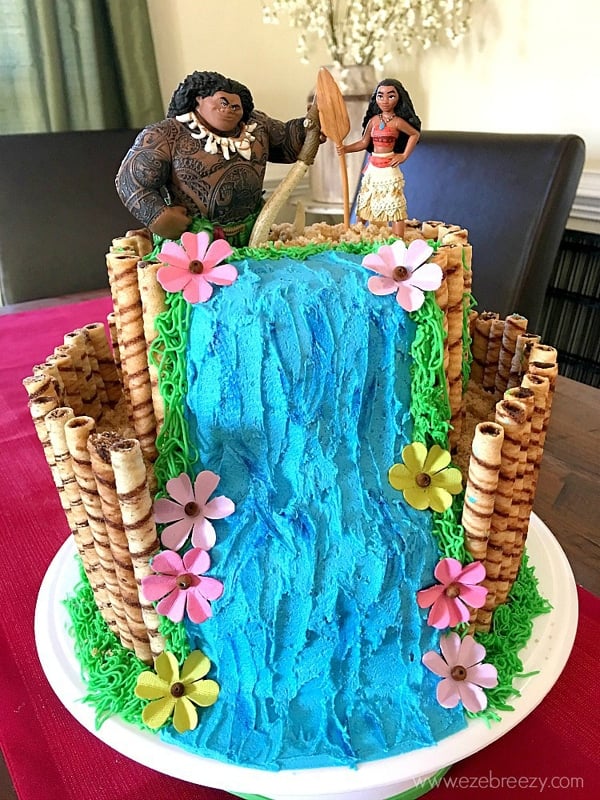 Check out this dreamy Disney Moana Birthday Cake! We LOVE the waterfall effect!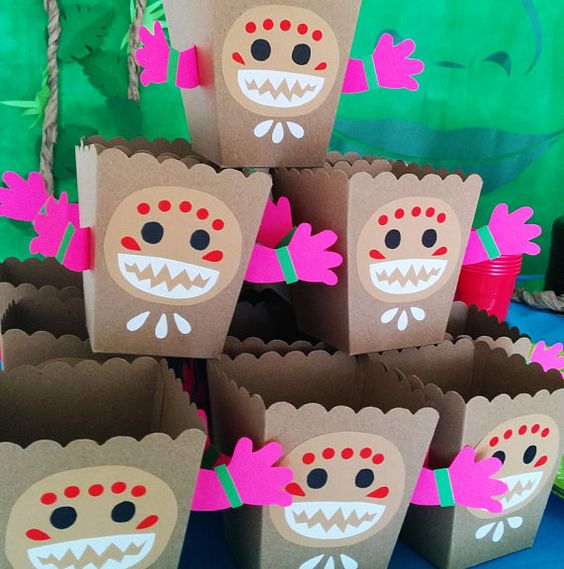 These Moana Party Snack Boxes are perfect to add goodies to and give to your guests as party favors. You can also add some treats and display them on your dessert table for the kids!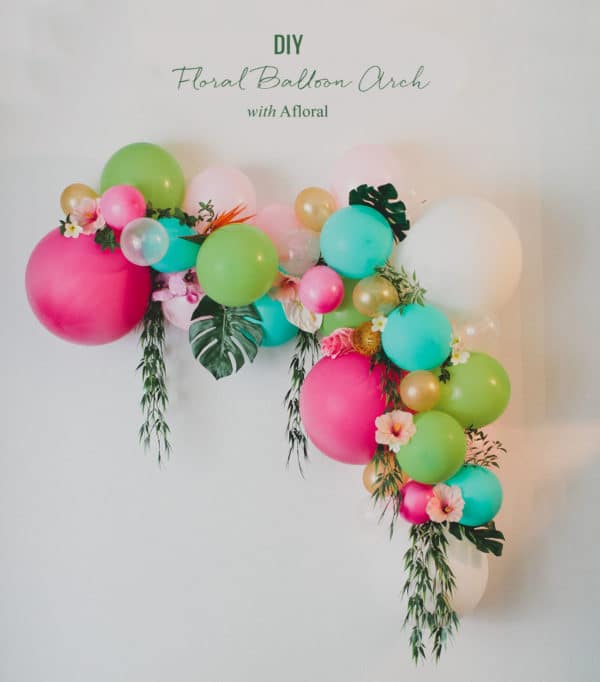 This DIY Floral Balloon Arch Decoration would be perfect to place behind the cake or dessert table. This balloon trend is definitely "in" right now and would make a great focal point at your venue!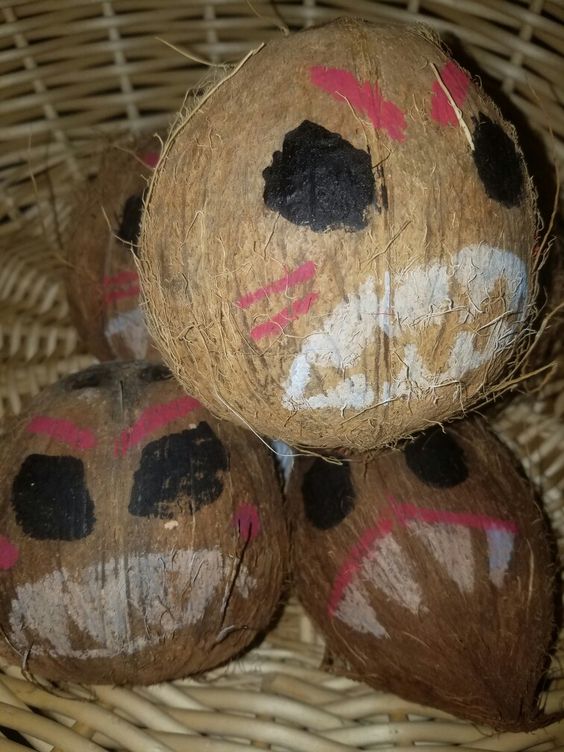 Make some Moana Party DIY Coconut decor for your Moana party!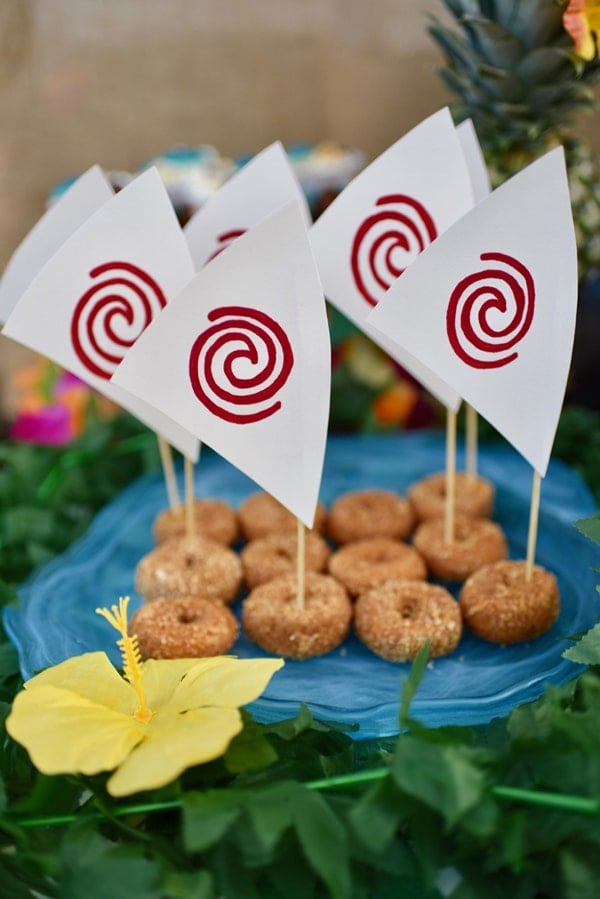 These cute and clever Moana Donut Boats are so easy to put together and guests will love them!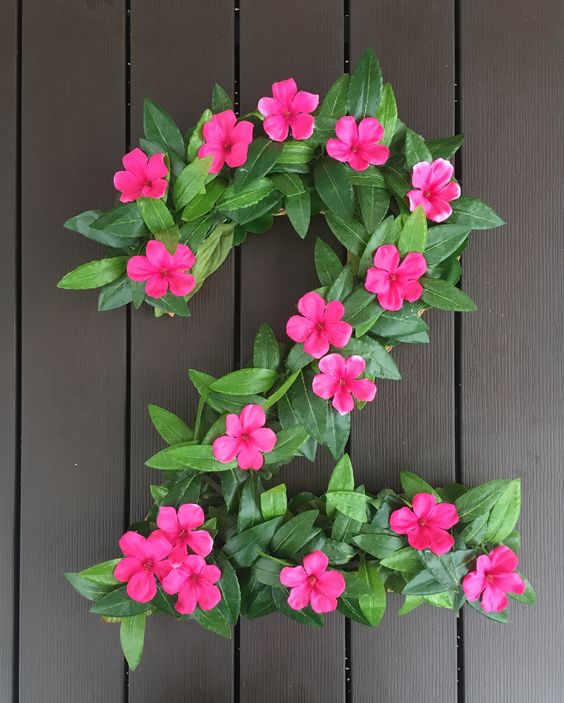 Moms, get your crafty hats on and make this DIY Moana Floral Number as a decoration for your Moana party! Hang it on the door or entrance to your party or incorporate it into your dessert table backdrop! You can even get your little one's photo by it for some fun memories!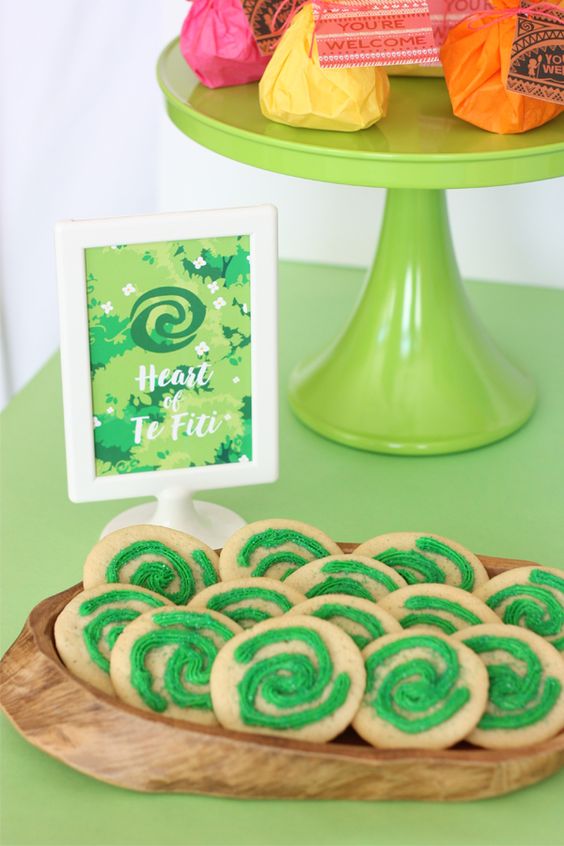 These Moana Party Cookies are super easy to make and will add to your awesome dessert spread!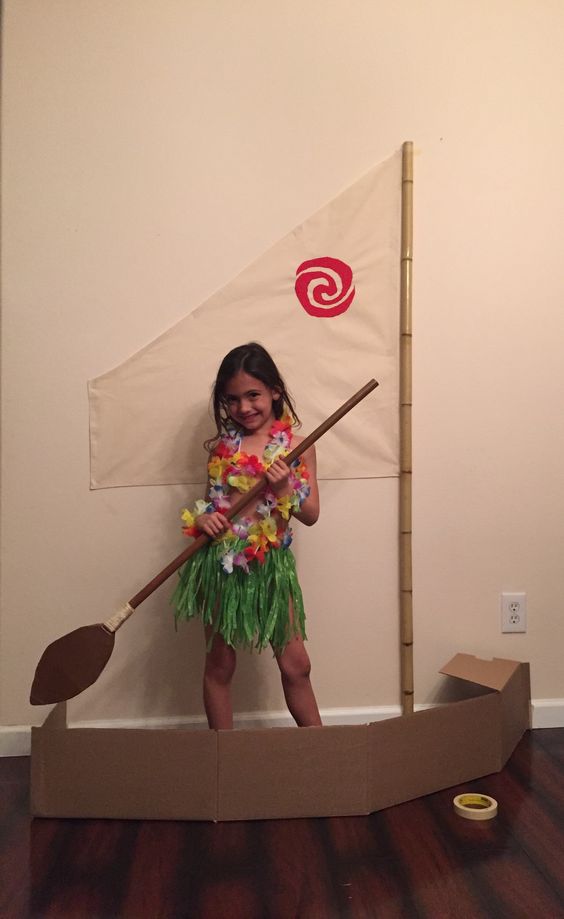 Need a good photo opp idea? Make this DIY Moana Party Boat for the best birthday party photos!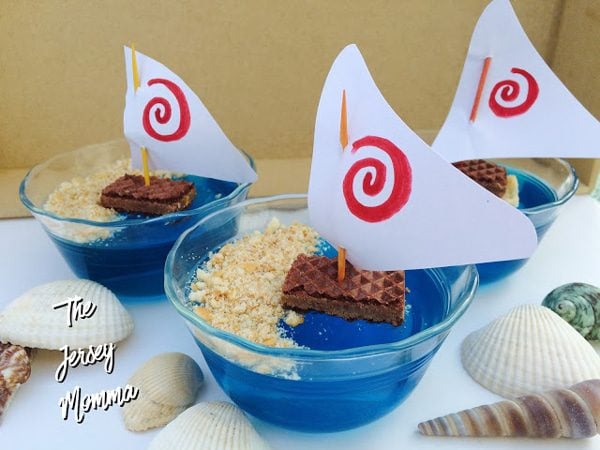 How adorable are these Moana Jello Boats?! They are perfect for this theme!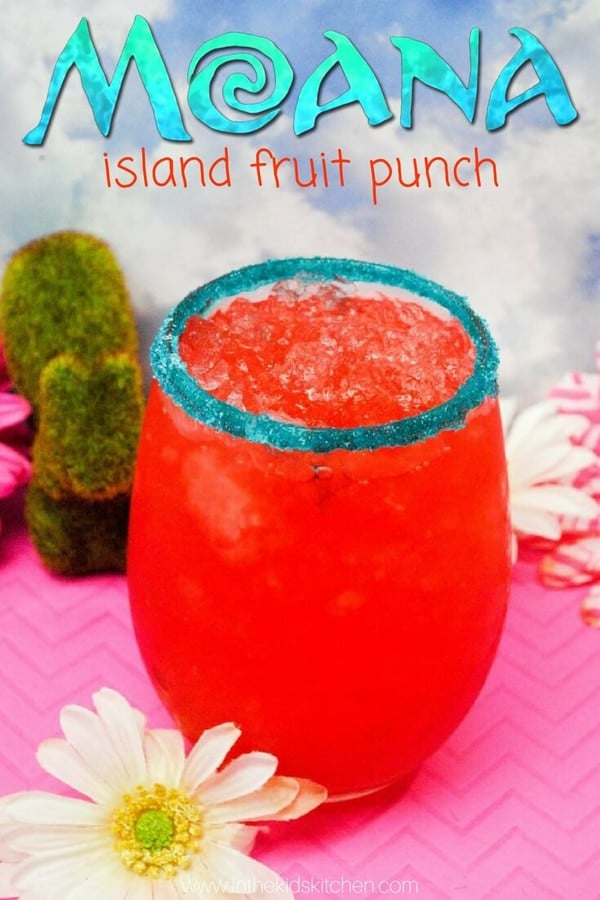 Serve your guests something sweet with this Moana Island Fruit Punch Recipe!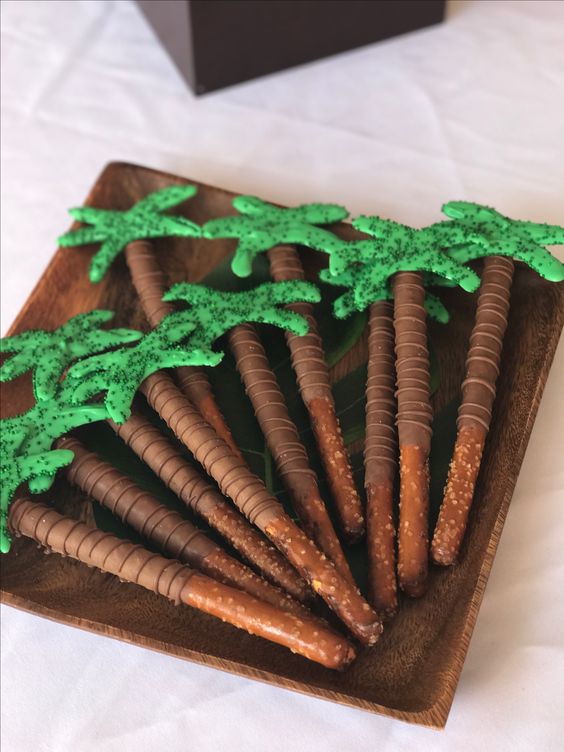 These creative Palm Tree Pretzels are perfect for that tropical vibe!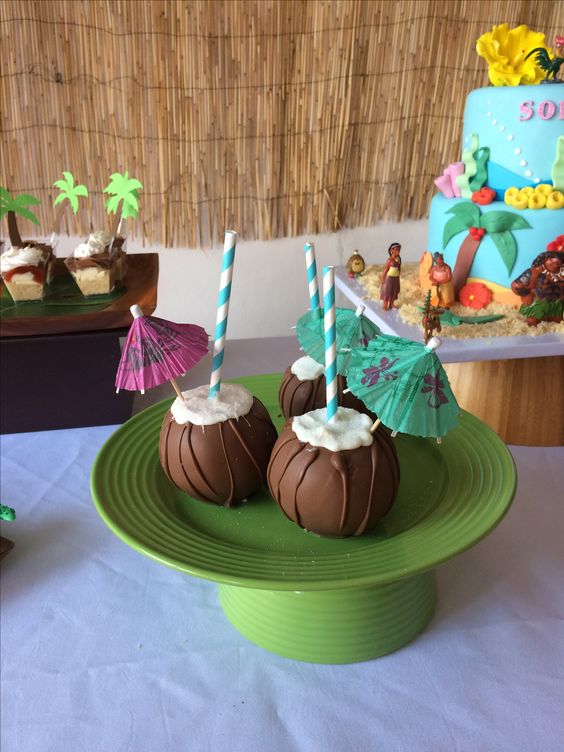 These Coconut Cupcakes have to be our favorite Moana party dessert idea!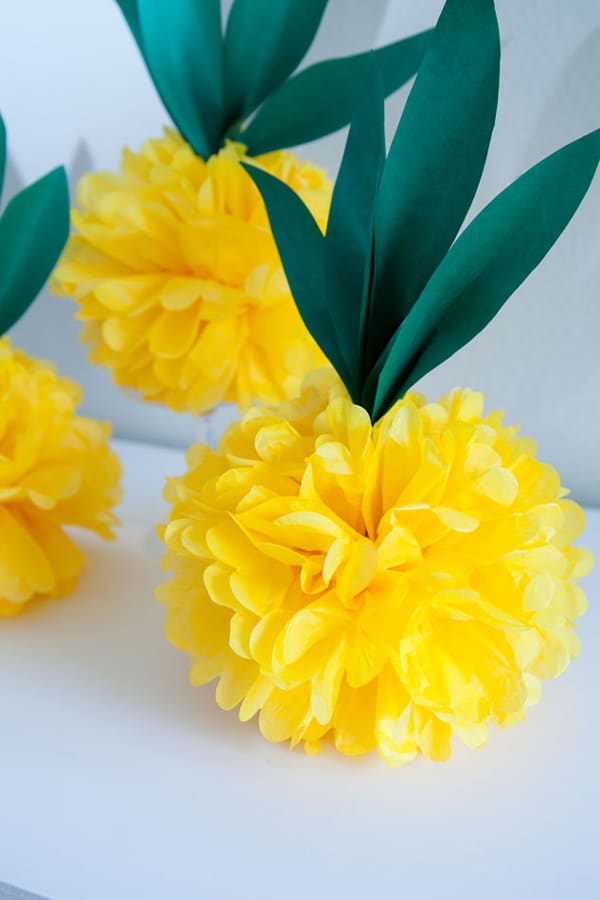 Make these DIY Tissue Paper Pineapple decorations for your party space!

Need some dessert ideas for your event? Try this Pineapple Upside Down Minis Recipe!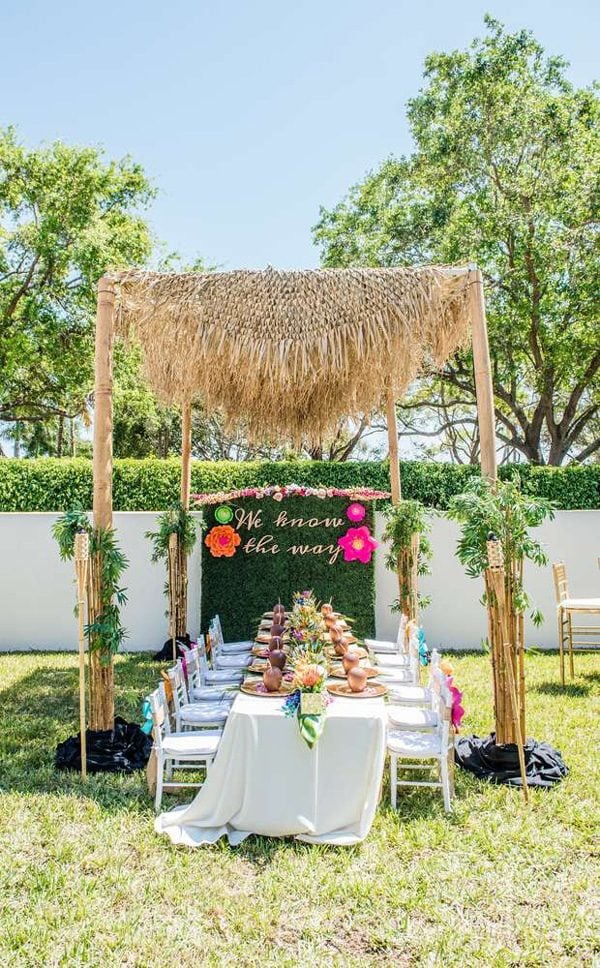 We love how this Outdoor Moana Birthday Party turned out! What FUN!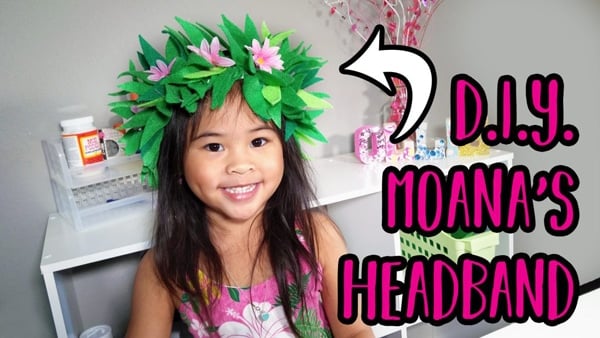 Every little Polynesian princess needs her own floral crown, right? Check out this DIY Moana Headband so you can incorporate this sweet idea into your party! The girls will LOVE wearing these!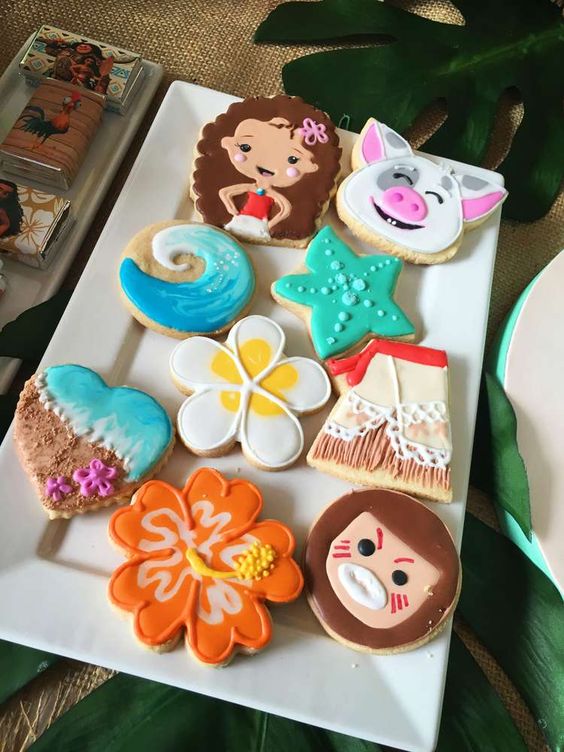 These Moana Party Cookies are just adorable! Don't you think?!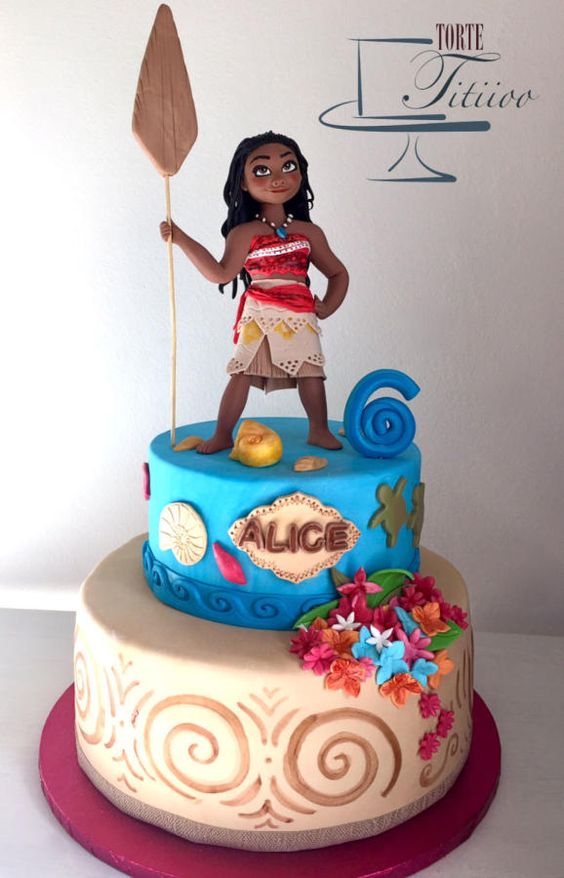 Wow! This Moana Cake features an incredible fondant Moana cake topper! AMAZING!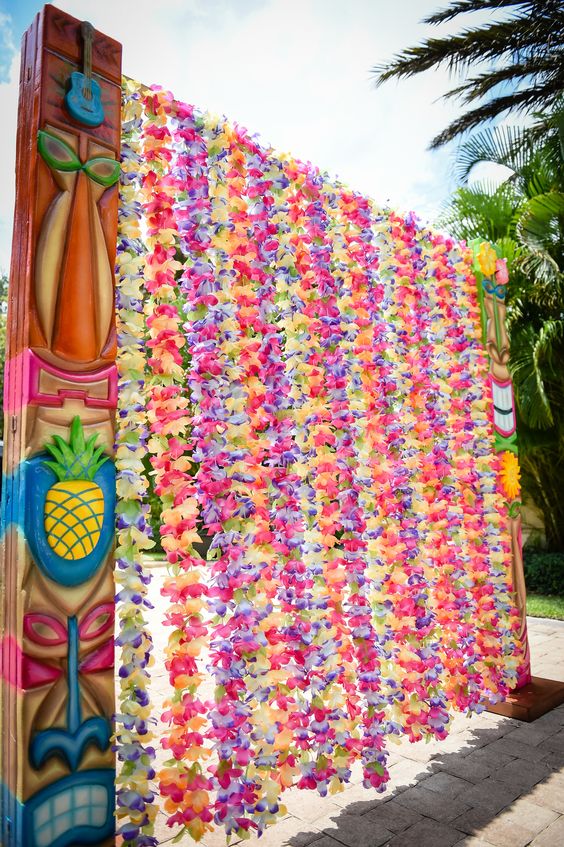 WOW, what a grande Moana Party Entrance Idea! This is definitely a must-have for any Moana Birthday Party!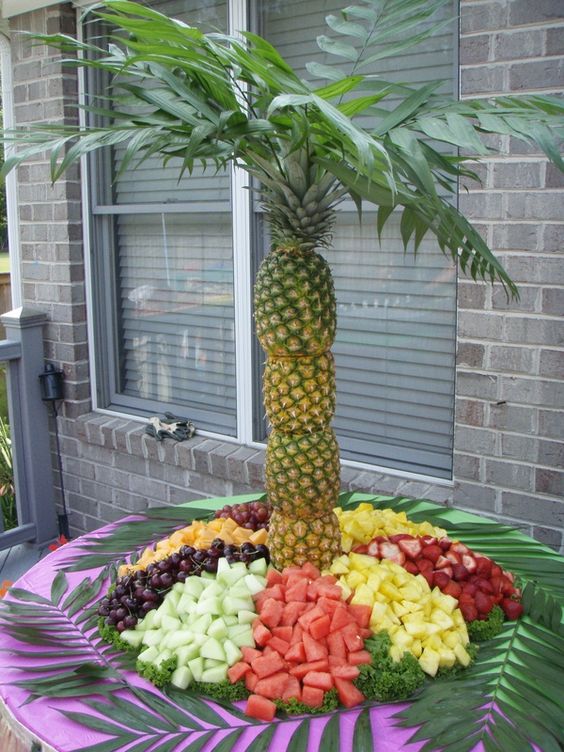 A tropical party theme definitely calls for a Pineapple Palm Tree Fruit Display! What a fantastic idea!

This DIY Pineapple Flower Centerpiece is super easy to make and would look perfect on your party tables! Add some fresh, tropical flowers and you've got yourself some gorgeous centerpieces for your party!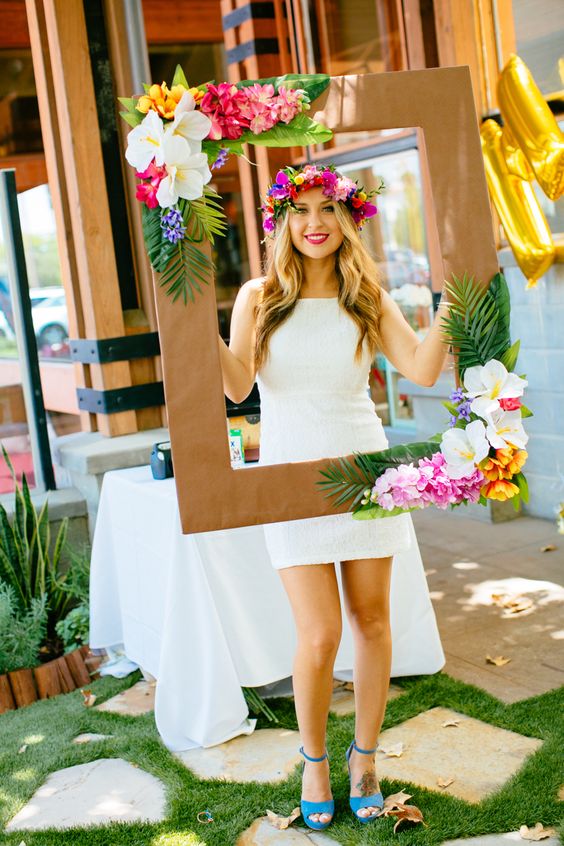 This Moana Party DIY Photo Booth Frame is just what the girls need for all of those photo memories!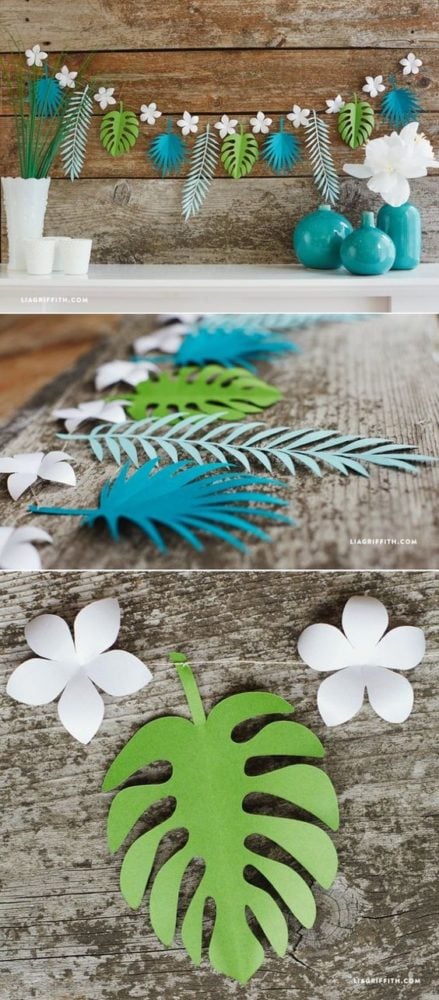 Hang this DIY Tropical Leaf Garland around your party space! What a fun craft idea for a Moana party!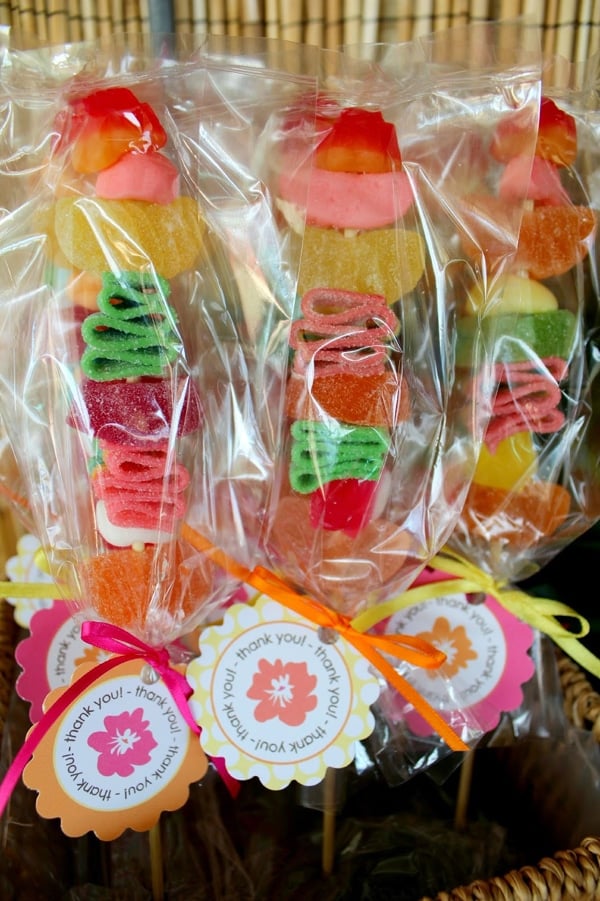 These colorful Fruit Kabob Party Favors are the perfect send off gift for your guests! So, which of the 27 Disney Moana Birthday Party Ideas are your favorites? Let us know in the comments below! Looking for more party ideas? Don't forget to follow us on Instagram @prettymyparty and Pinterest and join us in our private Facebook group.
SaveSave