Fabulous Moana Themed Birthday Party
This Fabulous Moana Themed Birthday Party takes the cake for Disney Moana fun! If you love the movie but are struggling with how to put everything together, this is going to walk you through a fun, colorful and amazing birthday celebration!


Also see:
Wants and Wishes Design created the perfect tropical theme that blew all of the party guests away! They wanted to create a Moana party, but not just focusing on a tropical theme … something that would really reflect the movie. We think they did a fantastic job!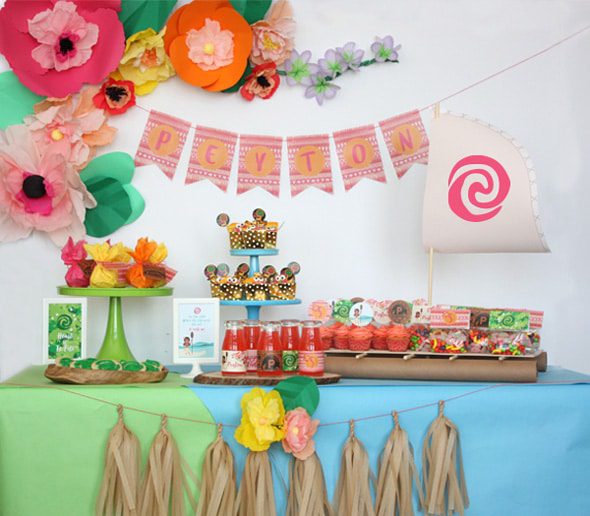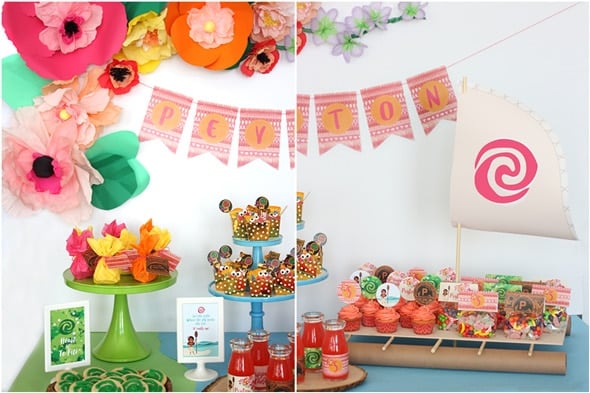 The design incorporated Moana's love of the ocean and sailing, but also had the lush land aspect with beautiful flowers. Wants and Wishes Design provided all of the gorgeous printables, which are available in their online store HERE! Colors used included pinks, oranges and yellows with hints of blue, green and wood elements.
The dessert table was wrapped in green butcher paper, which was taped a couple of times on top to keep it in place. Blue butler paper was than laid down on top, with an ocean/coast line cut on it. A "hula skirt" tissue tassel garland was made with a few tropical flowers in the middle, to add a needed splash of color.
Sailing was such a big part of the movie, and Wants and Wishes Design wanted to include Moana's boat into the party. It was so easy to make and you can find the DIY directions to make your own Moana Boat here! What a showstopper and it also doubled as a platter! Beautiful, yet functional!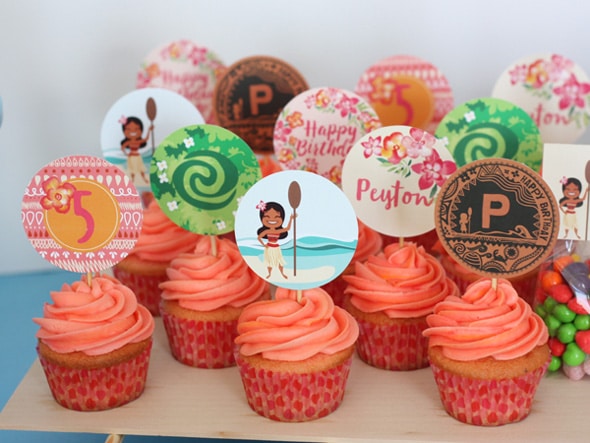 Look at those delicious looking strawberry cupcakes! A tip to get the perfect tropical pink is to add 1 -2 drops of yellow with about 5-6 drops of the pink. It creates a coral pink color that is perfect. Another tip is to under mix it so all the colors aren't completely blended, but you get streaks of pink and orange!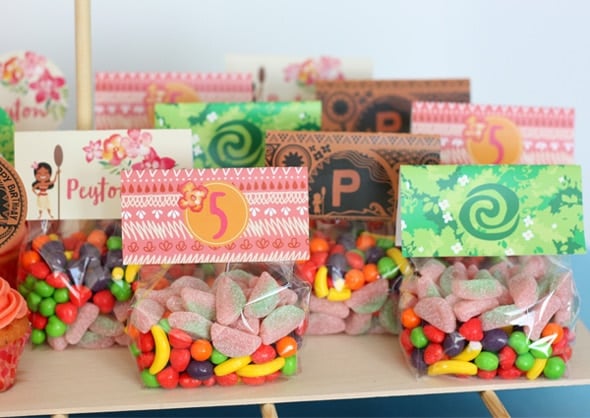 Fun party favors included sour watermelon and runts for the "tropical fruit." The kids loved it!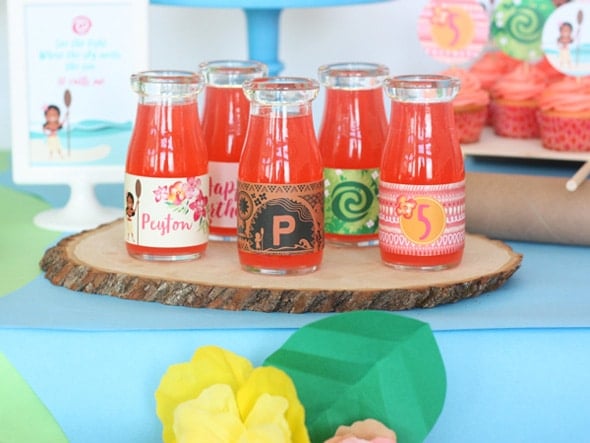 Tropical pink lemonade was offered for the drinks. The containers were placed on a wood platter, which was a great accent for the otherwise colorful theme!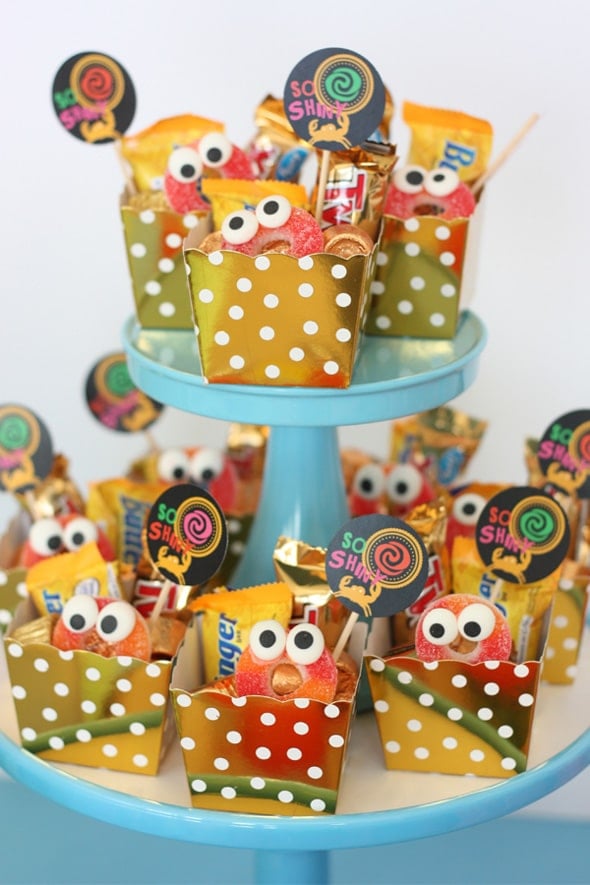 Wants and Wishes Design wanted to really incorporate Tomatoa, the shiny crab. For Tamatoa's shiny crab, gold boxes from Target were filled with all the gold candy it could fit. A fun size Butterfinger, fun size Twix, a couple of Rolos, and mini peanut butter cups were included. To make the crab, one of the peach rings were used, with candy eggs attached by some of the left over frosting from the cupcakes. Adorable!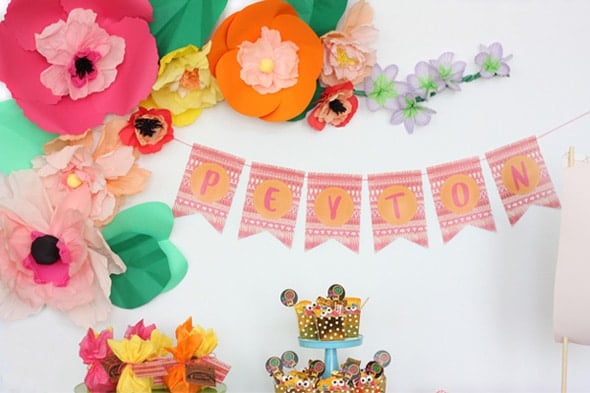 The flowers on the dessert table were mixed between tissue paper flowers and paper flowers. The mixture was great with the tissue adding softness and the paper flowers creating a bigger, brighter and bolder effect!
How cute are the Heart of the Te Fiti sugar cookies?!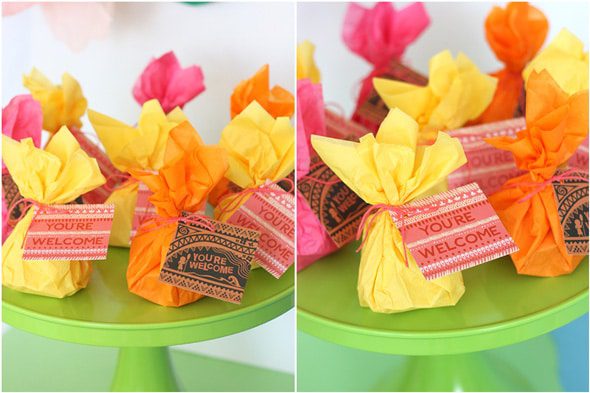 The kids absolutely loved the surprise "you're welcome" thank you treats. Who doesn't love a good surprise factor?!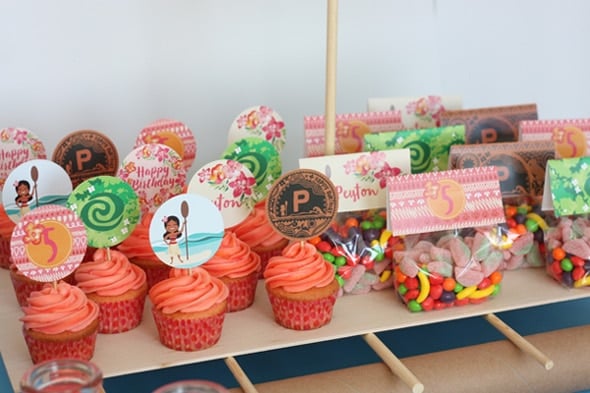 What a Fabulous Moana Themed Birthday Party! Any little one would absolutely love being spoiled with their favorite Moana theme! We just love it!
What's your favorite details in this Fabulous Moana Themed Birthday Party? Let us know in the comments below!
Vendors & Credits
Party Styling, Design and Printables: Wants and Wishes Design

SaveSave