10 Most Popular Kids Party Themes
One of our favorite party shops, Sunshine Parties creates beautiful parties and party printables. Today, they are sharing the 10
Most Popular Kids Party Themes that they've created ever!

At Sunshine Parties, we have created and set up more parties than I can count – some we set up for our kids, others have been for photo shoots, but either way, there have been so many. We actually try and set up one party table in the office each month so we can take photos … and eat cake … and drink tea and nibble on doughnuts. It's all in the name of quality control!
Have a look at these parties – what we consider our top 10 parties EVER! Each of these 10 set ups has a corresponding blog post link, so you can find out more, see more pics and scroll down to the nitty gritty of the party pretty for each one. Feel free to re-create if it takes your fancy!
Each one of these parties also has a full printables set, and individual printable items (like invitations, cake toppers, banners, etc.) available on this site, so feel free to mosy on and nab what YOU need for your perfect party!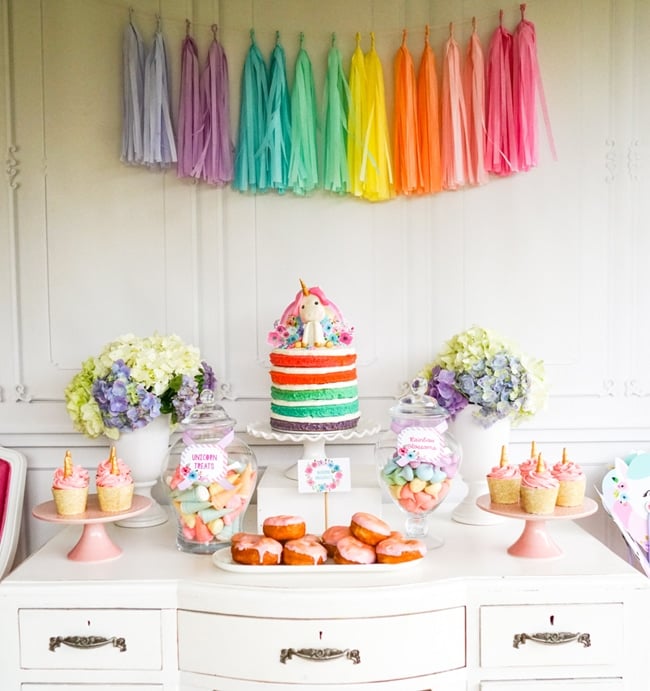 1) Unicorn
The unicorn trend has definitely swept the world of late – with unicorn horns, wings, hooves, and fairy dust everywhere you look. Not to mention unicorn food! And it's no surprise – unicorns are quirky, pretty and magical – and we all need summa that!
For a girl's party, it's an absolute WINNER! There is SO much to do for invitations, food, favors, activities, and more! Check out some of our favorite unicorn party ideas that we used for little Sophia's 4th birthday party. You can get ALL the printables as a full set or individually on this site.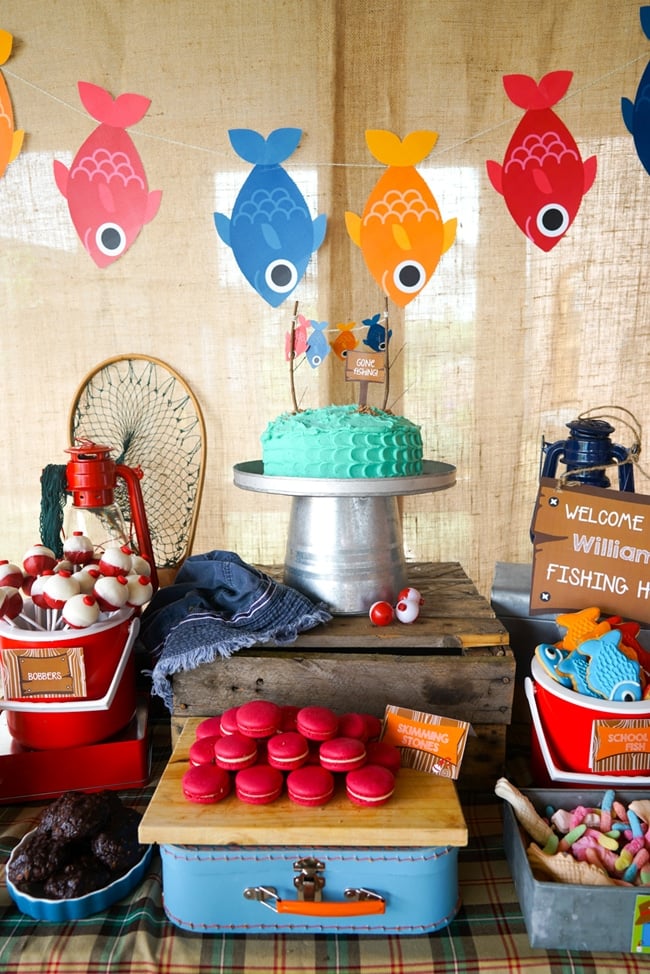 2) Fishing Party
Boys and fishing rods … it seems they are born wired to have a life-long love affair with them! William (my middle baba), has a particular affinity for all things fishing, so when it came to his 4th birthday, I knew he would love a "Gone Fishing" themed party … So here it is! William's Fishing Hole This Way >>>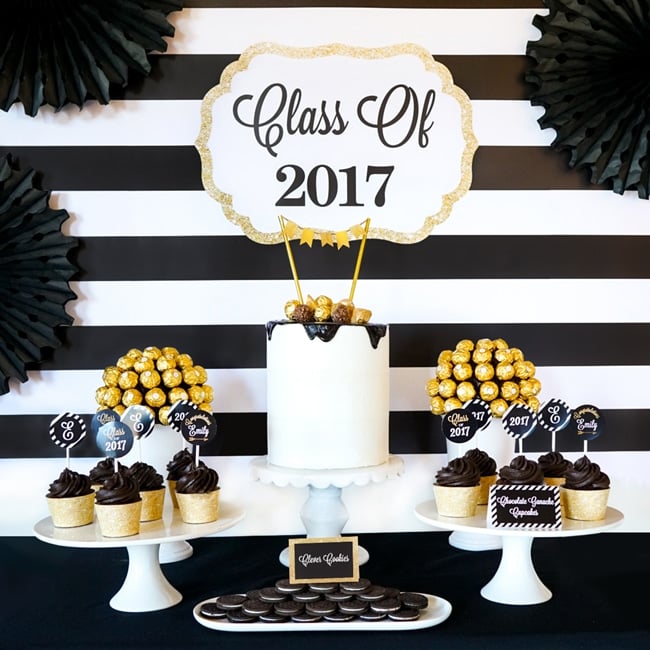 3) Graduation Party
It's beautiful, bold and black and gold! And what is more worthy of celebration than Graduation?! So, for this one, we made it our mission to get this set-up going for under $100! Check it out, and find out how to do it!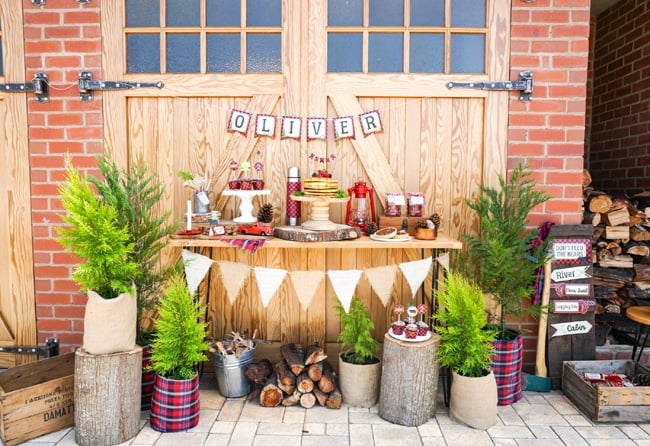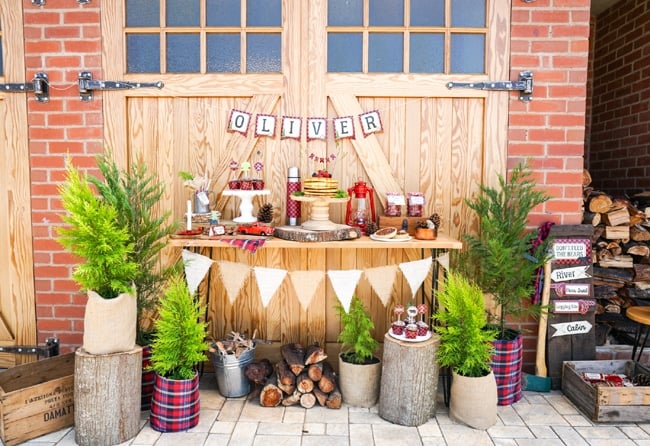 4) Little Lumberjack Party
Lumberjack. Yeah. Perfect. Lots of plaid, nature, wood, logs, pine cones, and being in the great outdoors. Then, cosy campfires, s'mores and scary stories about the bears you chased away today. And we can't let the little lumberjacks go thirsty, they'll need lots of lumberjack lager and lattes.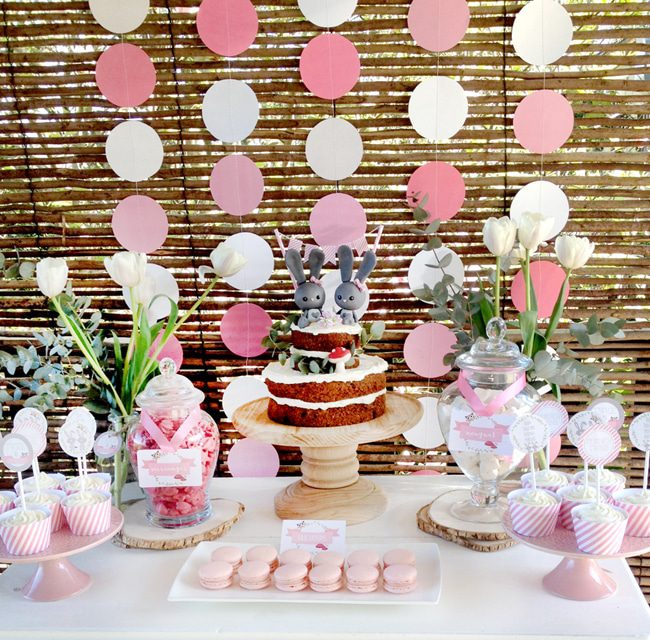 5) Twin Girl's Bunny Baby Shower
When our friend, Shoshanna, found out she was pregnant with twin girls, she could not have been happier. Unlike some of us, who might have needed some time alone and a box of tissues to digest the 'twins' news, she was delighted!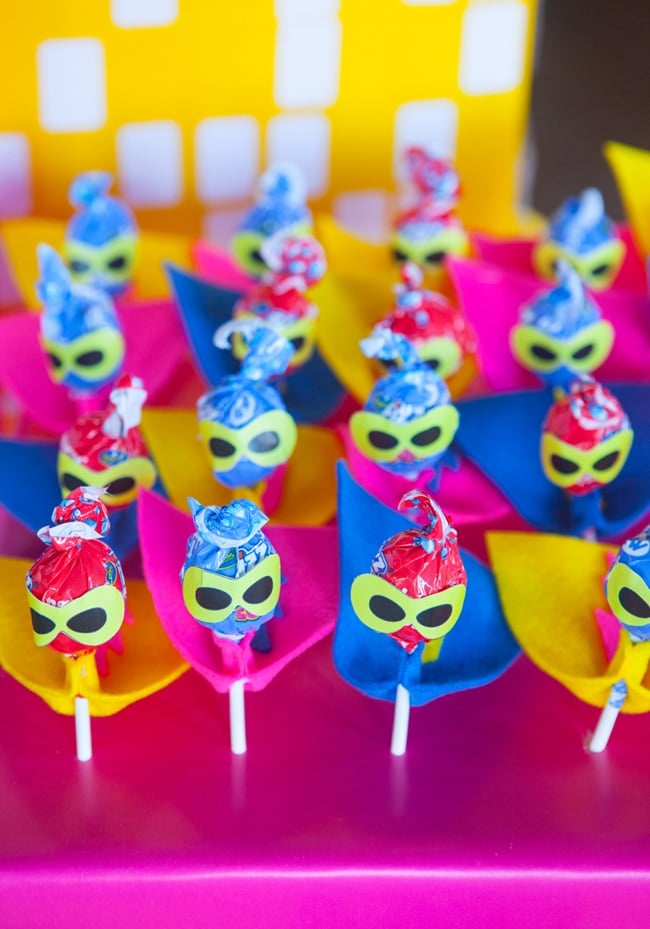 6) Girly Superhero
This post features my very special friend's daughter's party … Yes, you guessed it a Girl Superhero Party. Wow that was a mouthful. A superhero party is always a fun idea because it is so colorful and vibrant and there are SO SO SO many good ideas to put to use. And there is a dash of sparkly too, think gold capes or glittery masks or even sequined waist bands. It is magic I tell you!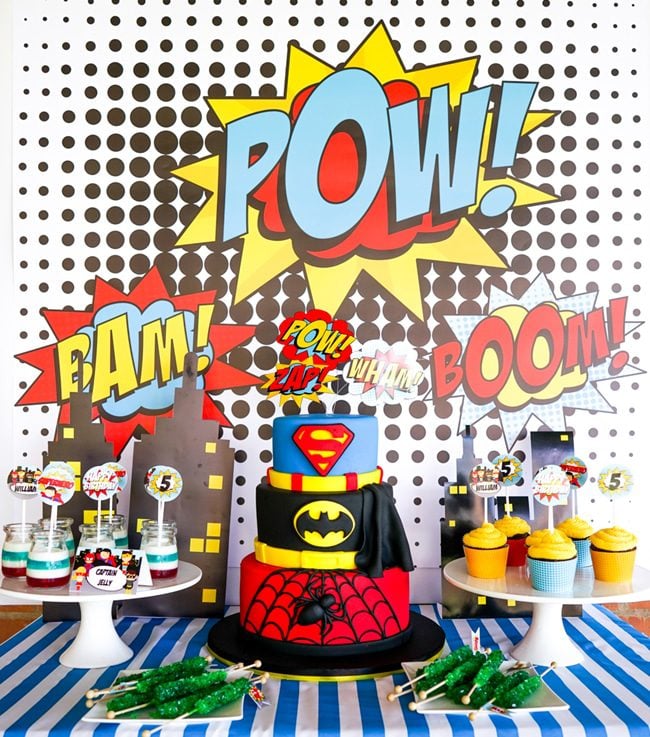 7) Boy's Superhero
Kappppooooowwwwwww! Whoosh, Zap, Bam … nothing subtle or gentle when it comes to a boy's superhero birthday party! Superheroes – one of those party themes that every boy wants at least once. Think bat mobiles, super powers, alter-egos, night vision, flying capes, and lots and lots of saving the day!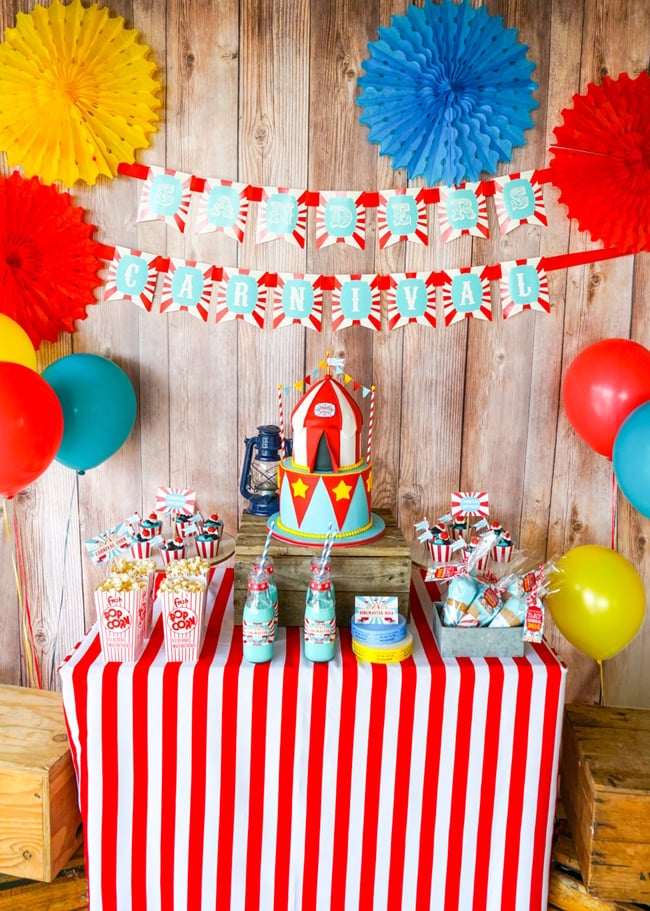 8) Backyard Carnival Theme
Roll Up … Roll Up … to Summer, the holidays and the ultimate backyard carnival party! This was just an afternoon of awesomeness, to celebrate all the fun of the fair! Bright and breezy, lemonade squeezy! This party theme can be used for boys and girls, all ages, even us big guys cannot resist the striped splendor of a carnival theme!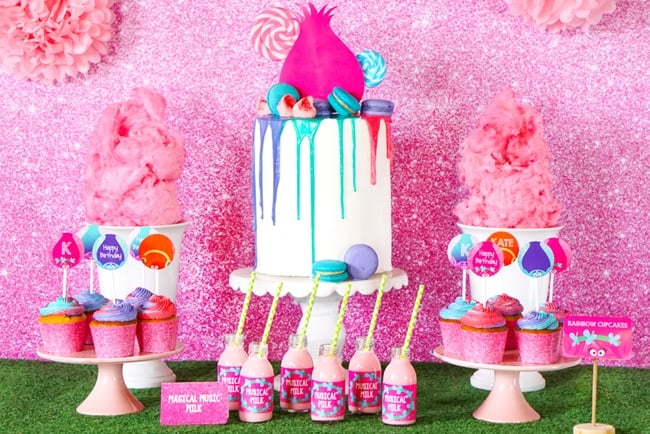 9) Hugs, Rainbows and Trolls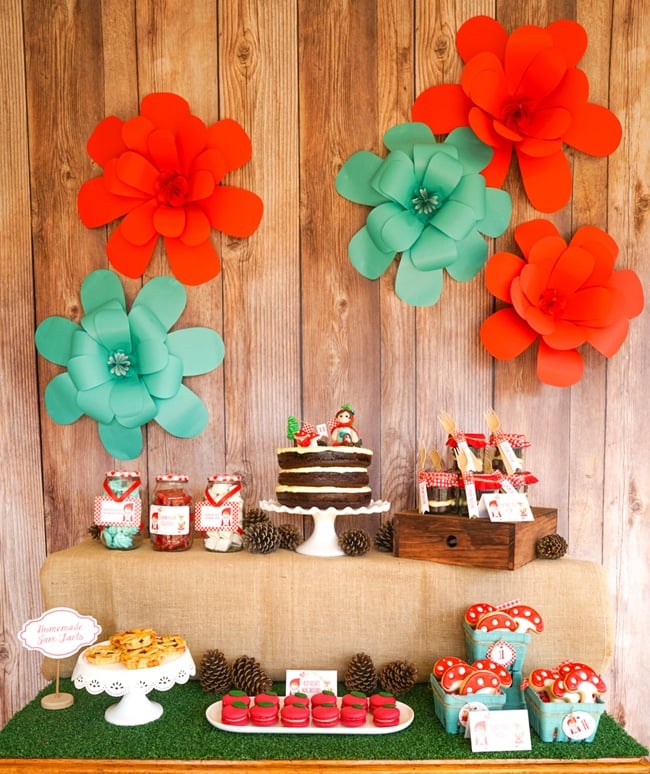 10) Red Riding Hood Picnic Party
Cath created an amazing woodland and storybook fantasy right in her backyard, to celebrate her sweet little Hannah's first birthday party. The Red Riding Hood theme is perfect for cleverly packaged picnic treats in rustic brown bags with wooden sign boards, and plenty of artfully worded party printables. And don't forget the treats that come out of Grandma's kitchen!
Which of these 10 Most Popular Kids Party Themes are your favorite? Let us know in the comments below!