Vintage Minnie Mouse Birthday Party
The magic of a Vintage Minnie Mouse Birthday Party will have any little girl crying tears of joy!
With so many Disney parks closing during parts of 2020, this Vintage Minnie Mouse Birthday Party is the perfect mood lifter! Who doesn't want to bring the magic of Disney home to their special birthday girl?
SoCal Event Planners brought the essence of Minnie to this intimate birthday soiree! And what better way to celebrate a birthday – when you can't head over to Disneyland, bring Disneyland to you! From the beautifully made backdrop to the handmade desserts from Sweetest Gallery, this adorable 2-year-old was able to enjoy her special day in her own little Minnie Mouse themed celebration!
The birthday girl's mom happens to be the owner and founder of SoCal Event Planners, who was inspired by vintage Mickey and Minnie designs. Therefore, a soft and simple color palette of pink, grey and white was used to pay homage to the beauty of a vintage styled Disney.
In addition, amazing Minnie Mouse themed balloons were found around the gorgeous Vintage Minnie Mouse Birthday Party, as well. And how about that amazing backdrop area, along with an added photo-op with Minnie Mouse, just like at the theme park?!
The vintage theme carried throughout the party with blush velvet chairs, a vintage dresser and rose gold candles laid out across the backdrop display. So much thought was put into every aspect of the event, including the custom colors of the balloons.
No party is complete without a cake and this event was no different. Sweetest Gallery crafted a beautiful three-tier Minnie Mouse birthday cake, perfectly in line with the event. They also created all the amazing desserts, such as the custom Minnie Mouse cake pops, cakesicles, and chocolate-covered Oreos. Everything looks so delicious!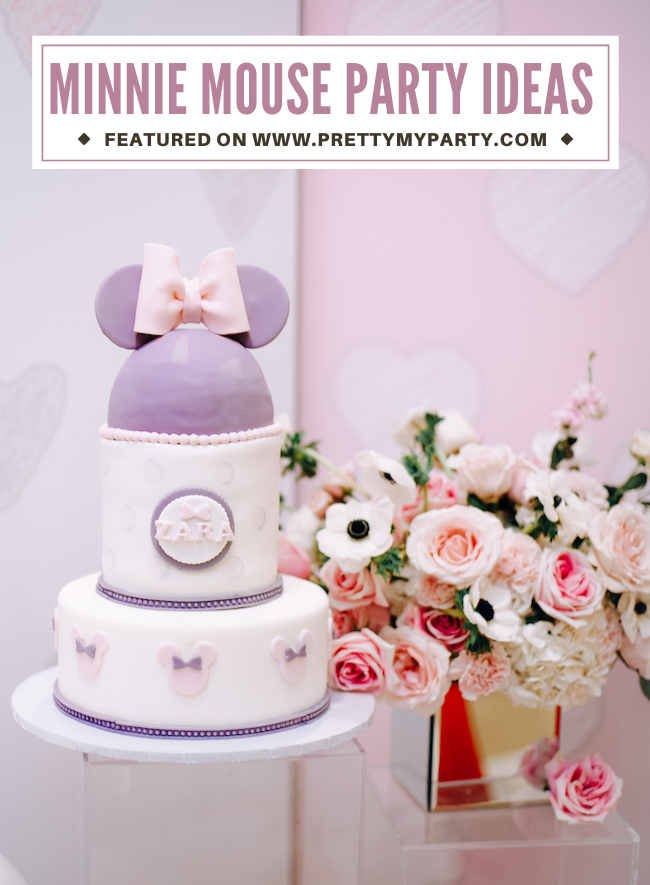 Vintage Minnie Mouse Birthday Party Ideas
A Minnie Mouse birthday party with a soft color palette of light pinks, grey and white was used to lighten the mood
The incredible Minnie Mouse birthday cake was a highlight of the dessert area, with sweet Minnie Mouse ears used as the cake topper
The birthday girl wore the sweetest Minnie Mouse outfit, in honor of her birthday theme
An amazing Minnie Mouse dessert table backdrop was the ultimate printable for everyone to take pictures with
Gorgeous Minnie Mouse balloons were found around the birthday celebration, as were fun balloon installations in various sizes
Vintage Minnie Mouse birthday party decorations were used, such as dressers, velvet chairs and candles
The amazing dessert table highlighted incredible food and desserts, such as custom Minnie Mouse cake pops, cakesicles, and chocolate-covered oreos
Incredible floral displays were used as the Minnie Mouse birthday party centerpieces on the guest tables, with gorgeous hues of pink, white and greenery
Beautiful signs and banners were created to enhance the vintage Minnie Mouse birthday party ideas
Fun Minnie birthday party favors and activities were available for the little ones to enjoy and take a piece of the action home with them to remember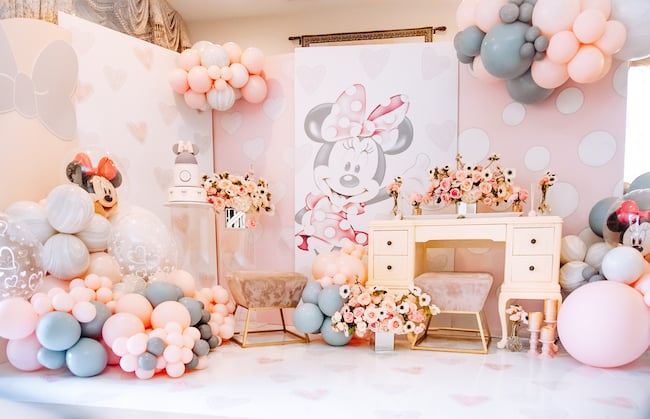 We just love everything about this special Vintage Minnie Mouse Birthday Party. It's such a crazy time in the world when birthday celebrations can't be exactly the same as we're used to. But with celebrations like this, it's hard to be too upset. Everything was perfectly curated for this special celebration for a special little girl.
All of the details were created with love, and our favorite detail has to be the incredible Minnie Mouse backdrop that was a focal point of the birthday celebration. Everyone may need to stay "socially distanced" from Minnie right now, but that doesn't mean some great photo ops weren't available with this large Minnie welcoming everyone to the celebration! This is such a beautiful, intimate birthday party at home with just the family. What little girl wouldn't love a birthday party like this?!
What are your favorite details from this Vintage Minnie Mouse Birthday Party? Let us know in the comments below!
For more birthday party ideas, follow us on Instagram @prettymyparty and Pinterest and join us in our private Facebook group.
See more Minnie Party Ideas here:
Party Vendors