Princess Ballerina Birthday Party
This pretty Princess Ballerina Birthday Party is the perfect theme for any tiny dancer!
This jaw-dropping Princess Ballerina Birthday Party from Bon + Co. Party Studio Inc. has everything a little girl would want – gorgeous flowers, gigantic balloons, and lots of PINK featuring Bon + Co. Party Studio's Little Luxe Collection. This beautiful ballerina party was designed for Danny Fernandes, a Canadian singer and songwriter. Everything about this ballerina themed party was exquisite, including the ballerina birthday cake, desserts and decor.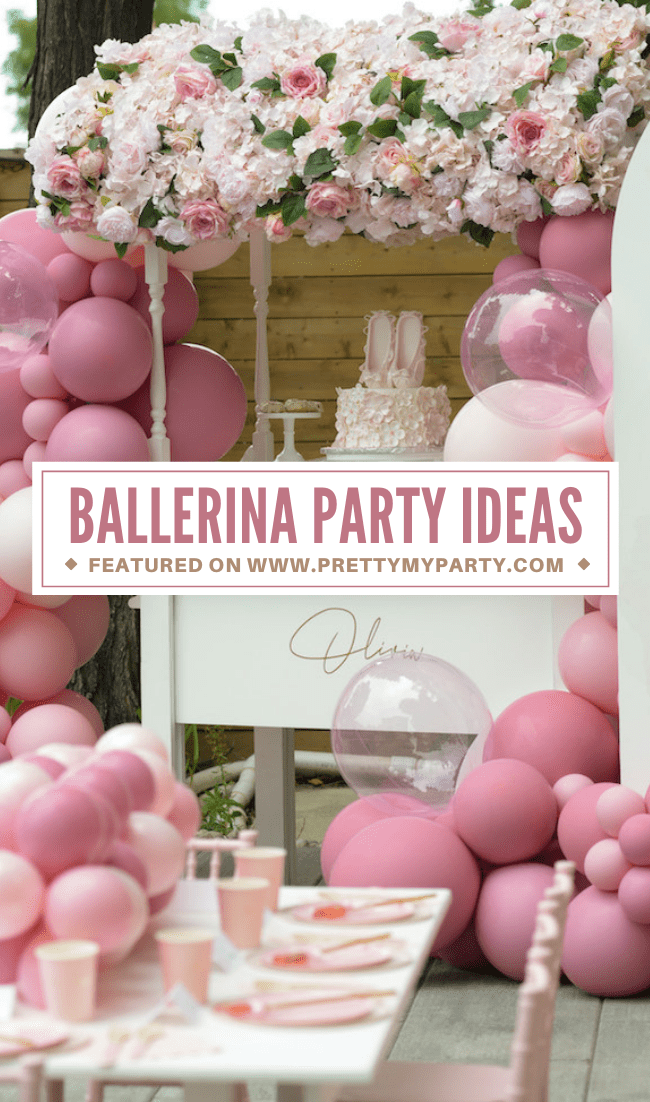 Princess Ballerina Birthday Party Ideas
Beautiful white dessert cart decorated with gorgeous pink and blush florals
Fun and fabulous balloon garland in different shades of pink
Pretty ballerina birthday cake with ballerina slippers as the cake topper
Kid's table with pretty pink chairs and mini balloon garland centerpiece
Tutus hung up for all of the little ballerinas
Pretty pink party supplies and tableware
Gorgeous ballerina sugar cookies
Pink lollipop party favors
Ballerina standee decoration by the dessert cart
Name cards with ballerina slippers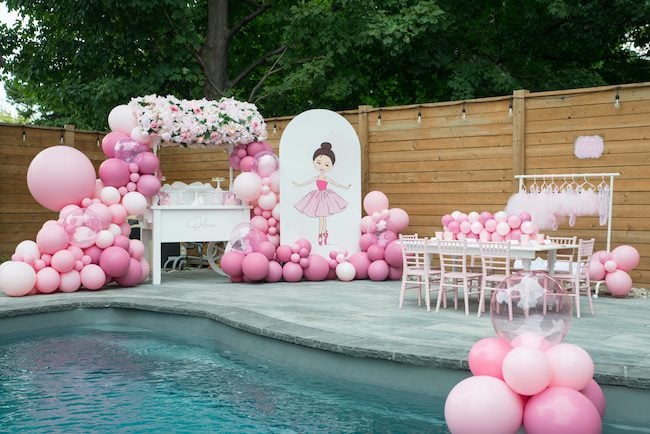 Everything from the adorable pink tutus for each guest to the backyard setting by the pool was gorgeous for this ballerina birthday theme. We're sure the birthday girl has the best time with her friends and family at her very own ballerina themed party!
Our favorite part of this ballerina celebration includes the incredible balloon installation and the flower arrangements. Those two elements combined together make this soiree truly spectacular for a special little ballerina!
What's your favorite ideas in this Princess Ballerina Birthday Party? Let us know in the comments below.
For more party ideas, follow us on Instagram @prettymyparty and Pinterest and join us in our private Facebook group.
Party Vendors
Planner, Design + Sweet Cart: Soho Sweet Carts
Styling, Custom Backdrop, Kids Harvest Table + Kids Chairs: The Petite Party
Tableware: Bon + Co. Party Studio Inc.
Photography: Angelina Aristodemo
Custom Balloon Design: Magic Moments Balloons
Custom Tutus: Tutus by Lanita
Custom Place Setting Cards: Cos Ink Designs
Calligraphy: Paper and Blush
Dessert/Treats: Fruitilicious Cakes
Cake: Daniels Cakes
Cotton Candy: Fancy Pufs