Bee-Themed Birthday Party
What better way to have a Happy Bee-Day than with a sweet Bee-Themed Birthday Party?!
First birthdays are always fun, but nobody can BEE happier than this little guy with his amazing Bee-Themed Birthday Party! We just love the colors, decor and floral designs that were used with big, bright sunflowers everywhere!
Secrets Floral did an amazing job when it came to the design of this first birthday celebration. They handled the floral and decor design for the entire celebration and it couldn't have been sweeter.
And just look at this perfect cake, shaped like a sweet little beehive that we wouldn't mind digging into any day! Sumptuous Treats did an incredible job creating the cake, as well as the honey bee cupcakes. They were so adorable!
What we really are in love with is all of the vegetarian/vegan food that was created for the birthday celebration. Tenon Vegetarian Cuisine provided vegan sushi, along with mock-meat pizza which everyone couldn't believe wasn't actually meat! Since the family are vegetarians, it was important to incorporate that into the birthday theme, and it was done perfectly!
A fun breakfast bar was also set up for those who wanted a different menu choice with fun toppings available, as well. And what about those cute little pots-o-honey that were on each place setting for all of the guests to take home?! It's all so adorable.
What a perfect way for the little guy to enjoy a "Happy Bee-Day"!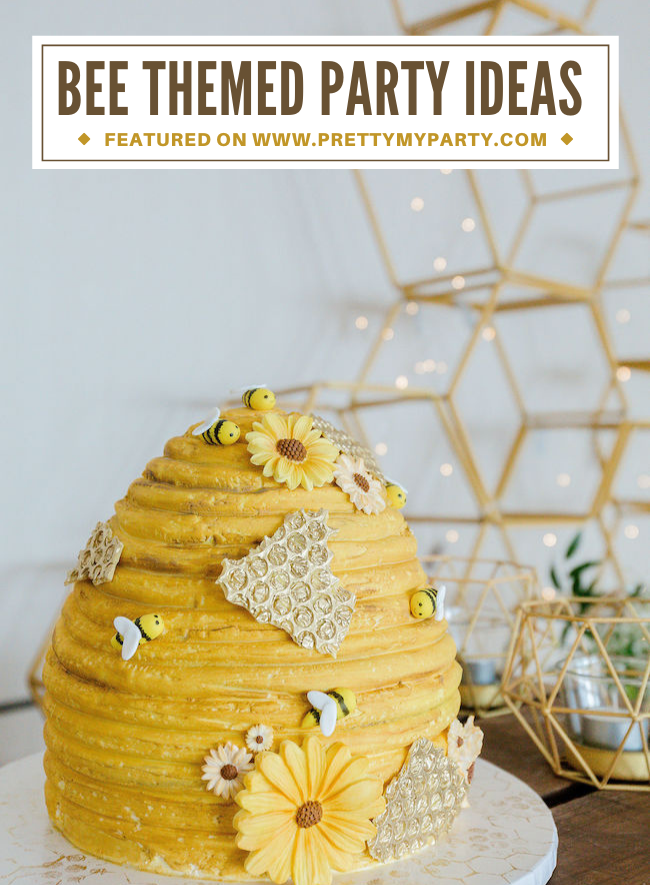 Bee-Themed Birthday Party Ideas
The bee birthday theme included a color palette of bright yellows, along with white and greenery to offset the vivid displays
An amazing honey bee birthday cake was the perfect addition to the dessert table, with sunflowers and bees added around it for the cake topper
Additional bee-themed desserts were available, like the amazing cupcakes and doughnuts
Fun thank-you printables were created to tie to the little jars of honey, which were found on all of the place settings for bee-themed birthday favors
The birthday boy wore a fun bee-themed outfit, along with a honey bee "antenna" headpiece
Bee theme birthday decorations included the fun backdrop, which represented a honeycomb with the geometric shapes attached to the wall
A gorgeous name sign was used on the dessert table backdrop to celebrate the birthday boy
An incredible Happy Bee-Day bee theme birthday banner was hung at the photo booth station
Incredible centerpieces were found on all of the guest tables, including fun and bright sunflower arrangements with candles and greenery to highlight the honey bee birthday theme
Food and drinks were provided, including a breakfast bar full of pancakes, waffles and all of the toppings that anyone could think of to add
A vegetarian menu was also available for all of the guests to enjoy with sushi and vegetarian pizza
There are so many sweet parts of this Bee-Themed Birthday Party for this little 1-year-old. First birthdays are so much fun to celebrate, as families get to see how big the little one has gotten and how much they enjoy the world around them. And a bee theme is a great theme for any child, which makes it easy to replicate for your own celebration.
With all of the amazing details around every inch of this celebration, it's hard to pick a favorite! But, the dessert table is perfection! With the sweet honey bee birthday cake, cupcakes, and delicious desserts perfectly curated on the table, it all came together perfectly. We love the rustic additions, as well, such as the wooden box the cake sat on, along with the greenery offsetting the yellows of the table. But the florals and sunflowers on the guest tables … Incredible! Such an amazing display of flowers that automatically make everyone feel happy and sunny. It's the perfect addition to a bee-themed birthday party!
What are your favorite details from this Bee-Themed Birthday Party? Let us know in the comments below!
For more birthday party ideas, follow us on Instagram @prettymyparty and Pinterest and join us in our private Facebook group.
Shop these Bee Themed Party Supplies and Decorations:
See more birthday party themes here:
Party Vendors