Fairy Garden Birthday Party
When you wish upon a star, you get a dreamlike fairytale party like this exquisitely beautiful fairy garden birthday party!
This delightfully bright and dreamy Fairy Garden Birthday Party by QTs Events for adorable little Mila is such a wonder to look at. From the beautiful decorations to the gorgeous desserts, everything about this party looks like they were made by the fairies themselves!
The dainty and delicate details in this elegant fairy garden party are simply delightful. We absolutely love the various figurines of fairies doing a bunch of adorable things such as playing on a swing, sitting on a bench, or opening a tiny door. The figurines of many different woodland creatures and various structures such as the tiny windmill, boot house, and charmingly rustic dollhouse also add a sprinkle of fairy dust to this lovely celebration!
The dessert table also looks absolutely divine! The gorgeous wreath with an intricate arrangement of flowers and leaves definitely took our breath away. The multiple strings of fairy lights adorning the realistic woodland trees around the dessert table truly adds a touch of whimsy to the setup and gives off a floaty, magical feel. Of course, it won't be complete without the actual desserts!
We really love the enchanting birthday cake! The delicate white cake with gorgeous flowers and leaves, an adorable fairy figurine opening a rustic door, and an elegant custom cake topper looks almost too good to eat! The other desserts featuring shades of creamy white, gold, and pale pink are also very pretty. Our favorite is the mini cake with cute flowers on top that seems like it's made especially for the birthday girl!
Looking for ideas for your own whimsical fairy garden themed party? Check out some of the most enchanting fairy garden party ideas below!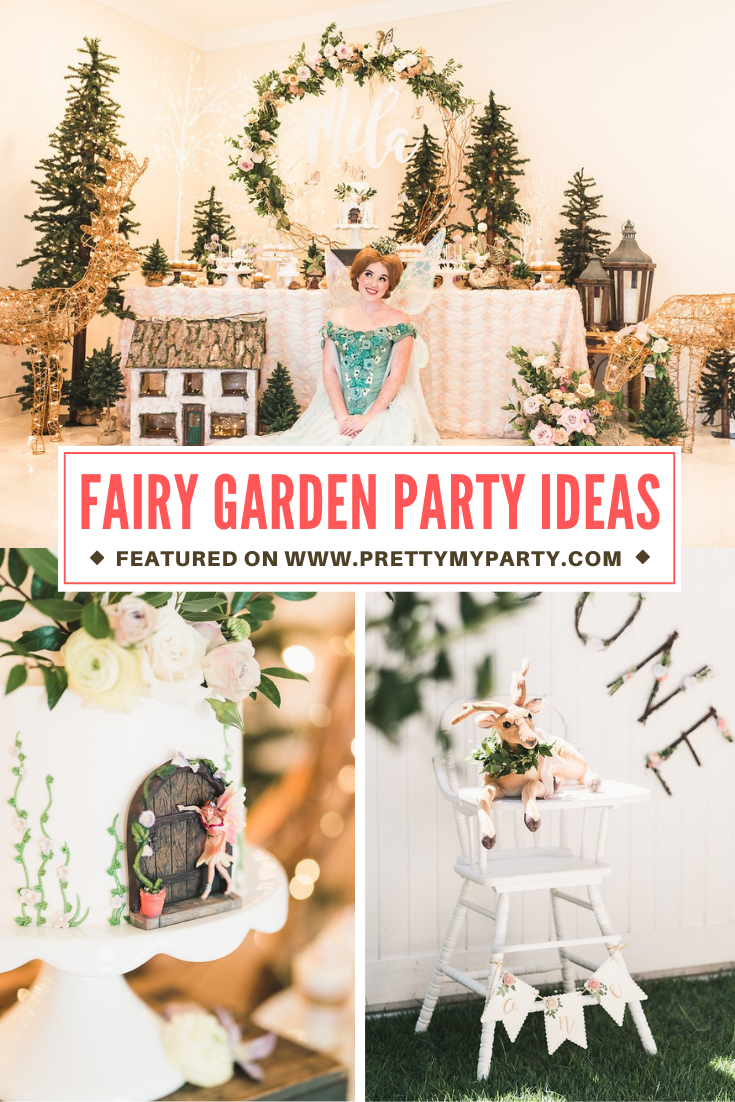 Fairy Garden Party Ideas
Strings of fairy lights for a whimsical fairytale woodlands setup

Lifesize wire and fairy light woodland animals

A large flower wreath for the dessert table centerpiece

Realistic woodland trees in varying sizes

Gorgeous cottage doll houses, lamps, windmills, and other rustic structures for decorations

Figurines of various woodland creatures such as deer, bunnies, raccoons, and birds in various sizes for floor and table decorations

Adorable miniature fairy figurines on benches, swings, boots, and more

Beautiful lace teepee on faux grass for photo ops

A lovely little cake with a fairy figurine and a lovely bunch of flowers on top and other cakes with delicate golden personalized cake toppers and flowers and leaves arrangements

Dainty little desserts featuring pale pink hues

Ornate party cups and plates with pretty fairy garden designs
Realistic butterflies and dainty flower arrangements as centerpieces

Gold-rimmed glasses and plates and some champagne for the adults

A live "fairy" as a guest star!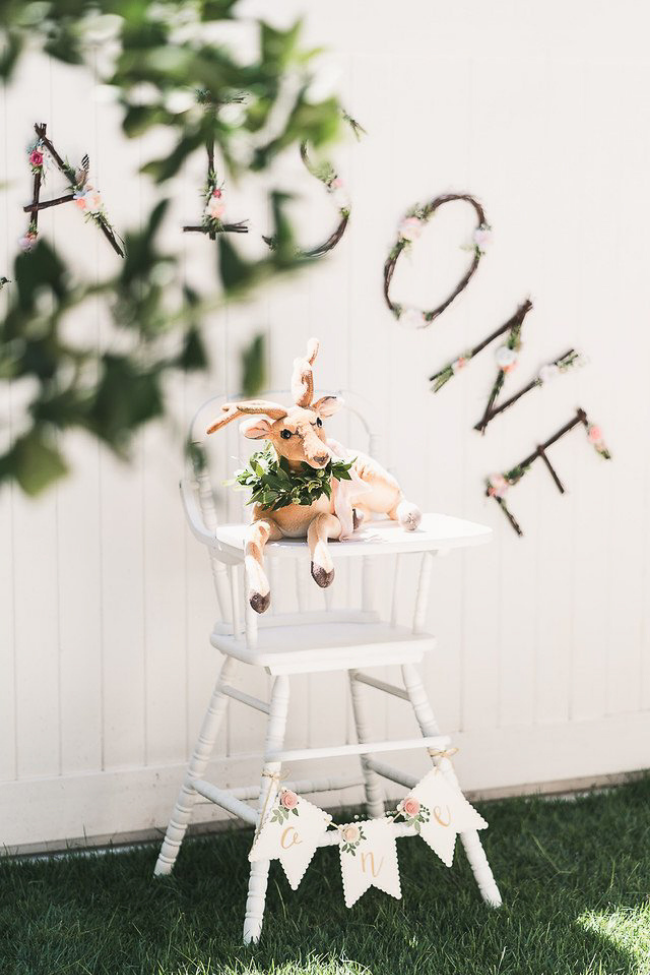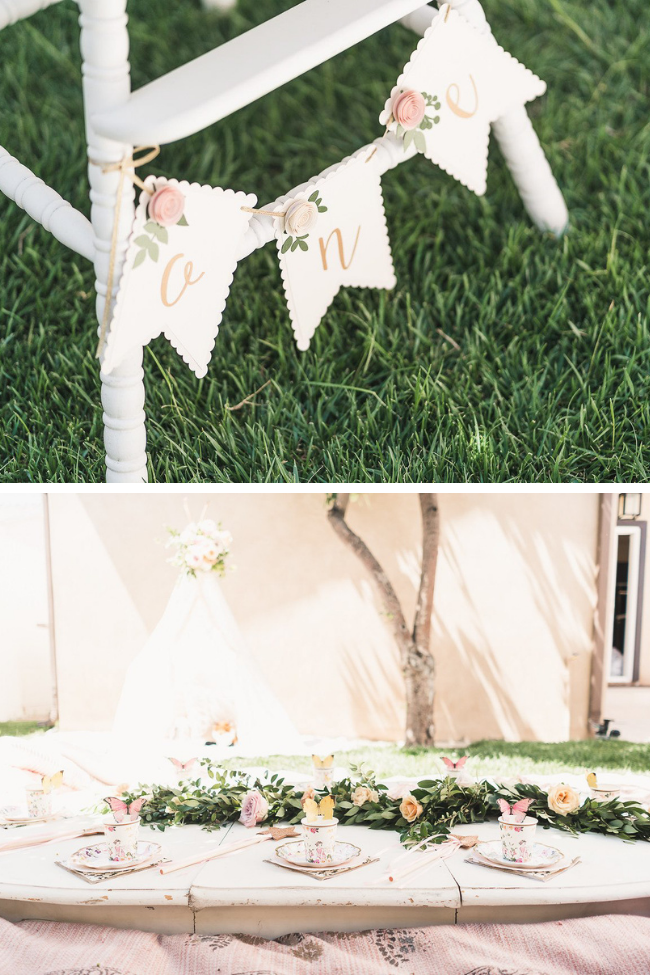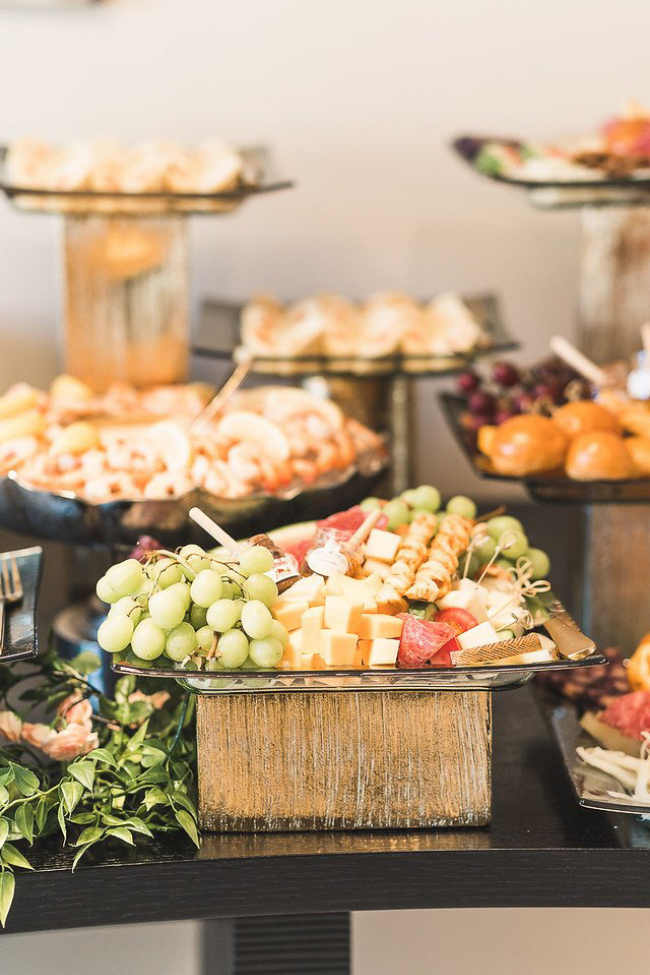 What a breathtaking first birthday celebration! This magical celebration was all about Mila. She is such a sweet baby and seemed to truly enjoy every moment. Our favorite parts of this gorgeous party are the lovely figurines of fairies, woodland creatures, and cottages. What elements of this fairy party were the most magical for you? Share your thoughts with us in the comments below!
For more party ideas, follow us on Instagram @prettymyparty and Pinterest and join us in our private Facebook group
Vendors
Kids Party Planner: QTs Events
Florals: Not Just In Novels
Photography: France Tang Photography
Bakery: Simply Sweet Cakery
Linens: Luxe LInen
Draping: Pipe Dream Events
Fairy Wands: Uccellino Designs
Rentals: Bright Event Rentals
Teepee: Love Me Sparkle
Twig letters: Do Good Decor
Vintage rentals: Provenance Rentals
Custom Name: Panhandle Mercantile
Fairy Character: Wishing Well Parties