21 Fabulous Fairy Party Ideas
21 Fabulous Fairy Party Ideas
Fairies are those beautiful, mythical creatures seen in movies and talked about in storybooks. No wonder why many little girls want a fairy-themed party for their birthday!
If you're planning a fairy-themed birthday party for your little one, there are so many gorgeous ideas you can do to make her day special – including these 21 Fabulous Fairy Party Ideas below!
To plan the ultimate fairy birthday, whether it be a big or small celebration, you'll need some inspiration for birthday cakes, food, desserts, decorations, party favors, invitations, and more!
That's where we step in! We've gathered some pretty little fairy inspiration for you so you can begin to plan a magical birthday celebration for your daughter and her friends.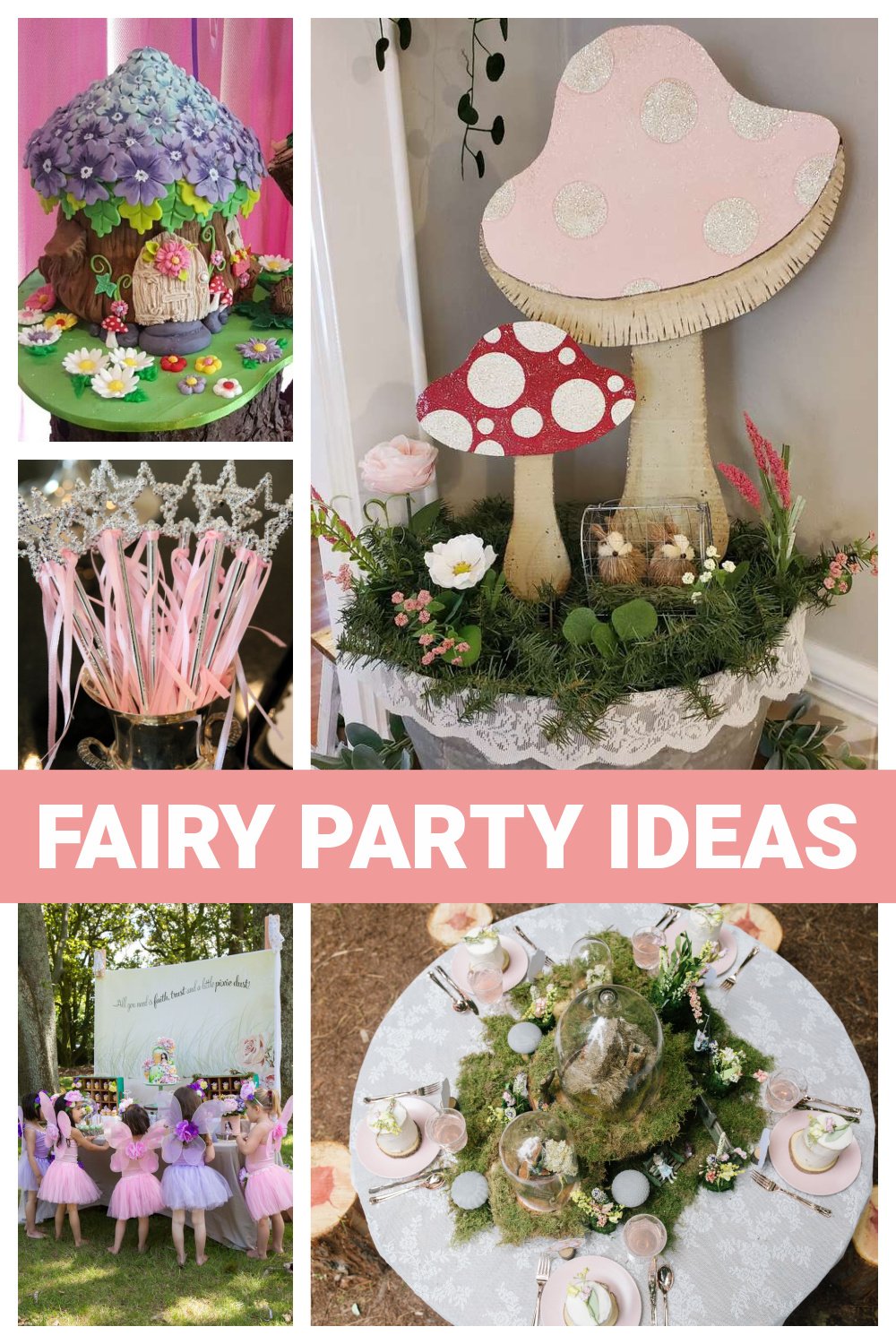 Fairy Birthday Party Supplies: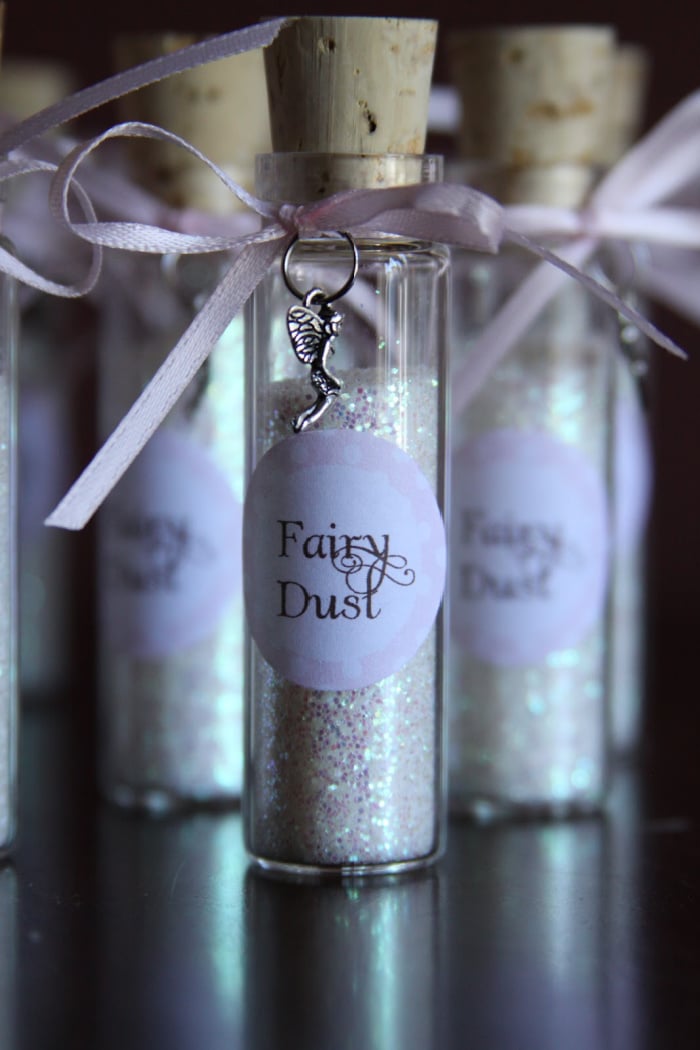 1. MAGICAL FAIRY DUST PARTY FAVORS
Are you looking for the perfect party favors for your daughter's fairy-themed birthday party?
These cute fairy dust party favors from Bella Festa are the perfect take-home gift for all of those little fairy guests! They are easy to DIY too.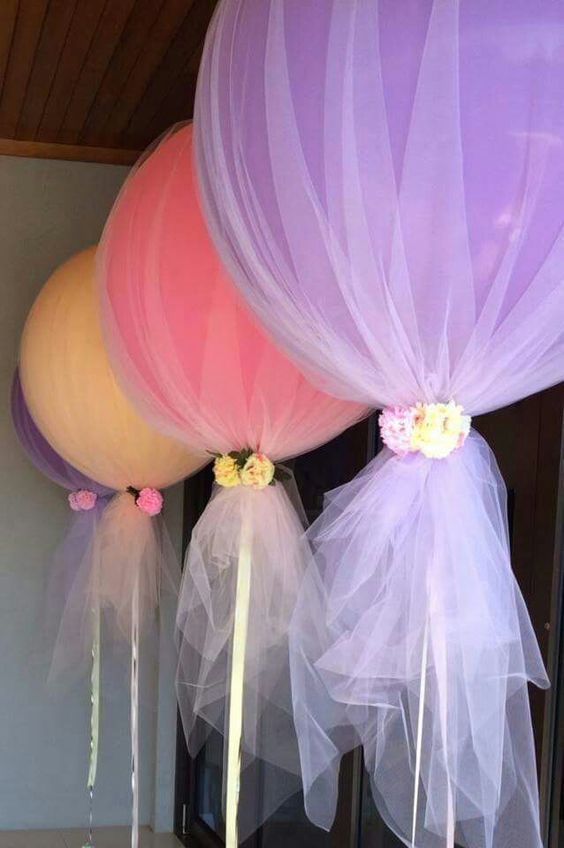 2. DIY TULLE-WRAPPED BALLOON DECORATIONS
These easy DIY tulle-wrapped balloons would be the perfect addition to any fairy party.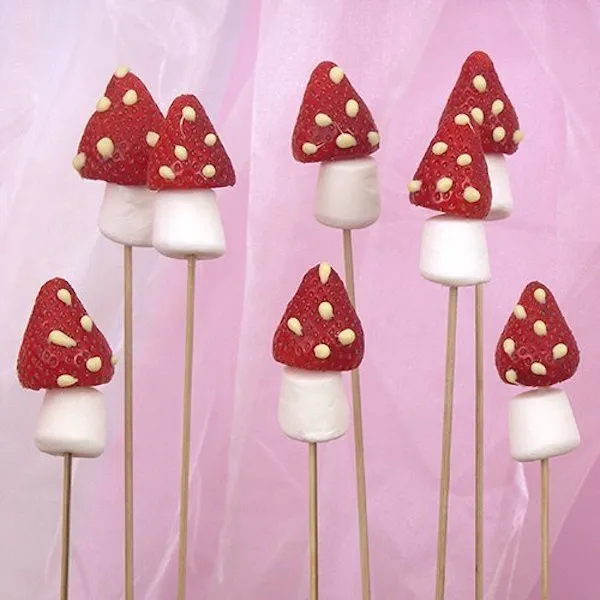 3. MARSHMALLOW TOADSTOOL TREATS
How clever are these sweet strawberry marshmallow toadstool treats from Cool Mom Picks?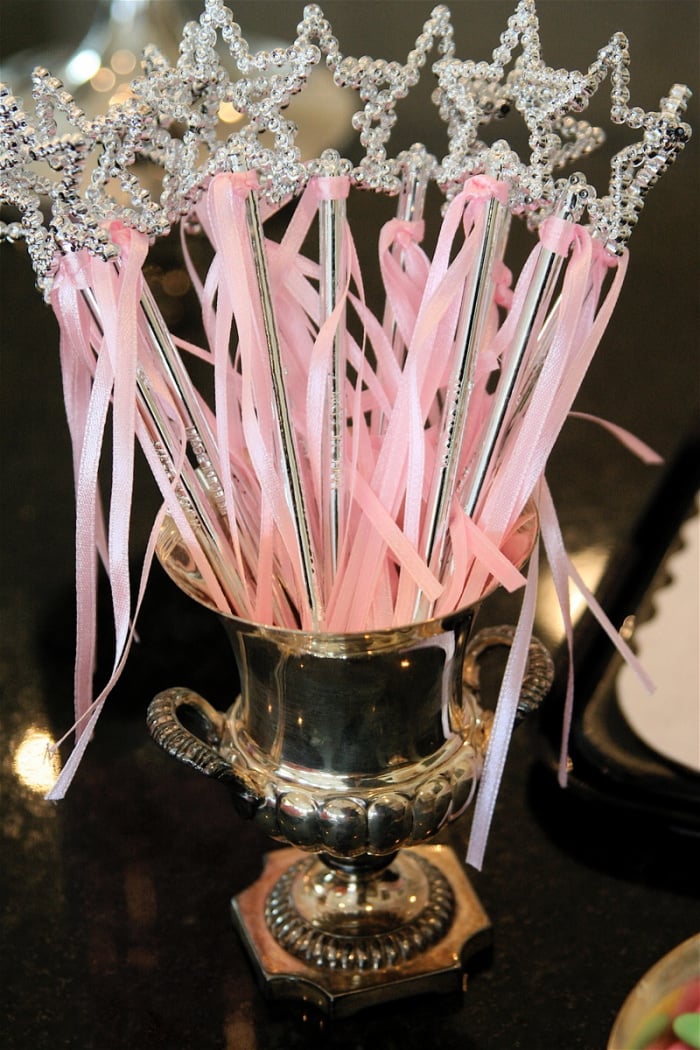 4. FUN FAIRY WANDS
Every little fairy needs a magical fairy wand and these star wands with pink bows make the perfect gift for your little fairy guests!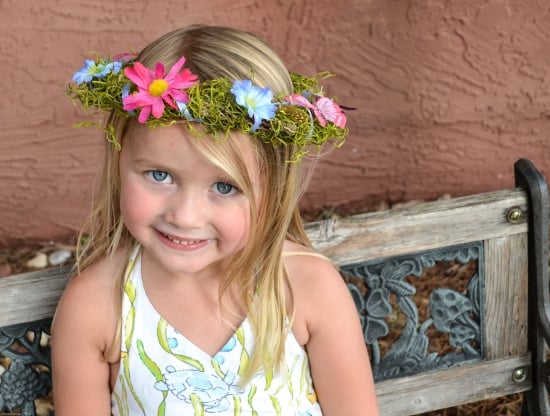 5. DO-IT-YOURSELF FAIRY CROWNS
How adorable is this DIY fairy crown? Gather all the little fairies and make these at the party at a fun DIY fairy crown station.
The kids will have a blast making their own fairy crowns.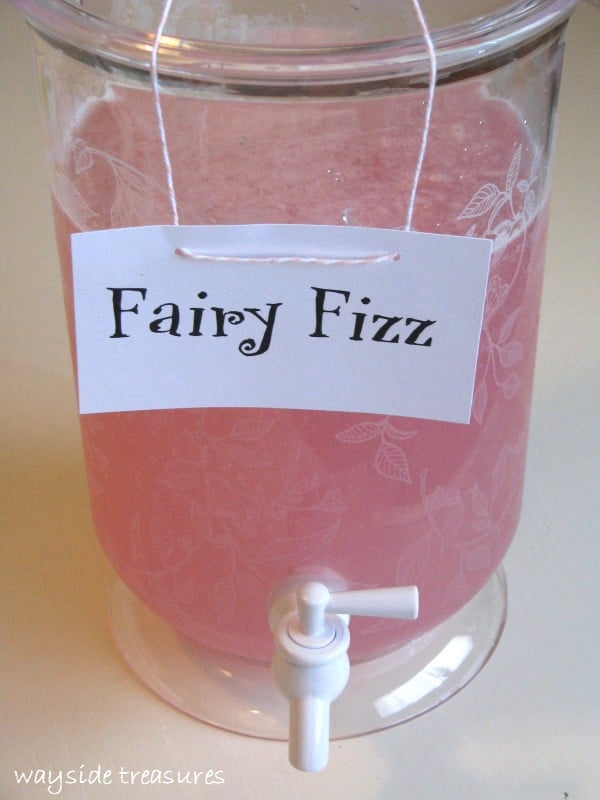 6. PINK FAIRY FIZZ PARTY BEVERAGE
Pink lemonade and 7up make up the best "Fairy Fizz" party drink to serve at your party!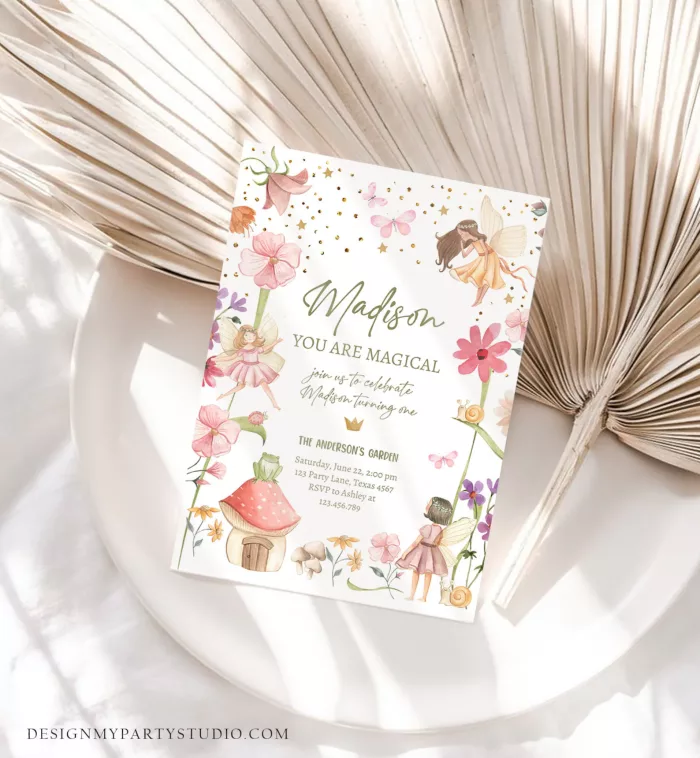 7. ENCHANTED FAIRY INVITATION
We think this fairy birthday invitation is truly magical and will be the perfect invite to send to your party guests for your fairy birthday party!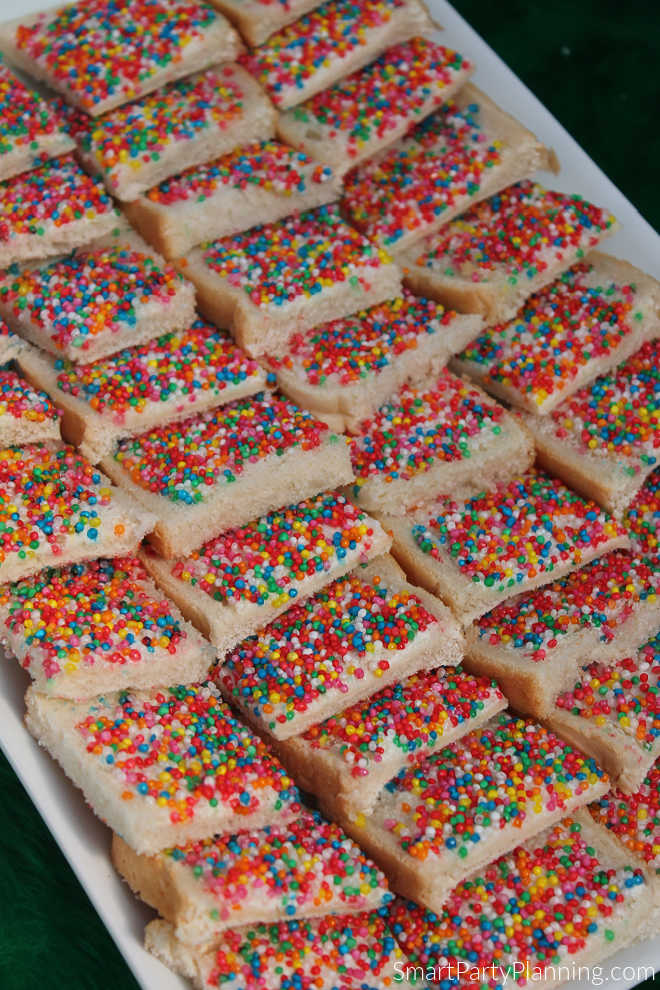 8. FAIRY BREAD TREATS
Have you ever wondered how to make fairy bread? Fairy bread is a popular treat for kids in Australia.
It's also the perfect food to serve at a fairy party! All you need is white bread, butter, and sprinkles.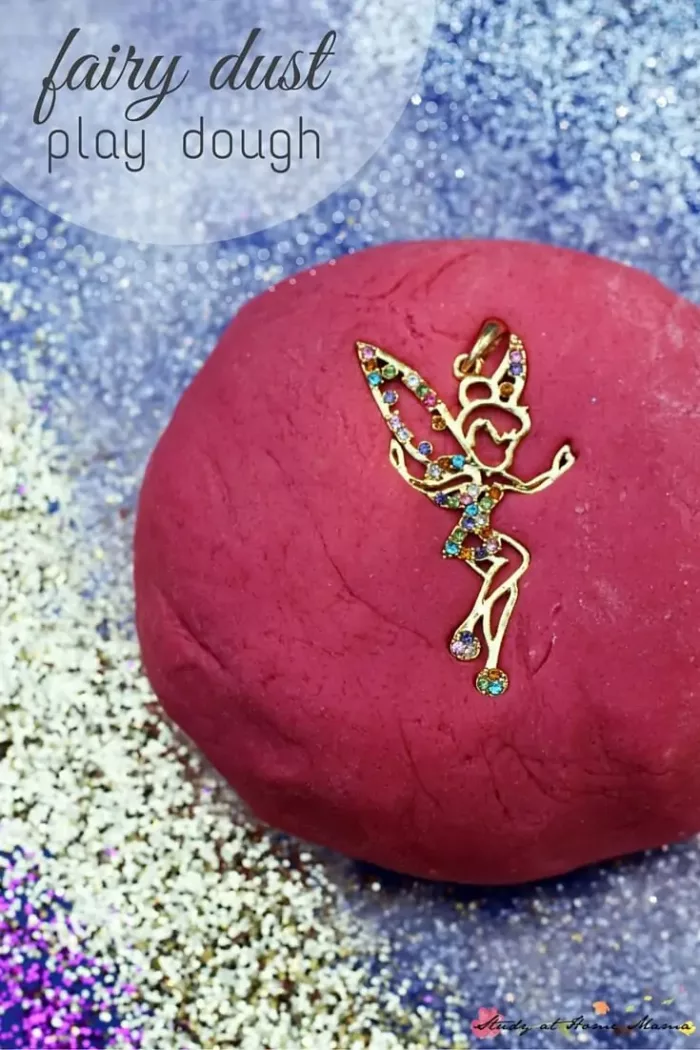 9. FAIRY DUST PLAY DOUGH ACTIVITY
A fun activity for the kids to do during the party is playing with fairy dust play dough!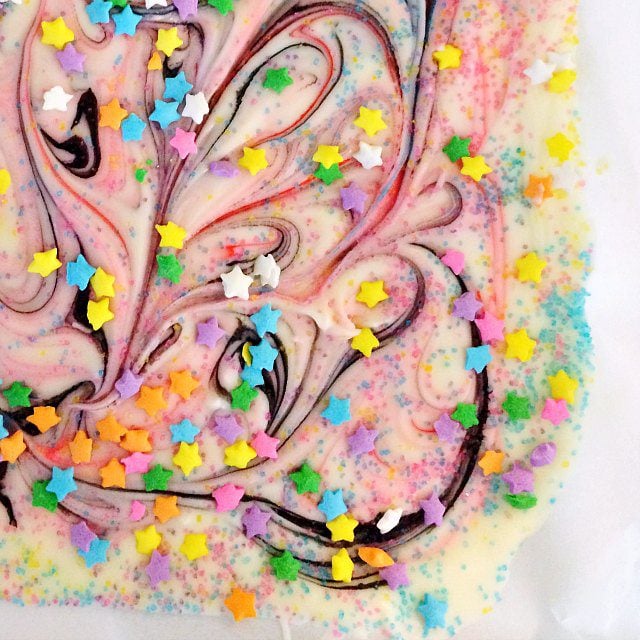 10. HOMEMADE FAIRY BARK
Looking for more fairy-approved party food? Make this fun rainbow fairy white chocolate bark recipe. The kids will love it!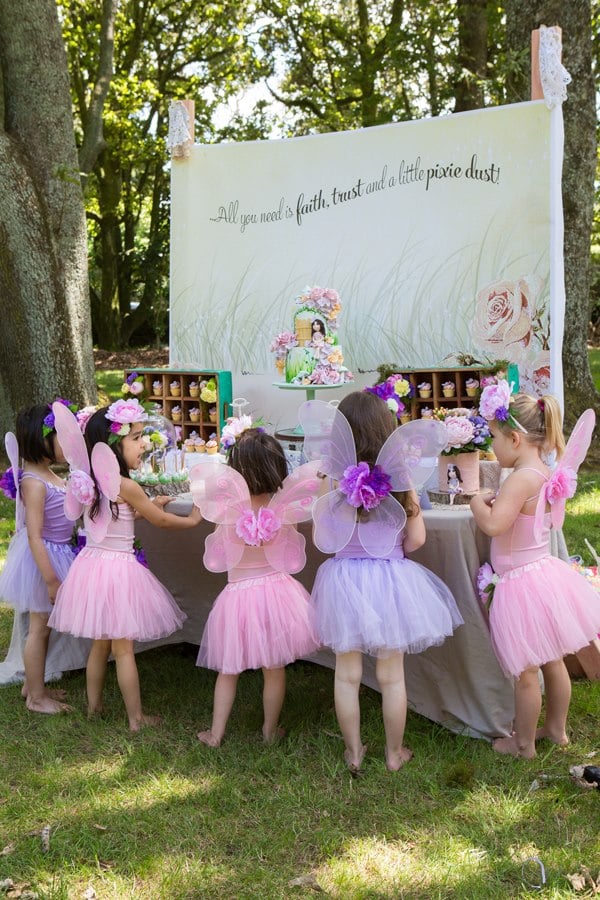 11. FAIRY WINGS
Fairy wings are a must-have accessory for any fairy party! How adorable do all the girls look wearing their wings?!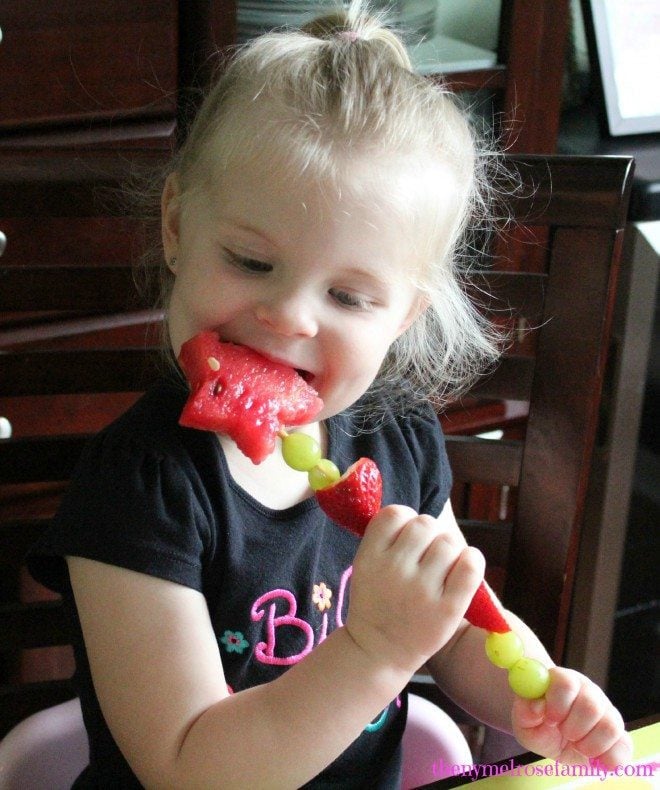 12. MAGICAL FRUIT KABOBS
Magic wand fruit kabobs are another great food idea for your fairy party. They are healthy and super easy to put together.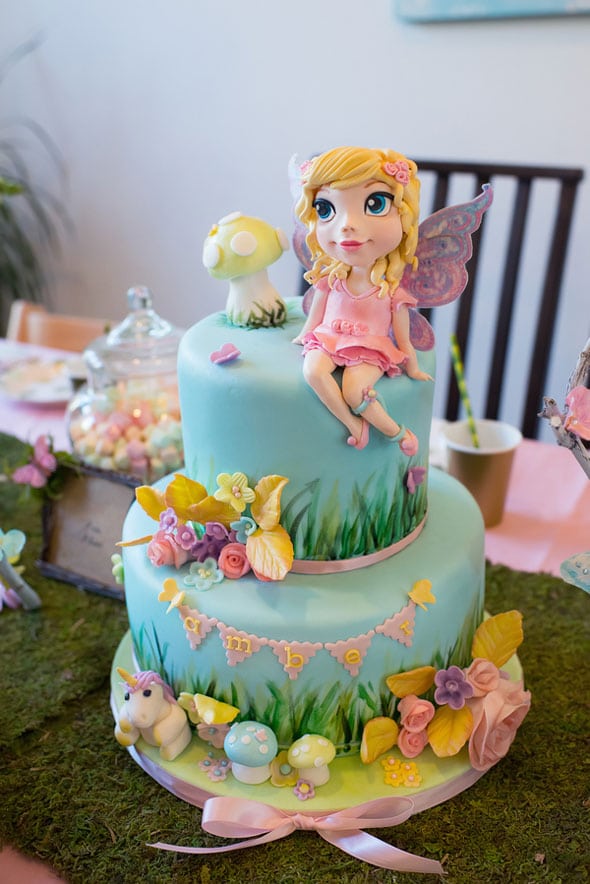 13. MAGICAL FAIRY BIRTHDAY CAKE
A lovely fairy birthday cake like this one would be perfect as the centerpiece to your dessert table.
This pretty pastel two-tier cake features flowers, mushrooms, a unicorn, and a large fairy cake topper. Any little girl would love this as her birthday cake.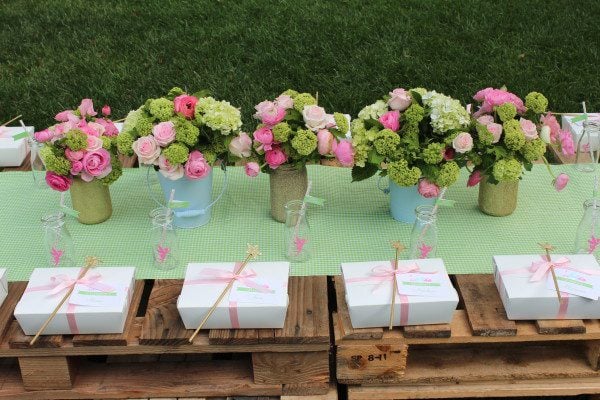 14. FAIRY PICNIC
We love this idea of having a fairy forest picnic party complete with fairy wands and gorgeous flowers in a park setting with pillow seating.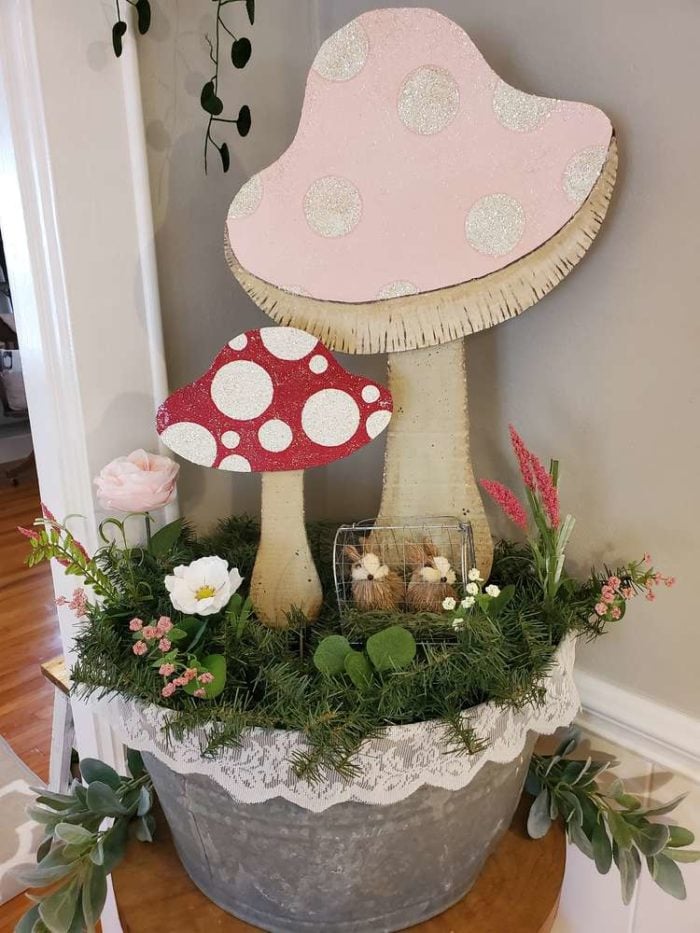 15. DIY FAIRY DECOR
How cute is this DIY mushroom fairy party decoration?! This would look perfect at the entrance to your party, or near the dessert or gift tables!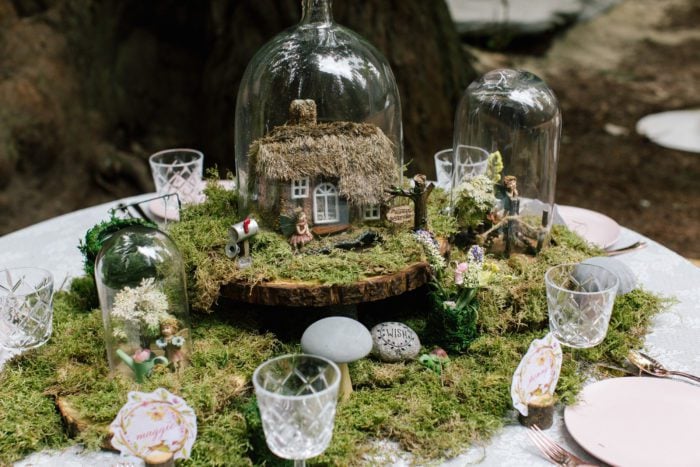 16. TABLE DECORATIONS AND CENTERPIECES
If you're planning a woodland fairy party theme, decorate your outdoor tables with moss, fairies, mushrooms, and rocks for a magical table centerpiece like this one!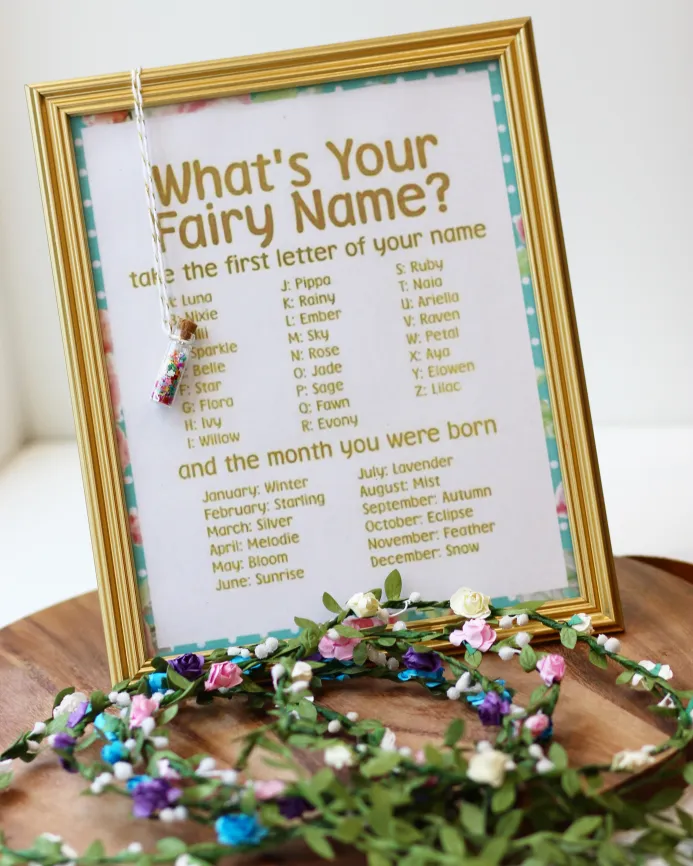 17. WHAT'S YOUR FAIRY NAME?
What's your fairy name sign is a fun party activity the kids will enjoy! Just take the first letter of your name and the month you were born to find your fairy name!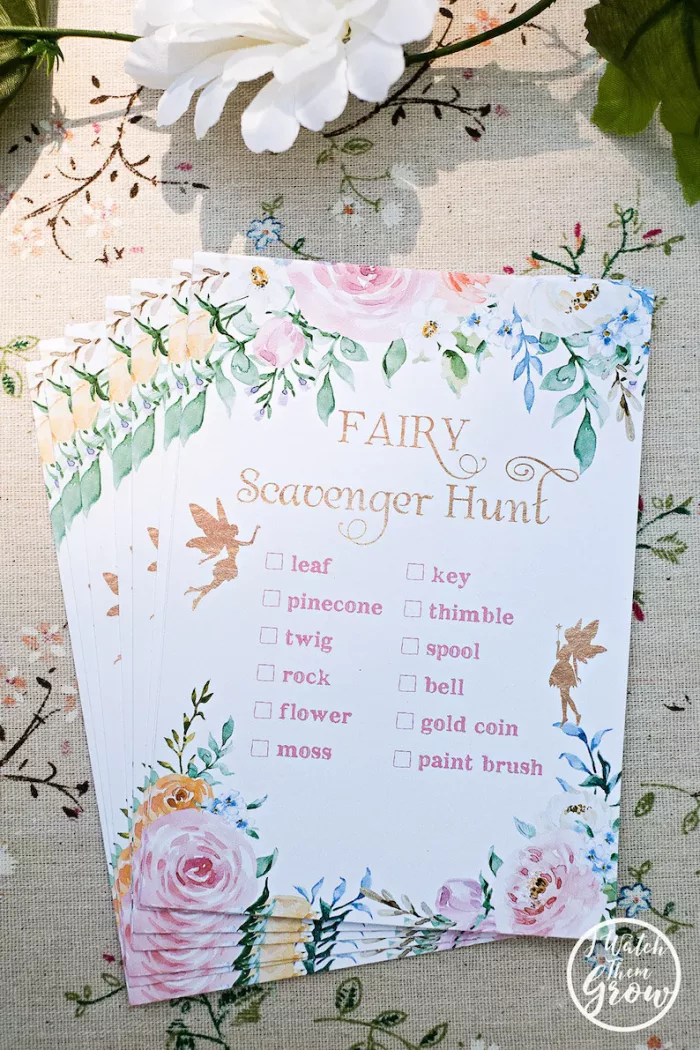 18. SCAVENGER HUNT ACTIVITY
Another fun activity you can have the kids play at your party is a fairy scavenger hunt. The kids will have fun finding all of the items on the list.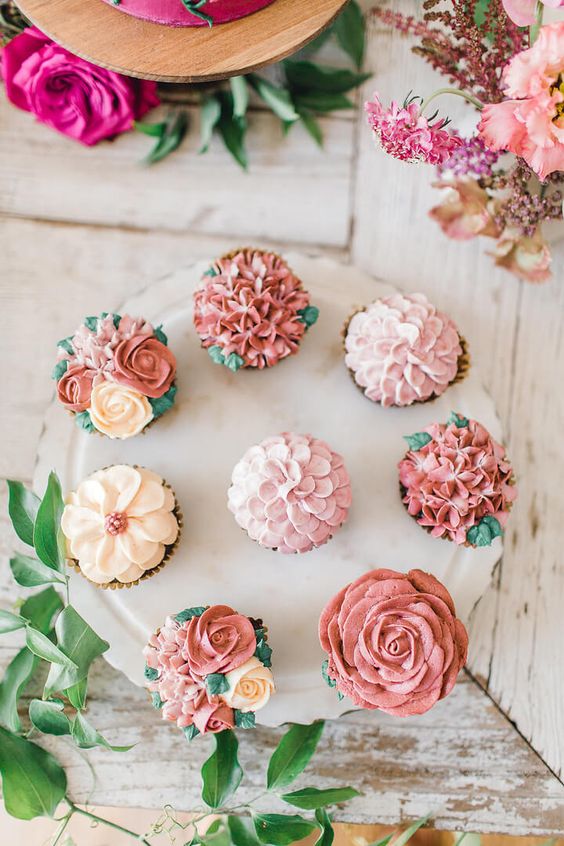 19. FAIRY PARTY CUPCAKES
These pretty flower cupcakes are perfect to serve at your fairy party!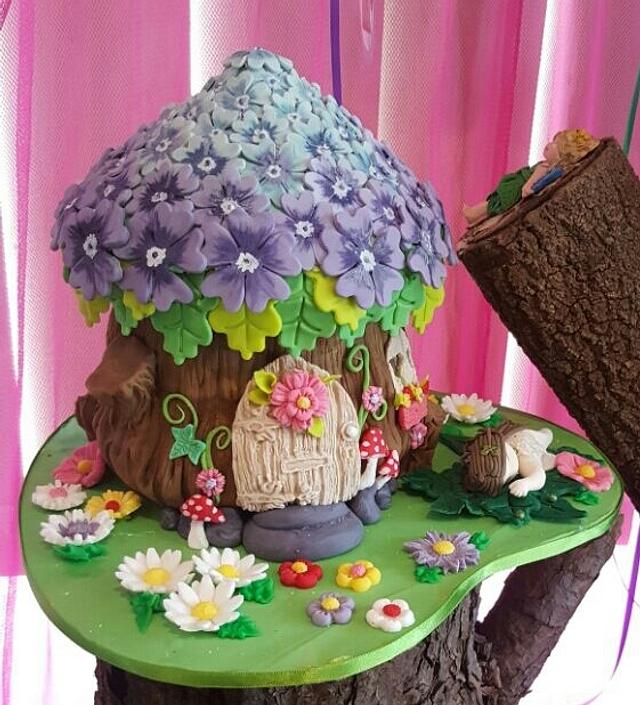 20. FAIRY COTTAGE CAKE
How beautiful is this fairy cottage cake?!
This would make a great centerpiece on your fairy-themed dessert table and your little one will absolutely go wild when they see it!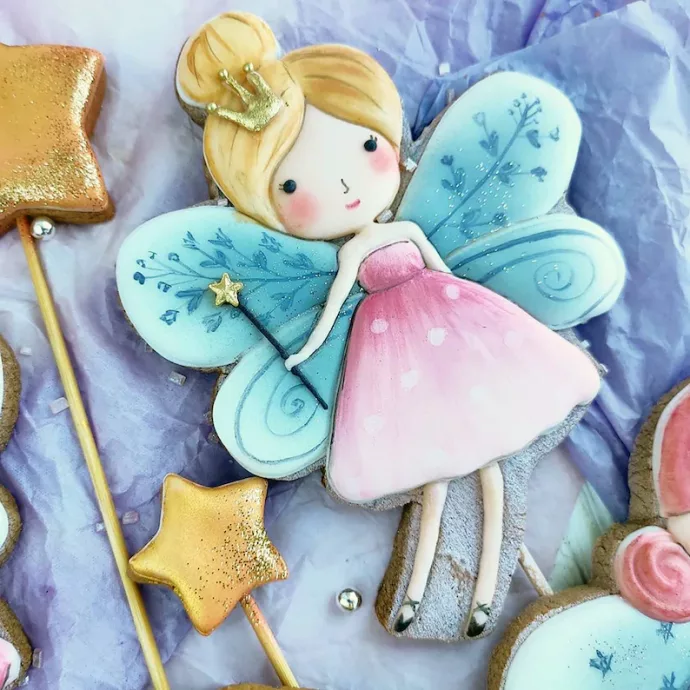 21. FAIRY COOKIES
This fairy cookie is absolutely perfect for a fairy party theme!
Display these alongside your other desserts or wrap them up with a pretty ribbon for a great take-home treat!
There you have it – 21 Fabulous Fairy Party Ideas that will jumpstart your party planning!
Do you have a favorite fairy party idea here? Let us know in the comments below!
For more birthday party ideas, follow us on Instagram @prettymyparty and Pinterest and join us in our private Facebook group.