Peppa Pig Themed 2nd Birthday
If your child loves Peppa Pig, George and the whole gang, this Peppa Pig Party is definitely one for you!
This super adorable Peppa Pig Themed 2nd Birthday, styled by Dreamery Events, features a cool wooden dessert swing with a cute Peppa Pig cake, rainbow sugar cookies, Peppa cake pops, and other fun sweets! But the fun doesn't stop there! There are so many adorable Peppa Pig Party Ideas and fun for the kids too, so take a look!
If you are jumping up and down in Muddy Puddles, you must wear your boots! – Peppa Pig
What do you do when a little darling is turning two and obsessed with Peppa Pig and her gang, but you don't want to create a celebration that looks, well, completely bought from the party store?? You pick Peppa's most iconic sayings and favorite things, and you transform them into cool modern details, even adults will be saying "Ohhh!!"
The idea was to take this beloved children's character, one both children and their parents know so very very well, and showcase all of her beloved qualities in a more natural and minimalist way. We didn't want guests to question Adelaide's 2nd birthday theme, as adorable as Peppa is, but we also didn't want her to be the only thing you saw. Peppa's love of jumping in Muddy Puddles with her pretty rain boots was the vision, then came little touches of her "home", lots of "up" and down" balloons, rainbows and clouds, and of course Mummy Pig, Daddy Pig and all her best friends!!
So much of Peppa Pig is focused on her house, and that was what we created for everyone's favorite spot, the photo booth!! A light pink house alongside a fun side table with flowers and Peppa's friends I'm sure Mummy would love in their home — all pretty underneath large fluffy clouds and pink hot air balloon garlands flying up and down.
Even Peppa, the piñata, came rolling in her adorable wagon with daisy filled rain boots and lots of yummy candy! How could it not be the BEST DAY EVER for little Adelaide!!
There was plenty of fun waiting for Adelaide and her piglet friends! Cute pig ear headbands to pair with their Peppa character masks they could color however they liked and Peppa coloring activity booklets to get them inspired and creating.
When they weren't letting their imaginations run wild, Adelaide and her friends were having lots of fun jumping up and down in her bounce house!
The pretty pink "rain" couldn't dampen this ADORABLE dessert spread displayed on a wood swing, that I'm sure Peppa would love to have in her home! Rainbow cookies, dreamy cotton candy cloud pudding cups, the darling pops and cake featuring Peppa's beloved balloon were just so stinkin' cute! Melanie from Jamm Events did such an amazing job as always! She took our vision and transformed these yummy treats into Peppa Pig perfection.
A few more tiny dolls and themed houses, daisy filled rain boots, a cute custom chalkboard and another Peppa Piñata, this time on a fun green truck, completed the look for this fun and sweet display. At this party, is was more than okay to PIG OUT!
Each guest table was kept sweet and simple, with white linens and centerpieces featuring pretty greens, "Pink Mondial" Roses, "Glorious" Spray Roses, White football Mums, and light pink Scabiosas. Each centerpiece featured one of Peppa's friends and their tiny house, a delicate nod to the theme.
Peppa Pig Themed 2nd Birthday Party Ideas
Wooden dessert swing with cloud decorations
White iridescent backdrop for dessert table
Themed birthday cake and desserts, including rainbow cookies, cotton candy cloud pudding cups, cake pops, and more!
Cute decorations, including pink rain boots filled with daisies and Peppa Pig piñatas
Party signs with sayings from the show
Fun photo booth, featuring a pink house, themed decor and a sunshine balloon
Custom chalkboard sign all about the birthday girl
Pretty flower centerpieces and one of Peppa's friends and a tiny house as table centerpieces
Awesome pink and white cake featuring Peppa holding a balloon
Fun ear headbands for the kids
Peppa mask and coloring activity for the little guests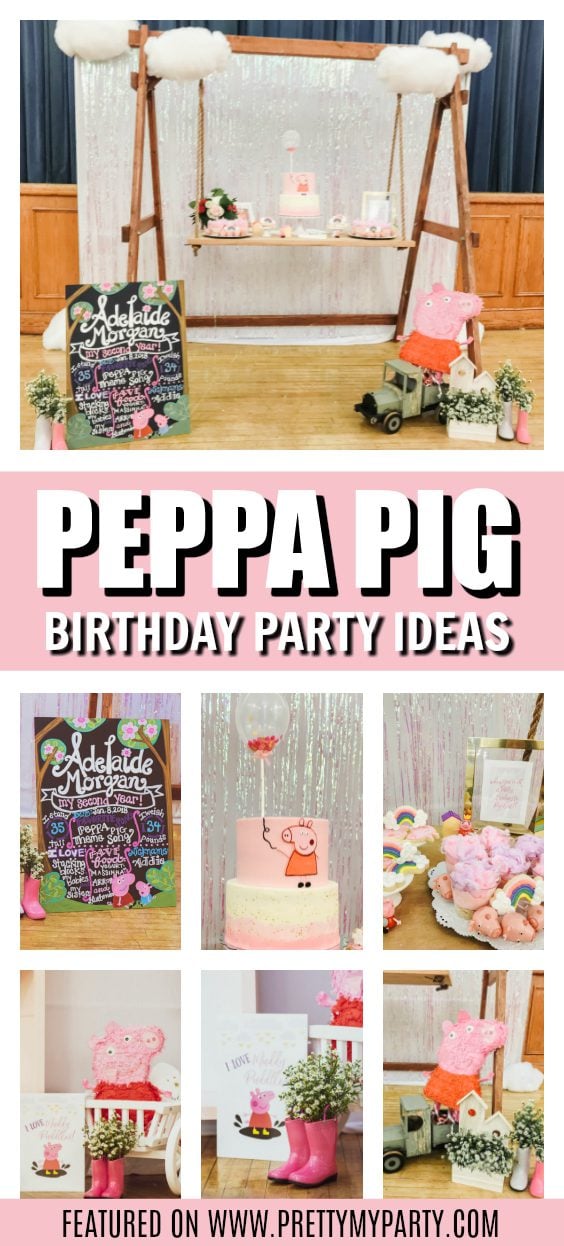 Peppa Pig Party Supplies and Decorations:
SEE MORE PEPPA PIG PARTY IDEAS HERE:
Everyone had such a great time, especially Adelaide and her sisters! We already can't wait for what fun surprises await her next birthday celebration!
What's your favorite details in this adorable Peppa Pig Themed 2nd Birthday? Let us know in the comments below!
For more kids party ideas, follow us on Instagram @prettymyparty and Pinterest and join us in our private Facebook group.
Party Vendors