This sweet Peppa Pig Birthday Party would be quite the highlight for any lucky little birthday girl! We just love all of the exquisite details that are a part of this Peppa Pig themed party!
A Peppa Pig Birthday Party is what this little girl wanted for her birthday and it was exactly what she got! What an incredible backdrop! It was certainly a highlight of this Peppa Pig Birthday. Absolutely everything was meticulously planned and it all came together perfectly, thanks to quality vendors who were all on the same page. We love it!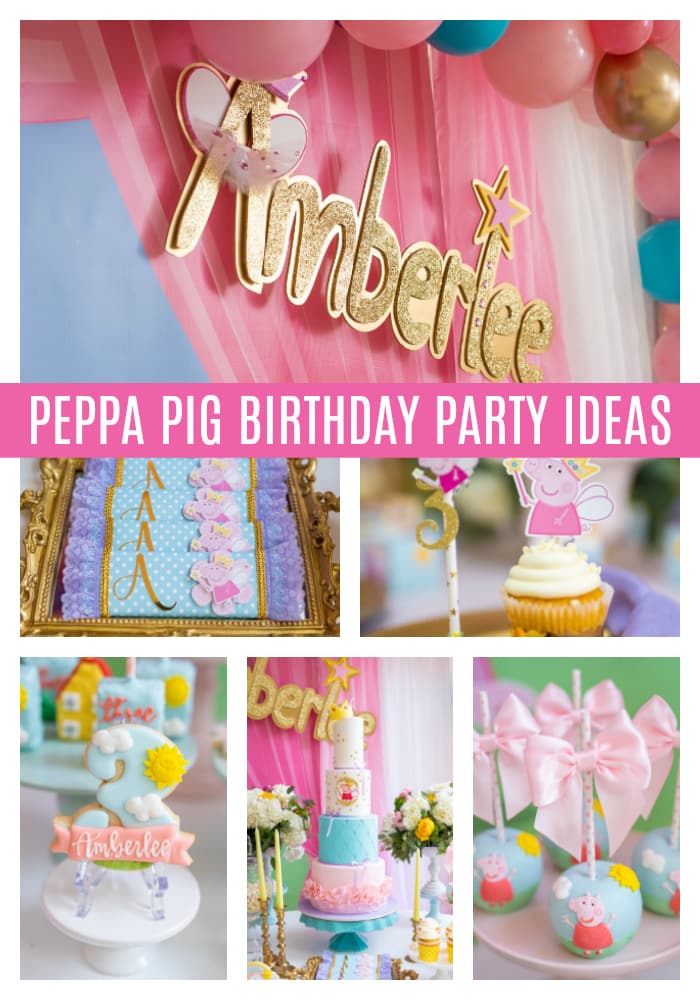 Peppa Pig Party Supplies and Decorations:
So many of the Peppa Pig Birthday Ideas were absolutely outstanding, including the table settings that were used for all of the guests. We love the gold chargers, that were contrasted with the purple napkins. Everything was so elegant and a little girl's birthday dream! Who wouldn't love showing up at a Peppa Pig Birthday Party, just to find the most delicious cupcakes on your plate, ever! What a great way to set the tone for the entire birthday. It's Peppa Pig Party Ideas like that that made the event so successful!
All of the birthday girl's guests were able to admire the amazing dessert table, highlighted by the Peppa Pig backdrop that was used. We're surprised that any of the Peppa Pig Birthday Party guests were able to stay attentive to what was going on around them when they knew they were going to be able to dig in to all of those delicious desserts later in the day!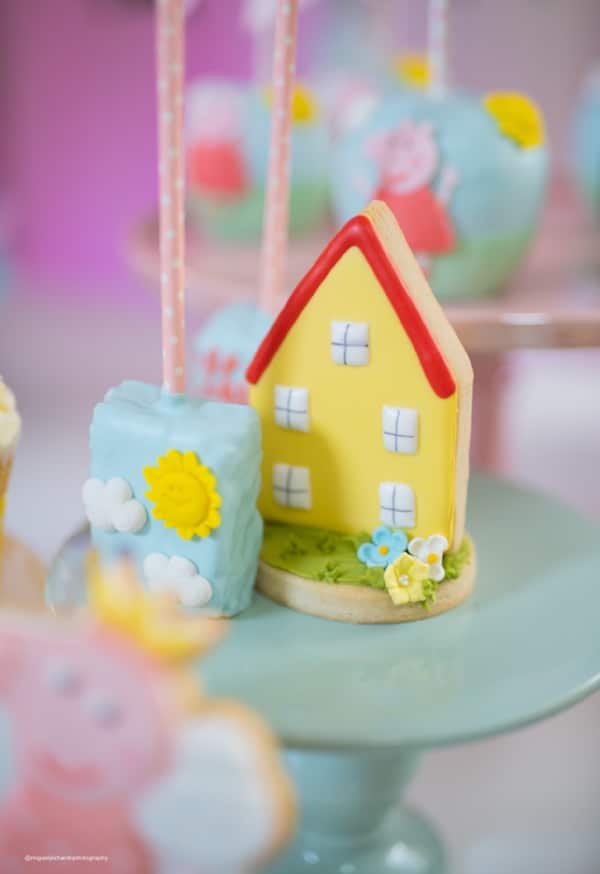 How amazing are these detailed cookies that were found on the dessert table at the Peppa Pig Birthday?! There were so many delicious desserts that were available, including the cookies and chocolate covered Rice Krispie treats that were decorated special for the Peppa Pig Birthday Theme! Everything was fun, airy and bright for a little girl's birthday dream party. Who wouldn't love this?!
Additional Peppa Pig Cookies were available with the birthday girl's age represented on a handful of the cookie designs. These are quite possibly the best birthday cookies we've ever seen decorated for a Peppa Pig loving birthday girl, who was turning 3! What detail, precision and work-of-art for every cookie that was created. We would want to keep one, just to keep looking at it for days to come for a reminder of the special day!
These little chocolate cake cups might be the most creative way to serve delicious cake ever! We love how the disposable spoons are tied right to the individual-sized servings. And with chocolate cake and chocolate pudding as the main ingredient in the cups, we're sure that they went flying off the table when all of the guests were finally allowed to dig into the dessert table! Yum!
Of course, doily lined personalized chocolate bars were available for all of the guests, as well! Even if they weren't hungry, they were great additional party favors for everyone to take home, as a memento of the amazing Peppa Pig Birthday Party that they were invited to! How cute are the sweet Peppa Pigs that were attached to every chocolate bar?!
Party Vendors
Event planning and Decor: KettyDelights
Photos: Miguel Pichardo Photography
Balloons: MP Balloons Decor
Party Favors: Imagine Creations
Sweets: Mayra's Cake Pops
Cake: There Should Always Be Cake
Backdrop: The Design Shoppe By Sie
Name: HC By Alexandra
Cake Pops: from.mireyas.kitchen