Planning a Peppa Pig Birthday for your little one? Check out this party with the most creative Peppa Pig Party Ideas!
This Peppa Pig Birthday was absolutely perfect for this lucky little girl who turned 3! Mom Helen said her daughter is in love with Peppa Pig, so mom got to work on making everything for the party. Seriously, look how creative she is! We love the Peppa dessert table backdrop and adorable matching table cover! The fantastic Peppa Pig birthday cake was designed by The Cake Whisperer in Ottawa, Canada. If you look closely, you will notice a little girl on top of the birthday cake. That was a character of the birthday girl herself! What a fun and creative idea! I'm sure the birthday girl loved everything about her adorable Peppa Pig Birthday Party!
Peppa Pig Party Ideas
Peppa Pig birthday cake with birthday girl character as cake topper
Awesome DIY dessert table backdrop with sun, clouds and tree
Matching DIY dessert table cover with white fence and trees
Peppa Pig house favor boxes for the kids
Themed cupcake toppers with all the characters from the show
Yummy desserts including cookies, cupcakes, mini cakes, Rice Krispie treats, pudding, and more!
Peppa Pig character decorations on dessert table
House decorating activity for the kids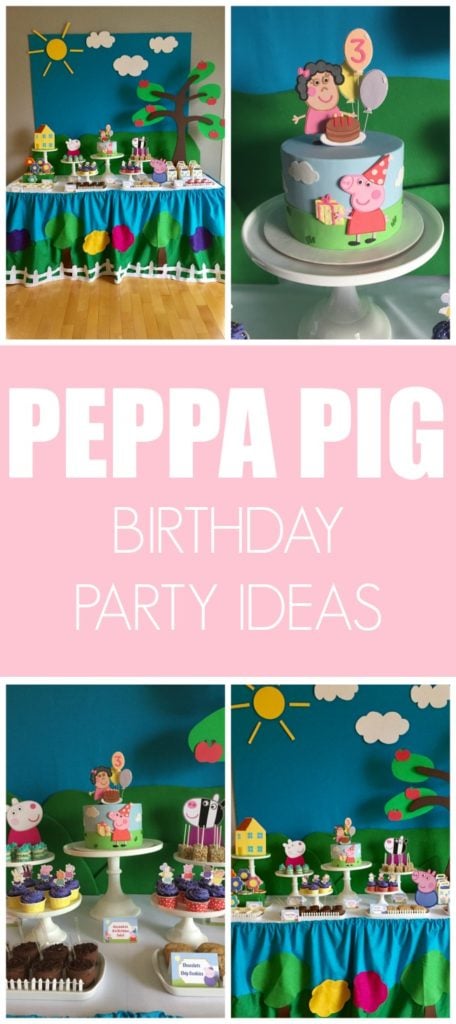 PEPPA PIG PARTY SUPPLIES AND DECORATIONS:
SEE MORE PEPPA PIG PARTY IDEAS HERE:
For more kids party ideas, follow us on Instagram @prettymyparty and Pinterest and join us in our private Facebook group.
Party Vendors
Instagram: @craftandconfection
See more party ideas for kids here: