Are you looking for fun and creative football party ideas for the Super Bowl or a football birthday party? If so, check out these incredible 30+ football party ideas!
The Super Bowl is almost here! In true American tradition, it's the perfect time for football enthusiasts, casual fans, and Super Bowl-only viewers to gather around and have a Super Bowl viewing party.
If you're looking for awesome Super Bowl Party Ideas for game day or if you simply want to have a football birthday party, you're in luck! There are so many fun and creative football party ideas that you can incorporate into your football themed party. These amazing football themed party ideas will definitely score a touchdown with your guests.
Football Party Supplies and Decorations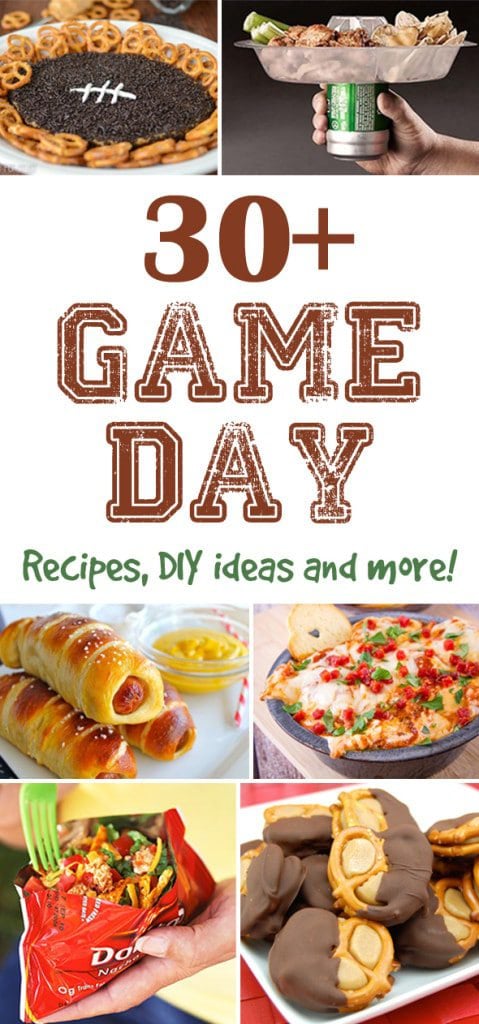 DIY Football Party Ideas
Make the most of your Super Bowl viewing party or your football themed birthday party with amazing decorations! These awesome game day and football birthday party ideas will set the best atmosphere for FUN!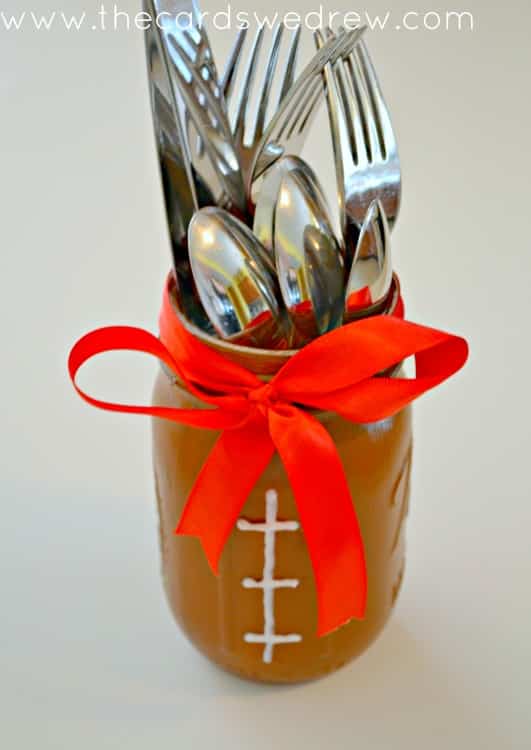 Game Day Idea #1: Here's one of the simpler DIY Super Bowl Party decorating ideas to start you off: a DIY Mason Jar Football Cutlery Holder! You just need brown glass paint and a white marker to decorate the mason jar and of course, a ribbon!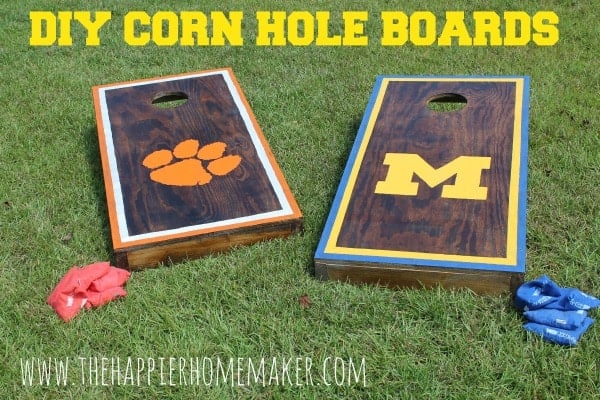 Game Day Idea #2: This DIY Corn Hole Game is the perfect game for a kids football party! Your little guests at your boys football birthday party will absolutely have loads of fun getting their game face on with this competitive game!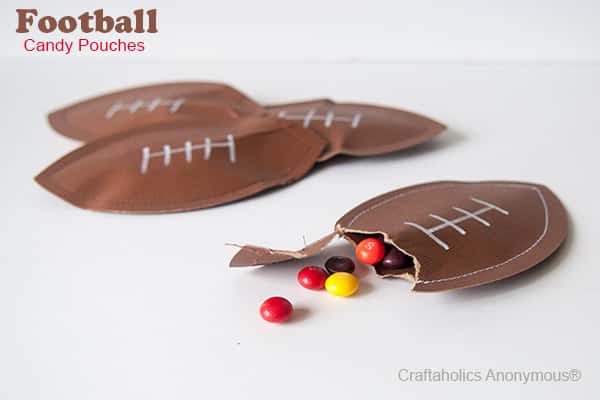 Game Day Idea #3: Looking for football party favor ideas? These DIY Football Candy Pouches will make for an adorable giveaway for a football themed birthday party. This one is made of brown card stock and is very easy to replicate.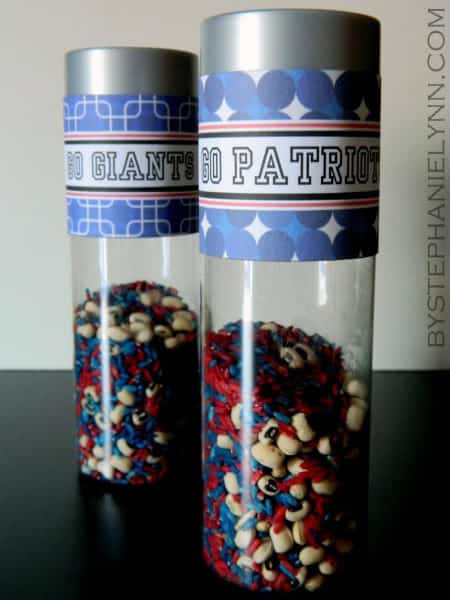 Game Day Idea #4: Game day won't be complete without a chorus of boos and cheers from the audience. To help make the loudest cheers, prepare this DIY Game Day Noise Maker for the guests at your viewing party!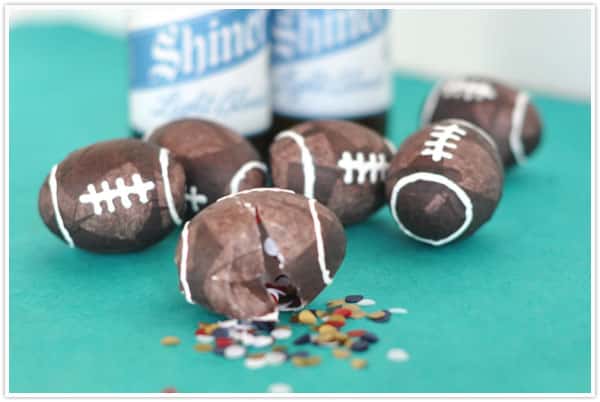 Game Day Idea #5: Another great way to celebrate when your team scores? Confetti eggs! These DIY Football Cascarones will make cheering for your team a lot more fun! Smash one whenever your team scores a touchdown for the ultimate celebration!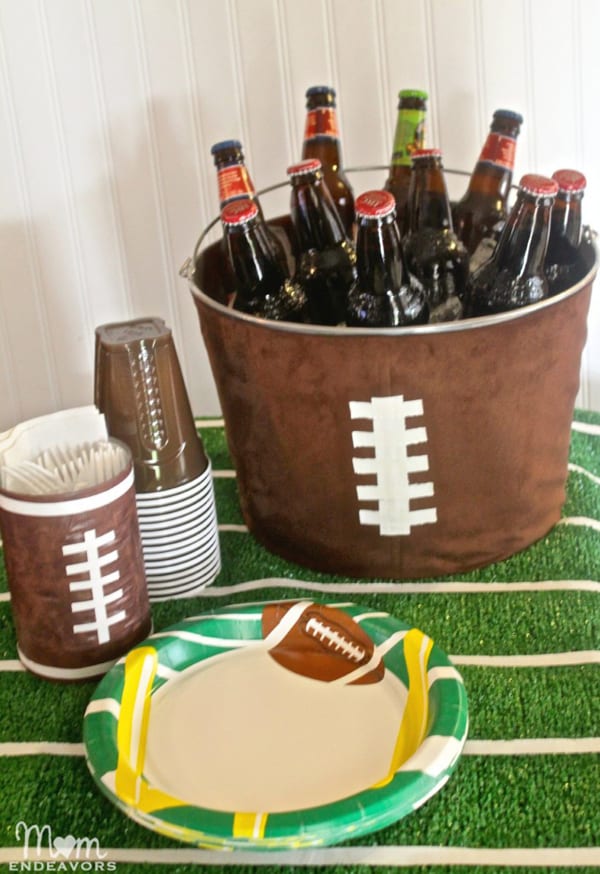 Game Day Idea #6: Thinking of football party ideas for adults? Your viewing party won't be complete without beers or sodas for everyone! Make this DIY Football Drink Tub for everyone at the party to marvel at when they crack a cold one.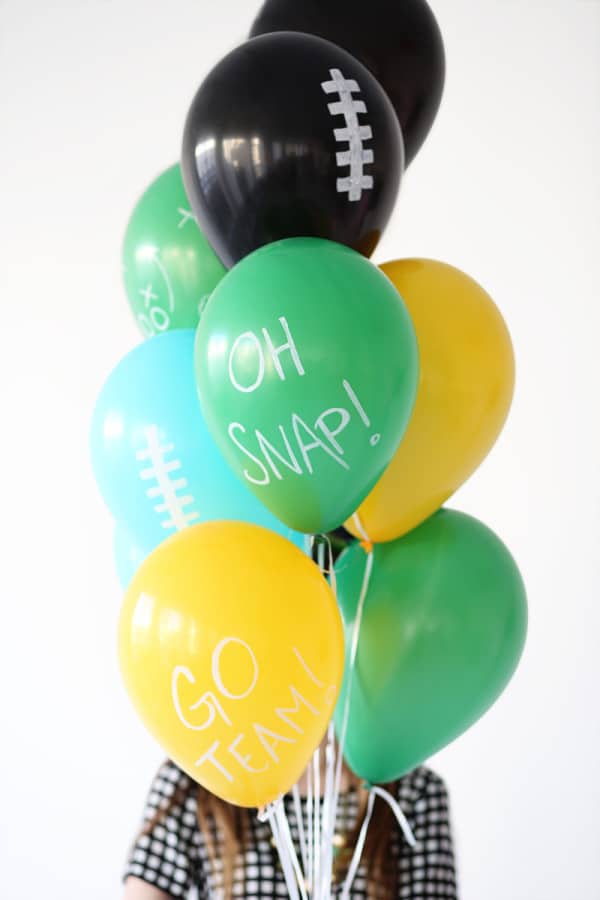 Game Day Idea #7: These Easy Football Party Balloons make for the perfect football party decoration ideas for people who want to keep it quick and easy. You can get as creative as you want when decorating the balloons too!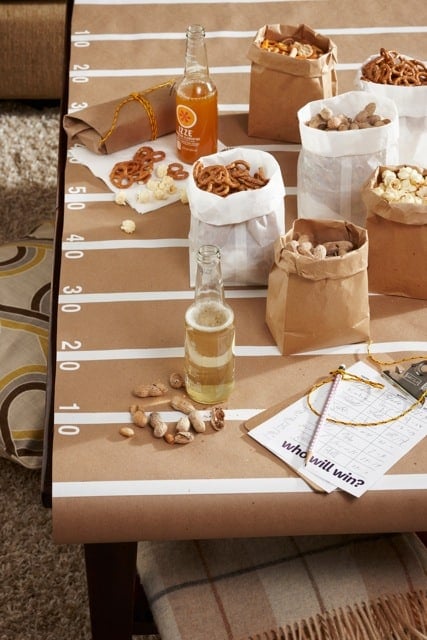 Game Day Idea #8: What a clever decoration idea for a football theme party! This Craft Paper Football Field Table Cover is a wonderful way to make your center table fit in perfectly with the rest of your football themed party ideas!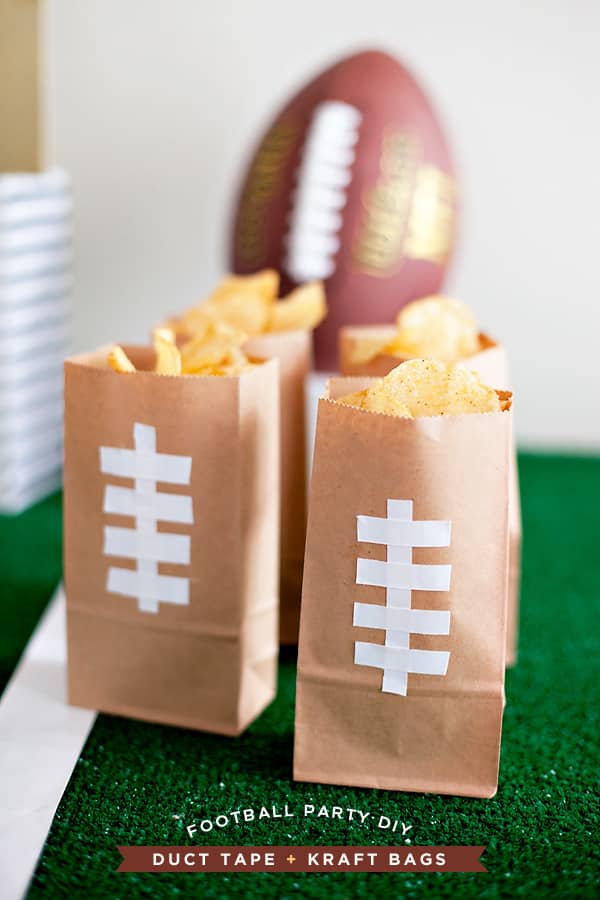 Game Day Idea #9: If you're stumped thinking of football party snack ideas, how about these Easy DIY Game Day Snack Bags? These snack bags can make any snack perfect for your Super Bowl viewing party — even simple popcorn!
Football Party Menu Ideas
Of course, your party won't be complete without some delicious food to snack on! Check out these yummy and easy football party food ideas.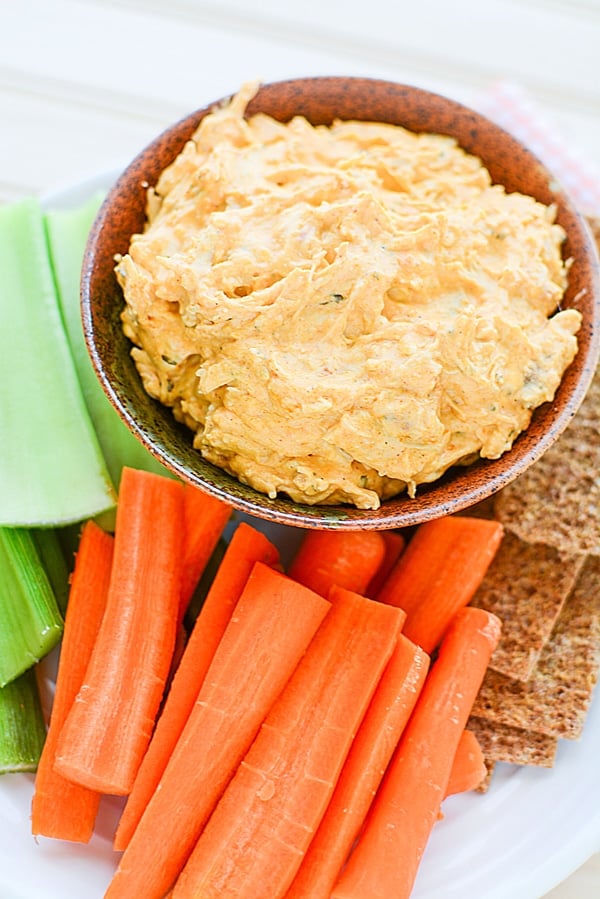 Game Day Idea #10: This Easy Crockpot Buffalo Chicken Dip is a great recipe that you can make in your trusty slow cooker. Just mix all the ingredients together and let your crock pot do all the hard work for you! When your guests arrive for game day, you'll have a tasty buffalo chicken dip for them to enjoy.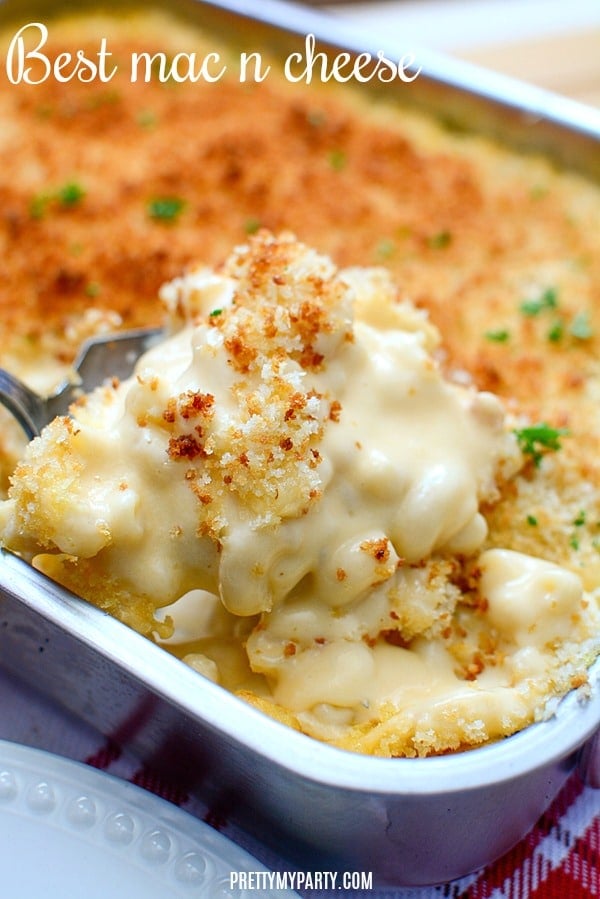 Game Day Idea #11: If you're looking for something a little more filling to serve, how about the Best Baked Mac and Cheese? This homemade mac and cheese will make sure that none of your guests go hungry what with all the excitement going on.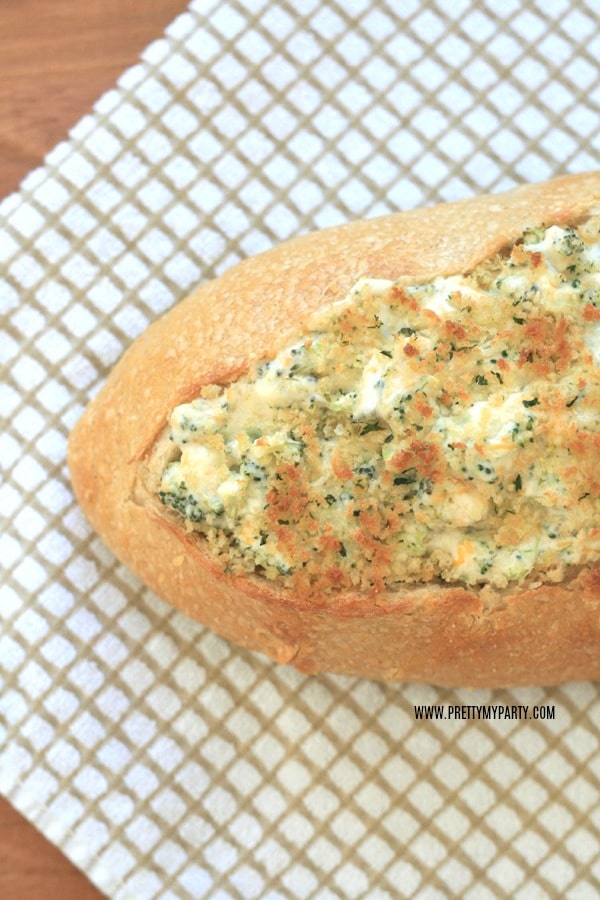 Game Day Idea #12: Cheesy dips are definitely a staple for game day. This Baked Broccoli Parmesan Dip will be the perfect match for your chips or any other finger foods you plan to serve! An easy appetizer like this one will definitely score a touch down with your guests!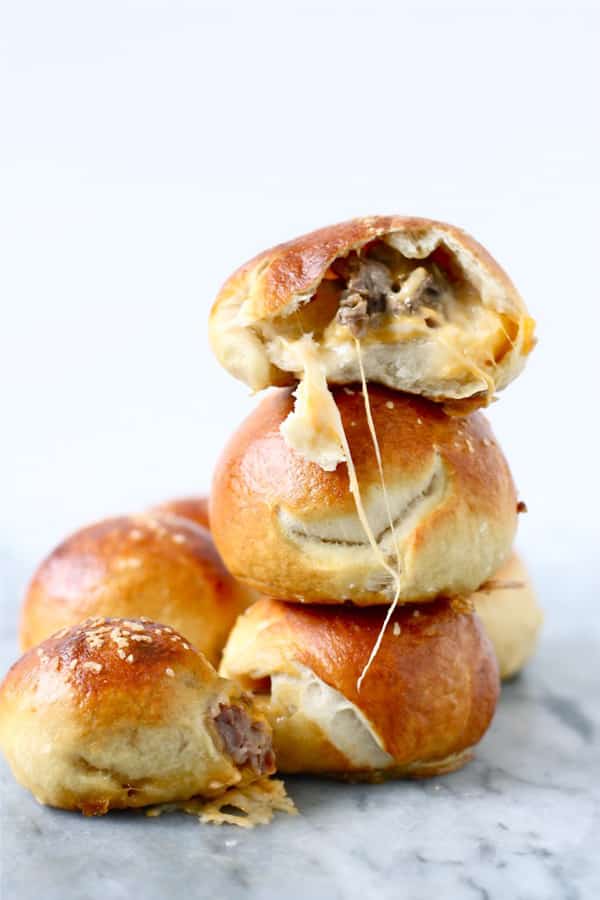 Game Day Idea #13: These Steak and Cheese Stuffed Pretzel Bites are another scrumptious treat if you're looking for more football party menu ideas. Steak + cheese + bread = Delish!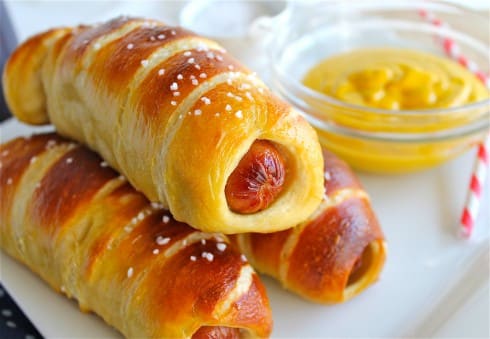 Game Day Idea #14: These Homemade Pretzel Dogs offer a yummy twist to a game day classic! The recipe includes dough made from scratch, so it's a great dish if you want to impress your guests with your awesome baking skills!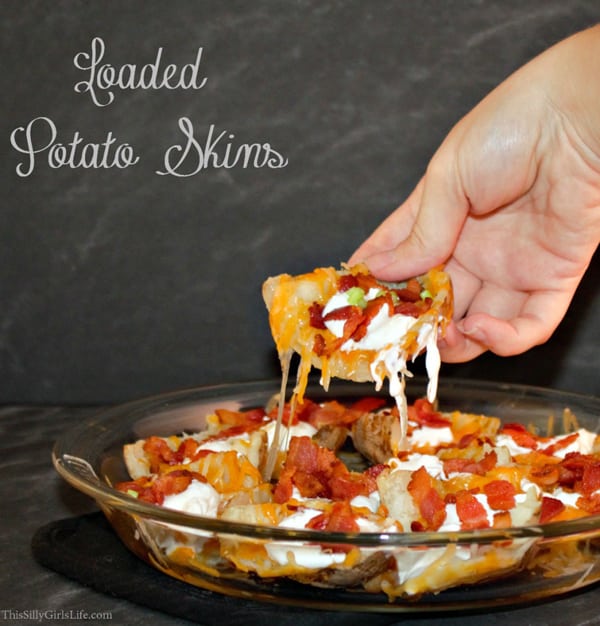 Game Day Idea #15: This looks absolutely mouthwatering! You can't go wrong when you serve these Loaded Potato Skins for game day. They make a popular choice for football party food!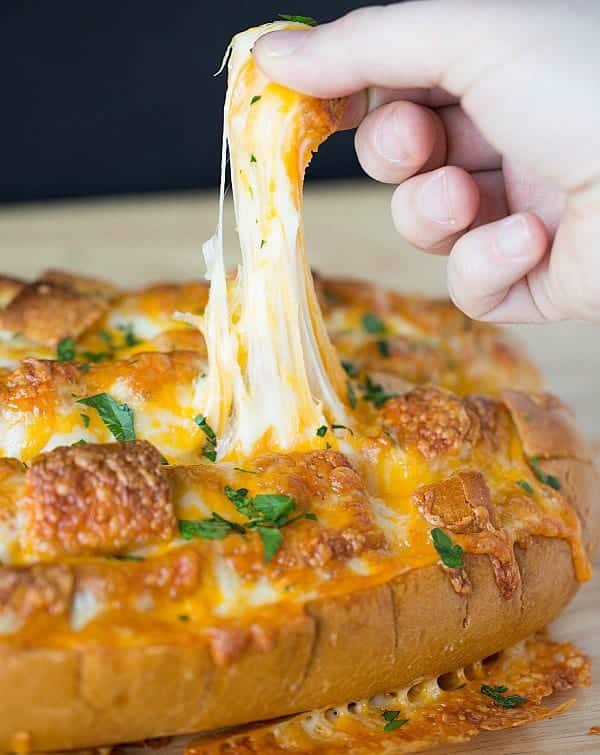 Game Day Idea #16: This Cheesy Pull-Apart Bread will fill you and your guests up with all the carbs and cheese you need for such an exciting day!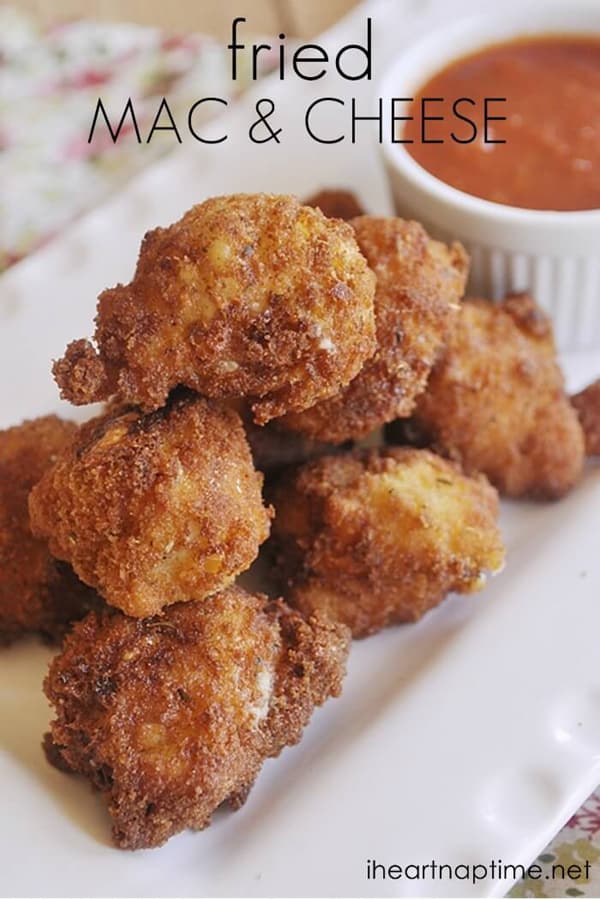 Game Day Idea #17: These Fried Mac & Cheese are perfect if you're looking for finger food ideas for a football party. This particular recipe calls for mac and cheese that's made from scratch, but if you're pressed for time, you can use box mac and cheese and still have them coming out delicious!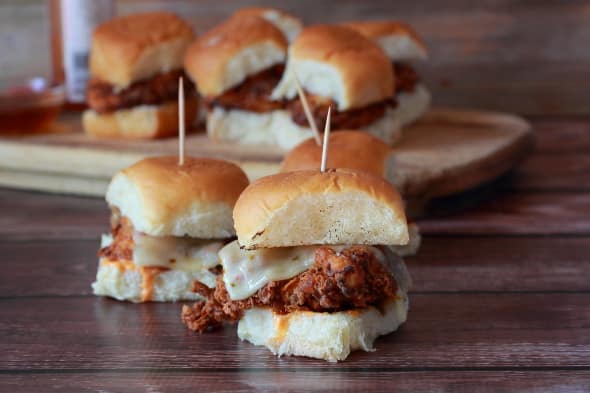 Game Day Idea #18: Another game day classic! These Fried Chicken Sliders With Buffalo Sauce are the perfect bite-sized treats that are easy to pop into your mouth when you're not busy shouting at your TV!
Football Party Desserts
Make your party a lot sweeter with these delectable desserts! Don't forget these sweet treats when you're looking for more Super Bowl party food ideas.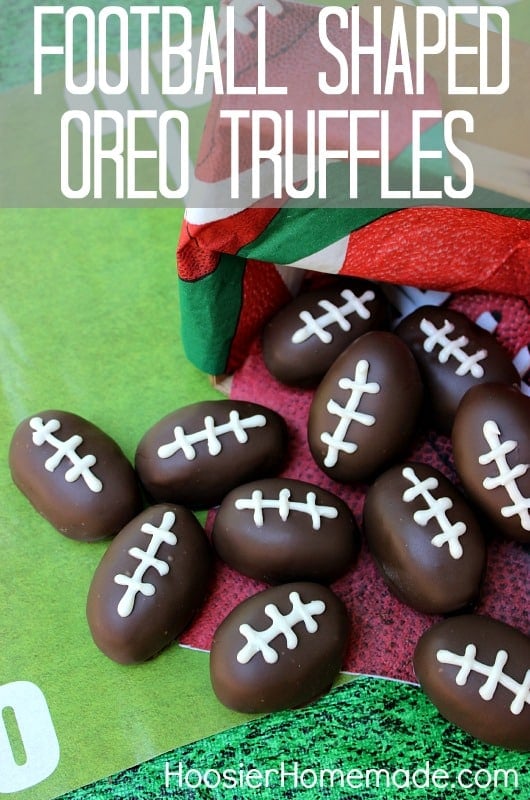 Game Day Idea #19: How cute are these Football Shaped Oreo Truffles?! Your guests will not be able to resist these delectable bites.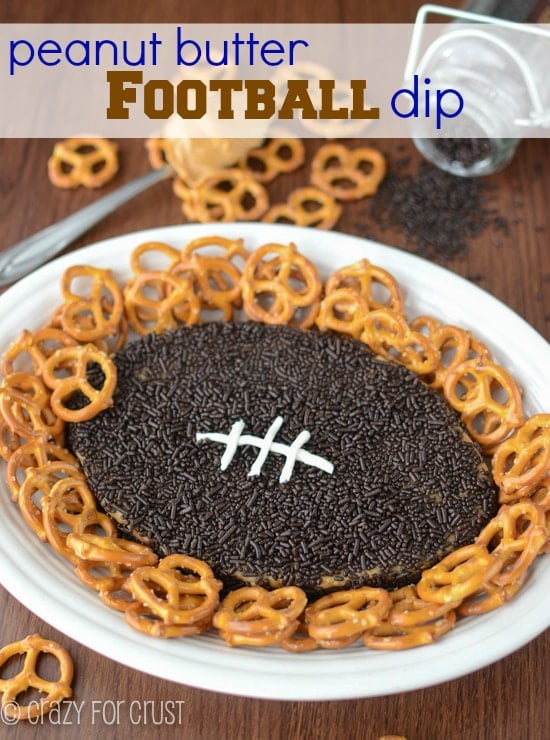 Game Day Idea #20: Here's an easy dessert that everyone will love: pretzels and a delicious Peanut Butter Football Dip! The dip made of peanut butter, cream cheese, sugar, and butter is super easy to make and will be a hit on game day.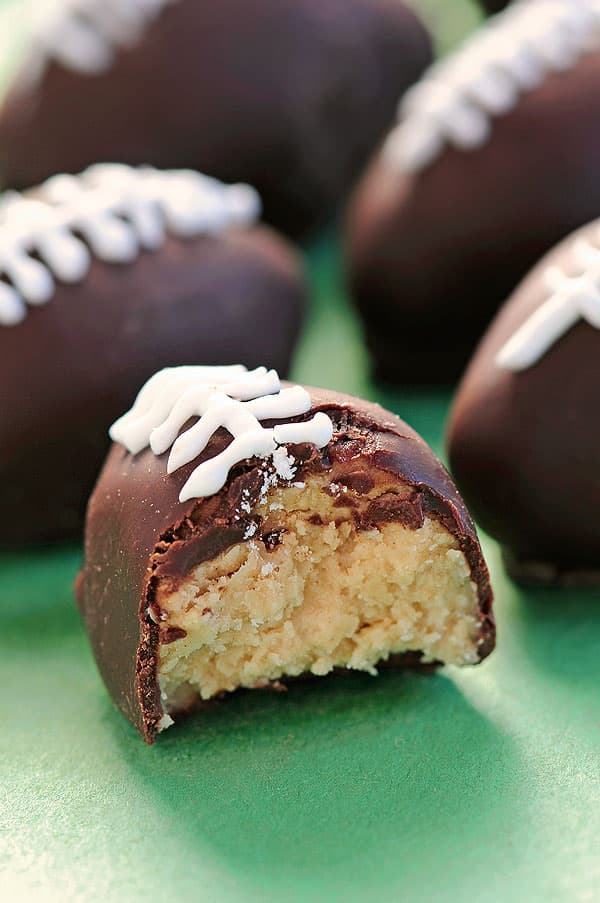 Game Day Idea #21: More peanut butter and chocolate! These Chocolate Peanut Butter Footballs are another perfect addition to satisfy you and your guests' sweet tooth.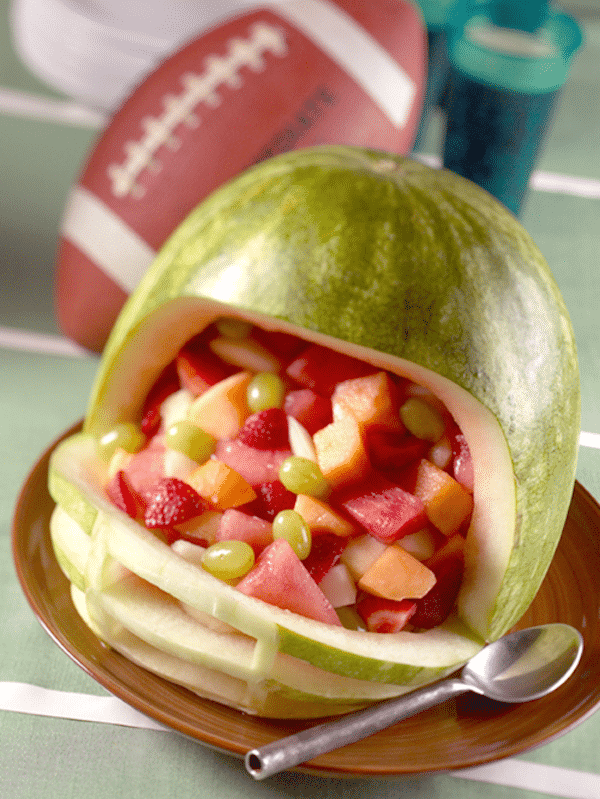 Game Day Idea #22: Time for something a little healthier! If you want a break from all the cheese, carbs, and candy, this Football Helmet Fruit Display is perfect for you! It's a great refreshing treat for your party when you've had a little too much sinful food to eat already.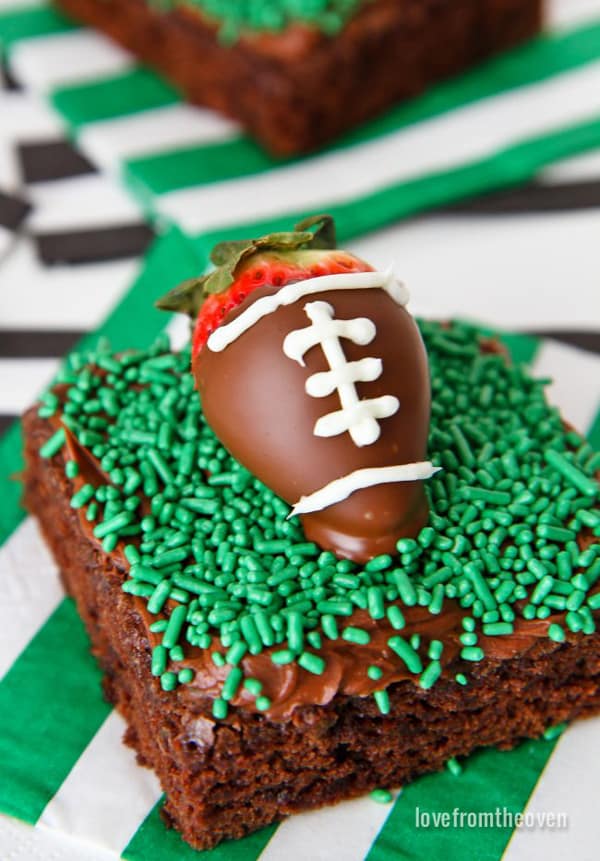 Game Day Idea #23: The green sprinkles for grass and the teeny football topper really make these Football Brownies so unique and amazing! They are perfect for any football party!
Football Party Drinks
To wash down all those delicious food and desserts, you definitely need to add some drinks when you're drawing up football party menu ideas. Check out these awesome drinks for your football party!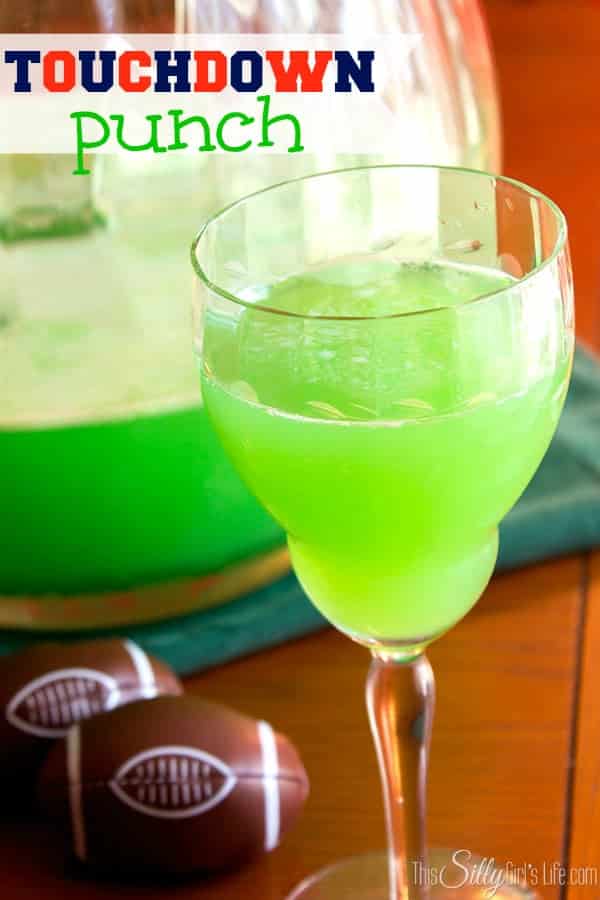 Game Day Idea #24: Serve this Touchdown Punch so that guests who don't like beer or soda can have an alternative drink. It looks pretty good too!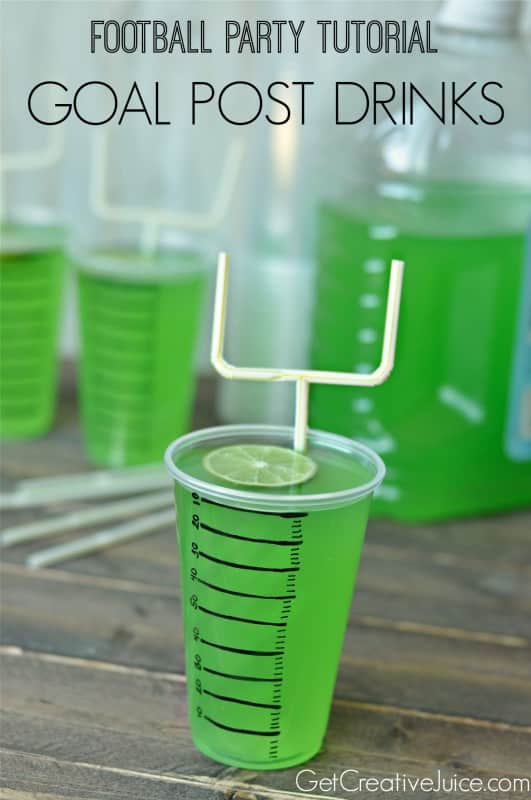 Game Day Idea #25: How creative! Serve these Football Party Drinks With Goal Post Straws if you want to give your guests something fun to drink. The goal post straws are super easy and inexpensive, so they will definitely be a wonderful addition to your table. The kids will love them too!
Which of these game day food and decoration ideas are you planning to recreate for your football viewing party? Share your favorites below!
For more party ideas, follow us on Instagram @prettymyparty and Pinterest and join us in our private Facebook group.
More Football Party Supplies and Decorations