Baked Broccoli Parmesan Dip
Baked Broccoli Parmesan Dip is one of those dip recipes for parties that never goes unnoticed! Add the broccoli dip in a bread bowl and you may have just found yourself the perfect party dip!
I don't know about you, but there are a few go-to recipes that I gravitate toward when I know I have to bring a dish to pass at a gathering. And this Baked Broccoli Parmesan Dip is one of them! It's a great appetizer that I rarely have leftovers from to bring home. And when you add it to a loaf of sourdough break?! It's definitely a total crowd-pleaser!
Be sure to check out these great party recipes: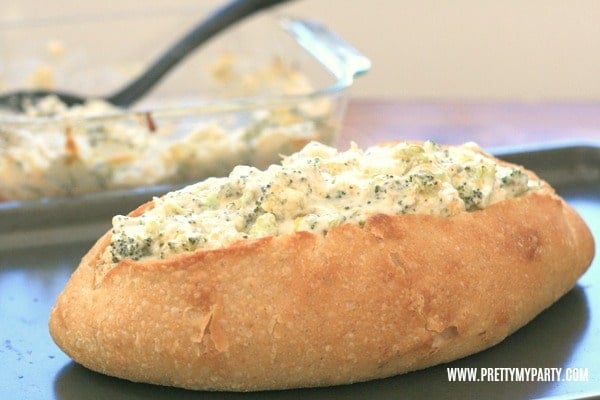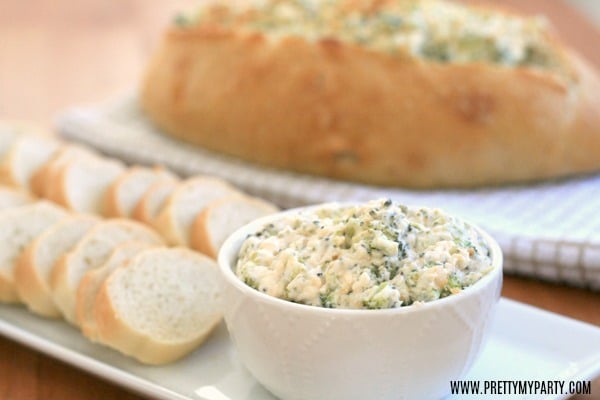 How To Make Baked Broccoli Parmesan Dip
One of the best things about this delicious broccoli cheese dip recipe is that it is one of those easy dip recipes that takes barely any time to prep and make at all! Take a peek at the ingredients list at the bottom of this post and you'll see just how accessible and simple this appetizer really is.
Don't worry, we wouldn't take you down a road of inaccessible ingredients and things that cost a lot of money. That's what we love about this Baked Broccoli Parmesan Dip in the first place. You'll create it in no time!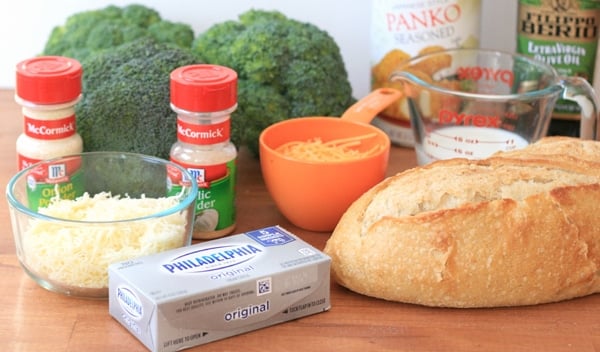 1. Before you begin, pre-heat your oven to 350 degrees. It's always best if things are ready to cook as soon as you have everything prepped and ready to pop into the oven!
Also, make sure you have all of your ingredients out and ready to use, like in the picture above. It makes things so much easier when everything is right in front of you and you aren't half done mixing, only to realize you still need to add one more thing that you aren't sure where you put!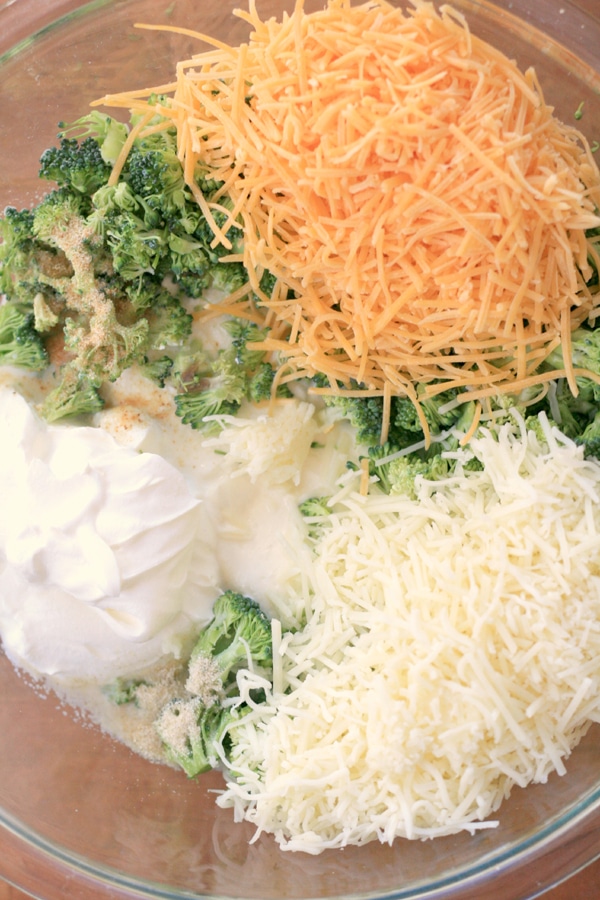 2. Mix the cream cheese, broccoli, Parmesan, mozzarella, cheddar, sour cream, milk, onion powder and garlic powder in a mixing bowl.
See, we told you it was an easy appetizer! All you do is mix up almost every single ingredient you need, and you are already almost finished. We don't have time for stressful appetizers when we're heading to a pot luck or over to a dinner party. It's all about ease of use, along with creating party dips that everyone is going to absolutely love.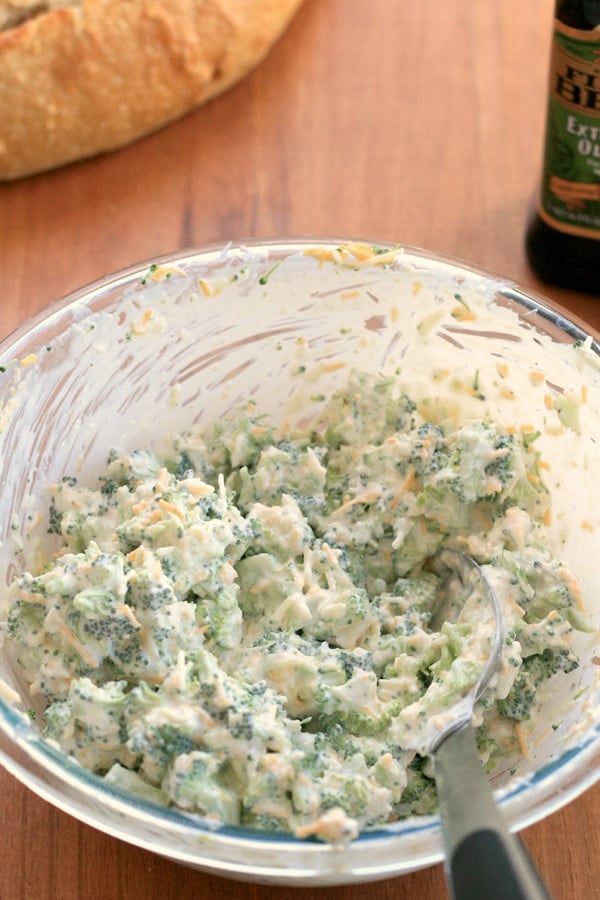 After you get everything mixed together as instructed above, your creation should look like the picture above, as well. Yum! I just want to dig in now. Creamy, cheesy and gooey, who can resist?!
3. Put the mix you created into a lightly greased 9×9 baking dish and bake it in the oven for 25 minutes.
4. While you are waiting for the mixture to cook in the oven, now is the perfect time to remove the insides from your loaf of sourdough, in order to create a bread bowl for your hot broccoli dip.
Because really … isn't everything better when it is served from a bread bowl? Especially when it gets to the very end and you can use the bread as a delicious way to scoop up those last bits of broccoli cheese dip. It's the best!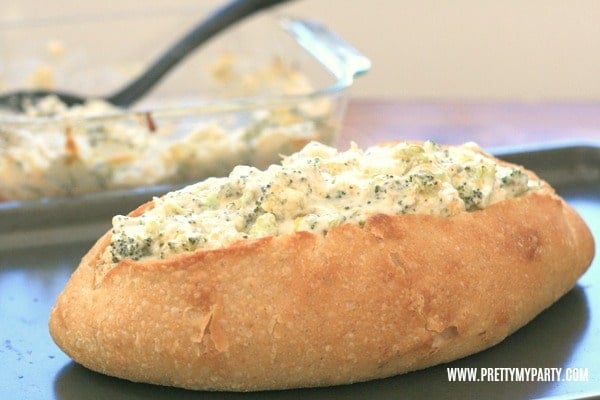 5. Once the broccoli mix has finished cooking in the oven, it's time to pour the hot broccoli dip into the bread bowl that you just created. Mmmm … this looks so delicious and I'm totally ready to dig in!
Oh, but you're not quite done yet! You have just a couple more steps to go before your creation is all set to be presented to the masses.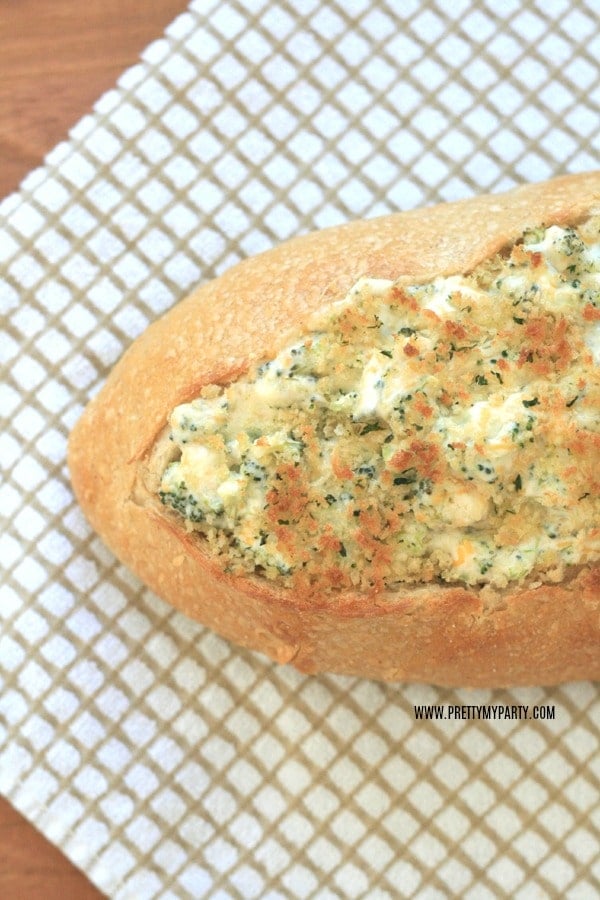 6. Now, mix the panko and olive oil from your ingredients list and sprinkle it evenly on top of the broccoli mix.
7. Broil the Baked Broccoli Parmesan Dip in the bread bowl for 2 minutes. Make sure to keep an eye on it, as you don't want it to burn, just turn a golden brown on top. And it won't take long! When it's ready, it should look similar to the above picture.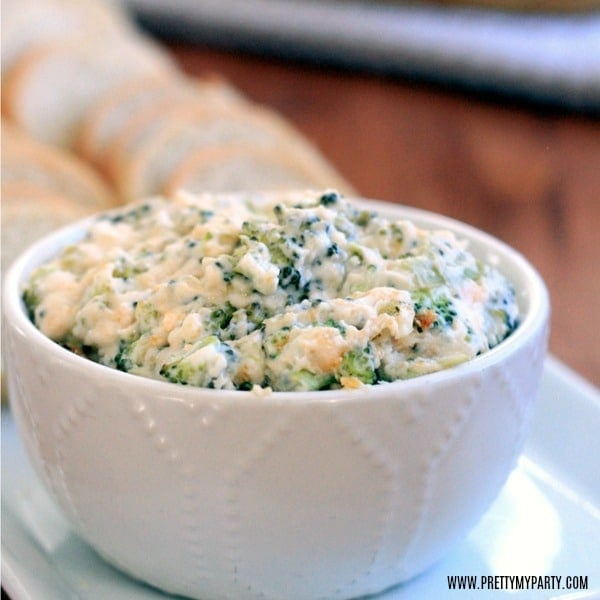 Now, head on over to that fabulous party you were invited to and bring along your amazing appetizer of Baked Broccoli Parmesan Dip! If you have any extra that didn't fit into the bread bowl, feel free to add it into its own serving bowl and take it along, as well.
You can serve it with little slices of bread, as you can see in the picture below, but another great thing that would go with this delicious Broccoli dip are various toasted crackers or even Tostitos chips.
Another great combination with this broccoli cheese dip recipe would be toasted baguettes. There are many different kinds that you could purchase to go with this hot dip recipe, but it's also easy to quickly prepare your own toasted garlic herb baguettes. I just love these and can eat them all day long! So delicious!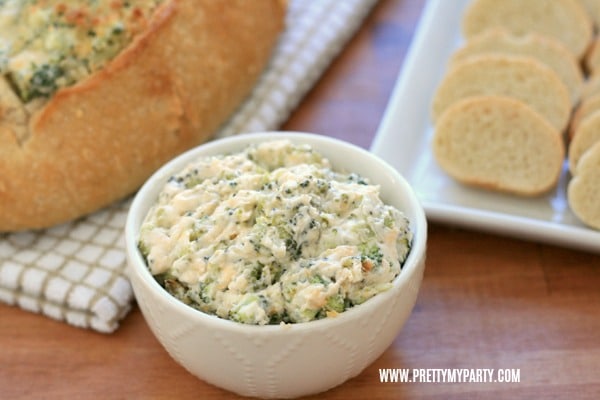 Broccoli dip is always a hit and it's one of those great appetizers that is so easy, yet such a crowd-pleasing treat. Because it's a hot broccoli dip, you need to make sure you are prepared to serve it upon finishing it up, so you will need to think about where it would be best to take it with you.
However, with an insulated appetizer carrier and a short drive across town to a friend's house, this will be perfect. And you can always heat it up briefly if you feel it may have cooled down too much. It's that perfect appetizer that lasts for the entire night.
That being said, it won't last for the entire night because it will be gone way before then!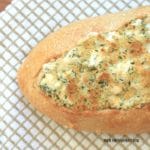 Baked Broccoli Parmesan Dip
Make this baked broccoli Parmesan dip for your next party. It makes the perfect party appetizer and will be a total crowd-pleaser.
Ingredients
1

Sourdough loaf

round or oval shaped

8

oz.

Cream cheese

3

cups

Broccoli florets

chopped

1/2

cup

Parmesan

shredded

1/4

cup

Mozzarella

shredded

1

cup

Cheddar

shredded

1/2

cup

Sour cream

1/2

cup

Milk

1/2

tsp.

Onion powder

1/2

tsp.

Garlic powder

1

tsp.

Olive oil

1/4

cup

Panko
Instructions
Preheat oven to 350 degrees

Mix cream cheese, broccoli, Parmesan, mozzarella, cheddar, sour cream, milk, onion powder and garlic powder

Put mix in a lightly greased 9x9 baking dish

Bake for 25 minutes

Remove insides of bread to create a bowl

Pour broccoli mix into the bread bowl

Mix panko and olive oil, sprinkle on top of broccoli mix

Broil for 2 minutes

Serve and enjoy!
Enjoy! This is sure to be a crowd-pleasing hit and be prepared to share your "secrets", which are actually so easy that nobody will believe it was such a quick thing to make. It is the absolute perfect appetizer for any party or event. Baked Broccoli Parmesan Dip is always a hit!