30 Cute Cat Birthday Party Ideas
There is nothing more adorable than a cat birthday! If you're little one adores cats or kittens, a cat party is purrfect for you!
Attention cat lovers: We're totally digging the cat party trend right now! There are so many fun and unique ways you can make your cat birthday glam and super girly! Just by adding glitter, sequins, flowers, and other elements, you can create the most memorable cat party for your little girl's birthday! Are you KITTEN me right MEOW?! No seriously, the PURRFECT Cat Party Ideas are at your fingertips, so dig in and start your party planning! Here are 30 Cute Cat Birthday Party Ideas that will blow your birthday girl and her friends away! There's certainly no shortage of cute birthday ideas here!
Cat Party Ideas
Cute party ideas – check! This awesome list includes ideas for cakes, dessert tables, party supplies, decorations, and DIY projects. Make cute cat banners, pinatas, favors, and more with all of the cute birthday ideas here.
Cat Party Supplies
Here at Pretty My Party, we're always crushing over gorgeous dessert tables and with this one, we're totally smitten! How PURRFECT would this be at your child's cat party?! If you have a girly girl on your hands, show her this Glam Kitty Cat Dessert Table!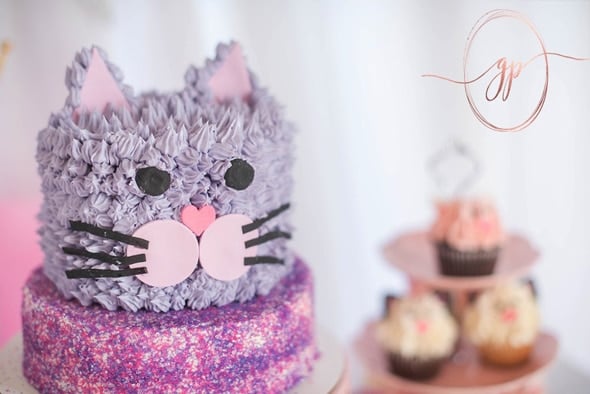 If you're planning the ultimate cat birthday, you will need the most amazing cat birthday cake! This Glam Cat Birthday Cake will definitely excite your little one and her friends! We love the purple and pink sprinkle bottom and cat head design on top! Add some cute cat cupcakes to match and your dessert table will be full in no time!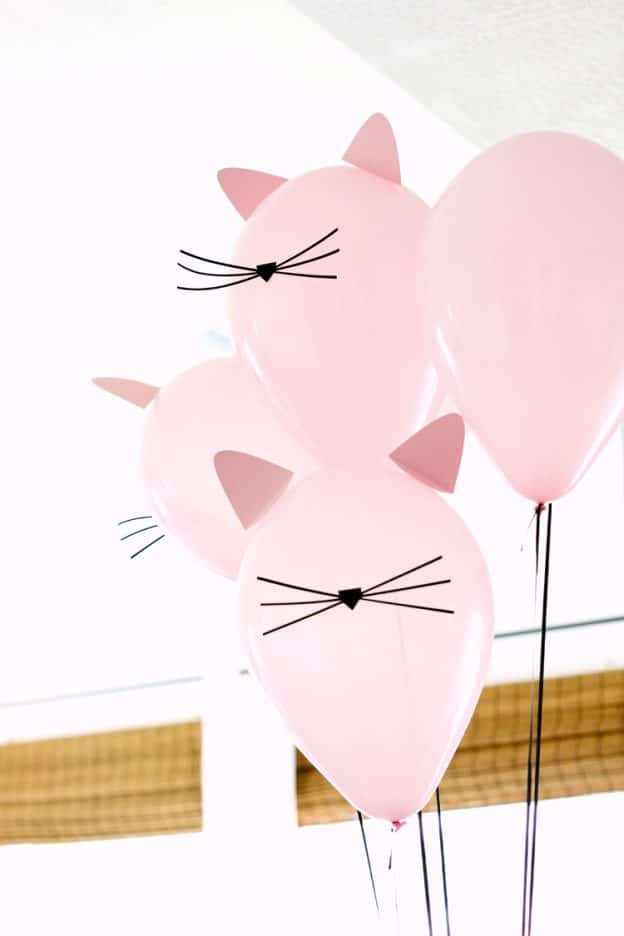 Roll up your sleeves and get ready for a little balloon craft with these adorable Kitty Cat Balloons! They are quick and easy to make and your child will love helping with this project! This is a fun and cost-effect party decoration for your child's cute cat birthday!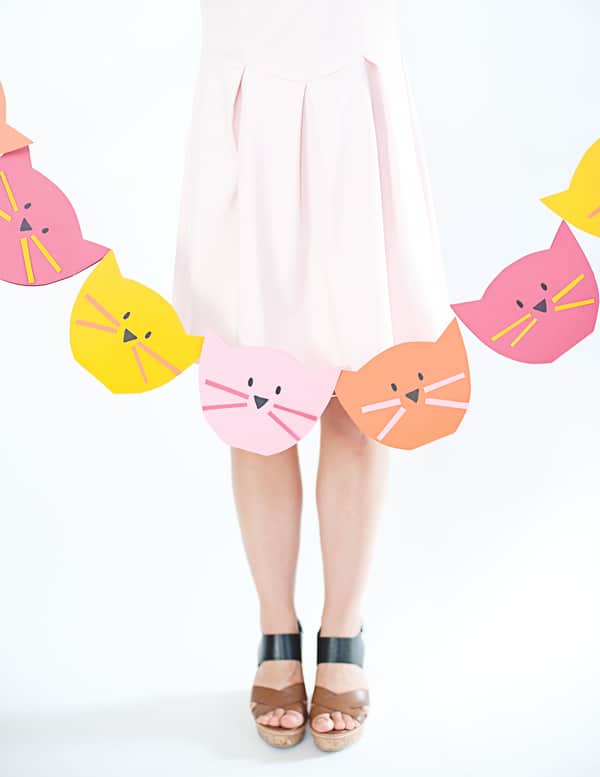 If you're looking for a fun, bright and colorful cat party project, this DIY Kitty Cat Garland is super cute and easy to make. It makes the perfect cat party decoration.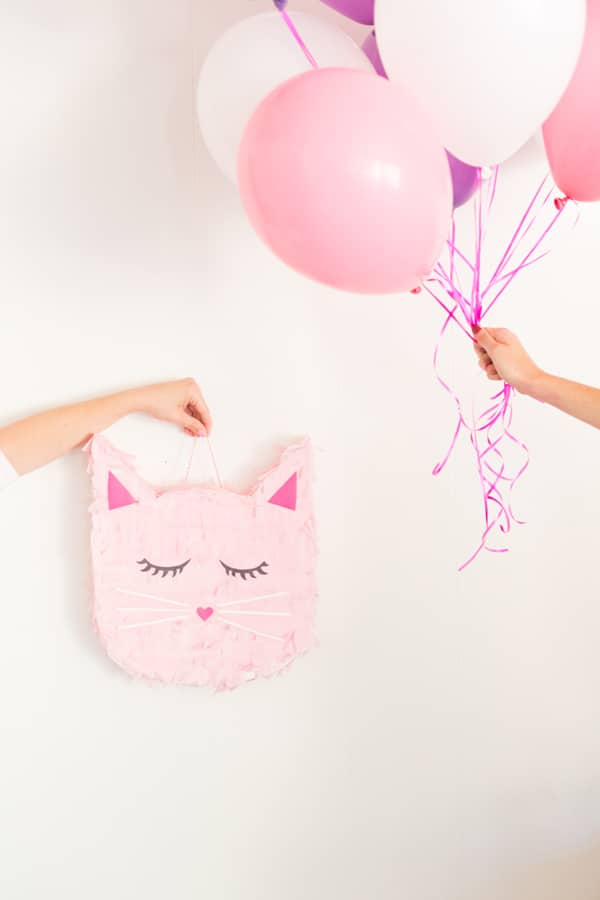 Every child's party is more fun with a pinata, right?! This DIY Kitty Cat Piñata is just what you need for your cat birthday! Make this cat pinata part of your party decorations or fill it with goodies for the party guests. A pinata also doubles as party favors because you can give the kids bags to fill up with candy before they go home! A win-win Mom!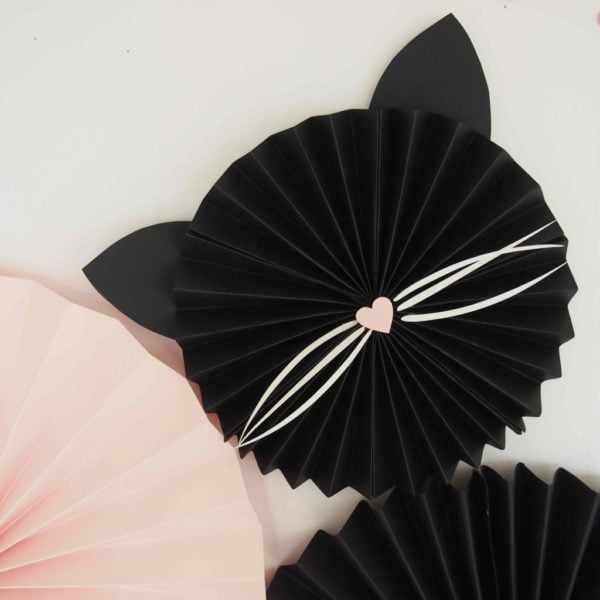 These easy Kitty Cat Party Decorations are simple to put together and can be used for the cake table backdrop or you can hang them around your party venue from the ceiling.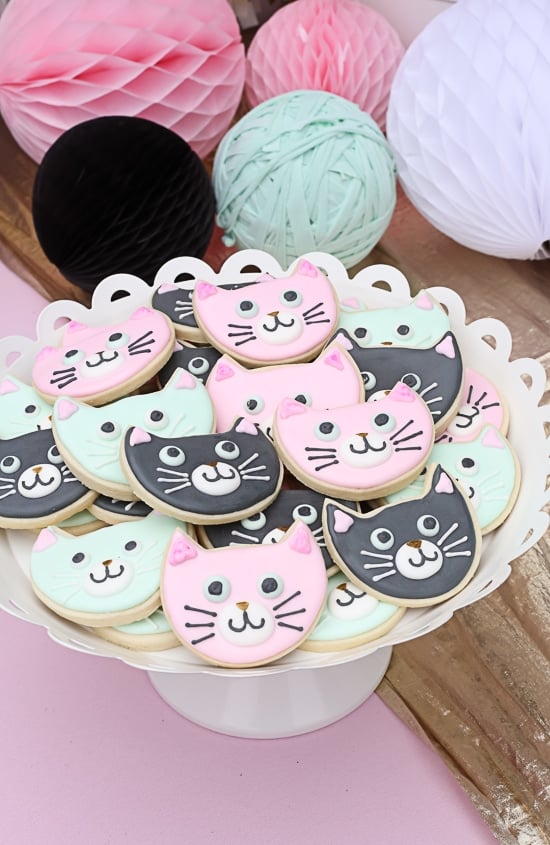 These adorable Kitty Cat Cookies are a must-have for your cat birthday dessert table. You can also give them as cat party favors. Seriously, how cute are they?!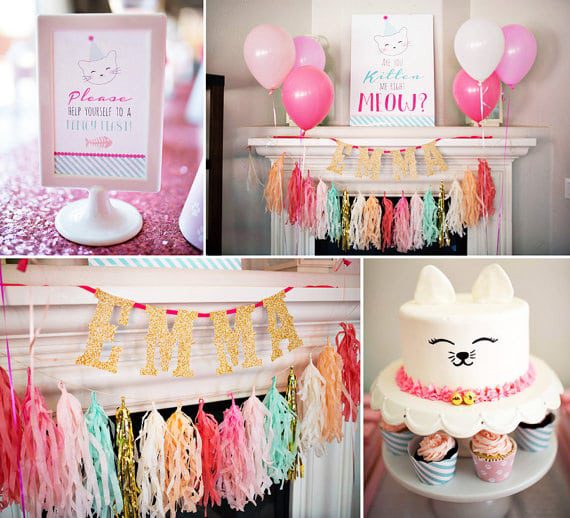 This girly Kitty Cat Party is too cute! Don't you just love that sign "Are you Kitten Me Right Meow?" Everything from the colors to the cake to the decorations are a little girl's dream!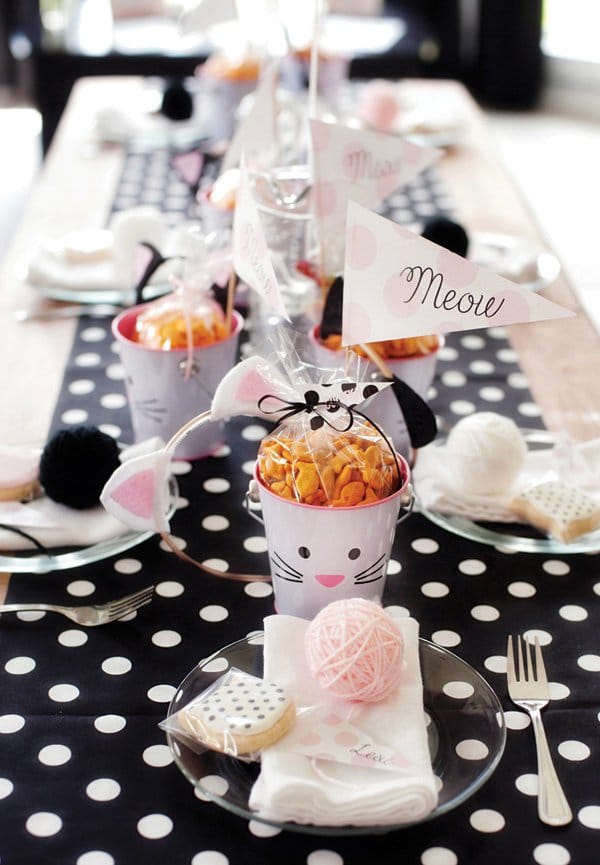 We love how this Kitty Cat Kids Party Table features a ball of yarn, kitty cat ears, and a kitty cat tin bucket with treats! Too cute! Don't you just love all of these cute cat party ideas?! The black and white polka dot pattern also pairs nicely with the cat decorations!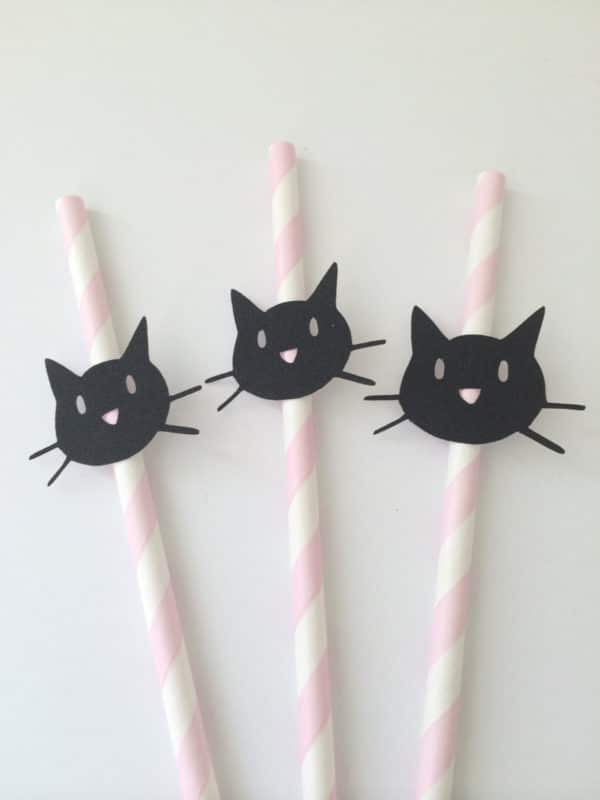 These Kitty Cat Straws would look so adorable in the children's party cups! It's all about the small details when it comes to children's birthday parties and this small detail definitely won't go unnoticed!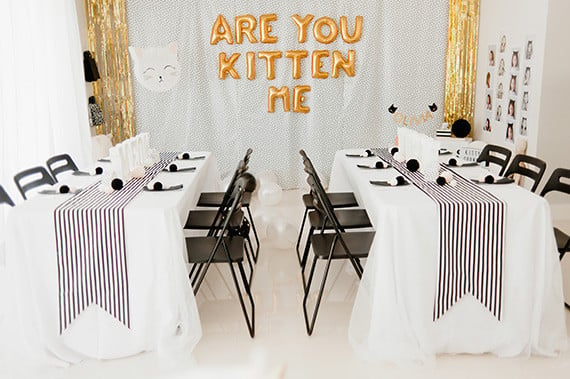 This super chic Are You Kitten Me Party is full of great details that you can use for your cat birthday! We love the black, white and gold party colors, along with the striped table runners, black chairs, and the gold balloons and streamers.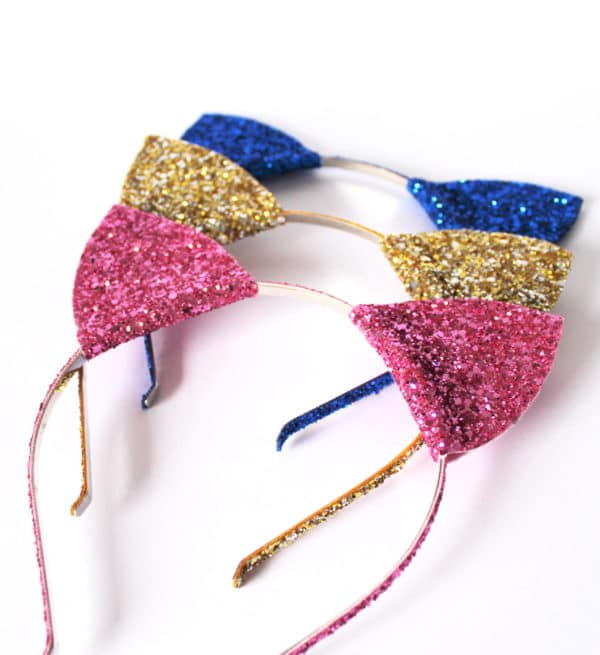 There's nothing better than these Glitter Kitty Cat Ear Headbands for your daughter's birthday party! The girls will have a blast wearing these at the event! Plus, you can give these as party favors!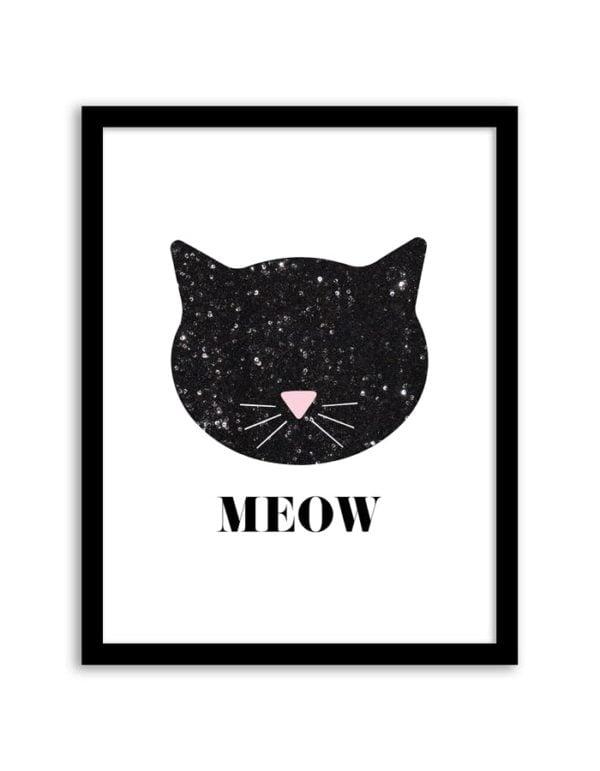 This DIY Sequin Wall Art Printable would make the perfect party decoration! Plus it's FREE, which is always great when you can add a cute and free party printable to your party decor. Place this on your dessert or gift table at your cat birthday!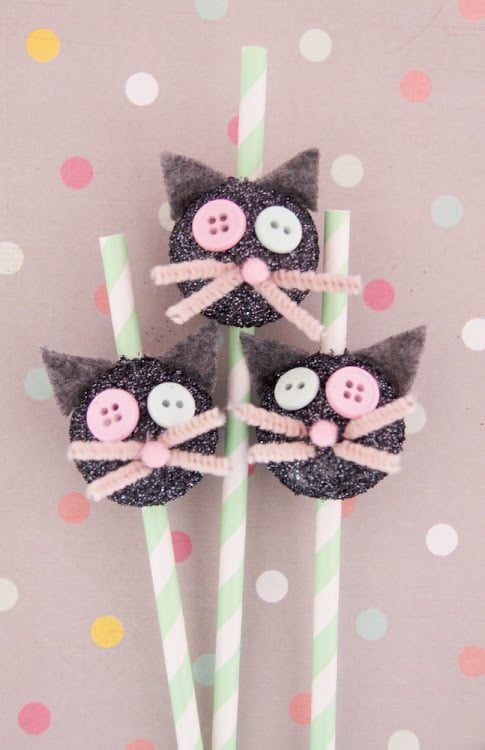 These fun DIY Kitty Cat Straws are a great added detail. You can even have a fun crafting station set up for the girls to make them together! They will have so much fun crafting some cute cat crafts at your cat birthday!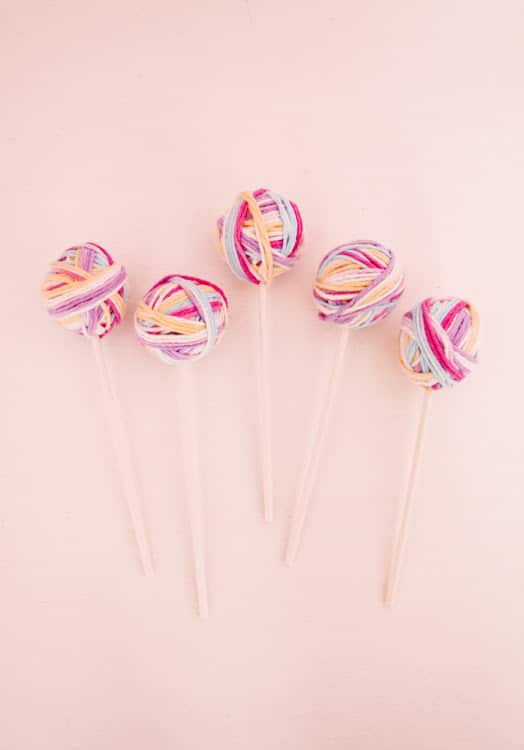 We love these DIY Kitty Cat Yarn Ball Cupcake Toppers! What a great idea to dress up your cupcakes for your cat party! It's great to think outside of the box when it comes to the creativity of children's birthday parties!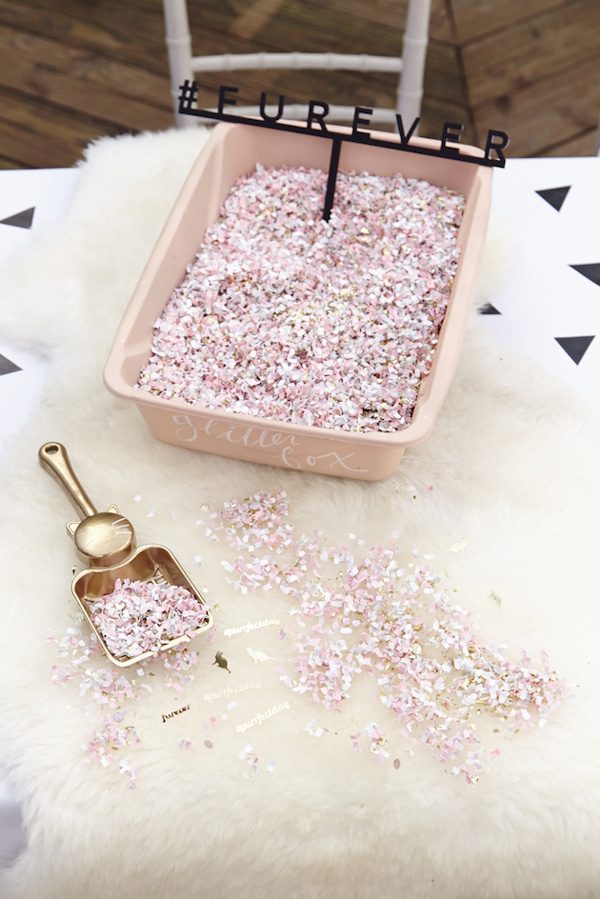 Another fun, creative cat party idea is this Glitter Box! What a fun detail for a cat birthday! The girls will have a blast playing with glitter and confetti!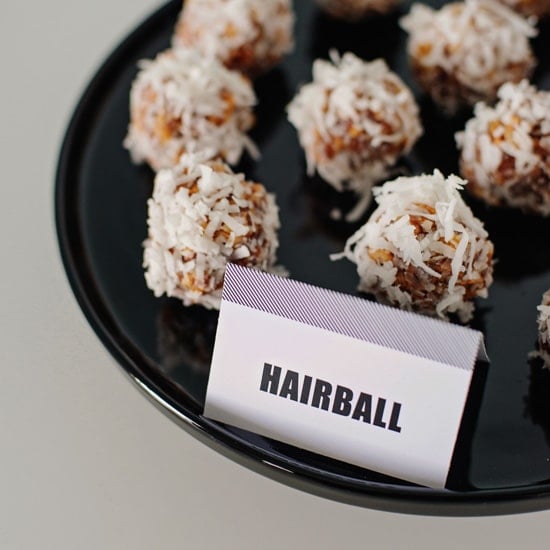 A nod to the ol' hairball, these Hair Ball Cookies can be added to your dessert table! What a clever idea for a cat birthday!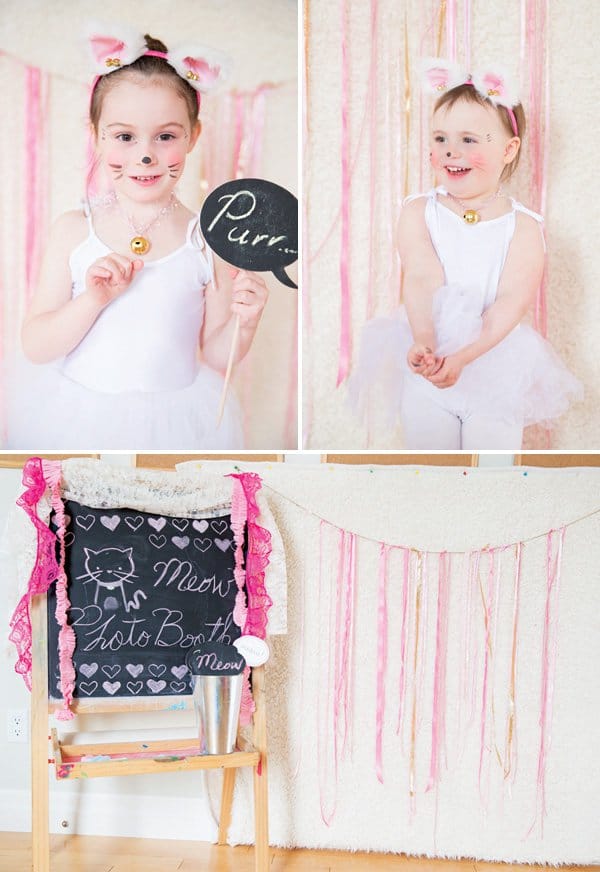 Everyone loves a good photo booth! Add a cute Kitty Cat Photo Booth to your cat party like this one. It's so easy to incorporate into the party, and everyone will have a blast taking photos with fun props.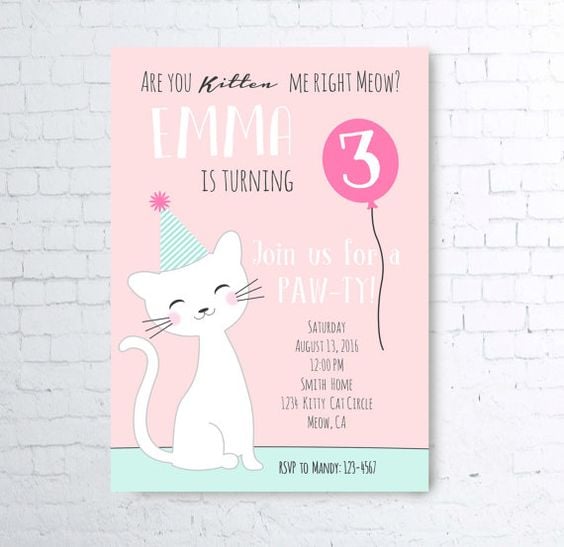 Set the tone and cuteness for your cat party with an adorable cat invitation! We just adore this Kitty Cat Party Invitation – perfect for a cat birthday!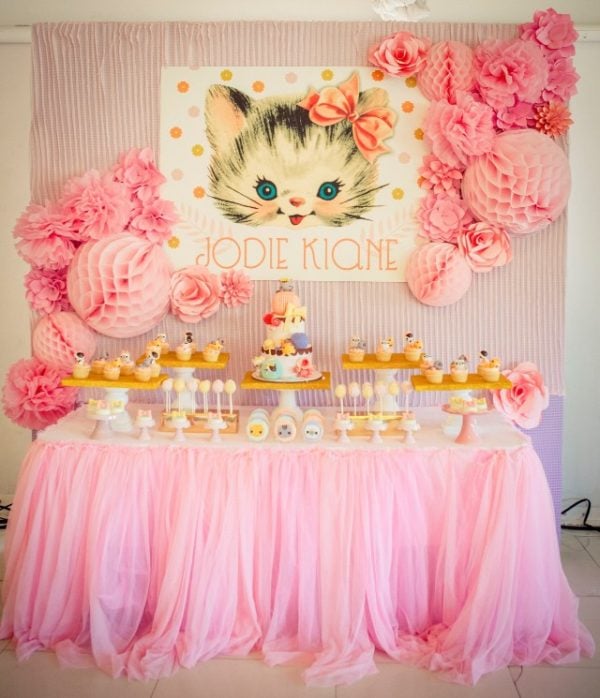 You can always go a little vintage with your cat party theme and get inspiration from this beautiful Vintage Kitty Cat Dessert Table!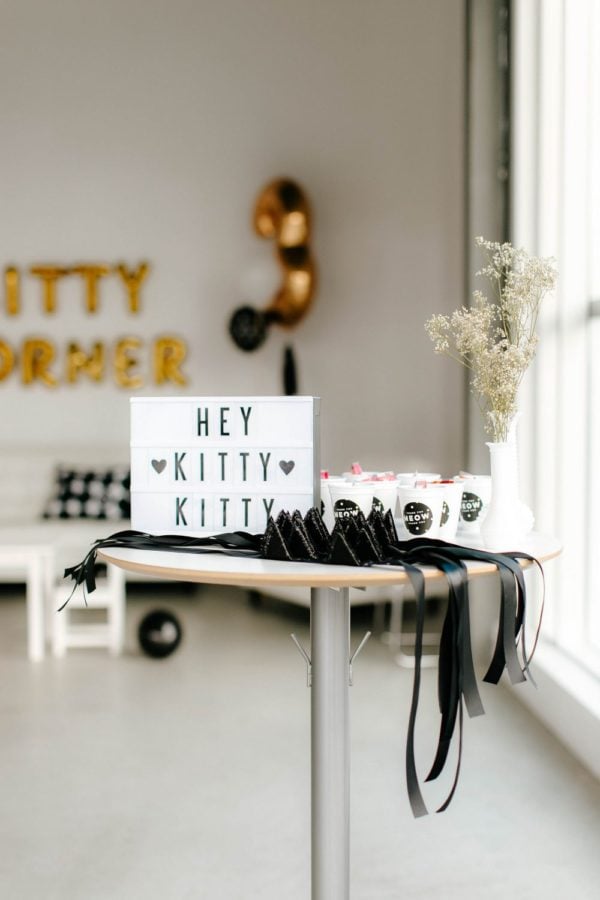 Incorporate a light box sign like this Kitty Cat Party Sign where you can put the cat ears and party favors during your cat birthday.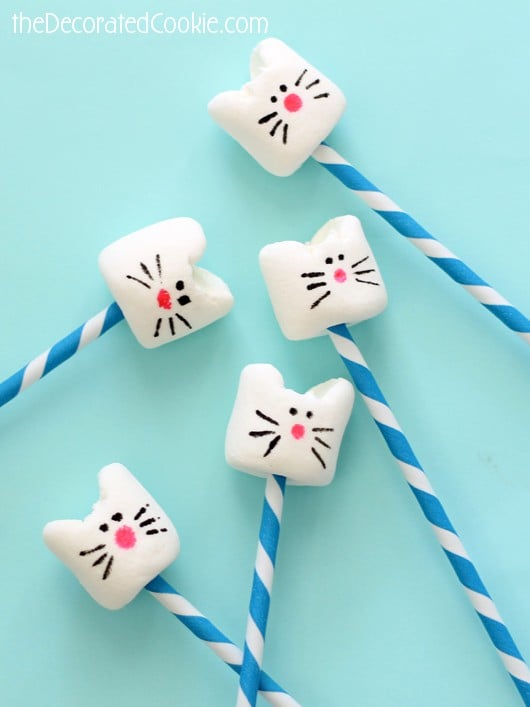 Learn how to make these adorable Kitty Cat Marshmallows on a Stick for your cat party! The kids will adore these sweet treats!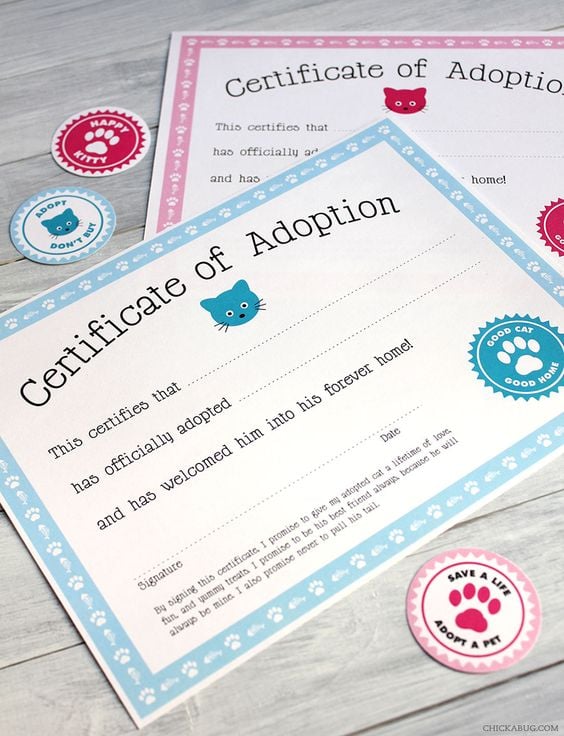 Grab this Free Cat Adoption Printable and pair them with plush kittens to give as party favors! The girls can even name their own kittens to take home … how sweet!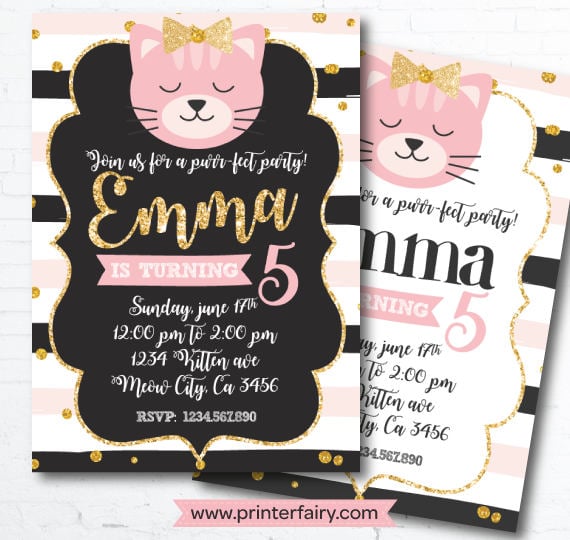 If you're looking for a girly glam cat party invitation, this Kitty Cat Printable Invitation is PURRFECT for your cat birthday!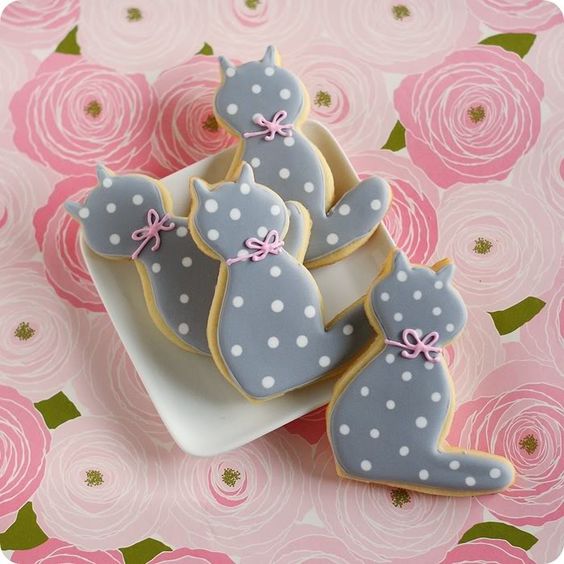 How precious are these Kitty Polka Dot Cookies?! Add them to your dessert table for another sweet treat idea!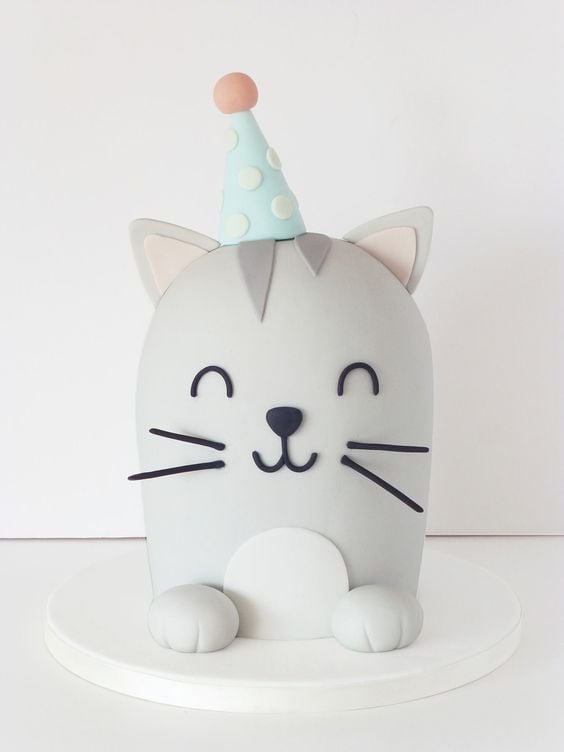 Get inspiration for your cat themed birthday cake from this awesome Kitty Cat Cake!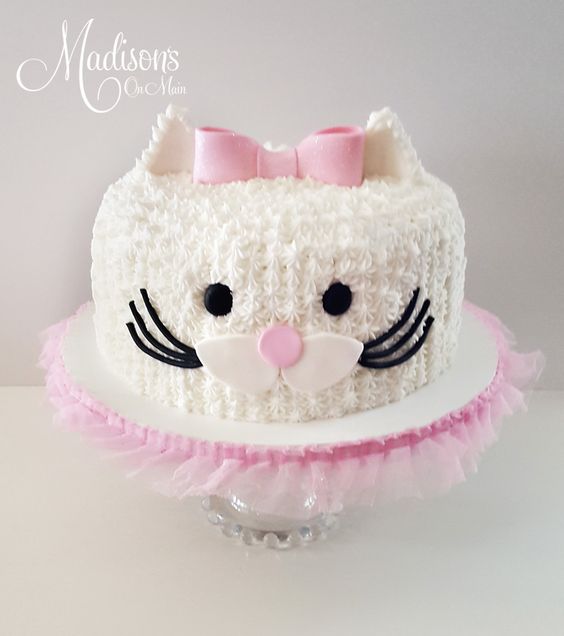 This Pretty Kitty Cat Cake is another great cake idea for your cat party! We absolutely adore the pink tutu skirt on the cake stand as well!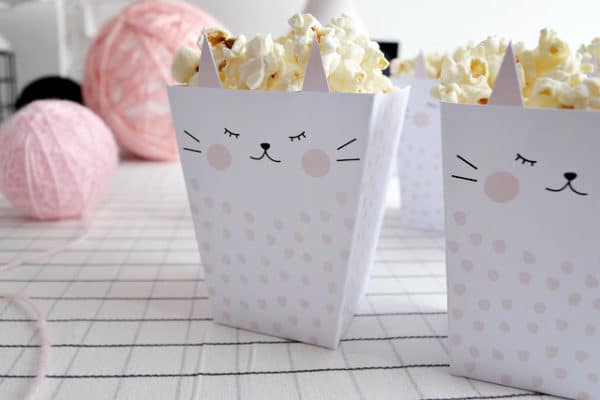 How adorable are these Kitty Cat Popcorn Boxes?! Add some popcorn or another snack for a cute display at your cat birthday!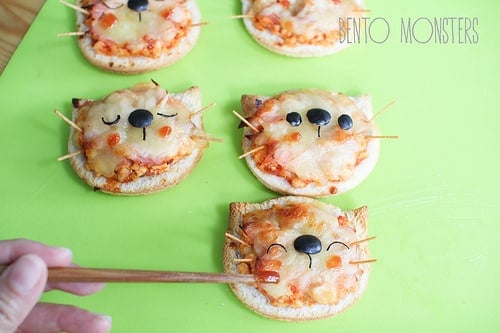 Looking for a fun food idea for your party? How about making Cat Mini Pizzas?! So clever! Plus, you won't have a hard time getting the kids to eat these cuties. How creative is this party food idea?!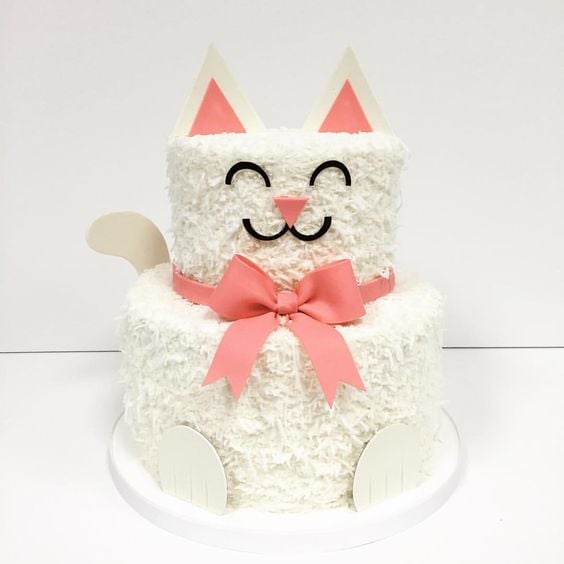 This Kitty Cat Birthday Cake would make a great centerpiece on your dessert table for your cute cat party!
Now that we've given you some of the best cat birthday ideas out there, which of these 30 Cute Cat Birthday Party Ideas are your favorites? Let us know in the comments below!