Adorable LOL Surprise Birthday Party
Little girls are going crazy over LOL Surprise Dolls. That's why this LOL Surprise Birthday Party is the perfect way to celebrate your next little lady's birthday!
Who wouldn't be tickled pink with this LOL Surprise Doll Party! It's quite the hit right now and little girls all over are clamoring to collect as many LOL Surprise Dolls as they can. And why wouldn't they, with how sweet and adorable these little LOL Surprise Dolls are! If your little girl is asking for an LOL Surprise Birthday Party, check out these great LOL Surprise Party Ideas!
LOL Surprise Birthday Party
In a world full of dolls, and little rocker babies, who knew that something like the LOL Surprise series would spring to life! What a cute and edgy series that all of the little girls are flocking to recently. That's why this birthday girl wanted to make this her birthday theme for her big day. She couldn't wait to share all of the fun things she was able to help create for her birthday party!
Just look at these incredible details for the sweet LOL Surprise Birthday Party. The LOL Surprise party decorations are a hit and we are absolutely in love with that amazing cascading balloon feature on the dessert table! It is such a powerful decoration and is a great focal point for any dessert table!
LOL Surprise Party Supplies: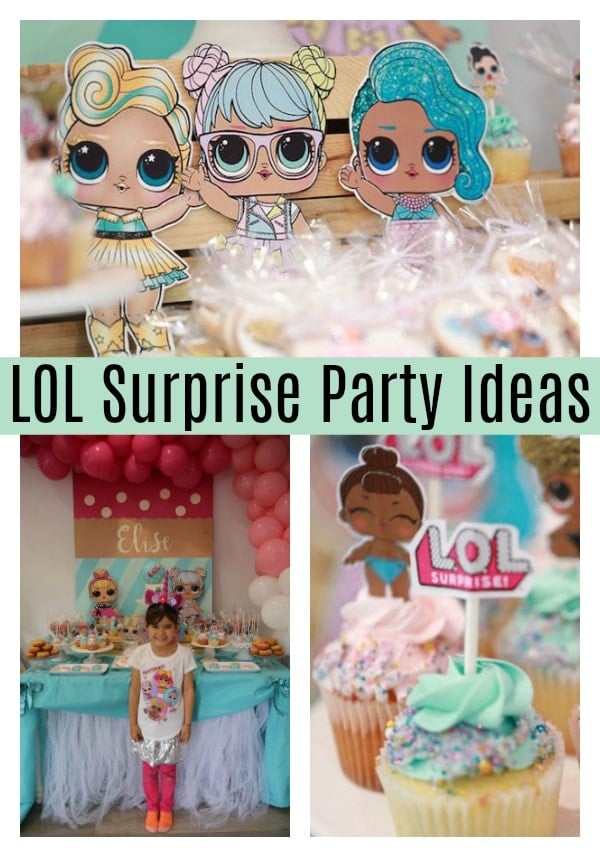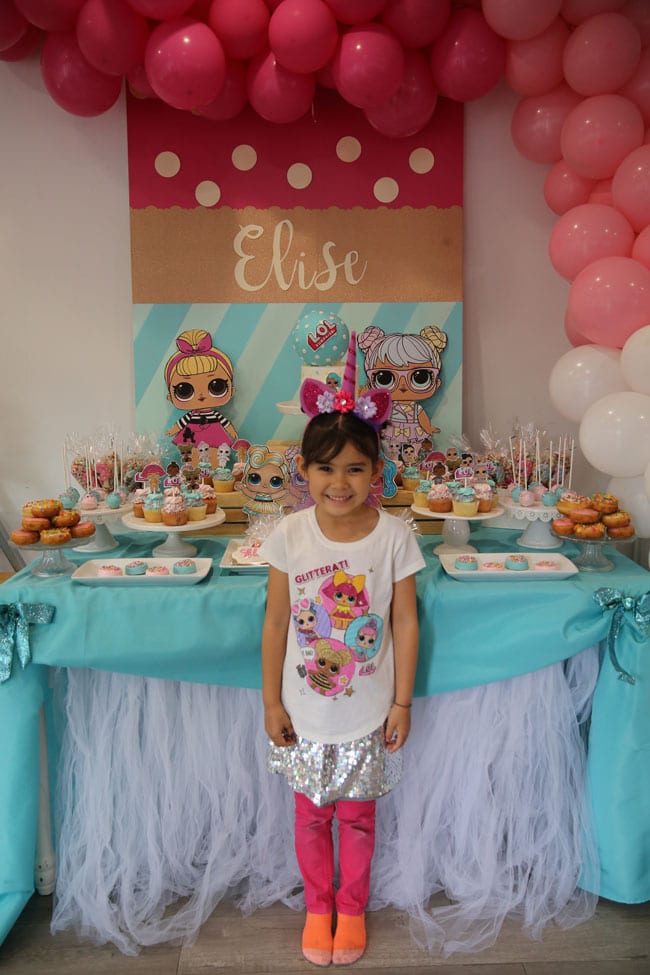 This LOL Surprise Birthday Party has is all – a fabulous dessert table, the birthday girl donning her LOL Surprise Doll Birthday Shirt, and a lot of desserts to satisfy the sweet tooth. What more could a girl ask for on her birthday?! The color palette for this LOL Surprise Party is so bright and fun. Mon Amie Harlow had so much fun putting everything together. It just screams FUN!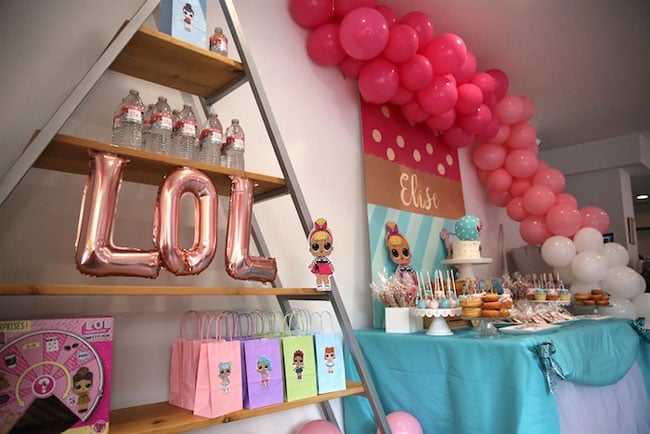 This party has it all. LOL balloons are everywhere and the LOL dolls are making their appearance loud and proud! We love it! And every girl is going to get to take home the best LOL Surprise favor bag. We're so jealous! It looks like a little girl's dream party!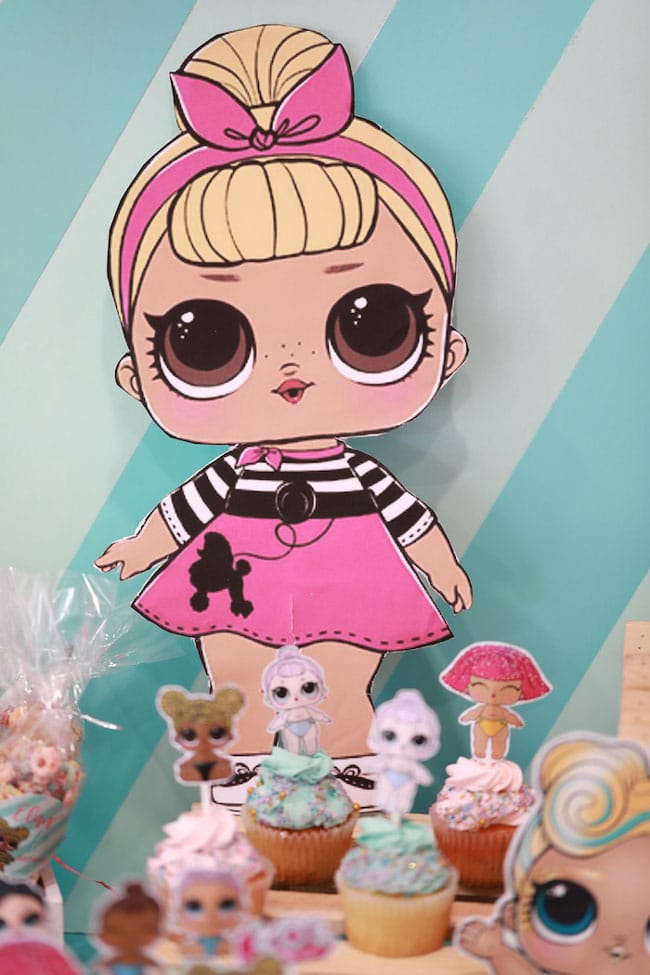 LOL Surprise Dolls are front and center at this LOL Surprise Birthday Party! Just look at all of those delicious treats waiting for the party guests to dig into! It's hard not to run and grab one as soon as you walk in, so we're sure the sweet guests are going to be dying to get their hands on those cupcakes, cookies and cake pops!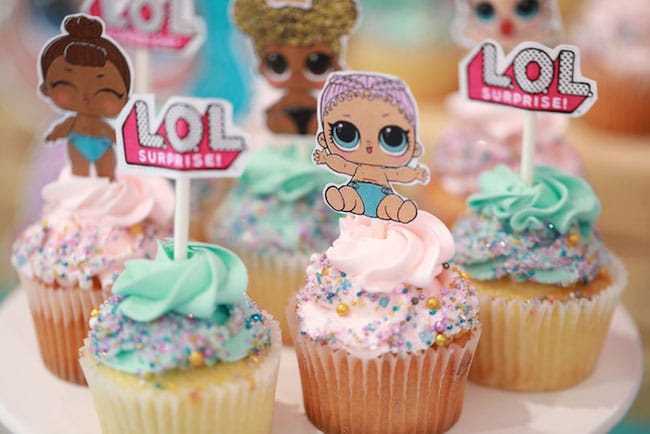 How sweet are these delicious looking LOL Surprise cupcakes?! The pastel colors are a hit for this event and the LOL Surprise Doll cupcake toppers are the perfect accessory for this perfect dessert! LOL Surprise babies are going to rule this fun girl's birthday party! Mint and pink cupcakes were also topped with lots of sprinkles which the girls loved.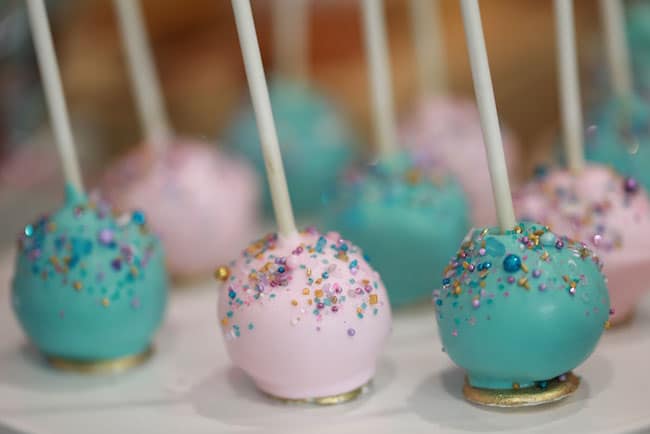 You thought the cupcakes looked good, check out these yummy cake pops! With the glitter bombs being a big hit in the LOL Surprise world, it's perfect to have the cake pops decorated with "glitter", too! They are all bedazzled perfectly and it fits the theme to a tea. What fun dessert options for this LOL Surprise Birthday Party!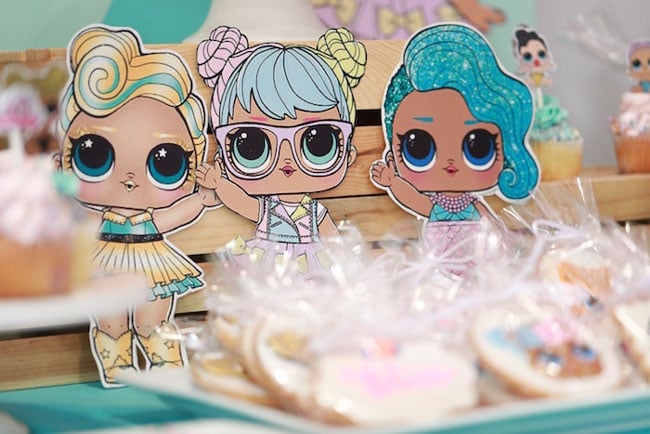 These little LOL Surprise baby rockers are more than happy to have everyone come and pick up a cookie for the fun LOL Surprise Birthday Party! And since they are individually wrapped, you can even take one for the ride home! What a perfect way to make sure you don't have any leftovers. You can simply throw any extras into the favor bags to send home with the party guests and be done with clean-up on this item easily!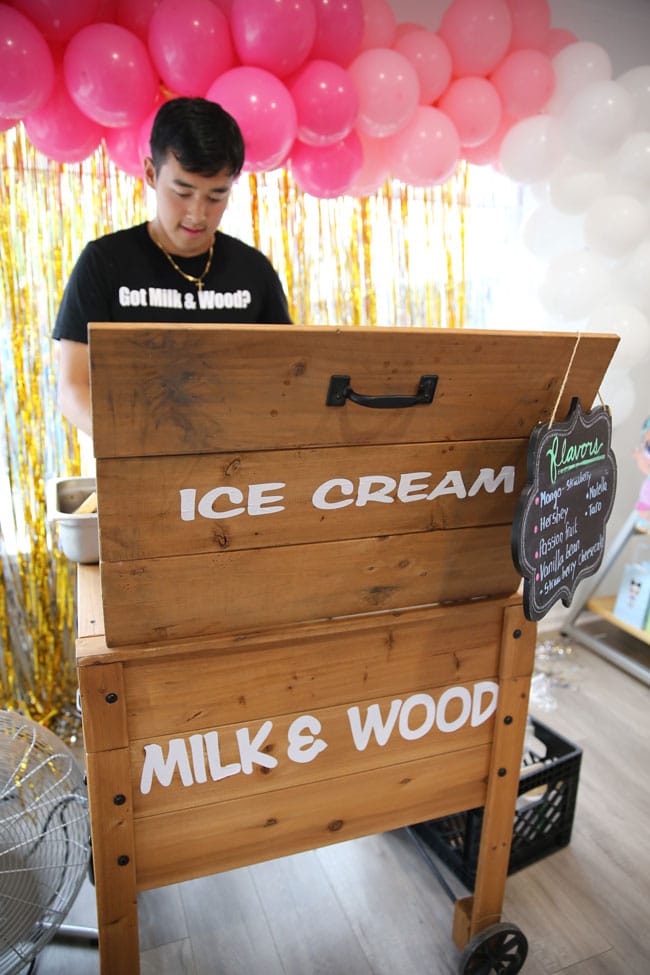 As if the delicious desserts above weren't enough, this LOL Surprise Birthday Party even has an ice cream cart for guests to enjoy! Who doesn't love ice cream, especially on a warm day for a fun birthday party. We bet that this birthday girl was over the moon with this fun and special surprise at her LOL Surprise Birthday Party. How could she not be?!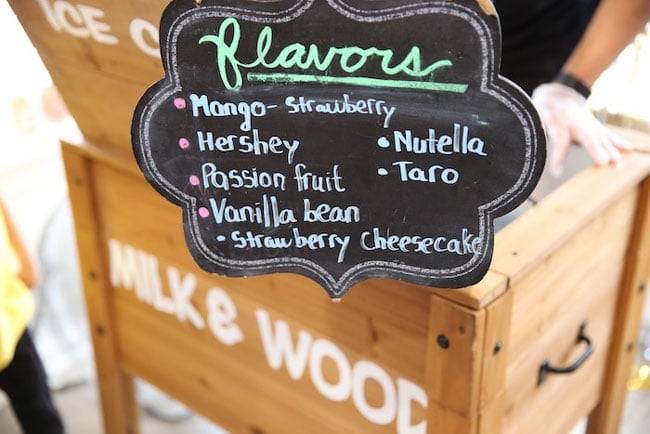 We see a lot of delicious flavors offered at the Milk and Wood stand for this birthday party. What a great idea and it makes it so much easier when someone else is in charge of all of the ice cream! It's an absolute adorable set-up, as well.
Ice cream sundae bars are always a big hit at kid's birthday parties, but they can also be a mess if you're not prepared well. This takes all of the stress off of your plate and lets you enjoy the day, as well!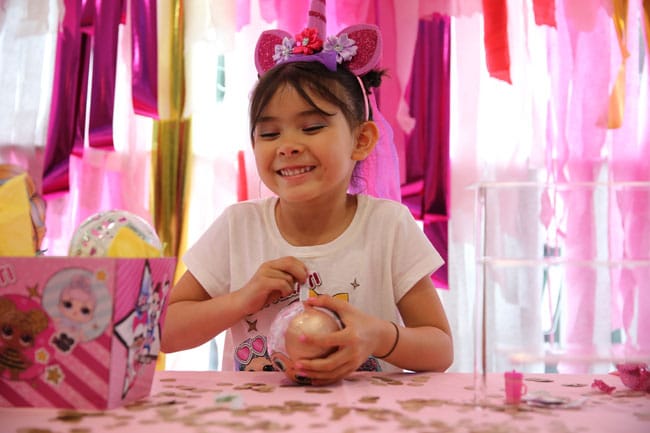 What better way to celebrate the day than with some glitter and confetti fun?! That's what the LOL Surprise theme is all about and these little babies are ready to help you rock your fun event! And how about that cute birthday shirt our lady of the hour is wearing?! She knows how to style up an LOL Surprise Party with no problems!
She is set to go with some crafting fun and is ready to celebrate her big day with all of the special people in her life. It's time to glitter bomb the LOL Surprise Birthday Party! We're sure all of her party guests couldn't wait for this fun birthday activity. LOL Surprise Confetti pop is huge, and we bet she couldn't wait to share this fun activity with her friends. What a perfect way to celebrate at her LOL Surprise Party!
What a fun birthday party theme for girls! This LOL Surprise Birthday Party was everything that the birthday girl dreamed of and more!
For more party ideas, follow us on Instagram @prettymyparty and Pinterest and join us in our private Facebook group.
Vendors & Credits