LOL Surprise Doll Themed Party
This LOL Surprise Doll Party is full of stylish pink party supplies and decor, favors, desserts, and more!
This pretty in pink LOL Surprise Doll Themed Party, styled by Charro Couture, is the perfect way to celebrate a birthday with your best girlfriends! Arianna had the best 7th birthday party ever, complete with beautiful pink and black LOL Surprise Party supplies, decorations, desserts, favors, and some arts and crafts!
Her and seven friends and three siblings had a blast at this fun craft party where they colored LOL Surprise Doll print outs, made bracelets, painted LOL Surprise Doll cookies, and ate sweets and treats. Guests were also treated to pizza, sandwiches, crisps, chocolates, and LOL Surprise Doll themed desserts.
If your daughter loves LOL dolls and wants an LOL theme party, check out all of the fun LOL party ideas below!
LOL Party Ideas
Pink and black balloon garland around dessert table
Pink, yellow and black cake with LOL Doll cake topper
Pink macaroons
LOL Doll cupcake toppers
Themed water labels
Pink LOL Doll party plates, cups and utensil holders
Gorgeous hot pink and light pink flower centerpieces in black boxes with LOL Doll topper decoration
Ghost chairs
Pink themed drawstring bags for each guest
Black boxes wrapped with pink ribbons around table centerpieces
Light pink bottles with LOL Doll decoration
Black favors bags and pink themed hats for each guest
LOL Doll Cookie painting and arts and crafts
Personalized LOL Doll chocolate bar wrappers
Pink sunglasses for each guest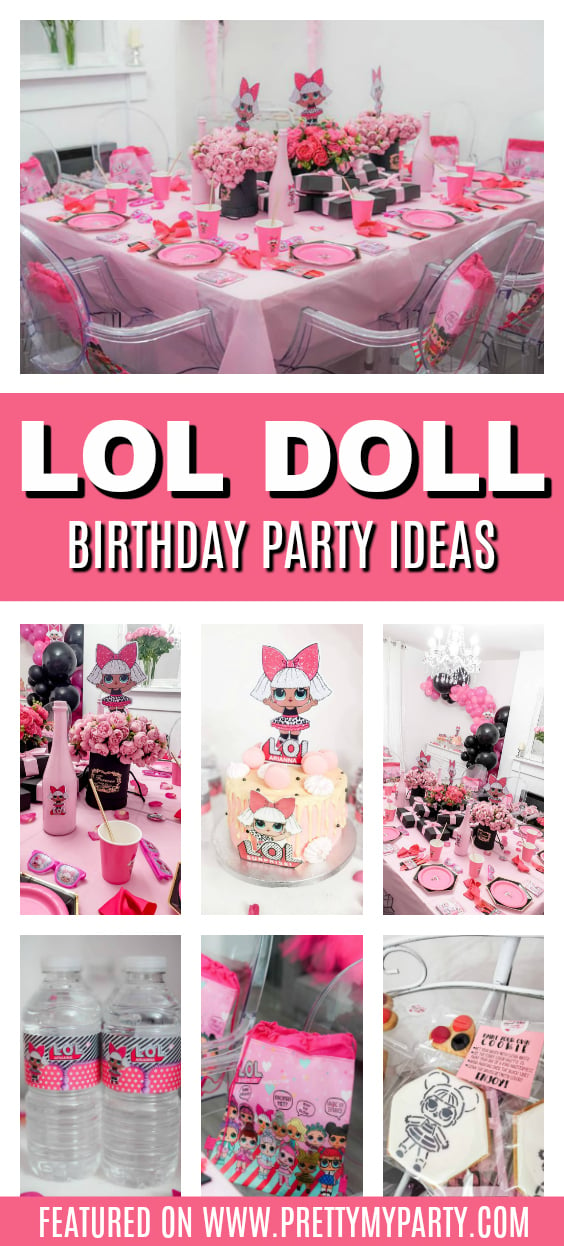 LOL Doll Party Supplies and Decorations:
These lucky girls had a great time with all of the sweets, treats and activities at this pink and black LOL Birthday Party! I think it's safe to say this birthday girl had the perfect 7th birthday!
Some of our favorite party ideas from this birthday celebration is the pink and black balloon garland and the beautiful table setting with LOL Doll decorations. What is your favorite details in this LOL Surprise Doll Themed Party? Let us know in the comments below!
For more ideas, follow us on Instagram @prettymyparty and Pinterest and join us in our private Facebook group.
Party Vendors
Balloons and Party Styling: Charro Couture
Cakes: Lesley Smith of Tasty Bakes
Cake Topper, Water Bottles Labels, Personalized Chocolates and Personalized Favors: Sarita Watts of My Cup of Tea Parties
Paintable Edible Cookies: Melanie of Elegant Baked Creations
Photography: Julie Wright of Ubuntu Photography