Adorable Some Bunny Is One Birthday Party
This Adorable Some Bunny Is One Birthday Party theme was absolutely to die for!
This Bunny themed party is absolutely everything! And with the Easter season upon us, it makes us want to throw this exact Adorable Some Bunny Is One Birthday Party for our Easter celebration, too! We just love it!
We are pretty impressed that this birthday girl's Mom was able to have this entire Bunny 1st birthday theme centered around a beautiful Bunny Birthday Cake that she found. One Fine Day Parties came up with the gorgeous Some Bunny Is One Themed Party in white and pink and everything turned out beautifully!
Some Bunny Is One Party Supplies and Decorations: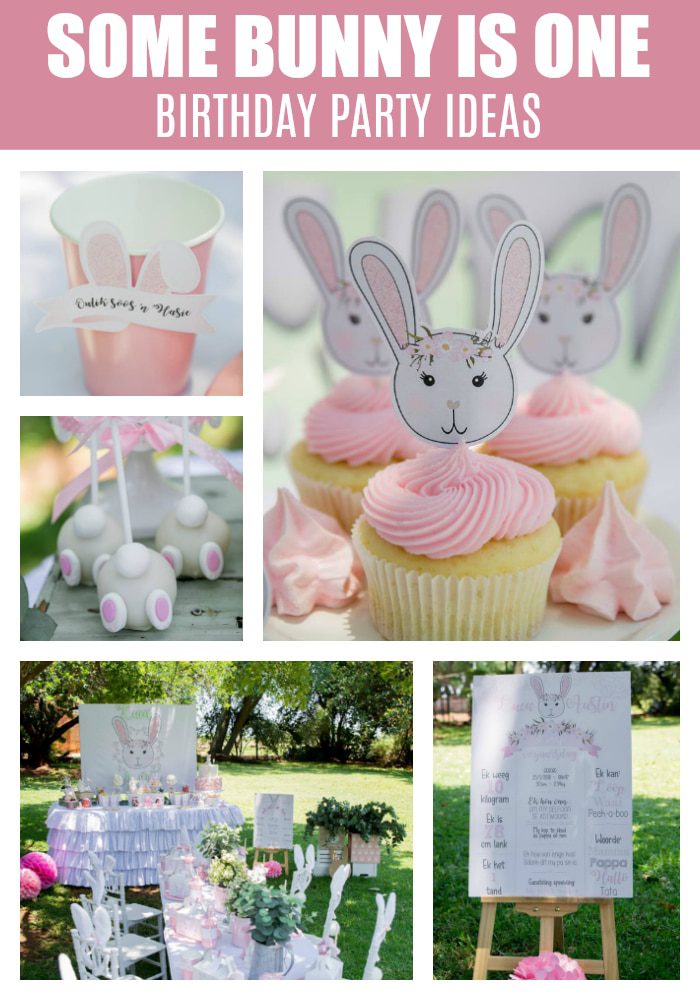 Relestie Photography took some amazing pictures of this Some Bunny Is One Birthday Party and we are sure that this birthday girl and her family are going to enjoy all of these wonderful memories for years to come!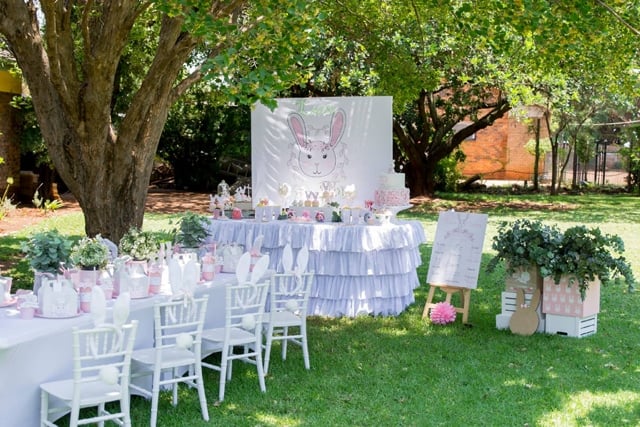 It is so sweet when a Some Bunny Is One Birthday Party can be held outside, in the gorgeous spring weather. Just look at this sweet and ethereal Bunny birthday party, that is bright and whimsical with the white color scheme. Everything looks so crisp!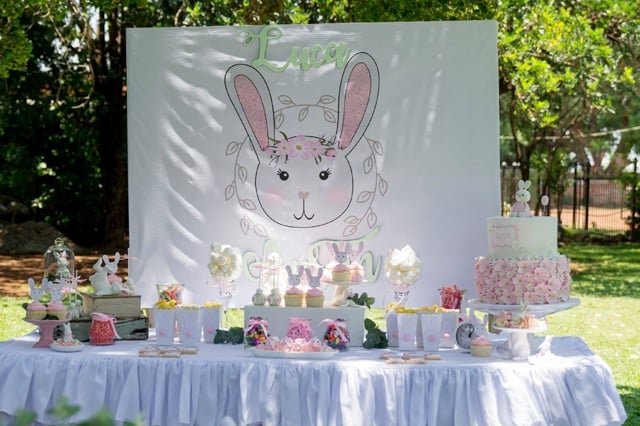 We love the dessert table for the Some Bunny Is One Themed Party and all of the Bunny birthday supplies that were a part of the event fit in perfectly! What a cute backdrop with the bunny head, that was seen on other pieces of the party, as well. What a great central theme!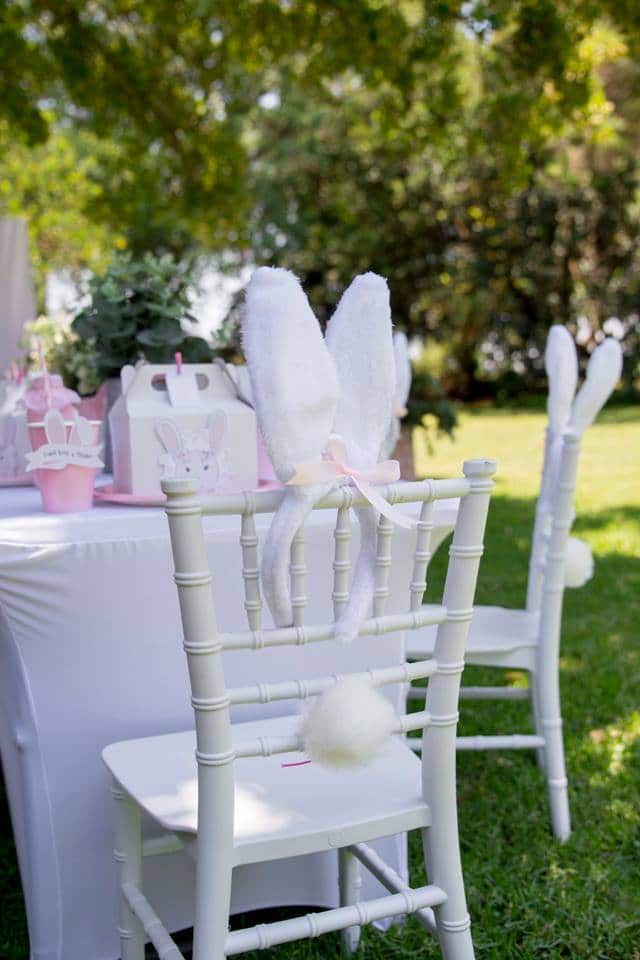 Bunny ears and tails just HAD to be used on all of the guest chairs at the tables. Because what would a bunny party be without that?! And seriously… it is about one of the most adorable Bunny party ideas that we could have hoped to even see! We love it!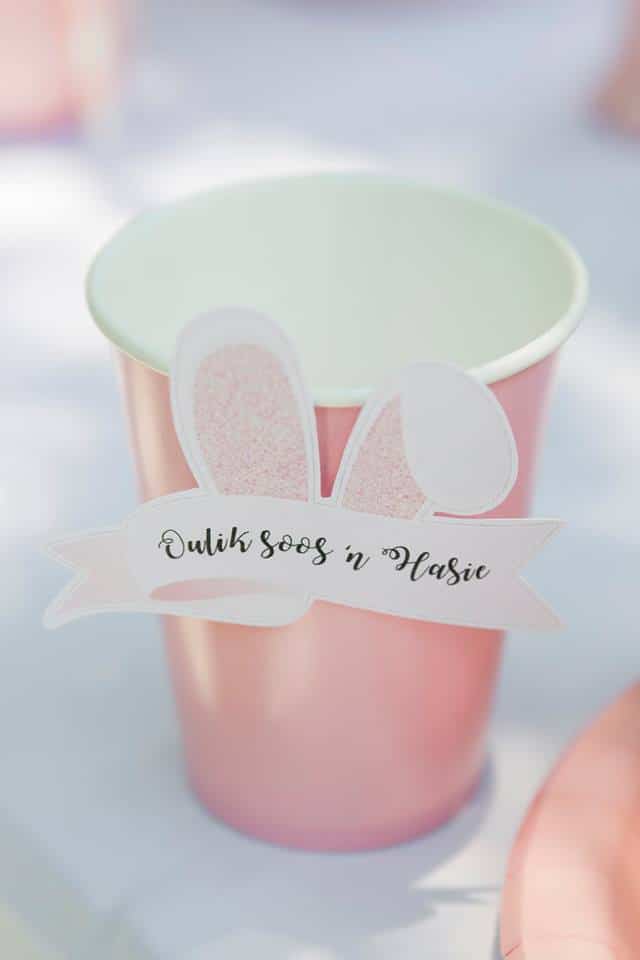 Even all of the drinking cups found at the Some Bunny Is One Birthday Party were decorated perfectly!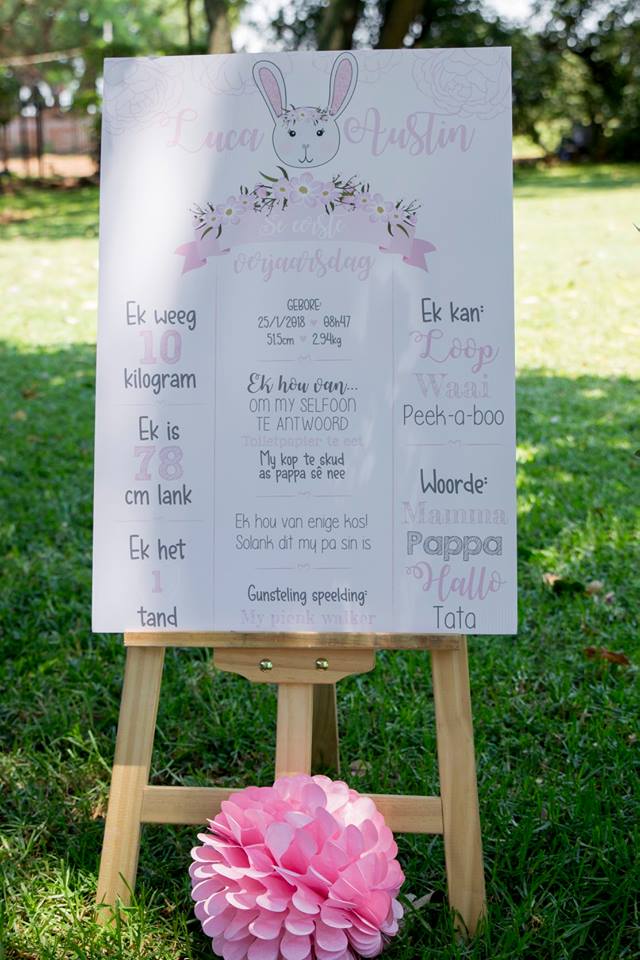 One of our favorite parts of first birthday parties are the signs that many of them include discussing all of the little birthday girl or boy's big milestones during their first year! It's a perfect bunny birthday decoration and can be framed in the future in hung up in your little birthday child's bedroom!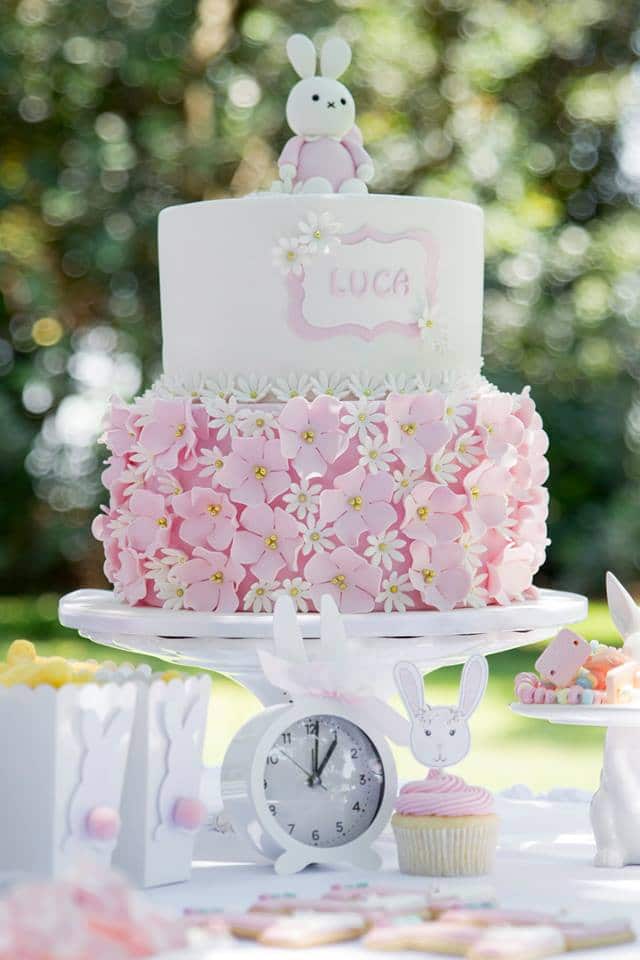 The baking was next level, for sure, thanks to Ouma's Pantry. The Bunny Birthday Cake that Mom found was absolutely stunning and everything came together with the vision that she had in her mind because of it!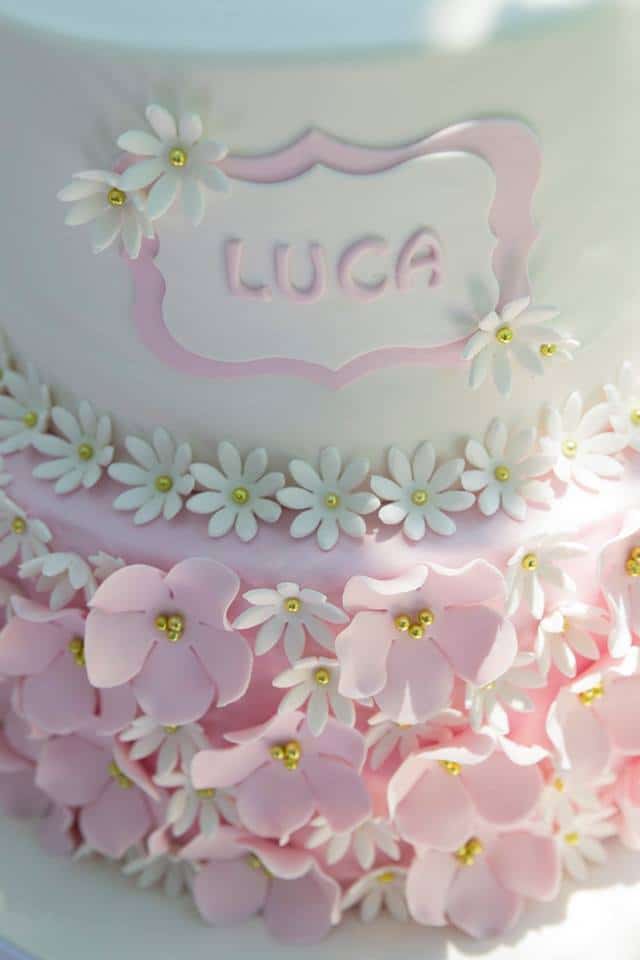 Just look at those amazing details on this sweet birthday cake! Every single one of the Cake Decorations that were used in creating this Bunny birthday party cake was perfect!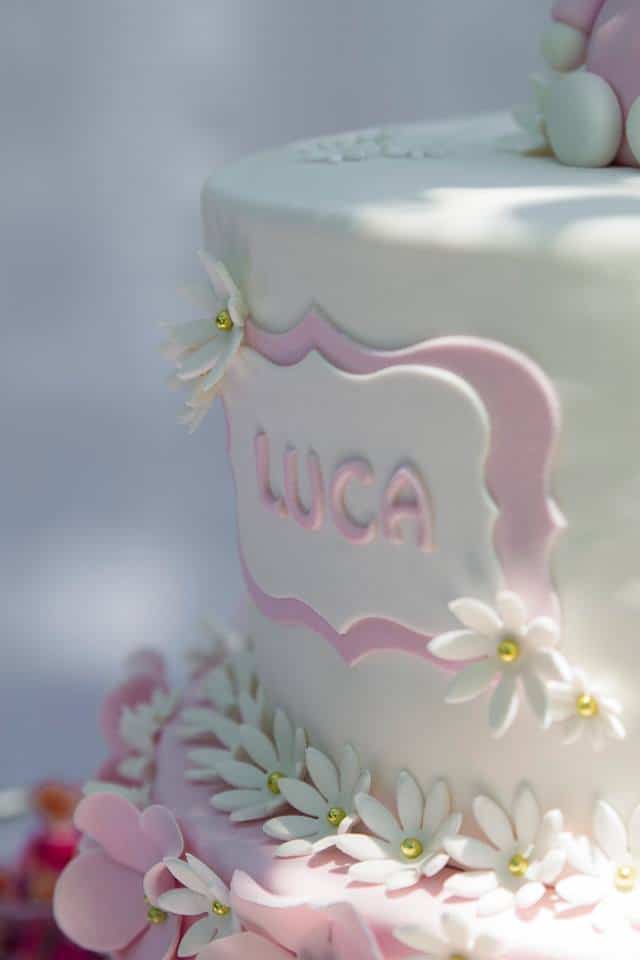 We love the pink and white theme of the cake, but we also love the golden centers on all of the flowers for a little pop of sparkle, as well! What an incredible cake design for an incredible day!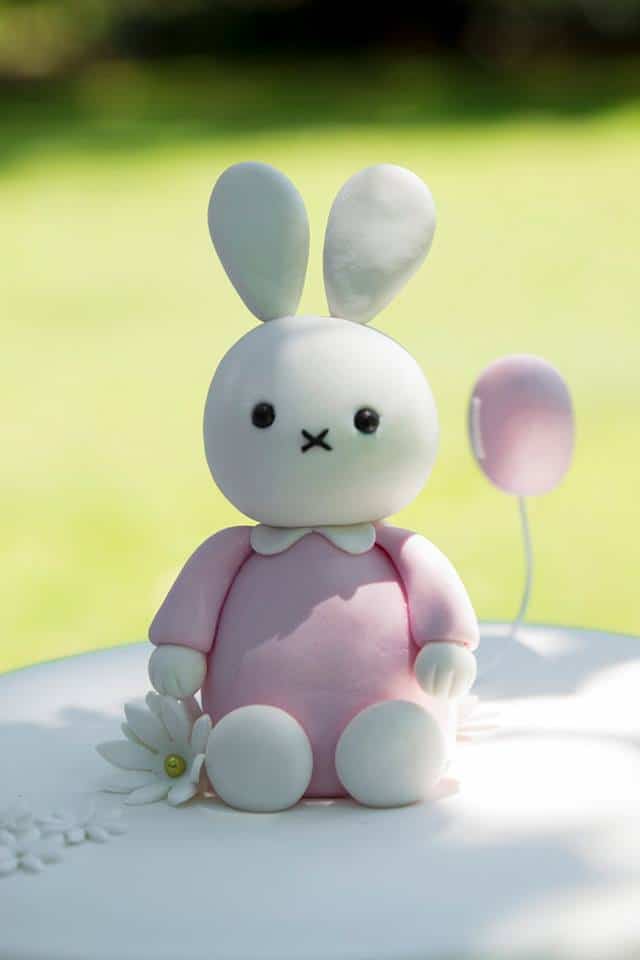 How could this Bunny Birthday Cake have anything but the cutest little bunny EVER as a cake topper?! Just look at that little bunny watching over everyone at the birthday celebration, including the birthday girl! So sweet!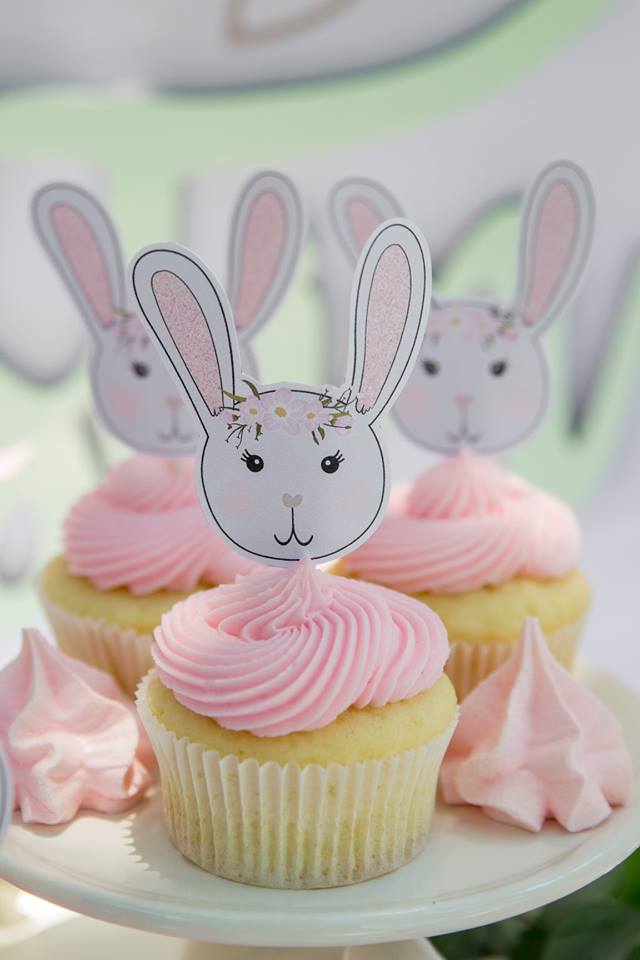 These Some Bunny Is One Party cupcakes look almost too perfect to dig into, but we're sure that didn't stop many of the guests! And the cake toppers are the exact same bunny design as the dessert table's backdrop. Adorable!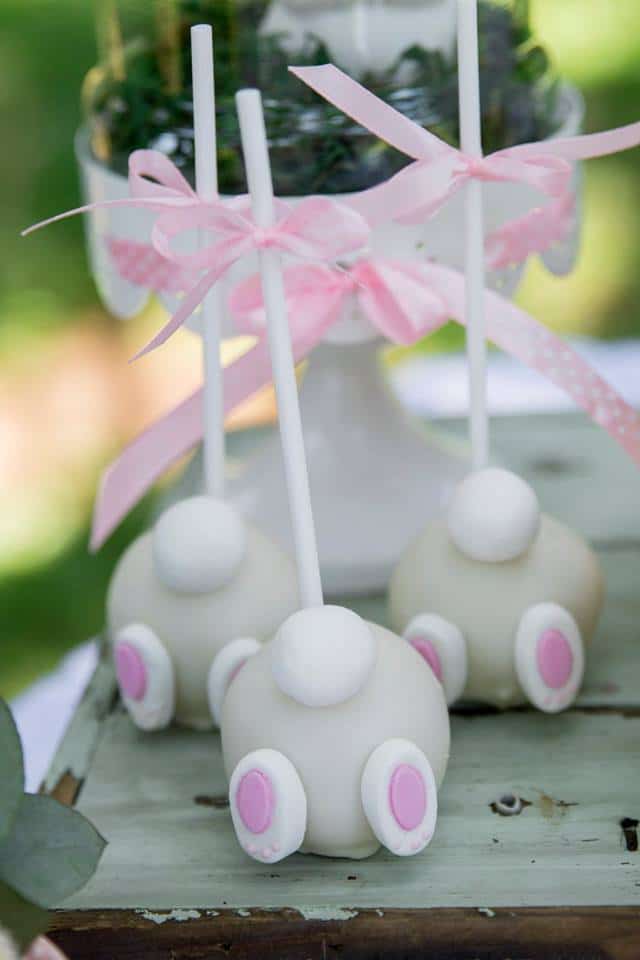 The cake pops were little works of art! How adorable are these little bunny booties with the perfect little "cotton tails"!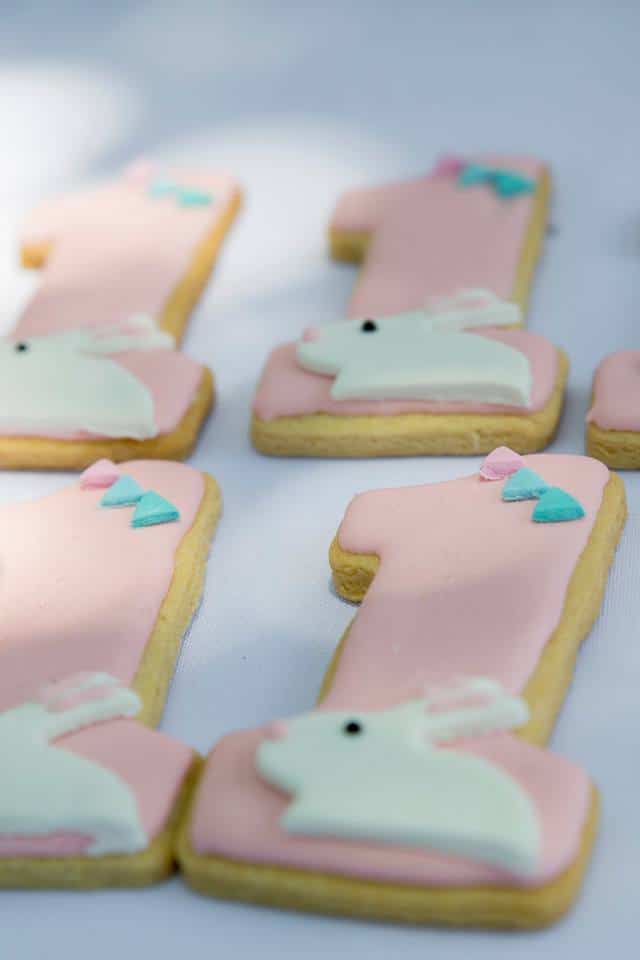 Adorable Some Bunny Is One Birthday cookies were available for all of the guest to enjoy, as well. Sugar cookies are always a big hit at any event and these big "Number One" cookies, decorated pink with a sweet bunny picture included were a big hit!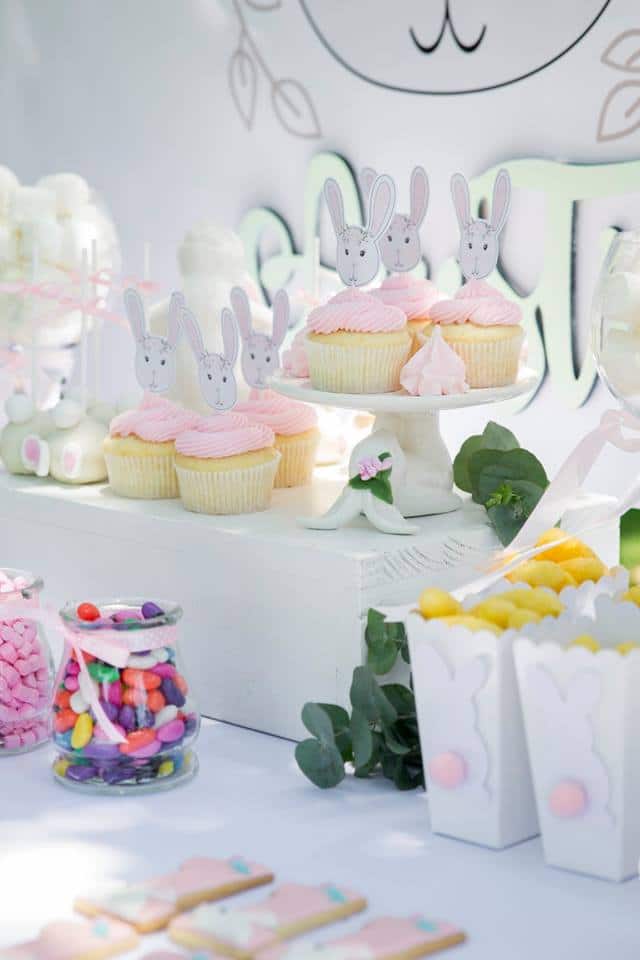 How gorgeous is the set-up on the dessert table. We are dessert table junkies and there is nothing we love seeing more than good dessert and decoration placement on the main table!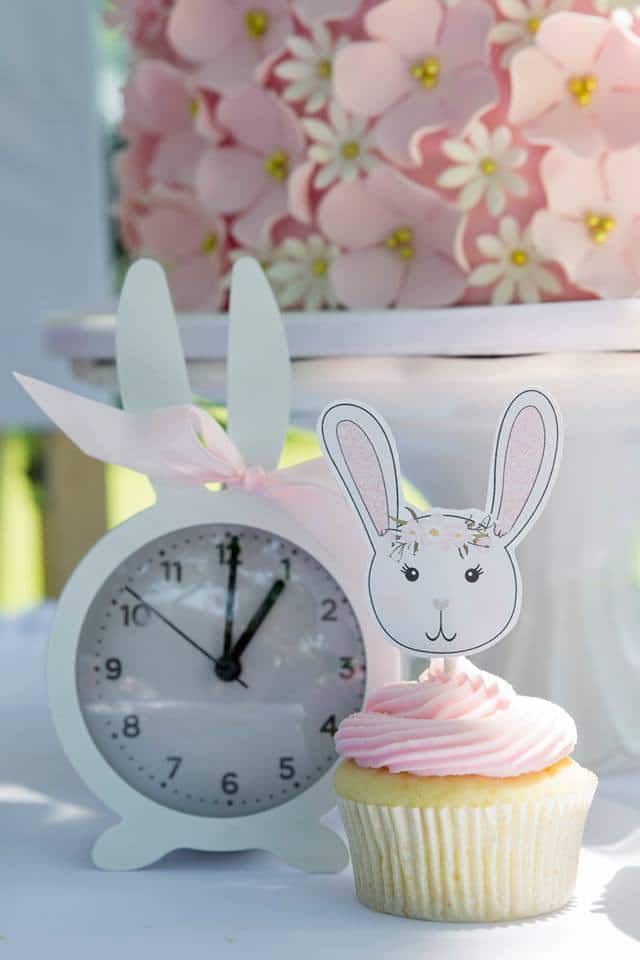 What a sweet inclusion to have a few clocks around the event that kept the time at 1:00 for the little one-year-old birthday celebration! What a unique idea that was adorable!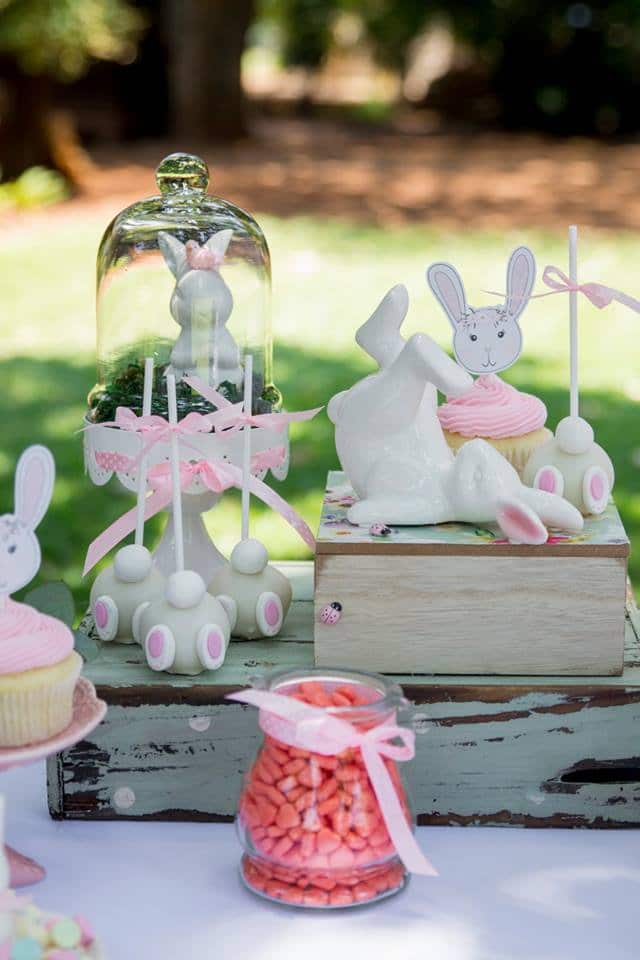 The great decorations that were used for dessert placement really made the dessert table come to life. With rustic and weathered white wooden boxes being used as dessert displays, it kept the theme tied together with a unique showcase!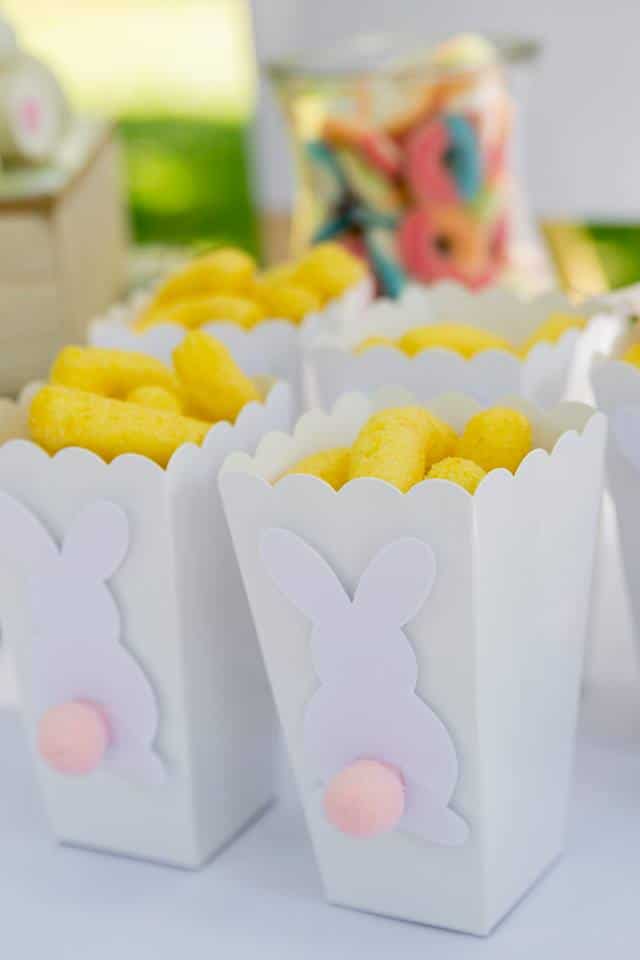 How adorable are these Bunny 1st birthday party supplies that were designed to hold some of the appetizers around the event?! We can't get over the cuteness of those fluffy little pink tails!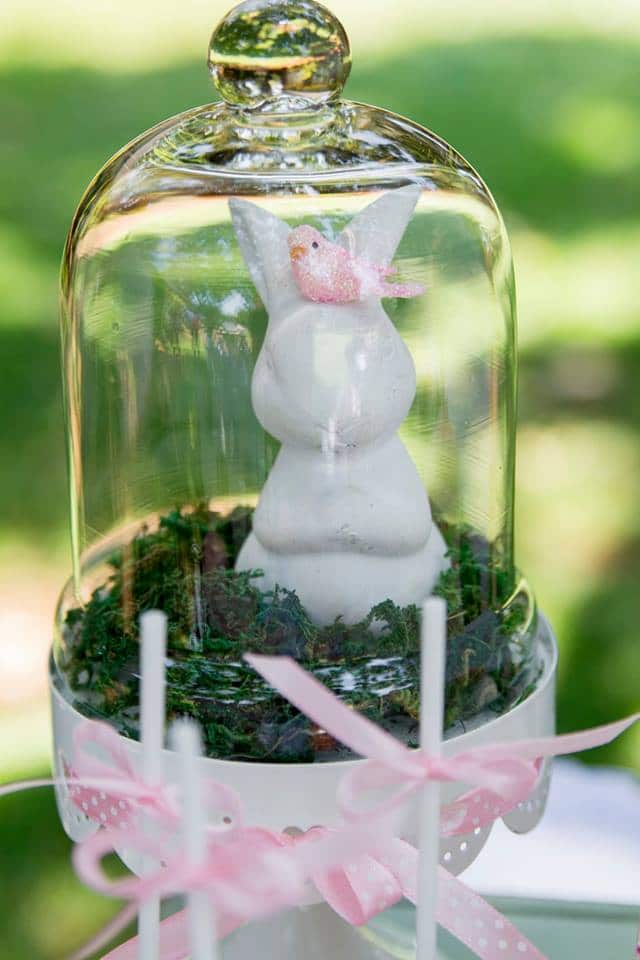 Gorgeous ceramic bunnies and glass vases and jars lent an element of class and grown-up sophistication to a fun Some Bunny Is One Birthday Party. These decorations would again be great ideas for an Easter celebration, as well!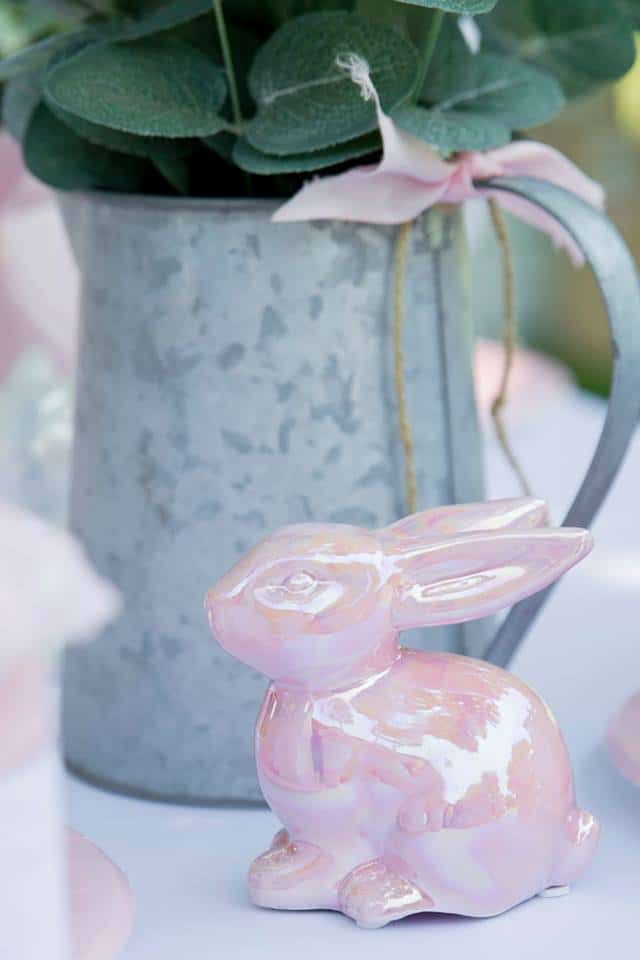 All of the kiddy tables had the pink ceramic bunnies as centerpieces that were displayed for everyone to enjoy.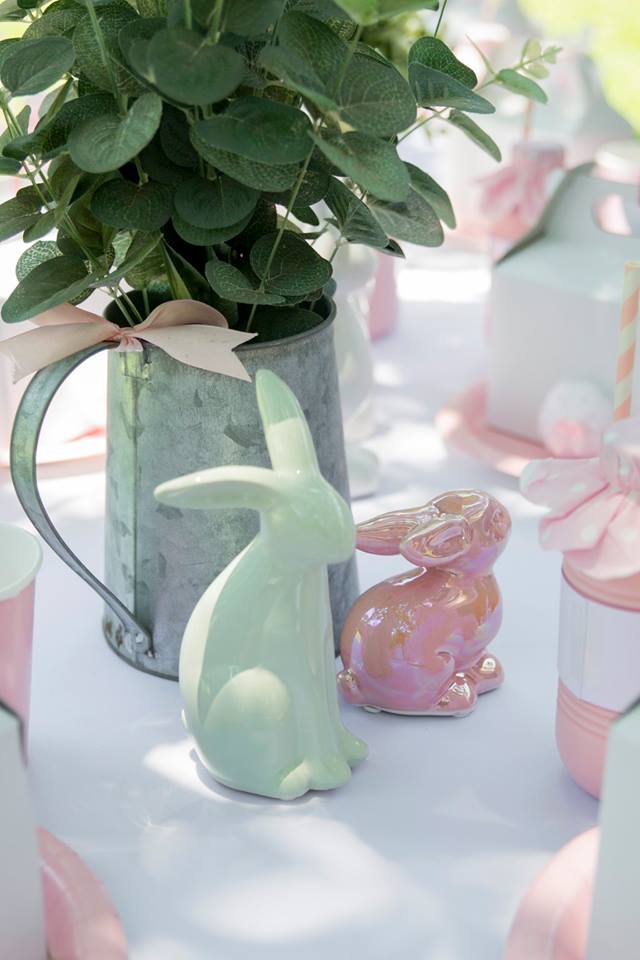 The greenery in galvanized watering cans also added a pop of different color and life to the Some Bunny Is One Themed Party. The pretty pink bows found on all of the cans was the perfect way to accent the centerpieces, as well!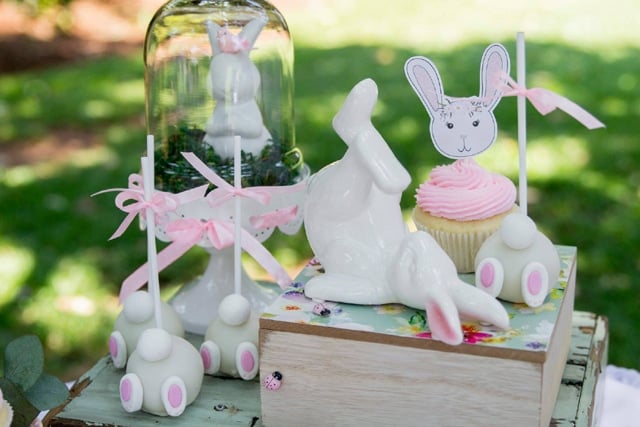 Bunnies, bunnies everywhere for this cute Bunny 1st birthday theme!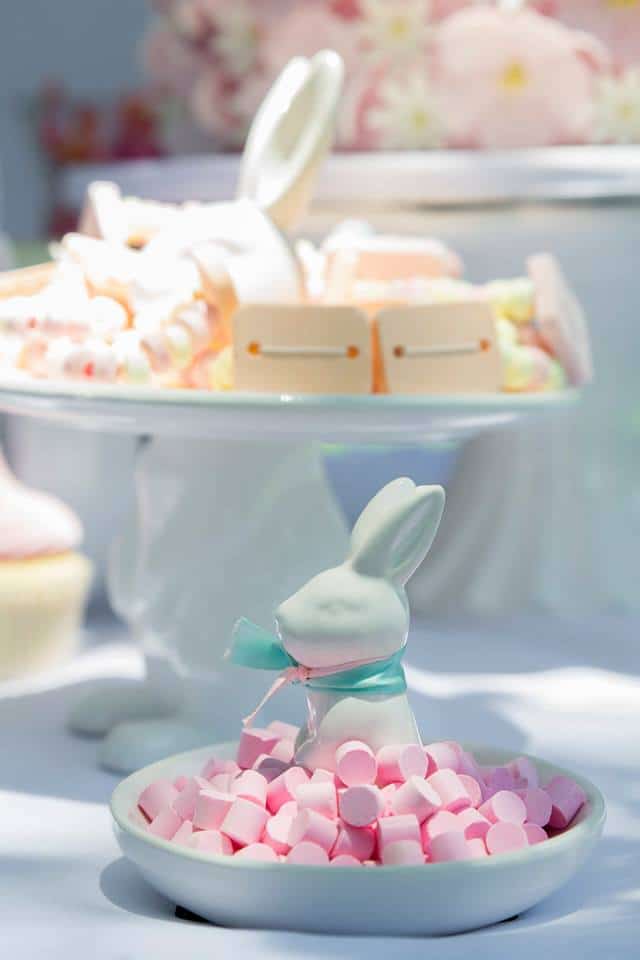 Little candy displays were found on different tables at the Some Bunny Is One Party. We don't know how they got so lucky to find the perfect bunny candy bowls to be displayed on the tables, but they did and we love it!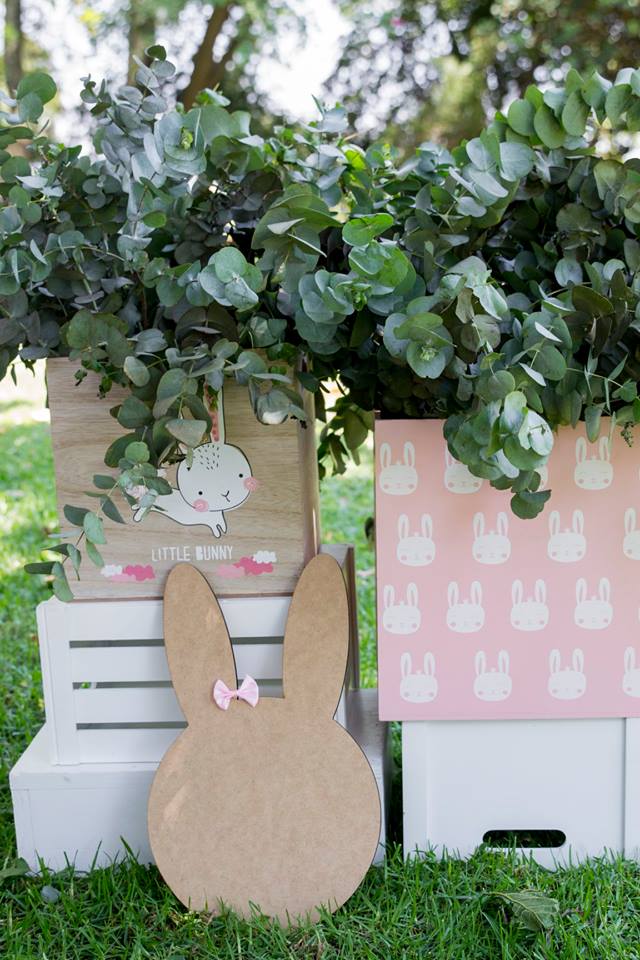 More wooden and crate decorations were displayed outside at the Some Bunny Is One Party and they fit into the theme perfectly! The greenery is a wonderful complement to the white and pink color scheme, as well.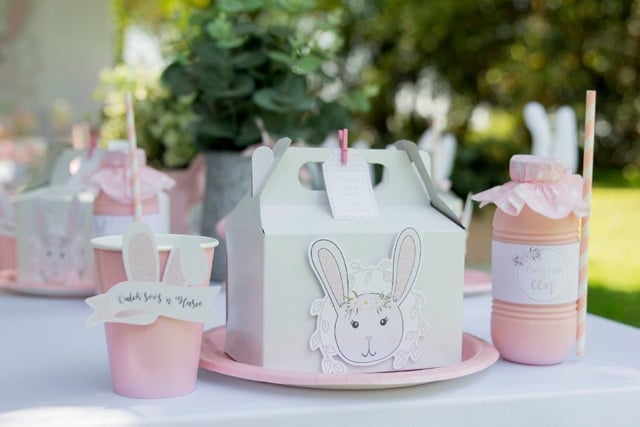 Of course, nobody could go home without the perfectly crafted Bunny Party favors! Just look at this amazing bunny box with personalized tags for all of the guests, along with those amazing bottles of bubbles that were created for all of the little ones, too! Gorgeous!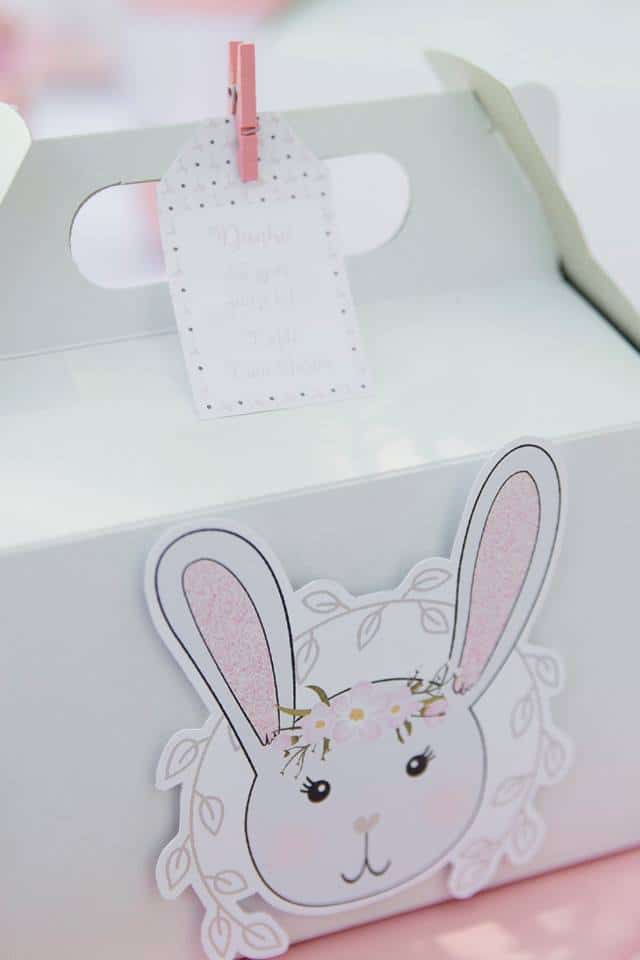 Again, the sweet bunny picture was incorporated onto another element of the Some Bunny Is One Birthday Party and we just love the continuity of the drawing! Dotty Trunks did an amazing job with all of the laser cutting aspects of the celebration!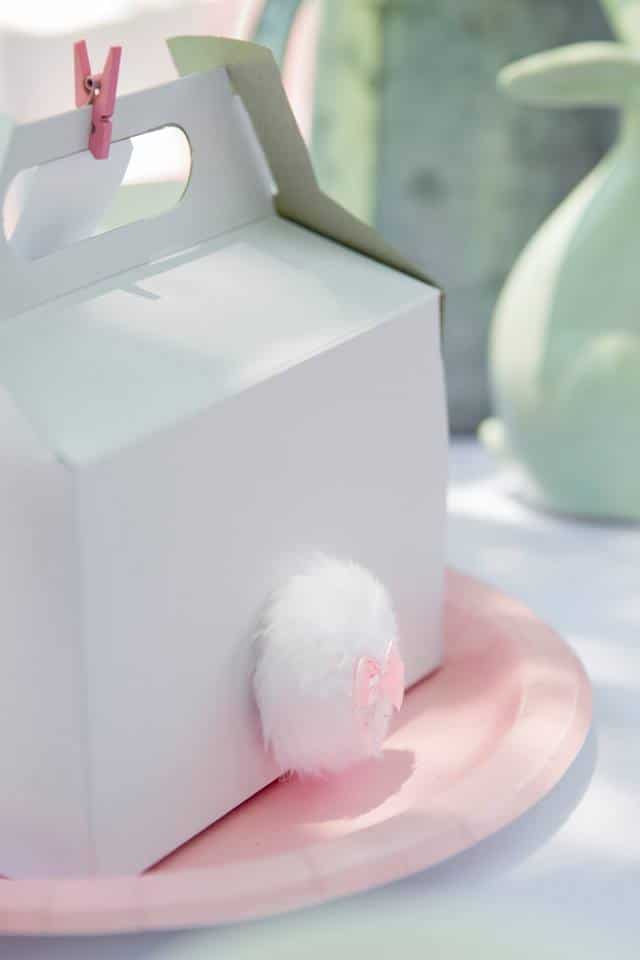 The party packs included the cutest bunny tails on each of them to add the perfect finishing touches. What adorable Bunny Party favors that we are sure everyone loved taking home with them!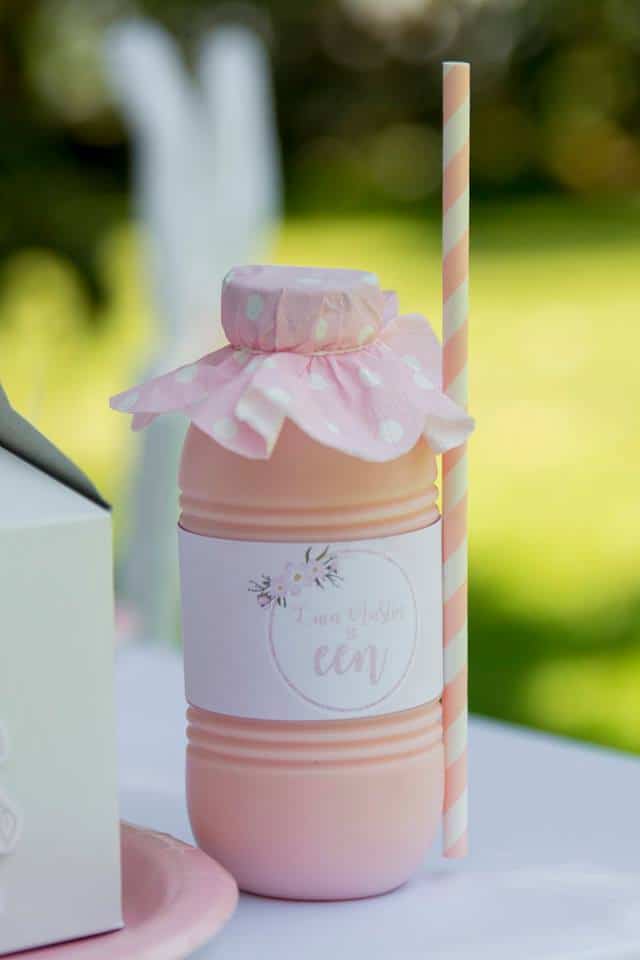 This little birthday girl may not remember the specifics of her big first birthday party, but she is going to have wonderful reminders for the rest of her life with these gorgeous pictures and stories that will go with it. What a wonderful job and we couldn't be more in love with this amazing Some Bunny Is One Birthday Party!
What's your favorite details in this Adorable Some Bunny Is One Birthday Party? Let us know in the comments below.
Party Vendors
Design: One Fine Day Parties
Desserts: Ouma's Pantry
Laser Cutting: Dotty Trunks
Photography: Relestie Photography
For more party ideas, follow us on Instagram @prettymyparty and Pinterest and join us in our private Facebook group.