Happy Doodle Pastel Rainbow Party
Looking for a party theme that will WOW your guests? Check out this whimsical Happy Doodle Pastel Rainbow Party!
This Happy Doodle Pastel Rainbow Party from ClauCandyChic is the perfect birthday theme for any girl who loves all things girly and pastel! From the pretty pastel balloons to the super adorable doodles that adorned the different party decorations, every detail about this party just screams happiness and joy!
If you're looking for a party that's bursting to the seams with sunshine and happiness, this fun pastel rainbow themed party is definitely for you. As a super creative bonus, this vibrant party also features adorable and dainty doodles of nature and flowers. We really like the large doodle backdrop behind the dessert tables.
The pastel colored dessert tables, or more aptly, pillars, truly make the yummy looking sweet treats stand out! The double birthday cakes featuring "The Magic Begins Here" block fondant letters and super cute cloud and heart cake toppers look almost too good to eat! We also really like the small pastel colored containers that the desserts come in.
One of the most eye-catching elements of this party are the tissue paper and balloon garlands that decorate everything from floor to ceiling. The combination of the pale pink, pale yellow, mint green, sky blue, and lavender balloons and paper garlands truly give this party such a lively and fascinating atmosphere for this pastel rainbow birthday.
The party tables are also a joy to look at! The pretty party plates with floral doodles and the adorable rainbow table centerpieces look amazing, and we love the idea of a low table surrounded with rainbow shaped pillows! It looks so cozy and welcoming! We're sure that everyone had a blast at this whimsical doodle pastel rainbow themed party.
Want to experience your own magic at the end of a pastel rainbow? Check out these fun and dazzling ideas to inspire you for your own pastel rainbow party!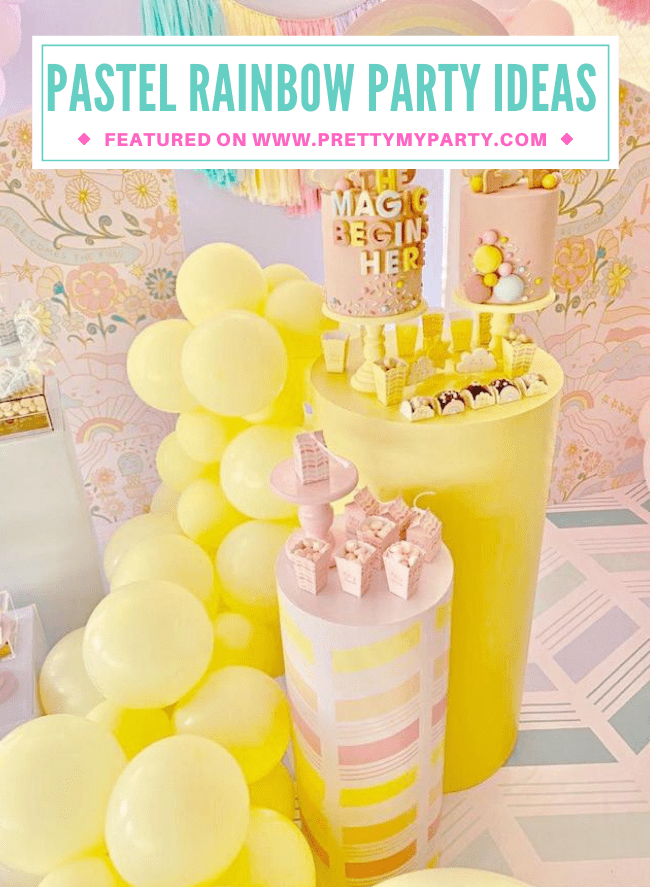 Happy Doodle Pastel Rainbow Party Ideas:
Pastel colored tissue paper tassel garlands

Large rainbow pastel balloon garlands all over the ceiling and miniature ones on the tables

Small foil rainbow balloons

Tall pastel colored tables or pillars to showcase the birthday cake and desserts

Super cute "the magic begins here" double cakes in pastel pink

Cloud and heart cake toppers

Pastel colored donuts with huge spherical sprinkles

A donut cloud mounted in clear acrylic

Rainbow, sun, and cloud sugar cookies

Pastel stripes and rainbow themed dessert plates

Pastel doodle backdrop

Mint chevron floor mats

Cute and cuddly rainbow shaped pillows

Rustic white tables and different colors of pastel floor pillows

Pretty doodle design plates
Wow, this happy doodle pastel rainbow party is definitely a feast for the eyes! We absolutely loved the gorgeous pale pink cake with spheres and cloud cake toppers. The donut cloud and other pastel colored desserts look super delicious too!
Which elements of this doodle pastel rainbow party did you like most? Share your favorites and your own rainbow pastel party ideas in the comments section below!
For more kids party ideas, follow us on Instagram @prettymyparty and Pinterest and join us in our private Facebook group.
Party Vendors
Party Styling and Decorations: ClauCandyChic