Disney Frozen Themed Party
Nothing is more magical than a Disney Frozen Themed Party for a birthday princess to enjoy!
This extravagant Disney Frozen Themed Party is every little girl's dream! Pop The Balloon Children's Parties & Events created a magical dreamland that couldn't be any more perfect, with all of the Disney Frozen characters front and center. And how about the balloon castle?! Everything was the perfect mix of a winter wonderland with the fun Disney princesses that made it all happen.
The amazing guest tables looked like something out of the movie, with incredible floral centerpieces on the tables that were in gorgeous tall crystal vases. The middle of the guest tables also included fun cotton creations, which looked like everyone was eating on a cloud. It was beautiful! Elsa and Anna plates were used with each place setting having its very own party favor box and specialty milk jar glass.
The Disney Frozen Themed Party had the perfect entryway, with a special glass welcome sign highlighting the birthday girl's details. An Olaf cutout was waiting at the entryway, as well, for all of the party guests to find their way into the party.
The Frozen themed dessert table was one of the most elaborate and beautiful dessert station set-ups that we have ever seen! A winter wonderland backdrop was set up behind the dessert station, with an incredible balloon arch highlighting the entire area. We love the different sized balloons, along with the blue hues and added snowflake balloons.
And how about that Frozen birthday cake?! What an incredible creation that looked like the ice castle that Anna spent time in. It was gorgeous! And, of course, an Anna statue served as the cake topper! Additional Frozen themed desserts were also available, such as cupcakes, cookies and Olaf cake pops.
But the most exciting thing? Anna herself showed up at the birthday celebration and all of the party guests were so excited to be able to spend some time with her. What an incredible birthday celebration, that we're sure this birthday girl will hold dear to her heart for years to come!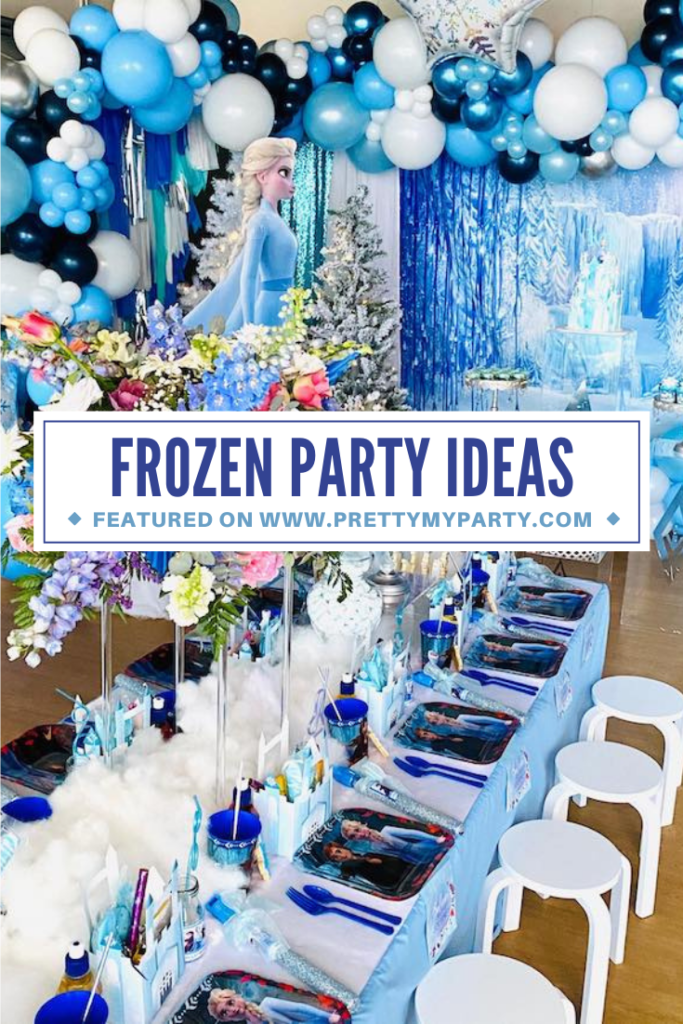 Disney Frozen Themed Party Ideas
This Disney frozen themed birthday party primarily included all of Anna's favorite things with an Anna birthday theme
An Olaf birthday party cut-out was at the front of the birthday celebration, with a big smile to welcome all of the party guests
An incredible Frozen themed balloon castle was a major highlight of the event, which the kids could walk through with Elsa herself
Frozen party supplies were used on the guest tables with Frozen themed milk glasses and Disney Frozen themed plates set out for the guests
Beautiful Frozen birthday party ideas included an amazing themed backdrop with a balloon arch highlighting the dessert table
Individual Disney Frozen themed party favors were found at each place setting on the guest tables
Elaborate floral centerpieces were impressively displayed on the guest tables with fun cloud-like table decor added in the center of the tables
The Disney Frozen theme dessert table highlighted an incredible Frozen themed birthday cake with Anna used as a cake topper
Additional Disney Frozen themed party treats, such as cupcakes, cookies and cake pops were also available on the dessert table
Gorgeous signs and printables highlighted this birthday girl's party details, along with printables around the event of the Frozen characters
Anna is seen behind the drink station, which was full of delicious blue punch
Frozen party games and activities kept all of the guests busy with fun adventures during the event
An incredible menu with Disney Frozen themed party food was available for the guests to munch on and enjoy
If you have a birthday girl who is a huge Disney Frozen fan, you're not going to find a more incredible themed birthday celebration than this! Everything was perfectly styled, with an incredible blue and white color palette, which is highlighted throughout the party venue.
Everything was perfect, but our favorite detail is definitely the amazing balloon castle that was created to replicate Anna's frozen ice castle. Talk about an amazing balloon installation that must have been incredible to walk into! Can you even imagine all of the guests' reactions when they entered the birthday party and saw that waiting for them?! Princess Anna definitely was front and center at this beautiful birthday party and we bet this birthday girl couldn't believe her eyes when she walked in. How fun!
What are your favorite details from this Disney Frozen Themed Party? Let us know in the comments below!
For more Disney party ideas, follow us on Instagram @prettymyparty and Pinterest and join us in our private Facebook group.
See more birthday party ideas here:
Party Vendors
Party Styling: Pop The Balloon Children's Parties & Events