Frozen Themed Birthday Party
This community in California came together to throw a fabulous Frozen Themed Birthday Party for a sweet little girl. What compassion and amazing generosity!

FROZEN PARTY SUPPLIES AND DECORATIONS:
SEE MORE FROZEN PARTY IDEAS HERE:
The community came together to support a little girl with Leukemia by donating their services, in order to put a smile on her face and make her feel loved. Approximately 23 businesses donated their time and services, in order throw the most fun Frozen-themed party! The smile on her face is priceless!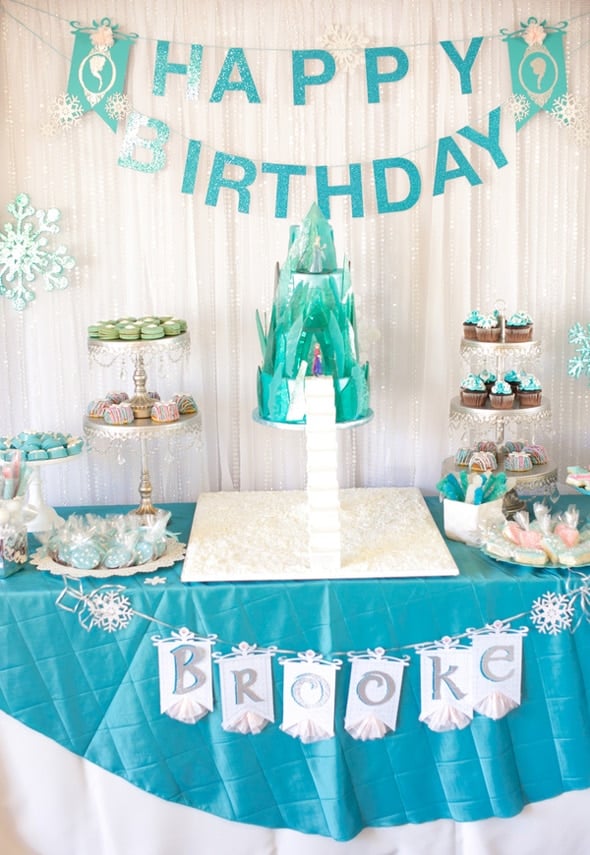 The story of how this party came together is amazing. The little girl's mom called a local baker to get a quote on a Frozen-themed cake for her daughter's 5th birthday. She explained that her daughter had been in and out of the hospital after being diagnosed with Leukemia and it soon became apparent what this bakery was going to make happen!
Many local vendors offered to pitch in some way or another and offered their services for free. Talk about an amazing dessert bar that was put together for this amazing little girl!
A photographer, photo booth, catering, and event planners helped out and also got decorations and party favors donated, as well!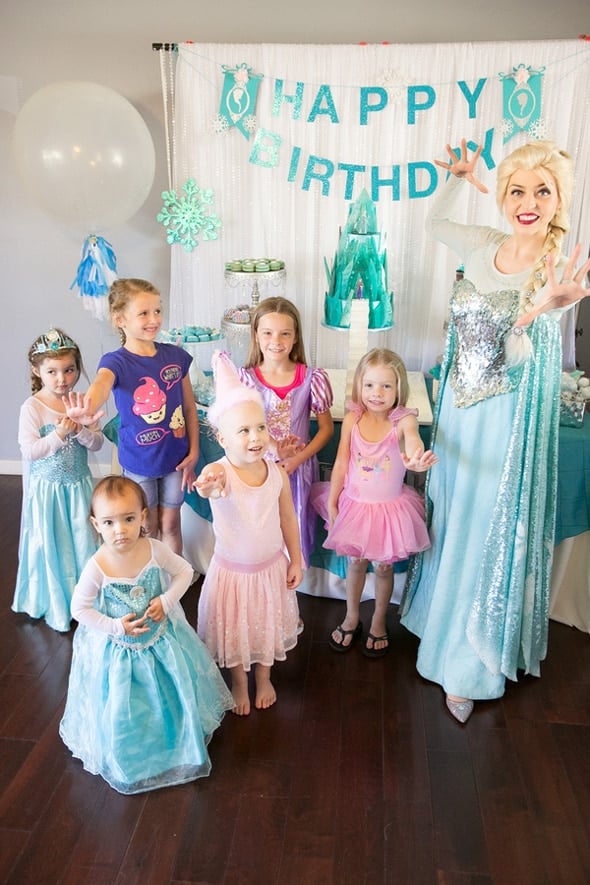 And what kind of Frozen party would it be without Elsa?! She sang and danced with the kids and they all loved it! How adorable!
Even more incredible? This was all put together in about only a week's time! Talk about stepping up for your community to create such a memorable party for this little girl!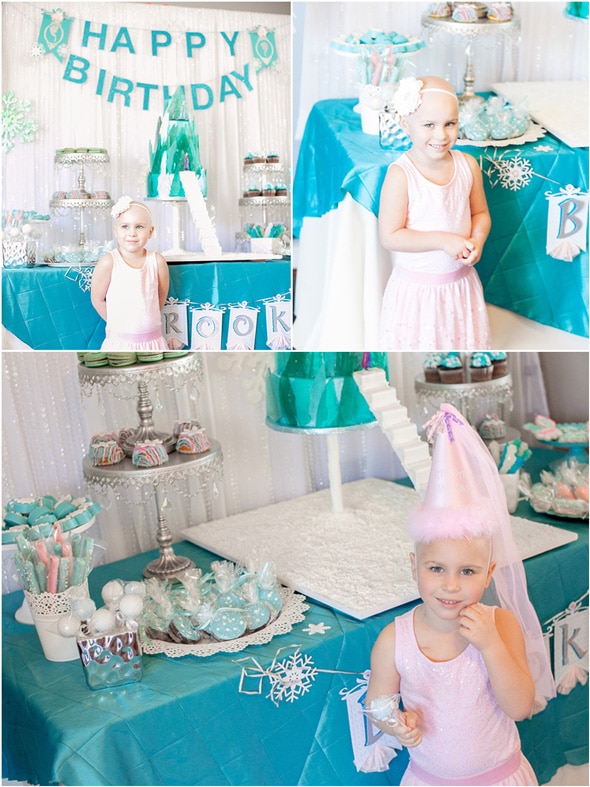 This little princess had a sweet smile on her face all day! Her mom shared that she has had no energy and hasn't danced in months, but luckily had started feeling better a few days before the party. What an amazing turn to see the happiest, most excited, high energy, giggly, dancing little girl at her Frozen Themed Birthday Party! We hope this little princess gets the good news she so deserves! Looking for more party ideas? Don't forget to follow us on Instagram @prettymyparty and Pinterest and join us in our private Facebook group.
Party Vendors
Photographer – Jess Lauren Photography // Cakes – Sugar Pearl Bakery, Sweet Art Bake Shop, The Flour Shoppe, Hunny Cakes, Rockin Sweets, Party Cottage, The Milkyway Bakery, and Susan's Sweets. // Decorated Sugar Cookies – Lil' Miss Sweets and The Milkyway Bakery // Cake Pops – Just A Bite Creations // French Macarons – Mad4Macarons // Chocolate Dipped Oreo Cookies – Sweet Lou Pops // Mini Bundt Cakes – Singer Sisters Sweets // Cupcakes – The Daily Bread // Rice Crispies & Pretzels – Rockin Sweets // Paint Your Own Snowman Cookies – Ni Cakes // Event Coordinator – Sweet Art Bake Shop and Designing Dreams – Weddings by Sierra Decor- Soltana Mulhearn from Velvet Alley Events, Belle of the Ball Designs, Sweet Art Bake Shop, Designing Dreams and Weddings by Sierra // Banner and Balloons – Party Cottage Party Favors and Events by Tiffany J // Caterer – Chef Marcus Webster with Conejo Valley Catering // Popcorn – California Kettle Corn // Photo Booth – Coastal Events // Elsa – Smile and a Song Princess Parties
SaveSave
SaveSave