How to plan a kids' birthday party (The Ultimate Guide)
Ever wonder how to plan a kid's birthday party like a pro? Planning the perfect kids' birthday party can be overwhelming and stressful, but it doesn't have to be! Party planning can be fun and rewarding.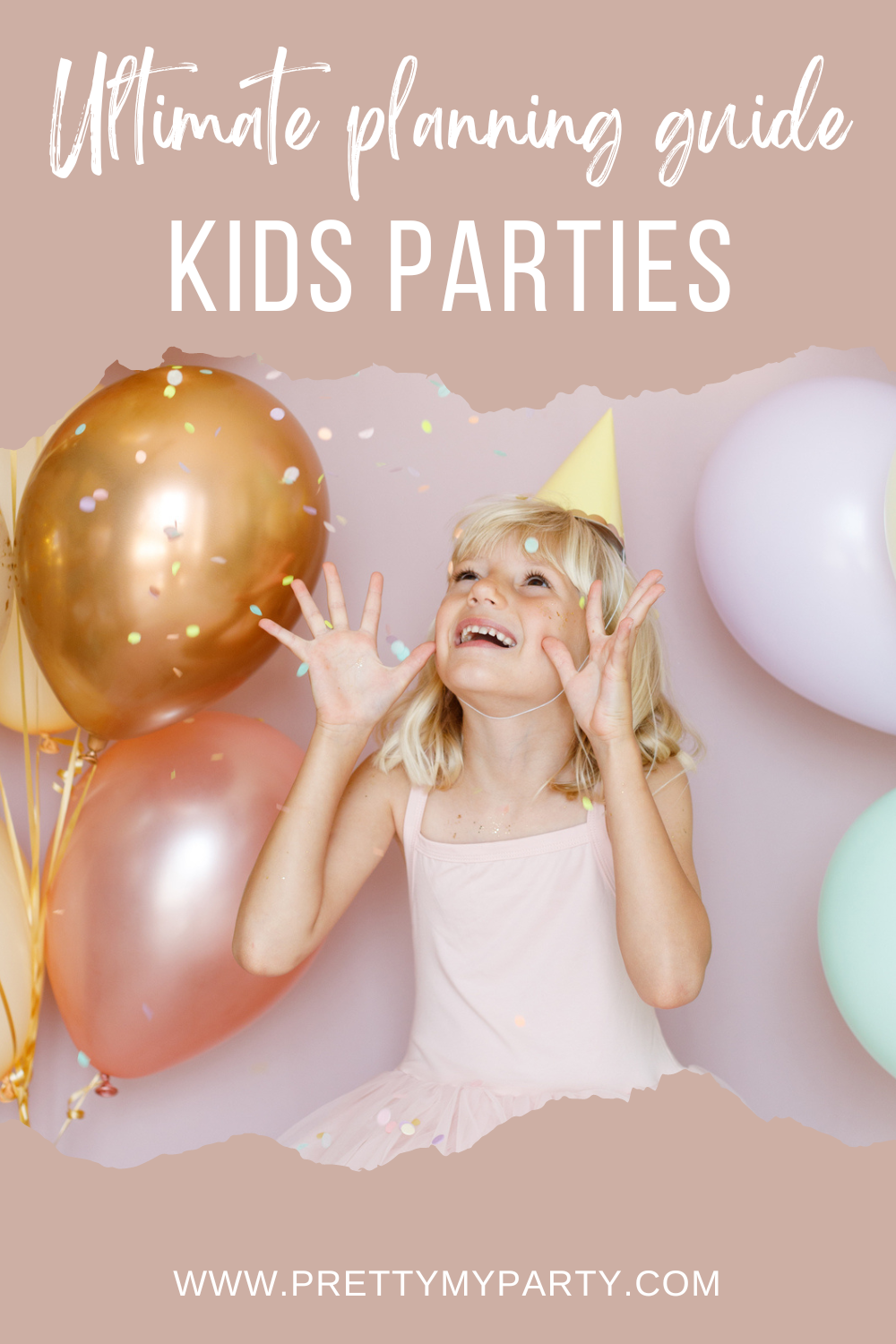 All you need is a good plan, a little organization, a checklist, a timeline, and some inspiration from Pretty My Party!
Let's start planning your kid's birthday party with this ultimate guide.
Birthday Party Planning Checklist
Use this birthday party checklist to make party planning a breeze!
1. Determine your budget
Planning a party can be expensive. Things like party supplies, decorations, food, favors, cake, and desserts add up quickly. Therefore, setting your budget before planning is essential to stay on track, not overspend, and cut costs if needed.
How do you plan a child's birthday party on a budget?
Planning a child's party on a budget is no easy task. First, you have to set a budget and make sure you stick with it. It's easy to get off track with all of the fun birthday party supplies, decorations, favors, etc.
Here are some tips to party on the cheap:
Have a limited guest list – the fewer people you invite, the less you spend on food and supplies
Host your party at a free venue like a park
Forget the theme and just pick a party color
Go to the Dollar Store and buy plates, napkins, cups, etc., in a solid color to save money
Make the birthday cake or cupcakes yourself
Make budget-friendly food like pasta or sandwiches
Look for sales and coupons on food, drinks, supplies, and decor
DIY some party favors
2. Choose a party theme or color palette
Once you have a budget, it's time to choose a party theme. Your birthday theme sets the tone for your child's birthday party.
The theme can reflect your child's hobbies, interests, or favorite things. Here are some of the most popular birthday party themes for kids:
Girl party themes:
Check out 47 Most Popular Girl Party Themes for more ideas!
Boy party themes:
Once you have a few ideas, sit down with your child and let them choose their favorite. It's fun to include your child in the party planning process and have them help you pick out the party supplies, decorations, food, favors, and games.
3. Determine your guest list
The next step in party planning is to make a guest list. This will help you determine how many people you need to accommodate and give you a starting point for your invitations.
When making the guest list, ask your child who they want to invite. They may have some friends that you don't know, or they may like to invite the whole class.
Once you have a list of names, you can start working on your invitations. The invitations are sent out with RSVPs requested to help you accurately count how many people to plan for. But make sure you plan for a few more party guest surprises that may not have responded so no one gets left out.
4. Choose a venue
Your venue depends on your budget and guest list. You can save money by having your party at home or at a local park.
If you don't want to have your party at home, there are many venues to choose from that will be great for your child's birthday party. Some popular places for children's parties are:
Trampoline park
Bounce house
Swimming pool
Water park
Bowling alley
Arts and crafts
Movie theater
Gym
How do you plan a kids' birthday party at home?
Planning a kids' party at home is the same process as planning a party at a venue.
A party at home is an excellent option because you have privacy, and if you're on a budget, you don't have to pay for a party venue.
You're in the comfort of your home and can cook and decorate ahead of time, so everything is ready when guests arrive.
If you have nice weather and a big backyard, you can host your party outside, and it will save you from having everyone in the house.
5. Send out invitations
Once you have a party theme, date, and venue, it's time to send out birthday invitations! Include all the important party details like date, time, location, and RSVP information.
6. Shop for party supplies and decorations
It's not a birthday party without some festive decorations! Choose items that match your party theme or colors.
If you're shopping for party supplies and decor online, buy them weeks in advance so you have everything in time for the big celebration.
What decorations do you need for a kids' birthday party?
The decorations you choose will depend on your party theme.
You can find birthday party decorations at party supply stores and online, or you can get crafty and make things yourself. Many places offer kits with all the essentials you'll need to decorate for your child's party.
Your local party supply store will have plenty of options, and having a fun shopping day with your little one will get them excited for their big day!
Here are some ideas for common birthday party themes and decorations:
Whatever theme you choose, make sure the decorations are age appropriate. You don't want anything too fragile or delicate for young children, and you don't want anything too babyish for older kids.
7. Order a birthday cake
Every party needs a delicious birthday cake! Be sure to choose a flavor that your child will love. Once you have your cake design in mind, call your local bakery and place the order.
Make sure you order your cake early. Some bakeries are booked a few weeks or months in advance, so keep that in mind when planning your child's party.
8. Plan your party menu
Do you want to offer guests various food options like sandwiches, chicken fingers, pasta, etc.? Are you making the food or hiring a caterer? Be sure to have plenty of options for kids and adults.
Should you serve food at a birthday party?
No birthday party is complete without food and drinks! If you're having the party at home, you can save money by making the food yourself. Otherwise, you can order pizza or a sandwich tray to simplify things.
You'll need to consider whether you want to serve snacks or a full meal, and of course, don't forget dessert!
Make a note on the party invites to let the host know if there are any food allergies you should be aware of so you can have other options.
Be sure to have a variety of food and drinks for your guests. Here are some simple options for you to consider:
Pizza
Chips and dip
Vegetables and dip
Chicken nuggets with sauces
Birthday cake, cupcakes, ice cream
Cheese and crackers
Carrot sticks and celery with peanut butter
Popcorn
Soft drinks, water, fruit juice
Coffee and tea for the adults
9. Plan games, activities, or entertainment
How do you make a party fun for kids? Plan some fun games, activities, or entertainment.
Now it's time to start planning the FUN! It's important that guests have a good time at your child's party.
Make sure to plan age-appropriate games and activities for the kids or hire entertainment like a DJ, magician, face painter, or balloon artist.
Depending on your party area, you may need to rent some party games or inflatables to keep everyone entertained.
If you're having the party at a venue, they may have some games you can use. Otherwise, plenty of places rent out party games and inflatables.
What are fun ideas for a birthday party?
Some popular party games for kids include:
Piñata: Fill a piñata with candy and let the kids take turns hitting it until it breaks open.
Musical Chairs: A classic game that's always a hit with kids.
Hot Potato: Pass a potato around while music plays, and whoever is holding it when the music stops is out.
Simon Says: A fun game to get everyone moving and following directions.
Treasure Hunt: Hide treasure around the party area and give the kids clues to find it.
No matter what games you choose, have plenty of prizes for the winners!
10. Choosing party favors
Party favors are a great way to thank guests for coming to your party. Choose fun items that match your party theme.
Although optional, party favors or goody bags for the guests are a nice touch. Party favors can range from simple and inexpensive to more elaborate and costly.
Here are some ideas for simple and inexpensive party favors:
Whatever you choose, try to have enough for everyone and make sure they are age-appropriate.
Birthday party schedule
As the party host, keeping your child's birthday party on track is important so you can fit in the food, cake, gifts, and games.
If you're having a typical 3-hour party, follow this day-of party timeline to make sure everything runs smoothly.
10-15 minutes, guests arrive
30 minutes of play/games
40 minutes food
15-20 minutes of cake and ice cream
20-30 minutes opening gifts (optional)
10-15 minutes of play
Frequently asked questions
Why are birthdays special for kids?
When it comes to your child's special day, there are a few things to keep in mind. First, birthdays are a time for your child to feel loved and celebrated. It's also a day for them to feel like the center of attention, so make sure they know just how special they are to you.
Secondly, birthday celebrations are the perfect opportunity for your child to socialize and build relationships with friends and family.
Birthday parties are a time for fun! Choose activities and games your child enjoys, and have plenty of food and drinks on hand for a party they will never forget!
Children grow up so fast. Cherish these times with your child and make memories that will last a lifetime.
What time should a birthday party start?
Typically, parties are held on the weekends when kids are out of school. If you're hosting your party at home, you can have it any time that's convenient for you.
If you're having your party at a venue, times may be limited due to other parties on the same day.
For younger children, parties can be in the late mornings before lunch and naptime. For older children, parties typically start in the afternoons.
For tweens and teens, parties can be held later in the day, around 4 p.m.
How long should a child's party be?
Depending on the age group, a kids' birthday party should be about 2-3 hours. This gives kids enough time to socialize, play games, and have some cake without
Toddlers and preschoolers may get too cranky or tired with a longer party, so that's something to consider. But, of course, you can always adjust the length of the party to fit your needs.
You can always have a shorter event if you're having trouble planning a longer party or need to work around a nap schedule.
Likewise, if the kiddos are having so much fun that you don't want the party to end, feel free to extend it!
The most important thing is that everyone has a good time. With some planning, you can plan the best birthday party ever for your son or daughter.
Should we open gifts at the party?
It's up to you whether or not you want to open gifts at the party. If you do, set aside enough time so everyone can see the guest of honor open gifts.
Opening gifts in front of everyone can be overwhelming for some kids (and adults!), so if your child is shy or doesn't like being the center of attention, you might want to open gifts after the party.
It's here! The day of the party
When the big day finally arrives, it's time to put your party planning into action. Make a list of everything you need for the party so you don't forget anything. Then it's time to get the venue ready by setting up the food and drinks, decorations, and tables.
If you're overwhelmed with your party to-dos, remember to ask for help! If you have family or friends willing to pitch in, take them up on their offer. They can help with everything from set-up to clean-up, and they'll be able to enjoy the party too.
As the host, it's your job to make sure everyone is having a good time. Introduce the guests to each other, make sure the games are going smoothly, and keep an eye on the food and drinks.
At the end of the party, thank your guests for coming and send them off with a goody bag or party favor. And don't forget to take lots of pictures to capture the special day!
With some planning, a structured timeline, and a handy checklist to keep everything running smoothly, your child's birthday party will be a success!
Don't forget to enjoy the day and make the best memories!
Are you planning a child's party? Let us know in the comments. Join the party on Instagram and in our private community!