How to host a sip and see party
Want to know how to host a sip and see party? Sit back and take notes because we have everything you need to know about planning the best get-together so everyone can meet your baby!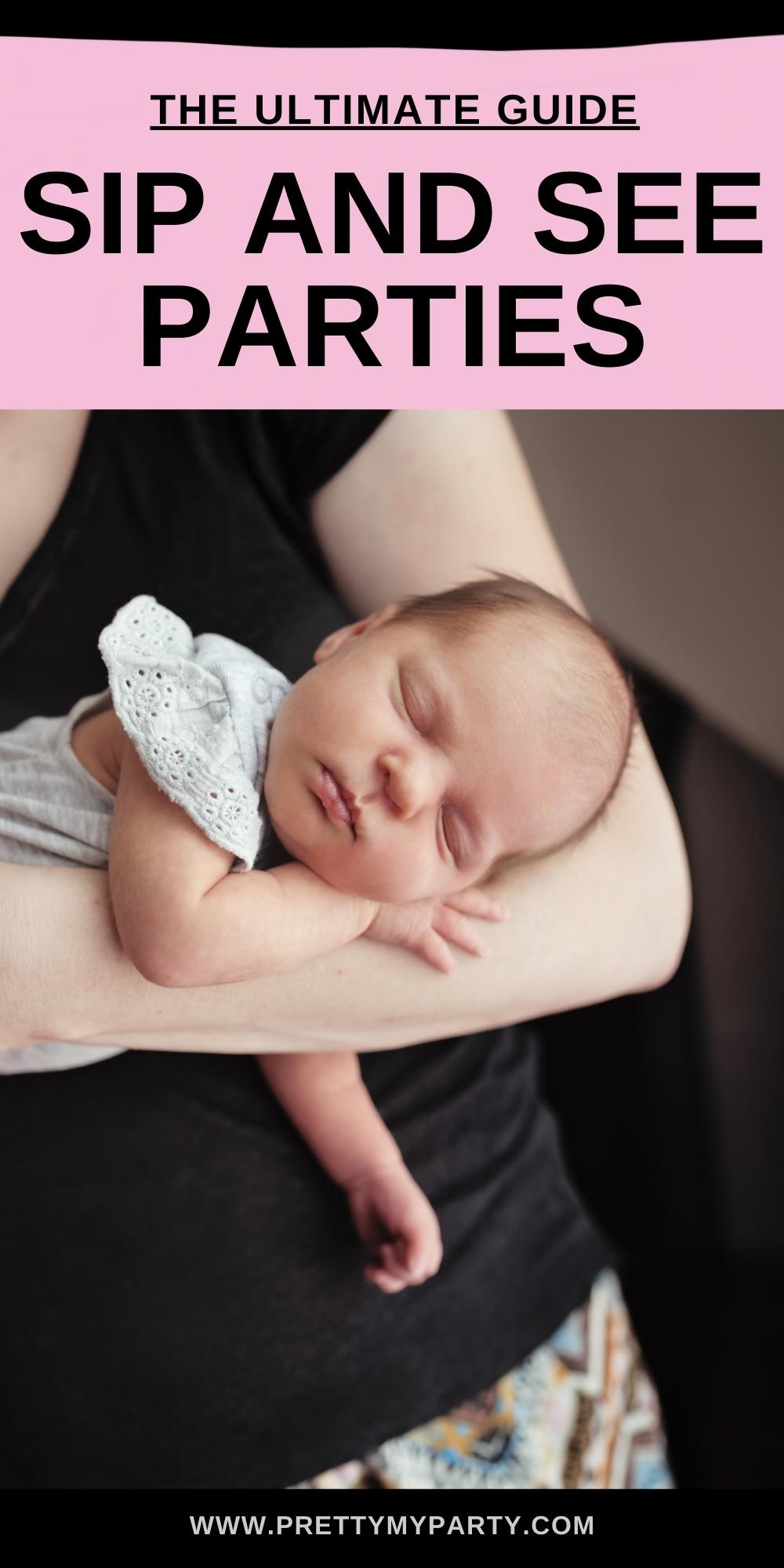 Newborns are so precious and fragile. It's no wonder that many parents want to keep them all to themselves for the first few weeks or even months! But eventually, you'll want to introduce your little one to friends and family. One great way to do this is with a sip-and-see party.
There's nothing better than gathering with your friends and loved ones to celebrate a new little miracle. Although traditionally, moms have baby showers, sip and sees are becoming more popular, especially with moms who are welcoming their second, third, or even fourth child into the family.
What is a Sip and See Party?
So what exactly is a sip-and-see party? It's basically a low-key get-together where guests can drop by to meet the new baby, have a drink and some light refreshments, and catch up with the parents.
Sip and See vs. Baby Shower
A baby shower is typically the celebration of a couple's first-born child. It's traditionally a larger event to "shower" the mom-to-be with much-needed baby items before her bundle of joy arrives.
Traditionally, baby showers are attended by women and it's a more formal event with a larger guest lists of friends, family, neighbors, and co-workers.
Unlike a baby shower or a baby sprinkle, a sip-and-see is a more casual celebration and is usually held within the first few weeks after the baby is born so everyone can meet him or her.
Why do parents have a Sip and See Party?
Parents who are having their second, third, or fourth child, who have already had one big baby shower with their first, might opt for a sip-and-see party because it's a simple and informal gathering for close family and friends to meet the baby.
Who should host a Sip and See?
A sip-and-see party can be hosted by the parents, a friend, or a family member.
When should you schedule a Sip and See?
A sip and see is usually held within the first three months of the baby's life. The time will be dependent on the parents and the baby's sleep schedule, but the event is usually held for about 2-3 hours.
Where do you have a Sip and See Party?
A sip and see is usually hosted at the parent's home, so they don't have to travel with the new baby. But you can always opt to have the event at a local restaurant, a friend or family's home, or a local park.
Who should you invite to a Sip and See Party? Are kids allowed?
Men, women, and children can attend a sip and see. It's completely up to the parents who they want to invite. Children are often invited too, since the guests of honor have other children and will most likely be in attendance.
Tips for a successful Sip & See
1. Keep it small.
While it may be tempting to invite all of the new parents' friends and family to meet the new arrival, it's important to keep the guest list small. The baby (and mom) can be overwhelmed by too many people, so it's best to keep the party to close friends and family only.
2. Make it casual.
Sip-and-see parties are meant to be low-key and relaxed. There's no need for elaborate decorations or a formal menu. Just set out some simple refreshments with cups and cocktail napkins, and let the guests mingle.
3. Keep the focus on the baby.
This event is all about introducing the new baby to your inner circle. So, make sure the focus stays on him or her. Set up a comfy spot for guests to hold and snuggle the baby, and be sure to have plenty of photo opportunities available.
4. Have fun!
Hosting a sip-and-see party is a great way to celebrate a new arrival. So relax and enjoy quality time with close friends and family and cherish those special moments with everyone you love.
How to host a Sip and See Party
If you're thinking of hosting a sip-and-see party for your little one, a close friend, or a family member, here are a few tips to get you started:
1. Choose a date and time. (When should you schedule a sip and see?)
The best time to host a sip-and-see party is usually 4-6 weeks after the baby is born. This gives mom time to recover from childbirth and settle into a new routine. It also allows out-of-town guests enough time to make travel arrangements, if necessary.
As for the time of day, make sure you check in with mom to pick a time that is respectful of the baby's schedule.
2. Send out invitations.
Start by creating a guest list of everyone you'd like to invite to the party. Then, it's time to send out sip-and-see invitations. If guests are encouraged to bring a gift, make sure to include the baby registry information on the invitation. If gifts aren't expected, be sure to let guests know so they don't feel obligated to bring anything.
Also, you may want to include a specific end time so the new family can get their rest.
3. Set up a comfy spot for guests to hold the baby.
Be sure to have a comfortable place for guests to sit and hold the baby. You'll also want a space for close family members and friends to gather around mom to see the little one. This can be a sofa, recliner, or even just a few pillows on the floor.
4. Keep things clean.
With a new baby, it's important to make sure you have hand sanitizer and wipes on hand to keep things clean and free of germs. You'll want to put away any toys or blankets the baby won't be using so there's no chance of anything getting too germy with several new people around.
Use a cute basket to set out simple ways to clean hands as soon as the guests enter the home. This will encourage healthy habits that keep the newest family member and mom safe from any illness.
5. Set out refreshments. What are we sipping?
No party is complete without some finger foods and beverage options! Be sure to have a variety of drinks and snacks available for guests.
Sweets and light snacks are always a hit at sip-and-see parties. You can keep it simple with crudités and dip or put out a selection of fruits, cheeses, and crackers. Finger sandwiches, chips, and other small bites work as well.
Cookies, cake and ice cream, or even cupcakes are an easy way to offer guests a sweet bite to eat. Themed desserts are always a big hit too.
For example, if you're doing a bee theme, a honey pot cookie or the word "buzz" in yellow and black would be an adorable way to add the theme to the desserts.
You'll want to have a variety of drinks, too, like coffee, tea, juice, and soda. A light punch is always a fun addition. Also, mocktails can be a great way to add some color-coordinated non-alcoholic drinks that go with your colors or theme.
And of course, don't forget plenty of water.
6. Take lots of pictures!
A sip and see is the perfect opportunity to get professional photos of the new baby. If you're not comfortable hiring a photographer, ask a friend or family member who's good with a camera to snap some pictures throughout the party.
You can also set up a fun backdrop with a sign to get some photos of your guests loving on the new baby. Be sure to have a few Polaroids on hand so guests can take some photos home.
Sip and See Theme Ideas
When it comes to a sip-and-see party, there are endless possibilities for themes. You can go with something as simple as a color palette or seasonally-appropriate theme, or get creative and come up with something unique to the baby's personality.
Get inspired with some of these fun sip-and-see party themes:
Woodland animals
Rainbow
Flowers
Bees/butterflies
Safari animals
Nautical/ocean
Farm animals
Dinosaurs
Puppies/kittens
The sky (clouds, stars, moons)
Classic children's books/nursery rhymes
Sports (baseball, football)
Boho
Themed sip-and-see parties can be as simple or elaborate as you want them to be. The important thing is that you have fun celebrating your new arrival with family and friends!
Are gifts required at a sip and see?
Although gifts aren't expected, guests can bring one if they want. Some guests might consider giving something special, like a monogrammed item, or maybe a gift that the whole family can enjoy, like a gift card to go out to dinner.
Whatever the host and mom decide, make sure the preference is noted on the invitation so guests know what to expect.
Sip and See gift ideas
If guests are looking for gifting inspiration, here are a few ideas you can share with them:
Do you give favors at a Sip and See?
Since a sip and see is a casual and more relaxed celebration, favors are not typically given to guests. It's entirely up to the host whether or not they want to hand out favors at the end of the party.
If you decide that you want to give your guests something to take home with them, why not gift them a small photo of the baby in a cute frame or this fun bottle opener. Friends and family will love the sweet gesture as a thank you for coming to your sip and see to meet their new baby.
---
Planning a sip-and-see party is a fun way to show off your new baby to family and friends in a relaxed setting. With a little planning, you can throw a beautiful celebration that everyone will enjoy to welcome your new arrival.
Are you planning a sip and see party? Tell us all about it in the comments! Be sure to join the party on Instagram and in our private community!