How to host the perfect baby shower
Do you want to host the perfect baby shower for a deserving mama-to-be? Follow this step-by-step guide on planning a baby shower like a pro!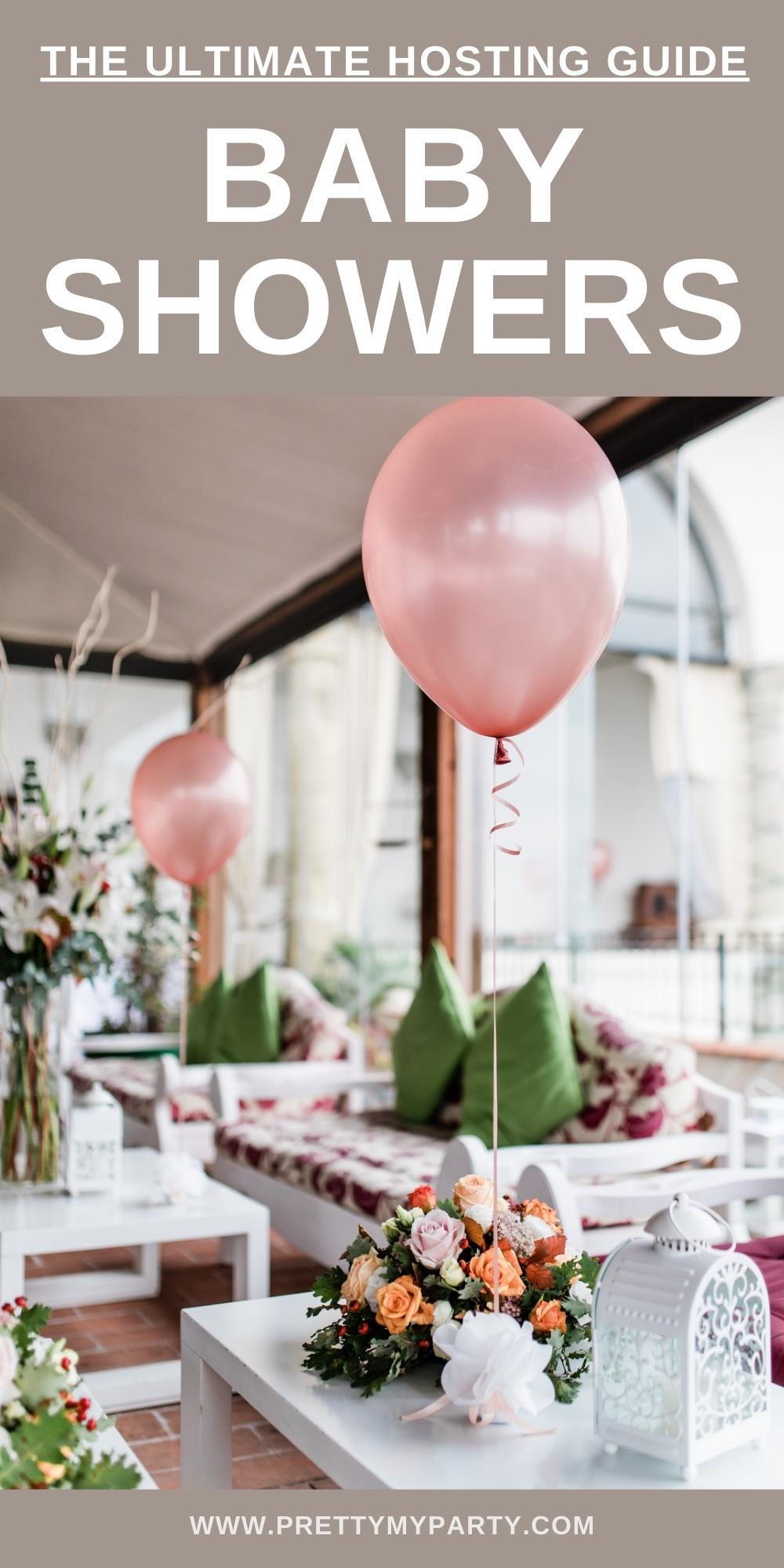 When it's time to celebrate a new baby and expectant mom, you'll want to make sure the day goes off without a hitch!
As the pregnancy wraps up, it's the perfect time to gather together to welcome a new sweet baby into the world. Here are some ideas that will help you put a checklist together and guide you on how to host the perfect baby shower.
What is a baby shower?
A baby shower celebrates a mom-to-be and the impending arrival of her baby boy or baby girl. Friends, family, neighbors, and co-workers gather for a big party to "shower" the mom-to-be with gifts, advice, and well wishes. Traditionally, baby showers are planned for a mother's first child.
Are baby showers appropriate for second and third babies?
You can certainly have a baby shower for your second or third child. Many people prefer a smaller gathering for subsequent children in a celebration known as a Baby Sprinkle. Another fun idea is to celebrate after the baby is born and host a sip-and-see party at your home.
We've come a long way from the traditional baby shower where strictly women gathered to celebrate a new arrival. Today, dads and other men are included in the event with co-ed baby showers.
Whether you're planning a big or small baby shower, a surprise baby shower, a baby sprinkle, or a virtual shower, the reason behind the gathering remains the same – to celebrate the parents and a precious newborn baby or babies!
Who should host a baby shower?
Traditionally, it's considered good etiquette for a close friend or family member of the expectant mother to host the baby shower. Traditionally, it's a sister, sister-in-law, mother, or best friend. However, anyone can host a baby shower! It could even be a group of people who want to host the shower together.
What does the host do at a baby shower?
In addition to planning the baby shower, the host greets guests, makes sure everyone is having a good time, coordinates games and activities, keeps a list of gifts and gift-givers for thank-you cards, and generally makes sure the shower is running smoothly and adhering to a good timeline.
Who pays for the baby shower?
Generally, the host or organizer pays for the baby shower, but the cost can be split between a small group of close friends and family.
What's the average cost for a baby shower?
The average cost of a baby shower varies depending on the guest count, food, and venue. Most people budget, on average, $500 to $1,000 for a baby shower, but for others, costs can end up in the thousands.
When do you have a baby shower?
The best time to have a baby shower is usually 4-6 weeks before the baby is born. This allows enough time for the mom-to-be before she gives birth. Of course, you'll want to check with the expectant parents to see what time works best for them and their schedules.
How long does a baby shower typically last?
Typically baby showers last 2-3 hours, but it's up to the host how long the shower will be. If the mom-to-be is opening gifts at the shower, it's best to do a minimum of 3 hours to give enough time for food, games, and gifts. You can also organize a "display shower," where all the gifts are displayed on a table without wrapping, bags, or boxes.
Where do you host a baby shower?
A baby shower can be held at a variety of locations, such as the home of the host, a restaurant, or even outdoors. Some venue ideas for a shower include:
Friend or family member's house/backyard
Fire hall
Hotel/Resort
Park
Restaurant/Bar
Tea room
Unique Airbnb
Country Club
Garden/Botanical garden
Farm/Barn
How many guests should you have at a baby shower?
The number of guests at a baby shower depends on the size of the families and if you want to invite everyone you know or only your close friends and family. The average number of guests for a baby shower is 20-50. The average number of guests for people with large families can be 75-100.
When it's time to put a guest list together, you'll want to check with the expectant parents and get the names and addresses of the people they want to invite.
Typically, immediate family members, special friends, and relatives are included. Some parents may want to keep it small and intimate, while others want a large celebration, so it's important to check with the parents-to-be.
Baby shower timeline and checklist
7 weeks in advance
Determine the date, time, guest list, and theme
Choose location/venue and caterer
Reach out to potential vendors
Make or buy invitations
5 weeks in advance
Mail invitations
Plan menu
Order cake and desserts
3-4 weeks in advance
Purchase or make decorations/supplies
Purchase games, favors, and gifts
Reserve rental supplies like chairs
Order flowers
2 weeks in advance
Confirm reservations, catering, vendors
1 week in advance
Finalize guest list
Delegate tasks (taking photos, keeping track of gifts, helping with food and decor, setup, cleaning, games, etc.
DIY favors or add thank you tags
2 days in advance
1 day in advance
Prepare food
Decorate venue
Pick up cake and desserts
Pick up ice
Day of shower
Pick up flowers and balloons
Set up food + beverages, decor, tables, etc.
Popular baby shower themes
When should baby shower invitations be sent out?
Once you have the date and venue set, it's time to send out invitations! Make sure to mail invitations 4-6 weeks in advance so guests have plenty of time to RSVP.
Be sure to include all the important details like date, time, address, and RSVP information. You can either hand-write the invitations, order custom-printed invites or set up digital invitations.
Don't forget to include information on the invites, like the gift registry details, so guests know where to shop for a gift. Registry information will help alleviate a lot of questions for the mom-to-be, and even the hostess, when there's a baby registry.
Baby shower decorations
The baby shower theme and location you choose will likely dictate how much decorating you have to do. If you're hosting your shower at a restaurant or event hall, they may already have decor you can use or staff that will handle the setup.
If the shower is held at someone's home or backyard, consider fun DIY items like a jute clothesline with onesies hanging on it, balloons, banners, printables, or a diaper cake.
It's up to the host whether they want to go all out with the baby shower decorations or keep it simple. Some other decoration ideas you can include are a backdrop, centerpieces, tissue poms, baby blocks, signs, a photobooth area, etc.
What food do you serve at a baby shower?
No party is complete without a few yummy food and drink options! We love the idea of setting up a food and drink station.
You can serve some finger foods that guests can easily grab and eat. This way, they can still mingle and enjoy the celebration.
Remember to ask your friends and family if there are any allergies or things you should avoid before starting to plan the menu.
Some finger food ideas include:
Vegetable or fruit platters
Cheese and crackers
Mini sandwiches
Wraps
Sushi
Canapes
Nuts
Fruit kabobs
Chicken salad tartlets
Cucumber sandwiches
Pigs in a blanket
Meatballs
Deviled eggs
If you're hosting your event at a restaurant or bar, they will likely have a catering menu.
If you're hosting at someone's home, keep it simple with finger foods and light snacks that guests can enjoy throughout the shower. Tiny sandwiches, fruit and veggie trays, cheese and crackers, and other treats are always a hit.
As for the dessert, a cake is traditional, but adorable decorated cookies shaped like baby bottles or something that ties in with the theme are also a big hit. You can also never go wrong with cute cupcakes, which makes serving guests a whole lot easier.
The sky's the limit when planning food options for a baby shower! You can go with a particular theme, have a sit-down lunch or dinner, or just offer a variety of tasty finger foods and sweet treats for your guests to enjoy.
Baby shower refreshments
As for drinks, offer a mix of non-alcoholic and alcoholic beverages. If you're going the alcohol route, consider a festive punch, themed or featured drink, or "mom-osa" bar.
For non-alcoholic drinks, set up a coffee station and have plenty of bottled water for the mother-to-be and little ones who might be in attendance.
Do you need games at a baby shower?
While games are not required, they can be a fun way to break the ice and get everyone interacting with one another. If you decide to include games at your shower, choose ones that won't take too much time or effort to play.
How many games do you play at a baby shower?
The number of games you have at a baby shower is entirely up to the host. Two to four games are typical for a 3-hour event.
What games should you play at a baby shower?
Games are typically a big part of baby showers as they help break the ice and get everyone to participate. There are tons of great baby shower game ideas out there, so take some time to look around for ones that will be fun for your group. Search for free printable baby shower games online, or try Etsy. Some of our favorite baby shower games include:
Guess the Baby Food: This is a fun baby shower game! Get jars of different baby food flavors and have guests try them with baby spoons. Then they have to guess what the flavor is. The person who gets the most correct flavors wins the game and a prize!
Baby Shower Word Scramble: This classic word scramble game is always a hit! Give everyone a list of scrambled baby-themed words and see who can unscramble them the fastest. The person who gets the most correct within that time is the winner!
Who Knows Mommy Best?: The Who Knows Mommy Best game is all about the mom-to-be! Have guests fill out a questionnaire about the expectant mom and see who knows her best. Whoever gets the most correct wins!
Don't Say Baby: Don't Say Baby game is fun for all ages! Give each guest a clothespin at the beginning of the shower. If they hear someone say "baby," they can take their clothespin away. The person with the most clothespins at the end of the shower wins a prize!
Guess What's in the Diaper Bag: What's in the diaper bag game is perfect for the dads-to-be if you're having a coed shower! Fill a diaper bag with baby items and have the dads guess what's inside.
Match the Mom and Baby: If you're doing a theme like Disney, you can provide a printable mommy + baby matching game with different characters from movies.
Which One is Mom?: This is a fun one for baby shower guests of all ages! Print out baby pictures and put them on a decorated poster board, hang them on the wall, or set up a display for guests to look over. They then have to match the baby's picture with the mom-to-be. You can also include pictures of grandma-to-be and other family members to throw off the guesses!
Don't forget small prizes for the winners, like a candle, bag of blue or pink candy, hand soap, photo frame, or even gift cards!
Baby shower gift ideas for your registry
It's normal to be overwhelmed by the number of baby products on the market. As a first-time parent, it's hard to determine all those baby registry must-haves.
Whether you're setting up your baby registry or looking for the perfect gift for the mom-to-be, check out these popular baby registry items:
Does the mom-to-be open gifts during the baby shower?
Baby shower etiquette dictates that the mom-to-be gift opening at the shower is acceptable and so much fun! So set aside some time toward the end of the event for gift opening.
Make sure to have a designated place for mom to sit so she's comfortable, and provide a box or bin for guests to place cards as she opens each present.
You'll also want to have a pen and paper available to make a note of each gift and who they are from so mom can write thank you cards after the shower.
If you're hosting a coed shower, make sure there's a spot for dad to sit so he can be involved in the gift opening too.
Don't forget to take pictures! Be sure to snap some photos of the guest of honor with her gifts, as well as some candids of guests enjoying themselves throughout the event.
Photos make for great memories and moments to look back on in the future. You can even make a nice album as a present for the parents-to-be!
Baby shower favors
It's a nice gesture to gift your guests with a baby shower favor. Typically, the host gives favors that go with the baby shower theme.
If you need some inspiration, check out these popular baby shower favor ideas:
Tea
Champagne
Sugar cookie
Candy
The last and most important part of hosting a baby shower is to relax and have fun! Enjoy celebrating the new arrival and get excited for all the wonderful memories that will be made with the new bundle of joy!
And that's it! With this baby shower checklist, timeline, and ideas for games, favors, food, and gift, you're ready to host the perfect baby shower that everyone will be talking about for months to come! Happy planning!
Are you hosting a baby shower? Tell us all about it in the comments! Be sure to join the party on Instagram and in our private community!